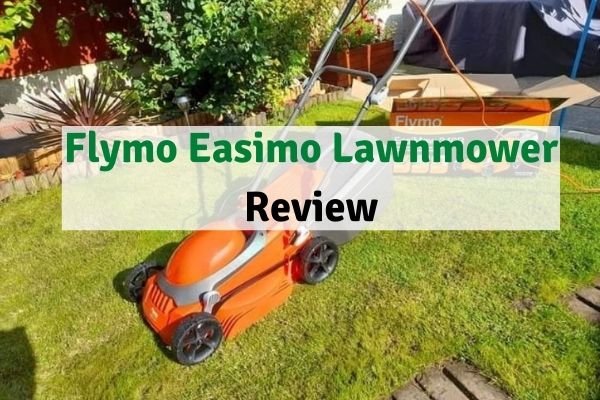 Flymo Easimo Electric Wheeled Lawn Mower Review 2023
Last Updated on January 4, 2023
You are worrying about how to lawn that your small piece of land? Worry no more. Go for a lawnmower suitable for the task. And that lawnmower is the Flymo Easimo. You don't have to spend much on this equipment because it is considerably cheap. It doesn't leave anything to chance by ensuring your lawn looks very neat and clean.
Don't forget that it is electrically powered. That means you will be dealing with an electric cable. So if you are well conversant with electrical appliances, then the mower will serve you pretty well.
The small size of this lawn machine enables it to perform more efficiently and effectively. It also provides much-needed accuracy. Discussed below here are some of the features that make it stand out.
Features of Flymo Easimo Corded Lawnmower
Main
Features
Rating: 4.5
Power : 900W
Cutting Width : 32cm
Grassbox: 29L
Cutting Height: 20-60mm
Cable Length: 10m
Style: Rotary Lawnmower
Speed: 3600 RPM.
Starter Lever
The starter lever is located at the top of the mowers handle. There is a push-button between the starter levers, which helps to trigger when you want to use it. The design is so simple that you don't need any intelligence to start it.
Remember that this lawn is small and straightforward for your small garden, so don't expect features like the starter lever to be more comfortable. You are not for comfort but performance.
The Handle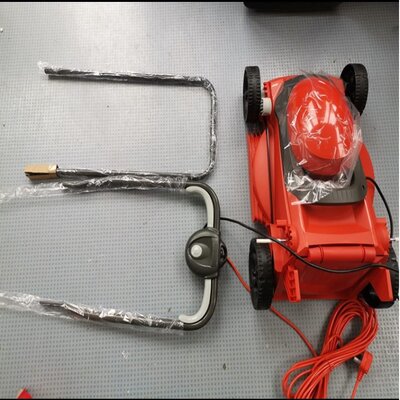 The lawn handle is in two pieces to enable you to handle it during the assembly and at the time of use. To connect the upper part of the handle and the bottom part, you will find two-wing knobs on the halfway part of your handle. The knobs can be loosened to allow the handle to fold so that you can store them better and without occupying much space.
There is Power Cable
The lawnmower comes with a non-detachable mower that is 10 meters long. For the sake of smaller gardens, 10 meters long is sufficient but if your garden has an irregular shape, look for another lawnmower since this one will not suit your lawn.
You can buy an extension cable if there is a need because this cable is not that large enough. The cable price is also pocket-friendly so don't sabotage your lawn simply because of the cable.
Grass Box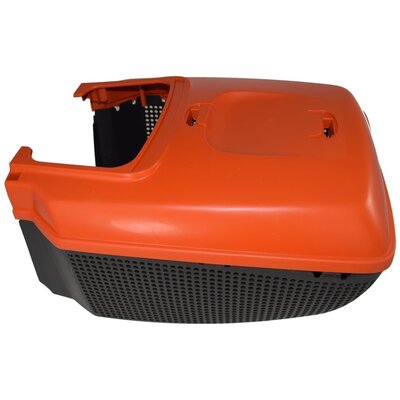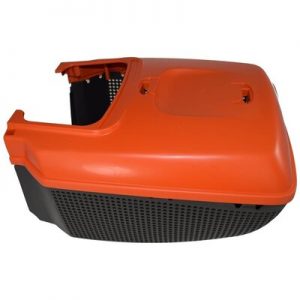 There is also a grass box with a 29-litre capacity which is suitable for a smaller lawn size. Attaching and removing this grass box is very easy because it fits the mower's rear pretty well. There is a safety flap at the rear of the mower which you can lift up and then attach the two locations you see on the mower. Finally, leave the flap down on the top of the grass, wait for the feedback.
There is a Motor 
Firstly, don't overload the motor in this grass cutting machine because it is not that powerful as you may think. If you overload it, there will be no accuracy in your work, and you will end up regretting why you wasted your resources and energy to buy such a disgusting machine.
The kind of motor here is to cut out grass and not to plough. If you use it to cut those long grass, it will blink. Stick to the intended task.
Build Quality not that Strong 
This grass cutting machine is for smaller gardens so don't expect much out of it. Its cutting deck is compact, making it only suitable for some small-grass cutting. It is made of plastic that is not very robust. This cutting machine is compact. Its cutting deck is made of more plastic.
The Cutting Deck
The mower also contains a cutting deck of 32 cm size which is suitable for a smaller garden. The cutting deck also enables you to get to more challenging areas and areas that cannot be reached by a giant mower.
Cutting Heights
There are also cutting heights which can be changed. Cutting heights are in three sets, ranging from 20mm to 60mm. So you can go in your choice of height. For the short-cutting finish, try out 20mm, which is not short. It gives your lawn a tidy finish. If you want to adjust the wheels, you have to move the front and rear wheels. The wheels' axles are used in 3 different grooves to determine the height of the grass you are cutting.
Metal Blade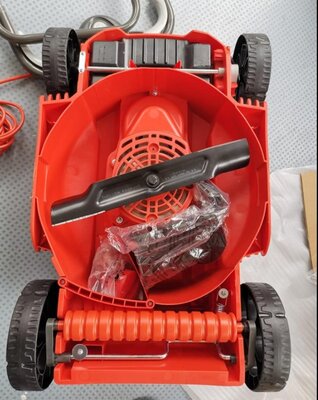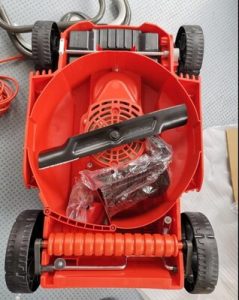 The metal blade is found within the cutting deck. These blades are very durable compared to plastic ones. They are sharp, hence providing a clean cut to the grass. You can also sharpen your metal blade to maintain work efficiency. The only setback with a metal blade is that they are likely to be misaligned due to their rigid nature. 
Weight 
The mower weighs 8.3kg which is very light and helps during transportation. The lightweight feature makes it easily accessible since anybody can carry it.
Furthermore, make sure your metal blade is sharp to avoid destroying your grass by tearing them with a blunt metal blade. A sharp blade will as well prevent you from using too much energy and improve efficiency.
There are various types of Flymo Easimo Lawnmowers in the market, as indicated below.
They vary in their prices.
Maybe you are asking yourself how to assemble your lawnmower. Here are the assembly tips for your grass cutting equipment.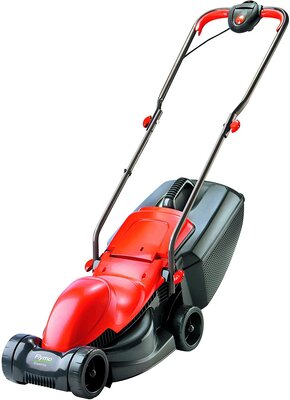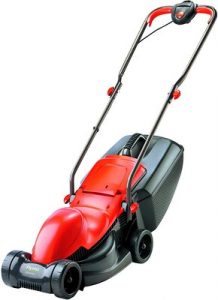 You don't need any equipment or tool to assemble your lawnmower, use your bare hands. Three stages are involved here. The first step is to attach the lower handle part to the mower. You use the bolt and a washer as you tighten the knob. The same method should be applied to attach the upper part of the handle to the lower part.
After attaching, assembly the grass box, make sure you slide the tongue part of the grass box in the lower slots. Take note of the sound. After this, push the handle into the grass box. Ensure it clicks to the position.
The last step is fiddly, which the most specific part is. Here, you use your hands to clip the two halves of the grass box together. Line up the clips then push them firmly all together. The most exciting feature in this mower is that fixing any of its parts is purely done by bare hands and no tools or profession is needed.
After the assembly, let us not forget the performance of the lawnmower as illustrated below. 
The Cutting Ability 
If you use your lawnmower for its intended purpose, you will achieve whatever you want. Mowing makes your grass look more decent if d regularly. The metal blade also ensures your lawnmower lasts for quite some time. So if you are looking for a durable lawnmower that can suit your small piece of land, go for the one with the blade metal.
Grass Collection 
The grass box feature can store a good amount of clippings before you get the top to empty. The mower also helps in collecting the clippings. Remember to handle your grass box with care to stop it from falling, though fixing it is also very simple. Be on the lookout not to allow your handle to come off the grass box when there is a full load.
Easy to Maneuver around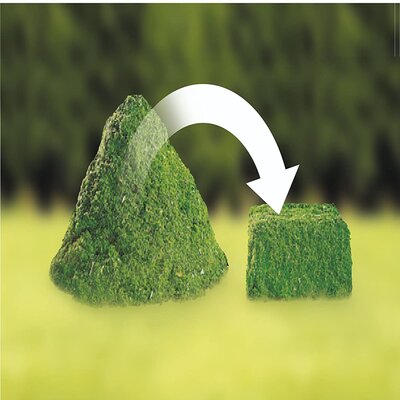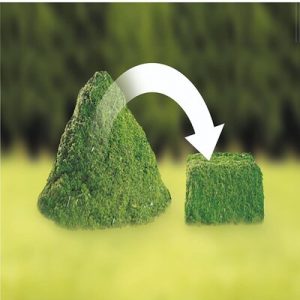 This lawn machine is straightforward to push thanks to its 8.5kg weight. However, it gets heavy when the grass box starts collecting the clippings. Generally, as far as cutting off grass in your garden is concerned, this machine is very light, and anyone can push it around the lawn. It is also very comfortable and ergonomic. Storing it is never a headache since it can be folded.
Pros
It's lightweight hence enables easy transportation
Considerably cheap compared to other lawnmower machines
Handle size is right on the grass container
Handlebar knobs can be adjusted
Very comfortable
It has a large container that can collect a massive amount of grass
The ergonomic feature makes it easy to operate
Very easy to store because of the folding nature
There is no much noise when operating
It is very user-friendly
Provides a decent number of cutting heights
Presence of a metal blade makes long-lasting
Pushing it is never that difficult.
Cons
To assemble a grass box is very tricky
You can incur added cost since the cable is not very long
Grass box handle can come off if not carefully handled
Does not suit extensive gardens
It only has three height adjustments
Not durable compared to other expensive lawn mowers
It is not correctly balanced
The grass box becomes fiddly to reattach.
Final Thoughts
Apart from the setbacks related to the lawnmower, it is an excellent machine to save you money while also providing accuracy. Don't hold yourself back or try to save money to buy those big machines when you have a better option than this mower.
It does pretty good work to your small compound filled with grass. The lightweight feature makes it suitable to be carried by anyone. Get yourself one and help maintain the height of your grass.