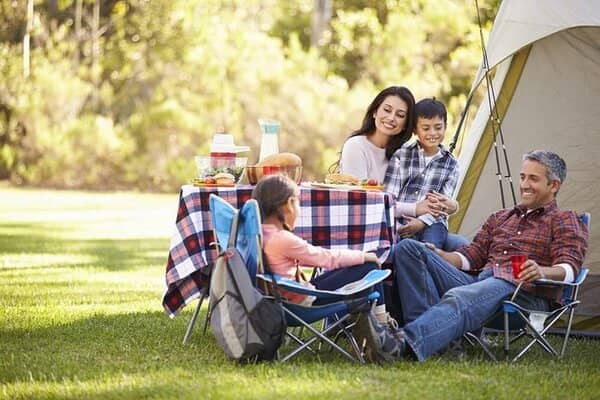 7 Ways to Make Your Camping Trip More Romantic
Last Updated on October 12, 2023
One of the most romantic ideas for couples is to go camping. It brings them closer together since they will hang out in nature. Furthermore, it helps in refreshing the body and mind and is an avenue to get away from the hustle and bustle of life.
However, before you and your partner set out for an adventure in the natural scene, it pays to plan ahead. This will make it possible for you to achieve your desired result without much hassle. Here are some ideas you can implement to make your camping unforgettable.
7 Ways to Make Your Camping Trip More Romantic
1. Select the Perfect Weekend
Since the weather could be unfavourable at times, you need to choose the most appropriate weekend. You wouldn't want your tent's floor to be drenched with rain or be exposed to sizzling heat that can cause sunburn.
Hence, you should know the times of year that camping is most suitable for your location. You will need to carry out your research properly in this regard to discover the best times.
Also, your choice of dates should be harmonious with your schedules to get the best result. Remember to choose multiple dates so that you can't be flexible in case of bad weather.
It is important to monitor the weather forecast properly especially a week before your camping date. This will help you to make changes to your plans if the weather is not favourable.
2. Select the Right Location
Your camping location depends largely on where you reside, how far you can travel as well as other factors. Nevertheless, you need to choose a general location depending on your planned sights to see and activities.
In addition, choosing a location that you and your partner have never visited before is a good idea. There is fun in exploring a new terrain together.
Thereafter, your research beam light should focus on campgrounds. It is important to note that campgrounds have various specifications.
While some come with various facilities like showers, stores, etc., others are may not have any facilities. Hence, you should check the features of a campground before booking.
Also, it is important to book early to avoid any disappointment, especially in peak season. Plan ahead to stay on top.
3. Spring for Comfort
You can add some luxuries to your camping to make it more romantic. Go with the biggest tent so that you can be more comfortable.
Furthermore, you can go with an air mattress instead of foam sleeping pads. To stay unique, go with your a sleeping bag or a double sleeping bag for you and your partner. Also, go with your pillows, blankets and throws for more cosiness and warmth.
Besides, you can go with various lighting options like tealights and lanterns, etc. Don't use candles because they can lead to forest fire if not handled properly.
In addition, go with your compact speaker and a playlist that will make the atmosphere lively. However, be mindful of your fellow campers.
4. Cook a Luxurious Meal
Take advantage of the camp kitchen to cook delightful meals. This will help in setting the mood and you may need to impress your partner.
Go with your gear as well as goodies if you can drive right into the campground. Put enough ice in your cooler along with special treats so that you can enjoy your camping to the fullest.
Besides, you should be creative with your food selection. Let your menu appeal to you and your partner to achieve the best result.
Strawberries covered with chocolate can be a good idea for a more romantic outing. And a cup of hot chocolate is not a bad idea either.
5. Curate an Itinerary with Activities You Both Enjoy
There are lots of activities you and your partner can engage in while camping. They include hiking, fishing, kayaking, stargazing, canoeing, among others.
Also, you can check out a cool brewery if it is available in your camping location. The bottom line is to enjoy your romantic camping adventure.
The location of the camp as well as activities you and your partner prefer determines what to go for. However, it is important to plan the activities in advance so that it won't be too stressful.
You don't need to plan every bit of the trip to the point that there won't be room for improvisation. Be flexible so that both of you can bond perfectly.
6. Have a Phone-Free Day or Weekend
This might sound crazy but let's face the fact. Every day, we spend most of our time behind the screen.
It is either we are using computers to work or smartphones to browse social media. Hence, technology has found its way into our lives.
But, have you ever thought about how technology has interfered with personal connections? We spend hours behind the screen forgetting the good old personal connection that existed among folks.
Consequently, when you go camping with your spouse, try staying off your phones or laptops for a while. In fact, you can do so for the whole trip.
This may not be easy but you can give it a try. It will enable both of you to have greater conversations and bond more.
7. Make a Camping Checklist
Create your camping checklist in advance so that you don't forget anything. It can be frustrating getting to the campsite and realising that you forgot something very essential.
Take note of everything you will need for the trip, and don't forget to pack enough snacks for the journey. You should ask your spouse to go over the checklist to be sure that everything is perfect.
If you do it alone, there is the tendency that you will forget some things. Hence, involve your partner in this very crucial part of the plan so that you will be able to get the most satisfactory outcome.
Conclusion
You can make your camping trip more romantic by being creative. With the few tips shared in this piece, you should be able to have a great camping adventure.