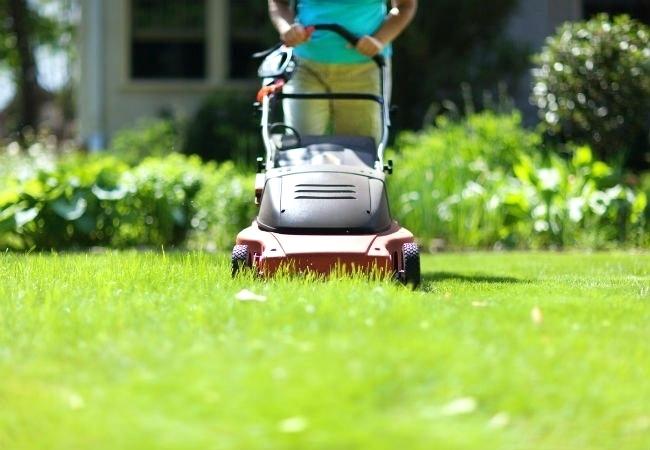 Best Mulching Mower UK Reviews 2023
Last Updated on January 3, 2023
---
Bio clipping, recycling, or mulching, if you already know about any of these terms, then there are chances that you are using one the best mulching mowers. Mulching mowers do not only collect grass clippings, but they can also double cut the grass in such a beautiful manner that they can't be seen on the lawn.
However, if you are not using, but looking to purchase one of these multi-functional mowers, then we have some recommendations. Anyone of the following products can be your choice if you want organic maintenance of your lawn or you own a vast area wherein disposing of the grass clippings is a tough task.
Best Mulching Mower 2023 UK
---
Buying Guide of Best Mulching Mower 
 How to choose the right mulching mower for your lawn? Here are some signs that can assure you of a quality purchase.
Convertibility: Mulching mowers also can collect the grass clippings. Some of the variants can do the side discharge as well, which is an essential feature because it prevents clogs and temporary stalling of a lawnmower. On the other hand, mowers with collection bags give material for compost, and you can also use the grass cuts to mulch flower beds and other plantations. But, the concern is about conversion. Can you easily convert it from mulching function to side discharge or collection? It's the first thing you should check.
Engine type and displacement: A lawn mower should have a robust and durable engine to deal with grass chopping. So, look for a machine that has the power to cover the ground and tackle all the grasses and shrubs.
For a large lawn or garden, a petrol engine should have a displacement of 173cc or above if it's a cordless model, then the battery should work at 40V or above. For medium-sized or smaller yards or lawns, you can consider a mower with 140cc. In the case of an electric variant, the battery power should be 20V.
Electric/Cordless models: Major gardening equipment manufacturers like Bosch, Flymo, and Aerotek has introduced several corded and cordless lawnmowers in recent times. Some of them can also mulch. As we discussed earlier, Aerotek 40V comes with a mulching attachment and all the other required features to maintain your garden or lawn. Cordless lawn mowers have similar features like a gas-powered variant, but it lacks the weight, extra noise and needs minimal maintenance.
On the other hand, corded mulching mowers like Spear & Jackson – 40cm works on electrical power. They have the mulching plug and all other features you can expect. However, the only limitation is its power cable. The length of the power cable decides their mowing coverage. Moreover, you always have to manage and take care of the cord, as well.
Mulching technology: If you research about several lawnmowers with mulching ability, you will know that they are built to chop the grass clippings fine enough to be disappeared. Most of the mowers are designed in a way that the grass can pass through the deck blades several times before sending back to the lawn. Some of the manufacturers add fans and baffles to fasten and enhance the process. You will get the results depending upon the mulching mechanism. So, choose a lawnmower that can mulch in an efficient way to make your lawn or garden neat and attractive.
Build integrity: Look for a lawnmower with steel construction and minimal plastic parts. Easy to change the speed and cutting height are the other two considerations. If you are looking for a petrol mulching mower, then you should check the startup. Prime and pull and electric start are the two starting mechanisms most of the petrol mowers have.
Budget: You get what you pay for. It's the same in the case of lawnmowers as well. To take advantage of a powerful engine and wide cutting path, you have to pay around £400. Some of the best mulching lawnmowers are also available around £300, but you have to compromise with power and cutting width. So, the choice and price range depends upon the size and conditions of your lawn. For small yards, you should look for an affordable mulching mower. However, to maintain a huge lawn, you should overcome the price factor and look for powerful engine and performance.
Mulching
When it comes to lawnmowers, mulching is about cutting grass into fine particles, then dropping them back to the ground to work as a fertilizer. It's a type of compost that keeps your lawn healthy.
What does a mulching mower do?
Mulching mowers are equipped with different blades than regular mowers. Such edges create a vacuum that keeps the grass cuttings in the air for repeated cutting until they are shredded. Once the grass cuttings are tiny, the vacuum forces them to reach the turf.
Why use a mulching mower?
There are numerous advantages of using a mulching mower.
Such mowers mulch the grass clipping to supply more nutrients to your lawn, which keeps it green, healthy and more attractive.
Mulching mowers recycle green waste in the best possible way.
Reduces the mowing time. Manual maintenance of the lawn is not only robust, but it also requires various tools and lots of time. You have to move forward and backward repeatedly all over the yard to waste an entire day.
---
Best Mulching Lawn Mowers UK Reviews
1. Titan Pro 21″ Best Mulching Lawn Mower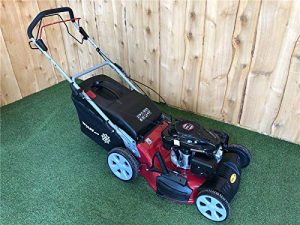 Specification
196cc
Blade width. 21 inch/53 cm
Grass collection. 60 litre
Cutting length. 30 to 80 mm.
With a 6.5hp power output, the TPHW21 from Titan Pro is not less than a beast. Due to its 51 cm of cutting width, it looks like it's made to be the enemy of grasses. There are many other features that lighten some bright bulbs in your mind called attraction. So, let us discuss those features and see what this mower can deliver.
Weighing 45 kg, TPHW21 feels solid in hands. You should know that it's a self-propelled machine with rear-wheel drive, which is easier to use in comparison to push mower. The power delivered by its engine is sufficient to overcome slopes, ground modulation and other harsh conditions inside a garden yard or lawn.
The mower has folding handles that are helpful while transport or putting it for storage. There is no roller, which is disappointing for a mower that is behaving well in all other areas. The real exciting part is yet to come. The Titan Pro mower has a cutting width of 53 cm. So, even if you apply this mower on a large lawn, it will come out as a winner.
It has an excellent cutting height as low as 30 mm and goes up to 80 mm, which is what most of the gardeners want. Between the range, this mower has seven cutting adjustments that can be changed via a manual lever. Precision, comfort, ease of use or style; the Titan Pro mower has got everything.
TPHW21 excels when it comes to grass collection or discharge. It has a decent 60-litre grass box that can be removed in case you want rear discharge of grass clippings. Apart from that, there is an option of side discharge and mulching.
Pros
Seven cutting height adjustments
Powerful Pro Loncin Engine
Wide cutting width
Cons
Difficult to start in the cold season
---
2. Honda Izy HRG 536VK Mulching mower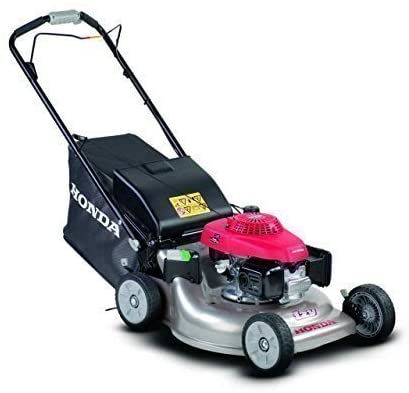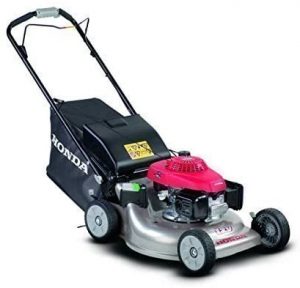 Specification
Engine Capacity: 160 cc
Cutting Width: 53 cm
Cutting Height: 28 – 102 mm
Grass Box Capacity: 73 litres
Weight: 36.2 kg.
Review
The Honda Izy HRG 536VK is a self-propelled mower, which guarantees painless mowing. It features a dynamic SMART Drive® Honda GCV160 cc engine so that you won't miss an ultimate performance at all times.
It is easy to start and operate, that is why it is perfect for medium and large-sized gardens. It has a cutting width of 53 centimetres, which makes the task of cutting a large garden easier.
Also, this mower comes with a mulching system, which shreds the clipping for reuse as manure. There is a grass collection system that ensures perfect grass collection into the whooping 73-litre bag.
This will enable you to have more time for mowing tasks and less time for bag evacuation. That is why we guarantee absolute peace of mind with this machine.
It comes with an adjustable height system, which is controlled with a single lever. You have six cutting height positions to choose from, between 28 and 102 millimetres. You will like its anti-choke system, which helps with a flawless start, even when the weather is cold. It has double ball-bearing wheels so that you won't have issues manipulating it.
Pros
Self-propelled engine for effortless operations.
Mulching system for higher flexibility.
Easy to start and use.
Steel mower deck for optimum lastingness.
Lightweight design for effortless manoeuvre.
Cons
It does not have a rear roller for a striped finish.
---
3. Murray EQ 500 18″
Specification
140cc
Blade width. 18 inch/46 cm
Grass collection. 60 liter
Cutting length. 28 to 92 mm.
EQ500 is a self-propelled mulching lawnmower powered by Briggs & Stratton 500E Series engine. This 140cc engine has all the muscles to get any job done, but its size is compact. The mulching mower has four different functions that you can ever expect from lawn maintenance equipment.
Whether you want to collect the grass clippings, side or rear discharge them, or mulch them for organic maintenance; this mower is up for anything. All the functionalities can be shuffled without any extra tools. Also, the Mulching plug is included and can be easily inserted into the primary unit.
The Murray walk-behind mower has a single-speed transmission that drives it at a speed of 3 and 6 km/h. It's cutting width of 46 cm is assisted by a significant 60 liters grass bag. The machine has six cuttings adjustments between 28 mm to 92 mm.
Such settings are suitable for a lawn up to 1500 m2. So, whether you have a small or large garden, you can invest in the EQ500 to enjoy an efficient cutting and attractive garden.
Mostly made of steel, the mower has improved protection from potential damage and corrosion. Its handlebar is adjustable in three different positions. Moreover, the handles can be folded for easy and secure storage.
Murray EQ500 only accepts SAE30 4-stroke oil for improved efficiency. All the Murray mowers powered by Briggs & Stratton engine can be serviced at authorized service centers, which is extensive and contains experienced staff. So, for the warranty period and even after that, you can always consult them for any trouble.
Pros
Self-propelled lawnmower
Durable built
Multiple dispose of options
Significant grass collection
Cons
---
4. Stiga COMBI 48 S Lawnmower with Mulching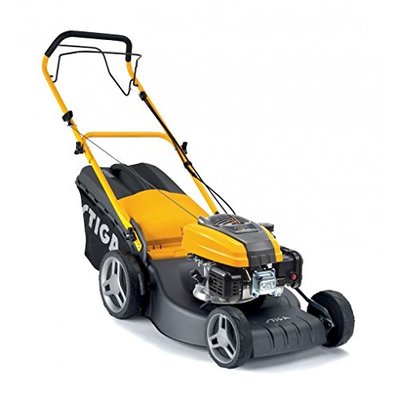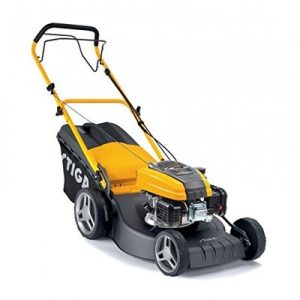 Specification
140 cc
Blade width. 46 cm
Grass collection. 60 liter
Cutting length. 27 to 80 mm.
Fitted with ST 45 OHV engine, the Combi 48 S is a self-propelled mower that has a hardened steel blade for fast and effective mowing. Whether you need grass collection, rear discharge or mulching, the mower does it all with perfection. You only have to remove the grass collector to activate the rear discharge.
The machine is steel constructed, yet it's lightweight at 28kg. Self-propulsion of the mower is powered by a robust belt drive and durable gear reduction unit. Due to the high wheel system, the machine moves efficiently and gives better results in less time. Its wheels are mounted on ball bearings, which adds to the maneuverability.
The mower has a large grass collector that is easy to remove and clean because of an integrated handle. Made of reinforced plastic, the grass catcher is durable and easy to take in or out. There are five cutting heights available between 27 to 80 mm. It has simple, fast and easy height adjustment via a lever. You only have to press the bar until the unit reaches the required height.
Combi 48 S has a very efficient mulching system that crushes the grass clippings into a state similar to powder. So, you cannot notice the cut grass on the lawn with naked eyes. All the controls are placed nearby the handle for convenient usage. The blade control lever is in front of the first handle while the drive control is behind it. You can also detach its grip for better storage possibilities.
Pros
Durable built
Powerful engine
Easy adjustment of grass cutting height
Cons
A high sound level of 96 dB
---
5. Aerotek 40V X2 Series Mulching Lawn Mower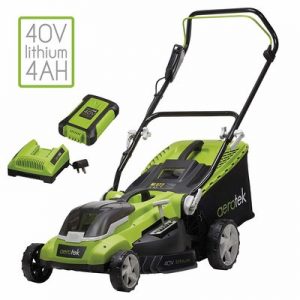 Specification
40V
Blade width. 40cm
Grass collection. 50 liter
Cutting length. 25 to 75 mm.
Excellent cordless gardening equipment from Aerotek, this mulching lawnmower comes with a 40cm cutting path. Lightweight and convenient to use, there are no cables to manage or petrol engine that needs proper maintenance.
The Aerotek push mower uses a powerful X2 Series 40V lithium-ion battery, which produces 4 Ah and powers a brushless motor. Its engine is maintenance-free, and the battery gives you a runtime of 35 minutes. When in action, the mower works at 3600 rpm to deal with everything that comes in front of it.
However, the battery backup depends upon the grass type, its length, and several other conditions. If you need extra backup, then its beneficial to purchase a spare battery. With superior power and decent runtime, this lightweight mulching push mower is suitable for a lawn up to 400 m2.
You will need grass cutting adjustments depending upon the weather, rainfall and the type of grass. It can be time-consuming and irritating with several mowers, but Aerotek 40V is not one of them. It gives you six cutting heights between 25mm and 75mm. To change the length, you have a centrally mounted level that is a breeze to use.
Cordless mowers are generally quiet, but not this one. This electric mulching mower produces a sound level of 88 dB that is comparatively high for a battery-operated machine. To compensate the motor screams, the makers have included an easy to follow instructions guide that helps you to assemble the product within a few minutes.
Pros
Lightweight at 14.1 kg and hence easy to move
No power cable to manage
Low maintenance product
Efficient and durable brushless engine
Large grass collector
Easy to adjust the cutting height
Cons
Lacks the rear roller for a striped lawn
---
6. Greenworks G40LM35K2X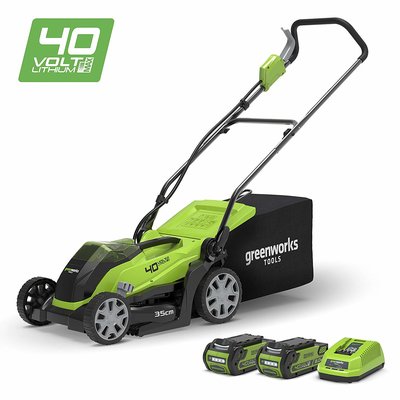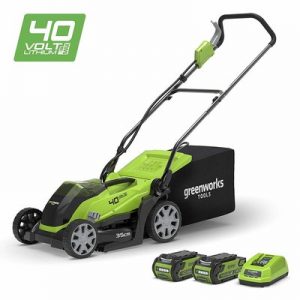 Specification
40V
Blade width. 35 cm
Grass collection. 40 litre
Cutting height. 20 to 80 mm.
Greenworks mulching mower goes a long way to give you a convenient lawn mowing experience. The tool comes pre-assembled, so you only have to attach the handle and its ready to go. Its stems are easy to fold for secure storage.
The cordless lawnmower has a smart dual-stage startup that prevents accidental startup. First, you have to press a button present on its console, which is near the right handle. Then, hold down the trigger for movement.
It draws power from a 40V lithium-ion battery (two of them are already included), which is durable and needs replacement after three years. Added 2 Ah batteries are compatible with other G Max 40V tools. Charging time is 1 hour for a runtime of 40 minutes. Each of the cells has a status light to indicate the level of charge left.
There is an exciting feature of this mower; it uses the first battery when you start mowing and shifts to another once the first one depletes. There is a green button to enlighten an indicator, which shows the charge left. When you are ready to go, insert one of the charged cells into its battery bay. There is a lock mechanism that keeps the battery at its place while the mower is at work.
Two separate cutting blades work together to give you an excellent mowing and mulching function. The combined width of the leaves is 35 cm, which is effective even on longer grasses. All thanks to its five positioned cutting height.
A mulching plug is already included with the machine. So, when you are not using the mulching function, then store it somewhere safe. The mulching battery mower also has a 40 liters' grass collection bag with hardtop and mesh bottom.
Pros
Long runtime
Dual batteries and mulching plug included
Easy to adjust the cutting height
Simple to start
Cons
Lacks the power to deal with rough objects
---
7.
Fox Frisky 20″ 

Mulching Lawn Mower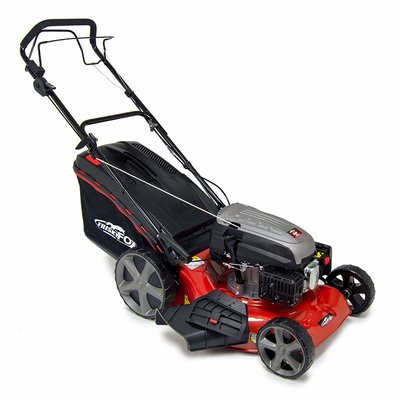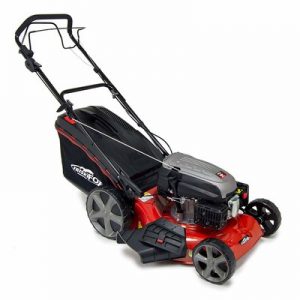 Specification
173cc
Blade width. 20 inches/51 cm
Grass collection. 55 liter
Cutting length. 25 to 75 mm.
Experts say that Frisky Fox PLUS is a mulching mower worth considering. Moderately priced Fox comes with a 5.5 HP 4 Stroke Wolf Petrol Engine that has a recoil start. This engine has the power to deal with any mowing or mulching task you throw at it. The mower has a quad-core 4 blade system that acquires an area of 20 inches to produce real fine mulches.
Fox Plus is self-propelled and comes with adjustable speed settings. The walk-behind mower gives you a lever to adjust grass cutting height between 25 – 75mm. This manual lever has seven stops, and hence you have the option to choose grass length according to the season or event.
Its collection bag is large and therefore especially useful because you don't have to make repeated trips to the compost heap. Instead, you can utilize the same time and energy to complete the passes and cover more areas of your lawn. Apart from mulching and collection, the mower can also discharge the grass clippings from its rear and side. You only have to remove the grass bag for rear discharge.
The lawnmower from Frisky Fox is excellent because of the power and features it possess. It quickly deals with tough tasks without making much noise. Hence, it can be easily used in and around residential areas. All its functionalities are appealing to a gardener who needs a useful and durable machine.
Pros
Seven cutting heights
Big grass catcher
Wide blades for fast cutting results
Solid steel construction
Side discharge also available
Ability to make strips
Cons
Instructions manual could have been clearer
---
8. Frisky Fox PLUS 4 in 1 Mulching Lawn Mower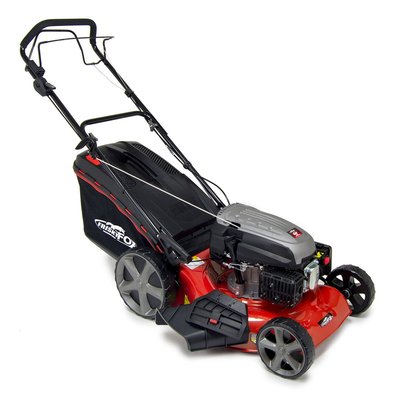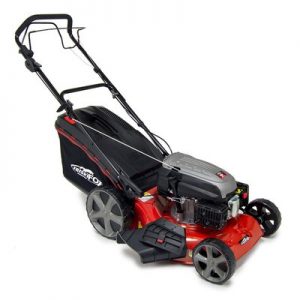 Specification
173cc
Blade width. 51 cm/20 inch
Grass collection. 50 litres
Cutting height. 25 to 75 mm.
A robust lawnmower that combines power and performance in one package. Starting with the fundamentals, the mower has a powerful 5.5 HP 4-stroke OHV engine. Don't compare the power with your family car. Otherwise, it might not be a lot. But, be assured that it's powerful enough to take you through a lawn or garden without any hassle.
The mower cuts the grasses within a width of 51 cm. It's one of the widest and will be helpful if you have a huge lawn or garden. With a powerful engine and sharp steel blades, the mower tackles overgrown and wet grasses with ease, which is a big plus. Cutting height of Frisky Fox Plus is also adjustable for 7 points between 25 to 75mm.
Frisky Fox Plus gives you the option to collect the grass clippings in its 50-liter grass box. And there are alternatives to mulch them from the rear or side discharge. In the mulching process, this mower scatters very thin grass particles across the lawn to enhance the nutrition level of the soil.
Assembling is the most challenging part sometimes, especially if we take the example of garden tools. But, the Frisky Fox mower is not one of them and takes only 10 minutes to get assembled. You don't need any prior experience to get engaged with the machine.
You will see many lawnmowers available at a high price tag if compared to the Frisky Plus 20-inch variant. But, don't take any wrong ides. Even after the low initial cost, this mulching mower comes with a solid built and reliable performance that gives you the value for the investment.
Pros
Self-propelled mulching lawnmower
Height can be adjusted easily with manual lever
Works at a low sound level
Cons
Struggles while making strips
---
9. Efco LR48-TH Self-Propelled Mulching Lawnmower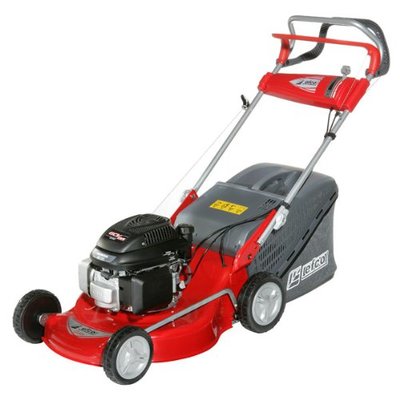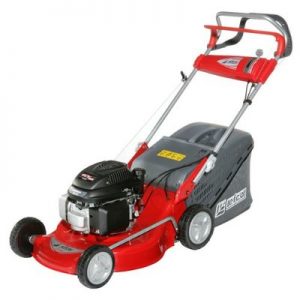 Specification
135cc
Blade width. 46 cm
Grass collection. 70 liter
Cutting height. 25 – 75 mm.
With a bright red color, the LR48-TH from Efco looks like a Ferrari running in your lawn. This 4-wheel drive self-propelled mower has a high-quality design and durable components that give you the worth for your money.
LR48-TH has a two-stroke OHV Honda engine that consumes less fuel and emits minimal carbon. So, the Efco mulching mower is not only economical but environment-friendly as well. Due to its full cutting path of 51 cm, the machine covers more significant areas in less time, which makes it, even more, cost-effective in the long run. As it has height adjustments between 28 to 75 mm, you can control long grasses as well. Cutting height can be adjusted using a manual lever.
The lawnmower has three different features that make it versatile to be used in any conditions. You can collect the grass clippings, choose to rear discharge or use its mulching feature to make your lawn healthier. It has the mulching plug included, so you don't have to look for any other accessory.
Powerful engine and sharp steel blades give even and smooth cuts on a small or medium-sized lawn. It's a heavy machine at 34.5 kg, but the ergonomically designed handles are adjustable for improved convenience. All the wheels are mounted on ball bearings, which also facilitates smooth movement.
Hence, you will face any trouble guiding it. But, the extra weight can be trouble for some users while moving the mulching mower from its shed to the lawn. This budget mulching mower occupies significant space during storage. However, its foldable handles cut down its footprint to a great extent for easy and secure storage.
Pros
Robust steel made the deck
Fuel efficient engine
Stylish appearance
Wide cutting path
Large grass collector
Cons
Heavy machine with a large footprint
---
10. Lawnmaster Cordless Mulching Mower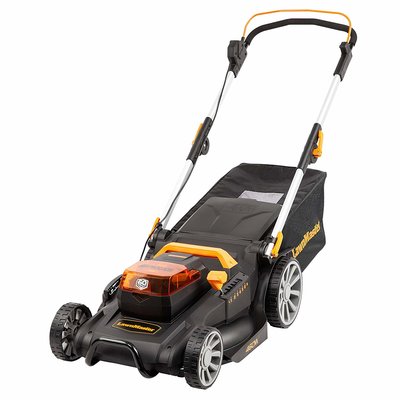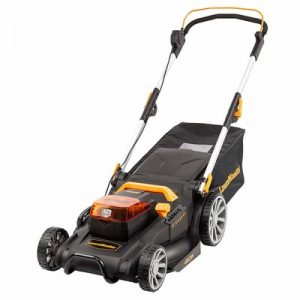 Specification
60V
Blade width. 46 cm
Grass collection. 60 liters
Cutting height. 25 to 75mm.
The lawnmower comes from the masters of this industry. And it has all the qualities to rule other cordless mulching mowers. CLMFR6046A comes with a 60V 5.0Ah Lithium-Ion Battery that works for up to 60 minutes, depending upon the lawn conditions. It's the reason why this mulching battery mower is suitable for areas up to 800m2. The battery charges back within 85 minutes so that you can experience less downtime.
When you are using the cordless lawn mower for mulching, you have complete control over the grass clippings. You can choose to collect them in a 60-liter box. Rear or side discharge are the other options to return the clippings to the lawn. When you want to add some nutrients to the soil, the machine has the mulching option as well. Side discharge chute and mulching plug are already included with the product.
LawnMaster mower has a cutting diameter of 46 cm, so it quickly covers more significant areas without wasting much time. It also has a rear roller for strips. You have seven grass cutting heights between 25mm to 75mm.
While working on a lawn or garden, you require different mowing speeds depending on the grass type and other conditions. It's the reason why this electric mulching mower comes with iPower that allows you to change the mowing speed.
Low power mowing will be useful to extend the battery backup. But when you face more stringent conditions, use the maximum power. Moreover, you can check the battery level at the push of a button.
CLMFR6046A comes with foldable handles that save a lot of storage space. You can fold the stems with a quick-release lever within seconds.
Pros
Efficient brushless motor
Battery display
Ability to change the mowing speed
Cons
According to our experts, there are no downsides of using this cordless mower
---
Bottom line
Mulching lawnmowers gives you the easiest and most beneficial way to dispose of the grass clippings. It's a good thing that your lawn is getting some extra nutrients, and it's even better for you because you don't have to think about the disposal of cut grass.
Choose the best mulching mower according to the size of your lawn or garden. Then consider the fuel type, whether you need a corded, cordless lawn mower for mulching or petrol variant. Keep in mind that if you purchase a petrol model, it will need regular maintenance and replacement of air filters and spark plug. Other helpful factors and features are covered in the buying guide as well as reviews.