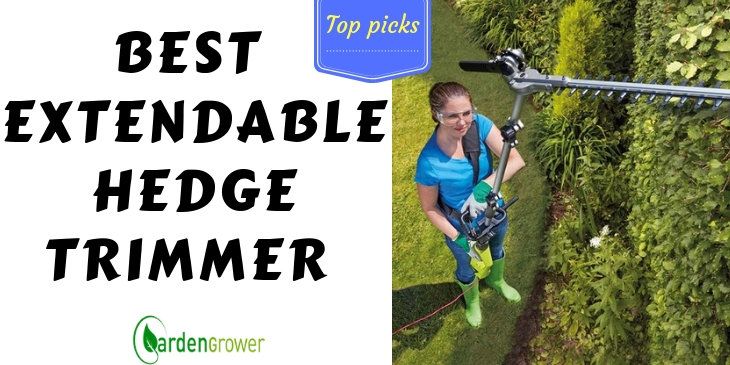 Best Extendable Hedge Trimmers UK 2023 Reviews
Last Updated on January 3, 2023
An extendable hedge trimmer is very essential for keeping your hedge under control. Gardening is an integral part of our lives as it promotes physical and emotional health. However, it can be tiresome if you don't get the right tools that will get the job done effectively.
Due to our busy lives, there is every possibility that our gardens may grow beyond control. Trimming hedges and getting rid of weeds are time-consuming tasks and everybody does not have the capacity to hire a professional gardener. As a result of this, you need the best extendable hedge trimmer if you want to experience quick and stress-free trimming.
Extendable hedge cutter is better than traditional hedge trimmer because they provide greater reach and are easier to use. This way, you will be able to keep your hedge in control without much stress. However, getting the right product may not be as easy as ABC because various products flood the market.
In order to help you make a perfect choice, we have tested various products and came up with the best extension hedge trimmers. You should go through each product properly and you will be able to get right on that will meet your needs.
Best Extendable Hedge Trimmers UK 2023
Top 11 Best Pole Hedge Trimmer UK Reviews
Here are our top 11 long-reach hedge trimmers for you to consider. It is our hope that you will be able to find a product that will make your garden maintenance a child's play.
1. Makita EN4951SH- Best Extendable Hedge Trimmer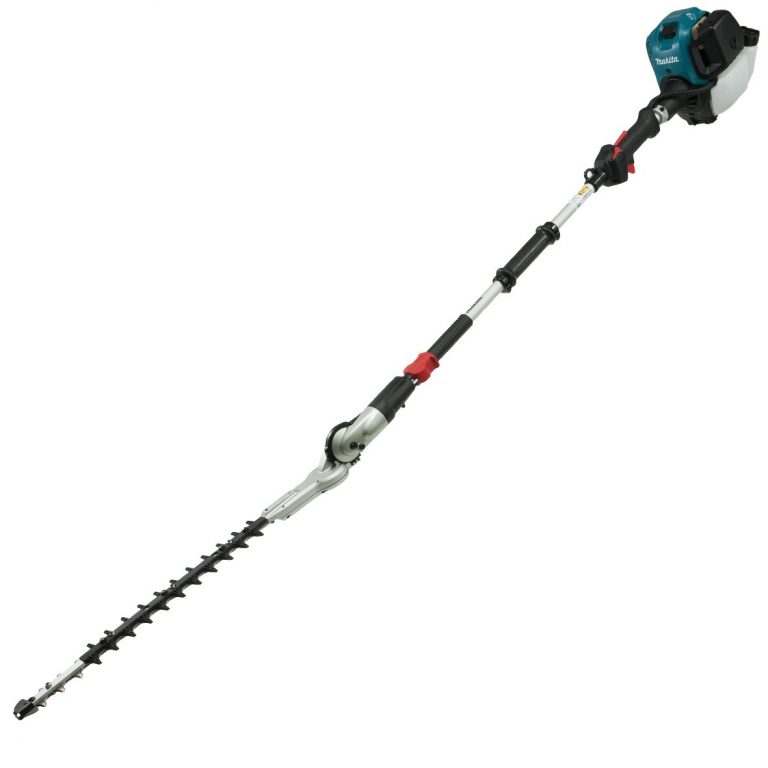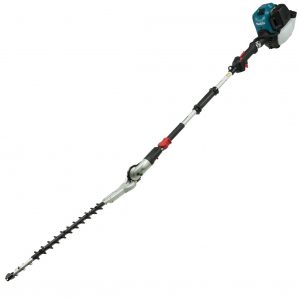 Overview
Power: 770 watts
Blade length: 49cm
Weight: 6.6kg
Dimension: 29 x 26 x 15.5 cm.
Our Review
The Makita EN4951SH 25.4cc 4-Stroke Pole Hedge Trimmer is an extendable hedge trimmer petrol powered by a 4-stroke engine with the capacity of delivering up to 10,000 rpm. Its engine does not require fuel mixing which prevents engine damage usually caused by incorrect fuel mixing. It is the best petrol long reach hedge trimmer for you.
With an adjustable head, diaphragm carburettor and automatic decompression recoil starter, you will not waste your money getting this product. Its engine lubrication system is multi-positioned so that it can incline to any and during use.
What's more, it is a lightweight long reach petrol hedge trimmer meaning that you can manoeuvre it with ease. You can trim the upper and lower part of a hedge without bending down or using a ladder. You can change the head angle with just a lever and there are 13 angle settings available through 135°. It is the most popular long reach petrol hedge trimmer in the UK market.
Pros
4cc four-stroke environmental-friendly engine with clean exhaust emission and low noise.
Multi-position engine lubrication mechanism for flexible inclination, even during operation.
Short shaft and recoil starter having automatic decompression for perfect manoeuvre.
 A powerful engine that can deliver up to 10,000 rpm.
 Requires no fuel mixing preventing damage to the engine.
Cons
2. Flymo SabreCut XT -Long Reach Pole Hedge Trimmer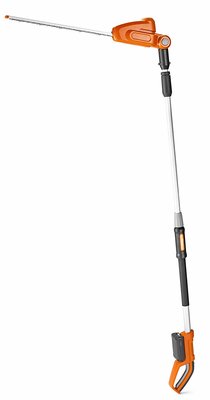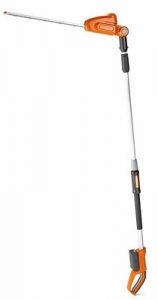 Overview
Battery: 20v – 2.5ah Lithium ion.
Blade length: 42cm.
Weight: 5.7kg.
Dimension: 249.5 x 9.6 x 22 cm.
Our Review
Another top extendable hedge trimmer you need to consider is the Flymo SabreCut XT 20V Cordless Telescopic Hedge Trimmer. It is designed for trimming medium and large-sized terrace so that a perfect finish can be achieved. The Flymo SabreCut XT is the best professional hedge trimmer UK.
The Flymo Sabrecut xt cordless telescopic hedge cutter comes with 20V lithium-ion battery enabling it to function in the same manner as the petrol or corded trimmers. It has double-action blades, hence, can be used for bushes and hedges.
Besides, you will love its long telescopic handle so that you can reach difficult places without using a ladder. The ergonomic handle makes your work next to fun and intelligent weight distribution makes handling much easier.
You can easily tilt the long handled hedge trimmer head so that vertical and horizontal cutting can be carried out with ease. The telescopic handle enables you to trim hedges reaching 3 metres in height. You can consider it as a professional hedge cutter.
Pros
Dual action blades for a neater, faster finish
Ergonomic handle and perfect weight distribution for convenient handling.
Telescopic handle with a capacity of trimming 3-metre hedges.
Tilting head for vertical and horizontal cutting.
20V battery that is easy to remove.
Cons
3. Swift 40V EB918D2 Cordless Long Reach Pole Hedge Trimmer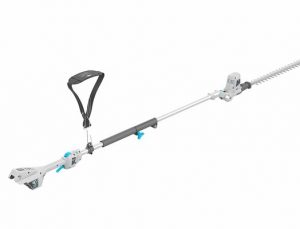 Overview
Battery: 40V
Runtime: 60 minutes.
Our Review
You should consider the Swift 40V EB918D2 Cordless Long Reach Pole Hedge Trimmer if you want the best hedge trimming experience. It is powered by a 40V battery which will run for 60 minutes when fully charged.
It has ergonomic forearm support which is all you need for a convenient job. With an aluminium shaft and one-hand engagement lever, you may not be able to get a better deal elsewhere.
Your safety is also guaranteed with a double push-button start making sure that the machine does not start accidentally. In addition, compact storage and transportation are encouraged with the innovative split shaft.
Pros
Ergonomic forearm support for ease of use.
Aluminium and one-handed engagement lever so that effective use will be enhanced.
Simple safe starting with a double push start button.
Compact storage as well as transportation with the innovative split shaft.
The runtime of 60 minutes after being fully charged.
Cons
4. Bosch Universal Extendable Hedge Trimmer Cordless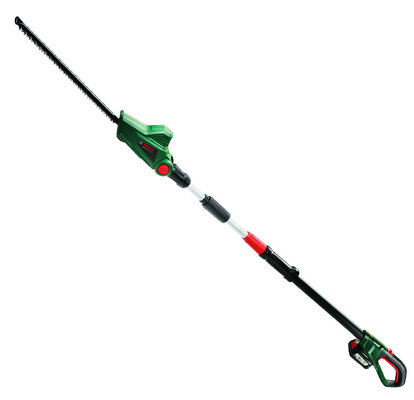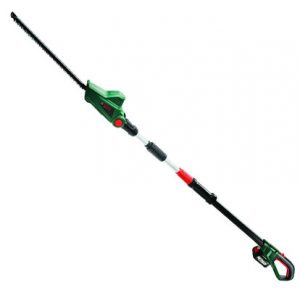 Overview
Battery: 18v – 2.5ah Lithium ion
Blade length: 43cm
Weight: 4.12kg
Dimension: 117 x 19.5 x 16 cm.
Our Review
If you are looking for a cordless hedge trimmer that will make hedge trimming a stress-free affair, you should consider the Bosch UniversalHedgePole 18 Cordless Telescopic Hedgecutter. This is a machine that delivers high performance without creating a hole in your pocket. This is best the cordless extendable hedge trimmer in the UK market.
The Bosch extendable hedge trimmer has a chain speed of 4 metres per second ensuring that continuous cutting is achieved. It is easy to manoeuvre and use due to its ergonomic, lightweight and balanced design.
Its 18V lithium-ion battery ensures that you don't have to worry with any cord while the runtime is long. You will love the anti-blocking system which ensures that jamming is prevented when difficult branches are being cut. This extending hedge trimmer has a blade speed of 2200 spm so that there won't be any hindrance when you are working. The Bosch long reach hedge trimmer cordless is very popular in the UK market.
Pros
Anti-blocking system and double sharp blade for quick and powerful cutting.
2200 SPM blade speed for high-level performance.
Ergonomic design for ease of use at all times.
Lightweight design for easy manoeuvre.
Cordless technology using a lithium-ion battery to power its motor.
Cons
5. Ryobi RPT4545M Long Handled Hedge Trimmer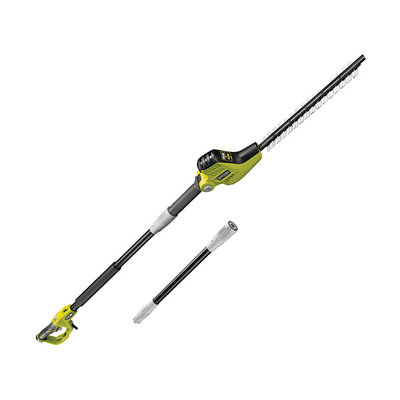 Overview
Power: 450 watts
Blade length: 45cm
Weight: 4.1kg
Dimension: 104 x 18 x 16.5 cm.
Our Review
The Ryobi RPT4545M Pole Hedge Trimmer is a handy tool to have in your home. It is an ideal device for getting rid of stubborn branches of different angles and heights. It comes in 3 sections and you can make use of it without the middle section. It is another best pole hedge trimmer UK.
There are safety switches which are very close together making it more user-friendly. With its centre shaft, it can be extended to give you a final reach of 4 metres.
This electric extending hedge trimmer is powered by a 450-watt engine for high trimming performance. It is lightweight which makes it easier to move around without much stress. You will enjoy its noise level which stands at 95.6dB.
Pros
Close safety switches making it more user-friendly.
3 separate sections that can be used without the middle section.
Gives you a reach of up to 4 metres with the centre shaft.
Very handy with the capacity of cutting branches of various angles and heights.
Power motor of 450 watts for effective trimming.
Cons
Much weight around the blade.
6. Einhell GE-HH Cordless Extending Hedge Trimmer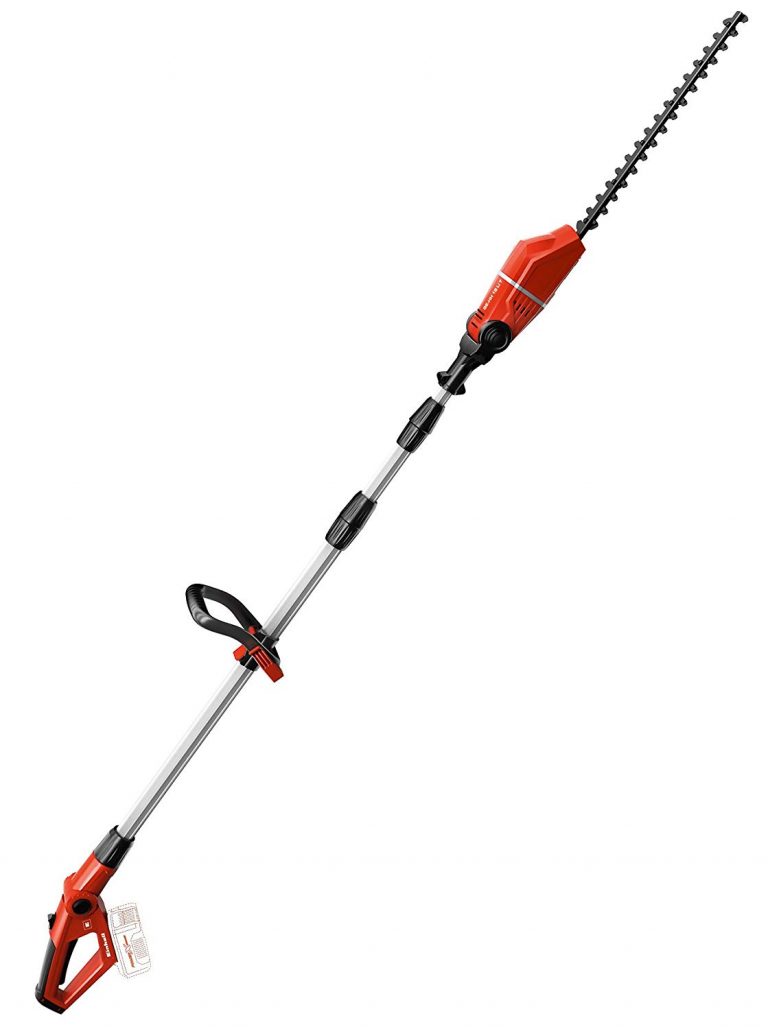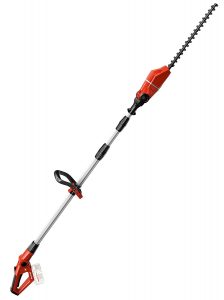 Overview
Battery: 18V – 3ah lithium-ion
Power: 550 watts
Weight: 4.92kg
Dimension: 20.5 x 12.2 x 121.5 cm.
Our Review
The Einhell GE-HH 18 Li T kit Power X-Change Cordless High Reach Hedge Trimmer is a product of choice if you want convenience in hedge trimming. It comes with great features that will make your job easier and give you the best result.
It is powered by an 18V 3Ah battery for hitch-free and effective trimming. Its blades are made of diamond-grinded and laser-cut steel. You can adjust the telescopic aluminium handle continuously for easy reach of difficult areas.
A cordless product with 45cm blade gives you the perfect cut you desire. With a cutting width of 40cm, this is surely a perfect product you need to get. You will also love its metal gearbox which makes room for long duration work.
Pros
Adjustable aluminium telescopic handle for easy reach of all vital areas.
Metal gearbox for long-duration cut.
Diamond-grind and laser-cut steel blades for ideal cutting results.
Adjustable additional handle for easy adjustment to the work situation.
A high-speed battery charger that can charge your machine within one hour.
Cons
7. eSkde Electric Pole Hedge Trimmer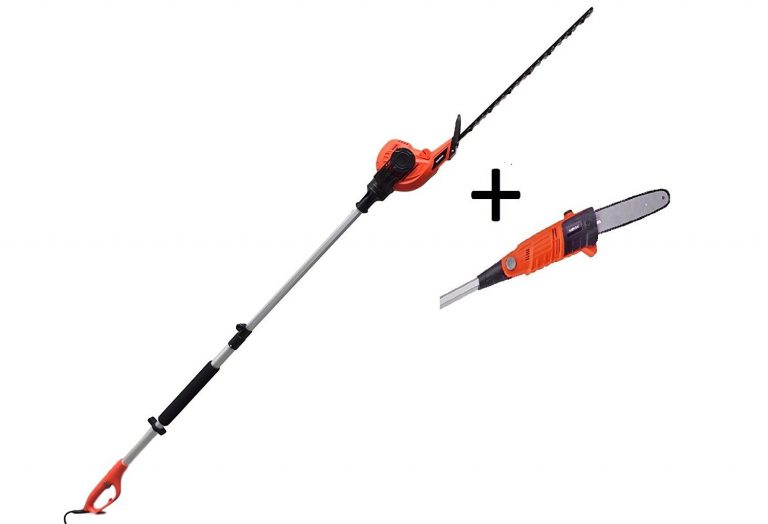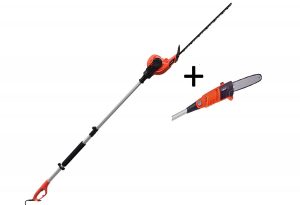 Overview
Power: 450 watts
Blade length: 16mm
Weight: 3.8kg
Dimension: 106 x 19 x 19 cm.
Our Review
If you desire a product with a high level of flexibility, you need the eSkde Electric Long Reach Telescopic Pole Chainsaw Pruner Hedge Trimmer Kit. This is an ideal product that will take your hedge trimming task to the next level.
The eSkde 2-in-1 electric long reach hedge trimmer comes with all the features that help you to cut all difficult areas around your garden. It comes with a long cable of 10 metres enabling you to get down to work with ease.
The eSkde lightweight telescopic long reach hedge trimmer has a telescopic aluminium handle with two cutting heads. This will go a long way in ensuring that a perfect trimming is achieved at all times. You can also adjust the cutting heads to multiple angles so that your work can be better organized.
Pros
2-in-1 machine giving you value for your money.
Telescopic aluminium handle for effective trimming.
Cutting heads can be adjusted to various angles to achieve the best result.
The long cable of 10 metres perfect for all gardens.
450-watt engine capable of providing the speed of up to 1600rpm.
Cons
You will have to cope with the long cable.
8. TRUESHOPPING Petrol 5 in 1 Multi Tool Hedge Trimmer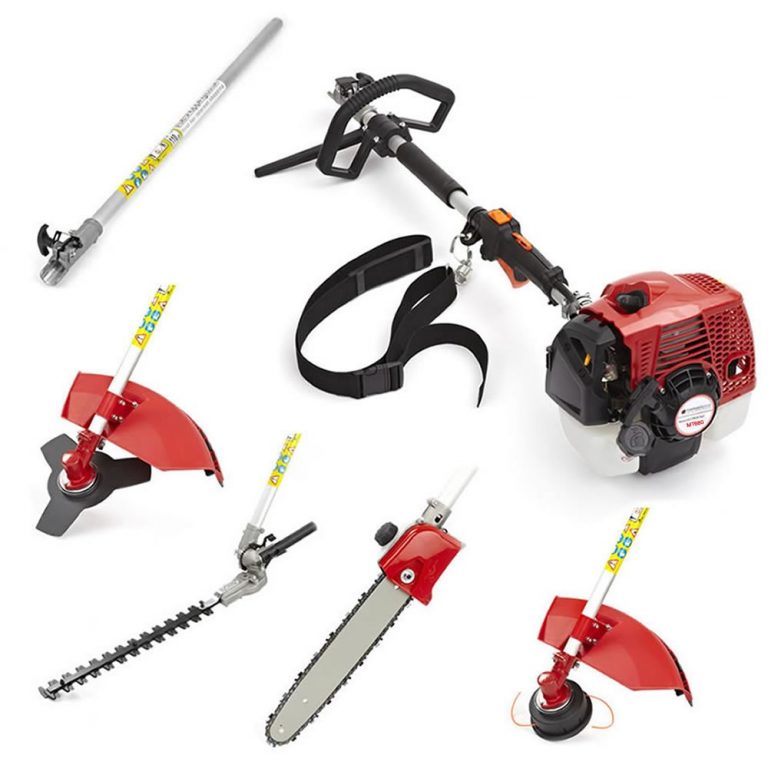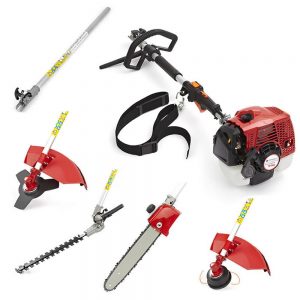 Overview
Power: 2600 watts
Blade length: 40cm
Weight: 6.6kg
Dimension: 108 x 32 x 30 cm.
Our Review
TRUESHOPPING Petrol 5 in 1 Multi-Tool hedge trimmer is a powerful machine that is worth its price. It can be used as a hedge trimmer, brush cutter blade, grass trimmer, and so on. It features a 62cc 2-stroke engine for effective trimming of easy and difficult jobs.
With a power rating of 2600 watts, this is certainly the best machine you can get for your garden. It is petrol hedge trimmer extendable to easy to use and start making it an ideal choice for trimming hedges and cutting branches that are hard to reach.
Its double-edged blade is made of hardened steel and can be adjusted to 10 cutting angles. The trimmer's cutting height is 40cm while the brush cutter has a cutting diameter of 30 cm.
Pros
Multipurpose machine for doing various tasks on your garden.
Double-edged blade made of steel for enhanced durability and efficiency.
Adjustable blade of up to 10 cutting angles.
Trimmer's cutting diameter of about 40cm for better trimming.
Brush cutter made of metal T3 pronged blade with a cutting diameter of 30cm.
Cons
Hefty because it is powerful.
9. Bergman Lightweight Hedge Cutter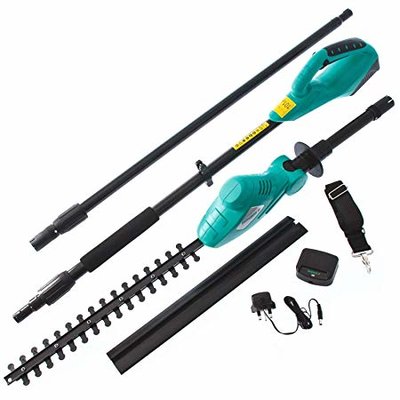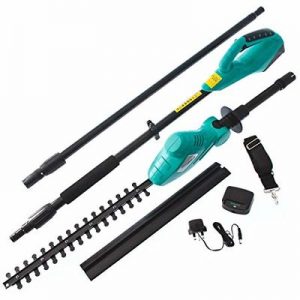 Overview
Cutting length: 45cm
Speed: 1500rpm
Weight: 9.5kg
Dimension: 150 x 21.4 x 19 cm.
Our Review
The Bergman Electric Long Reach Hedge Trimmer is a motorised convertible trimmer with the ability to deliver fast and effective results. Its telescopic lightweight pole can reach 3 metres enabling you to handle tall hedges with ease. It is one of the best telescopic hedge trimmers.
Weighing just 9.5kg, you easily manoeuvre it with ease. The angle of its chainsaw head can be adjusted into 3 positions. The trimmer head can be adjusted to 6 positions so that you can clean horizontally and vertically.
What's more, you will love its no-load speed of 1500rpm enabling you to achieve the best result always. Its lightweight aluminium long handled hedge trimmer is very strong with soft-grip handle. Now you can make a decision to buy it after reading Bergman hedge trimmer review.
Pros
Adjustable chain saw the head of up to 3 positions for reaching difficult areas.
Adjustable trimmer head of up to 6 positions for easy horizontal and vertical trimming.
No-load speed of 1500rpm for perfect trimming without much hassle.
Powerful, lightweight aluminium pole having a soft-grip handle.
Package includes trimmer head, motor, lopper head, and extension pole.
Cons
10. Gtech L

ightweight Extendable Hedge Trimmer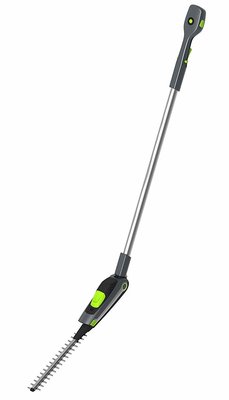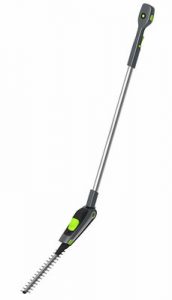 Overview
Battery: 18v Lithium ion
Runtime: 45 minutes
Weight: 2.3 kg
Dimension: 109 x 21.4 x 12.8 cm.
Our Review
The Gtech 1-04-032 HT20 Battery Hedge Trimmer is the perfect option for trimming your hedges. It is a lightweight extendable hedge trimmer with a high-torque 18V motor and just weighing 2.3kg for effective manoeuvre.
Also, it comes with an adjustable cutting head enabling you to trim the top of hedges of up to 10 feet tall.  You can rotate the head through to 135° so that you can be in control of your work.
The precision blades have the capacity of cutting stems as thick as 15mm. You won't be bothered with cords as the cordless technology takes care of that. Giving you a runtime of 45 minutes, you can get down to work and be able to cover more grounds quickly.
Battery charging only lasts for about 4 hours and there is a LED display which shows the time you have left on the battery. With two safety buttons, accidental starting is prevented giving you perfect protection.
Pros
Adjustable cutting head that can cut hedges of up to 10 feet tall.
Powerful precision blades for cutting up to 15mm thick stems.
Cordless trimmer for roaming-free trimming.
Long runtime of 45 minutes for prolonged work.
Optional branch cutter attachment for cutting thicker branches of up to 60mm thick.
Cons
The blade may end if dropped but can easily be bent back to normal shape.
11. Aerotek 40V Battery Powered Extendable Hedge Trimmer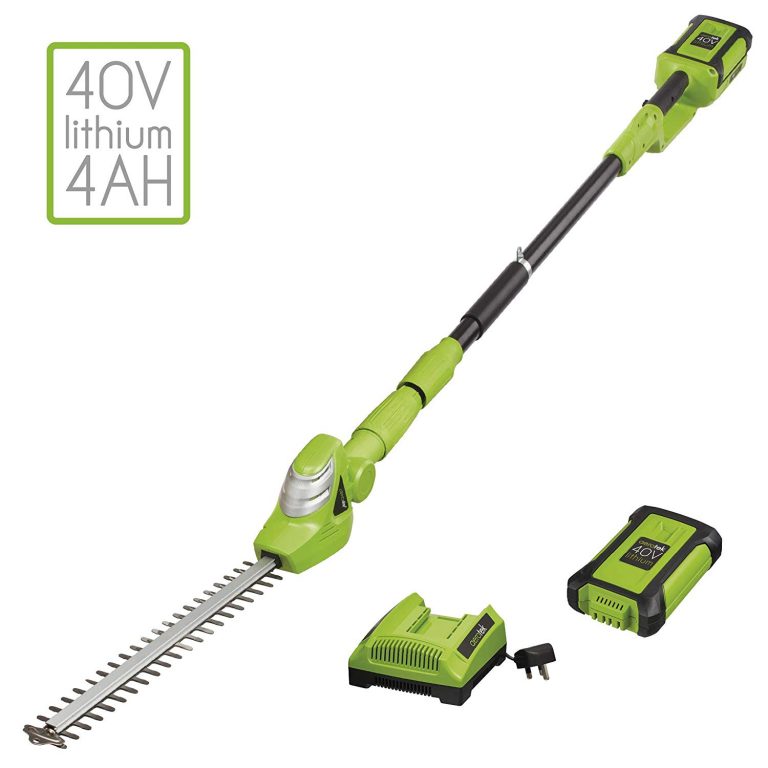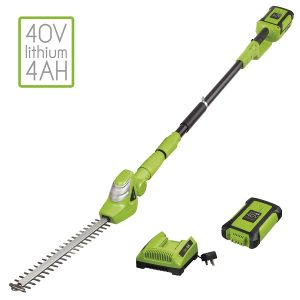 Overview
Battery: 40V – 3ah lithium-ion
Cutting length: 50cm
Speed: 1300 rpm
Telescopic range: 2 – 2.75 metres.
Our Review
The Aerotek 40V Series X2 Cordless Battery Powered Extendable Pole Hedge Trimmer makes trimming job as easy as ABC. It is a cordless machine powered by a 40V lithium-ion battery giving an exact performance like a petrol strimmer. It is another best long reach hedge trimmer UK.
The Aerotektelescopic long reach hedge trimmer is fortified with an adjustable cutting head so that trimming can be carried out with ease. With a cutting length of 50 cm, this is definitely the machine that will give you an optimum result.
Furthermore, you will find a telescopic range of between 2.2 metres and 2.75 metres for effective trimming of high hedges. You will also have the opportunity of reaching areas that are hard to reach with ease. The Aerotek hedge trimmer is the other best professional long reach hedge trimmer to buy.
Pros
Powered by strong 40V battery giving you the same result as the petrol and corded trimmers.
Large cutting length of up to 50cm for effective cutting.
Telescopic range of between 2.2 metres and 2.75 metres for easy deployment of the machine.
Quick-charging X2 battery guaranteeing top-class performance.
Adjustable head for easy trimming of both top and sides of hedges.
Cons
Battery and charger are not included.
Buying Guide of The Best Extendable Hedge Trimmer
We all understand how annoying and uncomfortable it is to try and trim those very top parts of a hedge. Trying to multi-task by balancing on the ladder and doing a good trimming job on your hedges and still staying safe can be such a nag.
The wrong kind of hedge trimmer in terms of reachability can make a simple job a hard task and take more time to complete. The best option for those hard to reach areas of your hedges is an extendable hedge trimmer, also known as pole hedge trimmers.
These extendable hedge trimmers will help you reach the high end of the hedge without the use of a ladder and the need for fighting to balance. If you don't already own an extendable hedge trimmer here is a simple buying guide on the best extendable hedge trimmer and what to consider while buying.
Electric or Gas Pole Hedge Trimmer
When buying a hedge trimmer the very first consideration, you should make how you prefer it powered. Your personal trimming hedge needs should influence this powered decision. An electric hedge trimmer requires that you have a socket near the area you are trimming as it is restrictive.
If the electric trimmer is your preferred choice, you might need to buy extension codes to add to your area of reach. The electric trimmer is eco-friendly as it doesn't produce fumes and gas smells, it is not noisy, is lightweight compared to gas trimmers, with steady and unlimited power source you will do as much work as you'd like and the electric trimmers are the cheapest of all trimmers in the market.
If your hedge trimming requirements are more intense and require more power, especially if you a clearing bushes, then the gas trimmer might be the best option for you. The gas-powered hedge trimmer is more powerful and can push through tougher jobs like cutting tree branches.
They are efficient in that they will power through the job without the need to refill gas or change a battery. The gas-powered hedge trimmer has readily available parts and is easy to make repairs with necessary mechanical skill. The hedge trimmer, however, is a dirty tool due to the use of gas, it makes a lot of noise while using it, it is heavy and is expensive to buy.
Weight
The best hedge trimmer is one that has its weight centred in the right place. You will need to move it around with you a lot and in a lot of cases, lift it to reach the top parts of your hedge. You, therefore, need a lighter trimmer, and an electric hedge trimmer is the lightest.
However, the gas trimmer's weight sits on the handle, which makes it stable while working on it. While the extendable electric trimmer will centre its weight on the blade which might make it a little wobbly while working on it but it's a price home users are willing to pay.
Cutting Capacity
Cutting capacity is an important aspect to consider when choosing the right trimmers. Cutting capacity refers to the size or diameter of branches that your blade can cut through. Choose a larger cutting capacity for heavy-duty jobs. For residential jobs, it's usually around half- 1" blade.
Blade Length
Blade length is another critical aspect, and your needs influence that. If you want neat and precise results, a shorter blade is the best option. But if you want a blade that can handle sturdier branches, the longer edge will make your work easier.
Reach
Reach is essential when buying an extendable hedge trimmer. However, you need to know that the longest the extension is not always best as it will be heavy and wobble a lot and the job might not be as neat as you'd like. Look for a blade with a reach that is only ideal for your hedge needs.
Ease of use
Of course, anything you look to buy should e easy and straight forward to use, handle or operate. You want a trimmer with excellent grip, especially if it becomes wobbly, one that is straight forward in turning off or on, and one that is to store or pack up. This decision you'll make according to your requirements and preferences.
How to Use A Long Reach Hedge Trimmer Safely
Let's talk safety, shall we?
Inspect the Hedge's Shape
It's essential to inspect the shape of the hedge to ensure that there is enough growth at the bottom to support the fence. You'll know if the extension can support the hedge if the top growth slopes inwards.
Check the Weather
Make sure to check the weather, especially for rain. You don't want to be in the rain, especially while using an electric hedge trimmer as this can be a safety disaster.
Wear Appropriate Footwear and Clothing
The appropriate gear while trimming hedges is proper fitting, comfortable clothes that won't get in the way of cutting. Wear shoes that have a good grip that will not be slippery as this would be very dangerous. Ensure that you wear heavy-duty work gloves, and safety eyewear to protect from flying plant particles that could put your eyesight in jeopardy.
Clear the Area and Check for Safety Hazards
Clear the area by removing any dead leaves and sticks to prevent them from sticking to your trimmer and spoiling it or breaking it down. Inspect your hedge for any electrical codes that might be running through it that would be dangerous. Also, look for any nesting for birds or other animals to ensure that they are also protected.
Start Trimming
After checking all the safety boxes and getting the perfect extendable hedge trimmer, it's time to get down to working the hedges and start the trimming. Make sure to hold your trimmer firmly with both hands and switch it on. Start trimming from the bottom moving towards the top, and is advised to shave in a circular motion to see which branches to cut.  Cut the bottom thicker than the top so that you can allow the sun to reach the bottom part of the hedge for better growth and nutrients.
Bottom line
Making your hedges and bushes to look neat is not a stroll in the park. However, if you are able to get the best extendable hedge trimmer, you will be able to get the job done quickly and effectively.
There are lots of long reach hedge trimmers in the market, but if you are very clear with what to look for, you will find it easier to make the right choice. Your needs are very important and you need to really understand them.
You will need to consider other factors like your yard size, power source, product weight, pocket size and so on. This will go a long way in helping you to get the best trimmer, especially when you use our guide above. A lot of thanks to reading the best long reach hedge trimmer reviews.