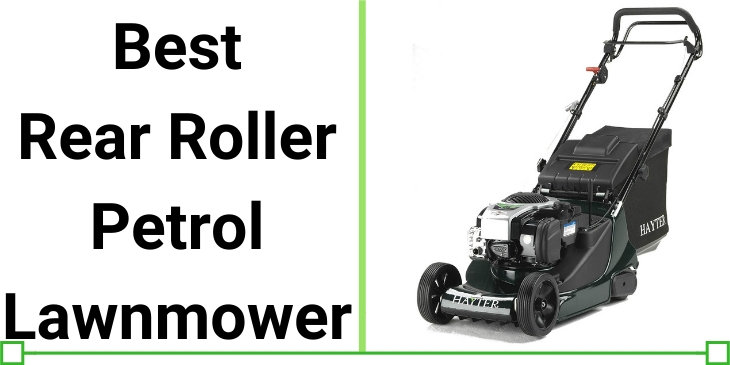 Best Rear Roller Petrol Lawnmower 2023 UK Reviews
Last Updated on January 3, 2023
---
Striped lawns look very neat and professional, but to achieve this feat, you need a rear roller petrol lawnmower. Why petrol mower? Because such mowers have the power and features to give you the healthiest grass layers.
It's the reason petrol mowers with rear rollers are getting popular every year. And there are several options in the market to purchase. But, which one will suit your requirements?
Without knowing the answer, you cannot invest in a product. To help you in the same, we have compiled a list of eight best roller lawnmowers. For better understanding, we have also separated the positive and negative aspects of each option.
Best Rear Roller Petrol Lawnmower 2023 UK
---
Buying Guide of Best Rear Roller Petrol Lawn Mower
To help you select the best roller lawn mower, we have also included a buying guide. This section will let you know what you need. We hope that this information is useful to select the best petrol lawn mower with roller.
Cutting Width.  The cutting width or the blade width is an area covered by a lawnmower while the grass cutting process. Broad cutting path means you will spend less time mowing the garden.
For smaller lawns or garden prefer a rear roller petrol lawnmower with at least 30 cm of cutting width. If you have a medium-sized yard, then refer a mower then more than 40 cm of blades. More than 40 cm only required if own a significant area.
Cutting Height. Cutting adjustments decides the height of lawn grasses left after using a mower. All the petrol roller lawn mowers that we discussed today have variable height adjustments, you only to move a lever and its done. You can check the cuttings height range mentioned with every option.
Cost of the Lawnmower. If you have a small lawn wherein you want some excellent stripes this season, you can choose a lawnmower up to £300. Something like Cobra RM40SPC that has enough power and cutting features to fit the bill for a small area.
On the other hand, if a significant area needs maintenance, then you should spend anywhere between £300 to £400. We have given you several options, including the best petrol lawn mower for stripes: Hayter Spririt 41.
---
Benefits of Rear Roller Lawn Mower
As we know, a lawnmower comes with a roller attached in the rear or front. It leaves a striping finish on your lawn that looks classic and professional. But, there is more then what meets the eye in the case of a lawnmower with a roller. Let's talk about the same.
Best for uneven ground: All the lawns are not similar. Some of them have tough terrains, bumps, inclines and declined pathways. Regular mowers will run into a crack and will struggle in moving forward. However, a lawnmower with a roller will easily surpass the barriers to provide you with even cuts.
It has a firming action. Due to the roller, such mowers are more massive than regular variants. It's the reason why a lawnmower with roller flattens worm casts and divots.
It won't drop over the edge of the lawn. Cutting the grasses along the borders will not be a problem with a lawnmower with a roller, primarily if it extends to the edges. Due to the added balance, you will not face any issue while mowing along the fences.
Is it a Good Choice or Not?
After knowing the best petrol lawn mower with roller, many will think; should I invest in one of them? There are a few things to consider, and you will know the answer.
Lawn size. A roller lawnmower is expensive than regular mowers. So, it's not beneficial to purchase one if you need to maintain a small lawn. Its again a bad idea to invest one of them, if you are not inclined towards strips.
Time. If you want a mower to finish the task as soon as possible, then you don't need a lawnmower with a roller because it takes comparatively higher time to cover a given area.
Unable to follow the straight path. If for some reasons, you cannot walk with the mower in the straight line, you should invest in a mowing machine without a roller.
Thus, if you don't mind the high price tag or you are not a hurry to complete the grass cutting, then only you can choose one of the options we discussed today.
---
Best Petrol Lawnmowers with Roller UK Reviews
1. Hyundai HYM480SPR-Best Rear Roller Petrol Lawn Mower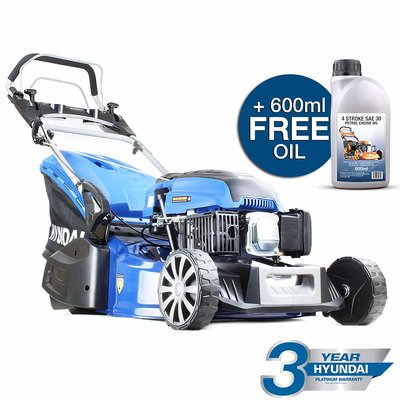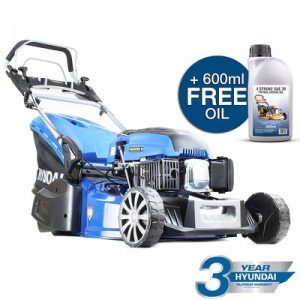 Product Specification
139cc
Blade width. 48 cm
Grass collection. 70 litre
Cutting height. 25 – 75 mm.
Review

HYM480SPR is a self-propelled lawnmower, which draws power from an economic IC140V OHV 4-stroke petrol engine. It has a split rear roller for stripes and smooth turning.

With a cutting path of 48 cm and five height adjustments between 25mm to 75mm, the mower is suitable for medium and large lawns.

There is a single height adjustment lever to change the grass cutting length. Apart from being economical, the lawnmower roller mower emits less carbon and requires minimal maintenance.

The ribbed read roller of this Hyundai petrol lawnmower produces traditional British stripes on your lawn. Its 38 cm roller extends to the edges so that you can mow along the fences without any hassle. This roller has a split form factor, which helps you quickly turn the machine at the end of each pass.

Hyundai petrol lawnmower has a durable steel deck and can withstand any conditions. Internal components are also made of high-quality materials, which makes sure that the machine works in your desired way all its life.

It comes with a large grass collection bag with a plastic top and level indicator. Plastic maintains proper airflow, and its indicator lets you know when to empty the collector. It has soft grips and the handles can also be folded for secure storage.

Embedded with OPC (Operator Presence Control), the machine will never run away even if you leave the handle. After the use, you can easily wash the mower using its deck cleaning connection. All you need is a garden hose, and the machine will quickly wipe itself.

Pros
Easy to start
Low fuel consumption
Single point height adjustment settings
Foldable handles to occupy less space in the garage.
Cons
Misleading instructions manual.
---
2. Hayter Harrier 375A- Great Rear Roller Petrol Lawnmower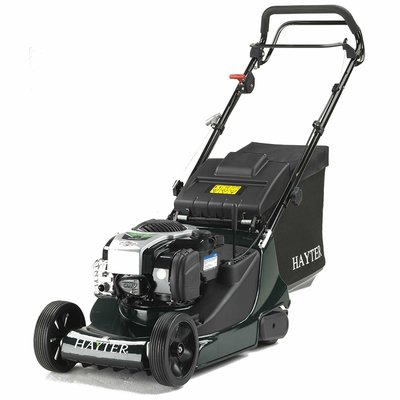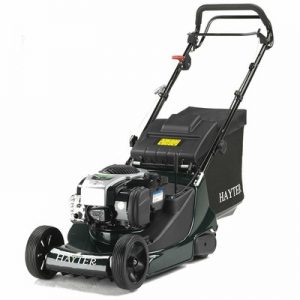 Product Specification
190cc
Blade width. 46 cm
Grass collection. 53 litre
Cutting heights. 13-60 mm.
Review

The Hayter Harrier 41 is a petrol rotary mower with a fuel tank worth one litre. Its rear roller produces excellent stripes to match your mood and keeps the lawn healthy.

The cutting width of the lawnmower is 46 cm, and you can use it at seven stops between 13 mm to 60 mm. The machine has foldable handles for secure storage and a 53-litre grass bag, which is sufficient to cover a medium-sized lawn without much emptying.

The rotary mower with roller is manufactured to provide best results on all the grass types, including the stubborn, wet and long ones. Powered by a Briggs & Stratton 625E-Series four-stroke engine, the mower consumes less fuel and works at a low vibration.

Even after being a petrol lawnmower, the machine is quiet when compared to other variants. Moreover, its carbon emission level is comparatively less than other petrol-powered options.

As the petrol mower with roller has this facility to control the running speed via a trigger, you can use the same according to your style. Its significant grass bag does a beautiful collection of clippings and never leaves anything that can spoil the lawn appearance.

It's is an auto-drive machine that moves without using your efforts. So, you only have to guide the way to get the work done.

If you need a lawnmower that's excellent in creating professional-grade strips in a medium or large-sized lawn, then make some space in your shopping list for the Harrier 41.

Pros
Produces visible lawn strips
Foldable handles for secure storage
Provides extraordinary results on long and wet grasses
Cons
The variable speed control layer is somewhat stiff
---
3.  Hayter HAD617E Spirit 41- Lawnmower With Roller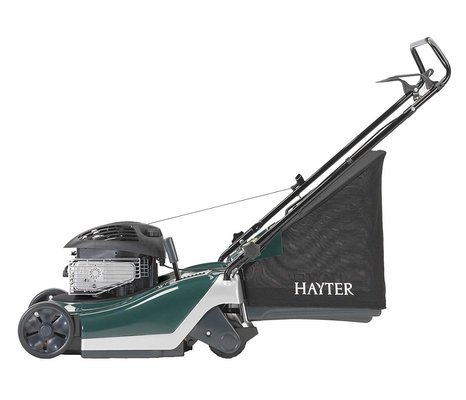 Product Specification
4 hp
Blade width. 41 cm
Grass collection. 55 litre
Cutting heights. 16 – 35 mm.
Review

The Hayter Spirit 41 is a push lawnmower with one-litre petrol tank. Due to the rear roller, it makes clear strips on your lawn. As it has a full-width ribbed roller, the mower gives you high quality striped finish on your turf.

It has a decent cutting width of 41 cm and the grass length can be adjusted seven times between 16 mm to 35 mm. Foldable handles add to the storage convenience while its 55 litres' grass bag saves your time by reducing the number of trips to the dispose bin. Such features and power are suitable to deal with a small or medium-sized lawn.

Spirit 41 is a four-wheel-drive lawnmower that cuts well. Whether its long or wet grasses, it never differentiates between them. All the credit goes to its Briggs & Stratton Series 500 Engine that generates a power of 4 horsepower. The brand is known worldwide for its durable and reliable products.

Hayter is famous for manufacturing durable machines. Spirit 41 belongs to the same group. This push mower with roller has a durable deck made of ABS polymer, which easily withstands the regular usage.

At 35 kg, it's not a light machine. However, due to the rubber tires fitted on ball bearing, it's easy to push. There is a manual lever to change the grass cutting height. For added safety, the machine also has an Operator Presence Control (OPC) lever.

So, if you want a robust lawn mower that's efficient and can produce some neat stripes, Spirit 41 could be the right product for you. We hope the same and it's the reason we gave you the Hayter spirit 41 review at the top.

Pros
Produces even and smooth stripes
Easy to manoeuvre and control
Compact to store, primarily due to the foldable handles
Cons
Height of the handle is not adjustable
---
4. Mountfield S421R PD- Rear Roller Lawnmower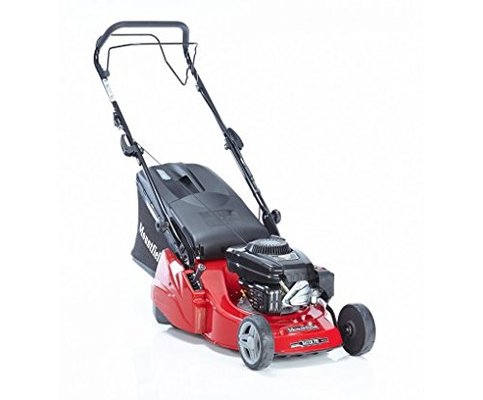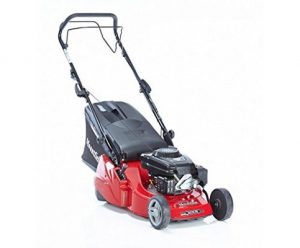 Product Specification
Power. 100cc
Blade width. 41 cm
Grass collection. 55 litre
Cutting height. 20 – 70 mm.
Review

Ideal for small to medium areas, the S421R PD is a very economical lawnmower that has a powder-coated steel chassis for longevity. It has a rear roller that helps while making some classic strips.

To generate power, the mower uses an OHV 4 stroke engine. The mower has a recoil start system, which works for many years without any trouble.

Mountfield S421R PD comes with a 41 cm cutting width and five height adjustments between 20 mm to 70 mm. To choose the appropriate height, it has a manual lever for easy changes.

The grass box is easy to attach and remove. As it has a decent space for grass clippings, you will make fewer trips to the garbage pile. The rear collector also has a grass level indicator, so that you can empty it once required.

All these features help the machine to cover an area up to 20 meters by 20 meters. Also, due to the roller, it produces some immaculate and uniform strips that you can sit back and enjoy.

The Mountfield petrol lawn mower is self-propelled, and its weight is also moderate at 31 kg. So, you do not have to strain your body by pushing a heavy lawnmower.

Moreover, it has padded handles that can be conveniently used to guide the machine. Due to its robust construction, the mower never cares about the condition or the grass type and gives you even cuts.

If you want more control over the mowing speed, then Mountfield will disappoint you. This model does not have a throttle that can control or change the movement rates.

Pros
A powerful engine that withstands regular use under harsh conditions
Able to make attractive stripes
The grass collection bag is large
Five cutting height adjustments
Self-propelled.
Cons
Lacks speed control function.
---
5. Webb WERR17SP-Petrol Lawnmower With Roller

Product Specification
Displacement: 140 cc
No of Speed Position: 6
Cutting Width: 43cm
Grass Box Capacity: 55 litres
Weight: 32 kg.
Review

If you desire one of the best rear roller petrol lawnmowers in the UK, the Webb WERR17SP is your best bet. It comes with a rear-mounted roller so that you can get that alluring striped finish you have always desired. It is built around a solid ABS cutter-deck, and that is why it is a durable product to consider. Coming from a famous UK brand, this machine has all you need for effective lawn maintenance.

Fortified with the 140cc Briggs & Stratton 500E-Series engine, you should expect top performance during operations. It is designed to handle changing British conditions, hence, it can mulch, collect or discharge from the rear. You will like the self-propelled capability of this mower, meaning that you don't need to apply too much effort when working. With a cutting width of 43cm, you can maintain a large garden without much hassle.

Besides, it comes with a grass box capacity of 55 litres, which is large enough for accomplishing your tasks. The use of the emission-reducing OHV (overhead-valve) technology ensures that you are not exposed to excess fume. Headaches associated with starting the machine are eliminated, thanks to the blend of a Magnetron electronic-ignition and a float-feed carburettor. Its splash lubrication contributes immensely to its durability.

What's more, there is a Lo-tone muffler, which ensures that you don't feel the discomfort of excessive noise. You won't mind its quick-fold handlebar, and that is why you can be sure of space-saving storage. Weighing just 32 kilograms, its manipulation will not give you much hassle.

Pros
British-made quality.
Self-propelling eliminates pushing effort.
Easy to start and use at all times.
Leaves striped finish on your lawn.
Built around a hardwearing ABS cutter-deck.
Cons

Single-speed self-drive.
---
6. Cobra RM40SPC Rear Roller Petrol Lawn Mower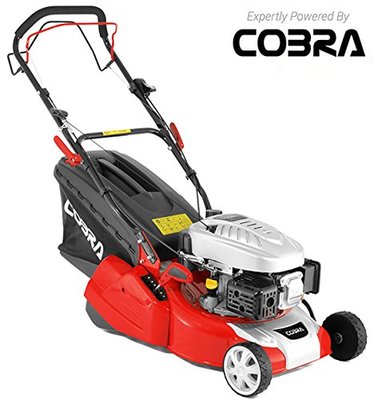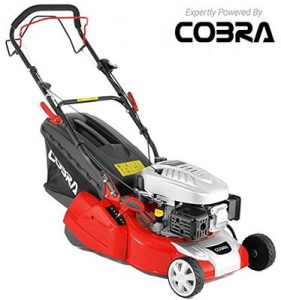 Product Specification
135 cc
Blade width. 40 cm
Grass collection. 60 litre
Cutting height. 17-75 mm.
Review

The RM40SPC is powered by a Cobra DG450 engine, which is powerful, economical and works quietly. With optimal performance and high efficiency, the lawnmower gives you the best in terms of lawn mowing.

It has a rear roller that finishes your lawn with nice-looking stripes. If you need a designed garden this season, this one of the best roller lawn mower.

RM40SPC is a self-propelled lawnmower. The machine has six cutting heights between 17mm up to 75mm, wherein it uses a 40 cm wide blades. All the height changes can be done with a manual lever placed smartly near the rear roller.

Apart from making lawn strips, its rear roller also helps you while mowing up to the edges of fences or flowerbeds. When the front wheels are in line with the border, its roller supports the machine. So, you get added stability and support.

With a 60-litre grass collection bag, the roller mower stores all the clippings from a medium-sized lawn without repeated trips to the dispose. Made of high-quality fabric, the grass bag promotes airflow to make the collection even more compact and convenient.

Made of durable steel, the machine has a long-lasting body. With a robust engine and excellent cutting features, the RM40SPC is suitable for small and medium-sized garden up to 600 m2.

Its handles are foldable, hence reduces the storage footprint. The Cobra mower crawls well into your lawn to make some professional stripes with even and smooth cuts. Overall, a product with excellent value for money.

Pros
Self-propelled lawnmower for easy manoeuvrability
Comfortable and soft handles that can be folded easily
Decent cutting width.
Cons
No option or throttle to change the speed.
---
7. Webb WERR17 Rear Roller Petrol Lawnmower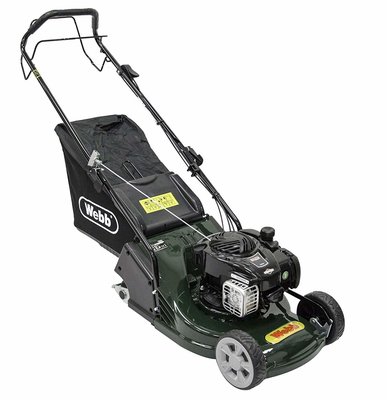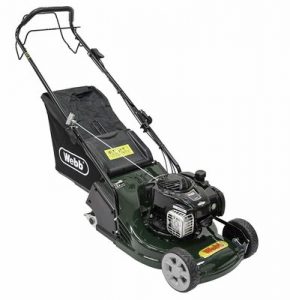 Product Specification
158cc
Blade width. 42 cm
Grass collection. 55 litre
Cutting height. 23 to 75 mm.
Review

The Webb WERR17 has a cutting width of 42 cm that can be adjusted for six times between 23mm to 77mm. It also has a split rear roller for a striped finish.

This self-propelled petrol rear roller lawnmower has a 55-litre grass collection bag and a quick release foldable handles for compact storage.

The mower can either collect or discharge the grass clippings, and if you are in the mood to return some nutrients to the soil, it also has the mulching function. A mulch plug is already included, so you will not have to look for any accessories.

WERR17 is a versatile mowing machine the comes with a Briggs and Stratton 4 stroke OHV engine from 500e series. Due to a sturdy and durable motor, the mower delivers smooth cuts on all the grass types.

It has a start button that is backed up by a Lithium-ion battery. So, starting the engine is also a quick and easy task. Using its rear roller, you can create some excellent stripes on the lawn for a professional finish. Grass collector and a manual lever to change cutting heights make it suitable for a small or medium-sized garden.

Webb mower has a durable ABS thermoplastic deck, which is resistant to rust and corrosion. At 32 kg, it has a moderate weight, but no troubles arise while using or moving the machine. All thanks to its padded comfortable handles and front rubber wheels, you can easily manoeuvre the machine.

Pros
Foldable handles for a secure storage
Expert in making lawn strips
Cutting heights can be easily adjusted
Sizeable grass collector
Cons
---
8. Hyundai HYM460SPR Roller Mower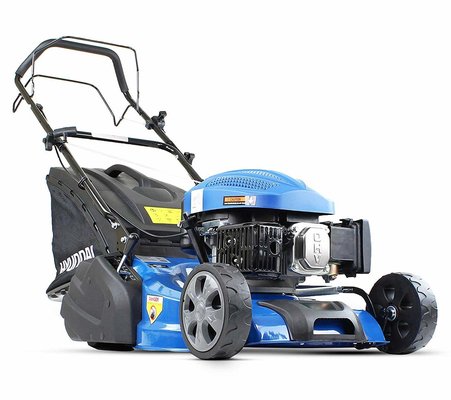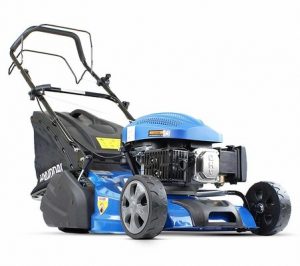 Product Specification
135 cc
Blade width. 38 cm
Grass collection. 60 litre
Cutting heights. 17 – 75 mm.
Review

Powered by 135cc 4 stroke engine, the HYM460SPR is a self-propelled lawnmower. Its engine is not only powerful but also emit less carbon and consume less fuel.

The mower has seven cutting heights between 17mm to 75mm. Equipped with a 38 cm wide ribbed rear roller, it produces striking sharp strips on your lawn.

The roller extends up to the edges so that you can mow along for a solid finish. Moreover, the roller is split into two parts, which gives you better control over the mower and also helps you in a better turn around once the pass is over.

Due to the CDI ignition mechanism, the lawnmower is easy to start. With a cutting path of 46 cm, the lawnmower is suitable for small and medium-sized lawns.

There is a unique maintenance cover that gives you access to the drive belt. So, if there is a problem, you can solve it manually.

The petrol mower with roller has a 60-litre grass collection bag with a plastic top. Due to a large-sized grass bag, the mower ensures maximum clipping storage and can be emptied quickly.

There is an onboard grass level indicator that lets you know when to leave the pocket. As it has seven cutting heights, you have complete control over your garden. There is a single manual lever that changes the height by adjusting the wheels.

Want some traditional British strips on your lawn? Choose this Hyundai lawnmower that has a split roller that gives you the best streaks in the town.

Pros
Produces luxury strips on your lawn
Self-propelled petrol rear roller lawnmower for ease of use
Easy to start
Central wheel height adjustment
Large grass collection box with level indicator
Cons
Build quality is not up to the mark, according to the price
---
9. Hyundai HYM510SPER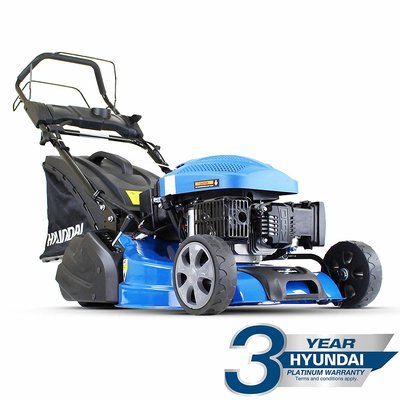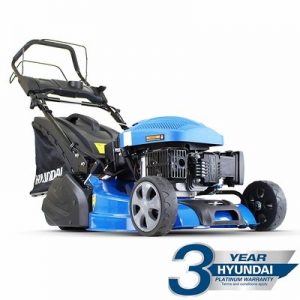 Product Specification
173cc
Blade width. 51 cm
Grass collection. 55 litre
Cutting height. 17 mm to 75 mm.
Review

Hyundai recently introduced the new HYM510SPER with rear roller, self-propulsion and electric start. It's powered by a low emission four-stroke OHV engine that needs minimal maintenance but it provides optimum performance.

The lawnmower has a crucial electric start as well as recoil for backup. However, due to the integrated CDI system, the engine starts smoothly in either way.

Hyundai HYM510SPER has a 38-inch rear ribbed roller that leaves beautiful strips in any season. It also assists you while mowing along the borders, without the fear of toppling the mowing machine.

As this roller is split into two parts, you will enjoy an excellent balance and complete control over the device. Turning around the mower will be very convenient as well. Cutting path of the mower is 51 cm, which is ideal for medium or large-sized gardens.

It has seven different cutting levels to choose between 17 mm and 75 mm. Changing the cutting height is easy using a manual lever.

Grass collection bag of this rear roller lawn mower is roomy and has a plastic top that promotes airflow. Due to its breathable nature, the grass box collects even the smallest green clippings for a cleaner appearance.

To ensure maximum grass pickup, it has a grass level indicator. Due to its significant size, you will not waste much time disposing of the grass clippings.

Hyundai lawnmower is self-propelled using the rear roller, but you can control its speed via a lever placed next to its handlebar. Handles are covered with a soft grip and are foldable to facilitate secure storage.

Pros
Efficient Euro 2 engine with low carbon emissions
An excellent option for a British lawn stripes
Dual startup options.
Cons
Build quality not up to the mark.
---
The Best Type of Lawnmower to Buy
Cylinder. Works with cylindrical blades that revolve in the front of a mower. Such mowers cut against a fixed blade. A cylinder lawn mower can be manual, electric, or petrol powered. Works best if you have a flat lawn that you want smooth and manicured.

Rotary. Such lawnmowers use single or double blades that rotates horizontally underneath the mower. These variants are the most versatile version of lawnmowers that can deal with all the grass types. A rotary lawnmower has a better ability to deal with tall and wet grasses. Rotary mowers can be cordless, mains powered and petrol propelled.

Hover. They are easy to push and are suitable for small lawns. Mostly electric powered hovers the rotary blades to give you satisfactory results on uneven surfaces: example, Flymo Turbo Lite 250. As you can see, it's a very cost-effective option if compared to the other two variants we discussed. But, have its limitations. If you have a large garden, you will not be able to enjoy a hover. Most f the times due to its power cable.
Bottom Line
Petrol roller lawn mowers are expert in producing professional strips that remind you of the British gardens. Apart from that, it has a few other benefits that we discussed above. Once you are in a mindset to purchase, you can select the best one from the options we listed today.

Use the buying guide, specifications and features to know which one suit you the best petrol lawn mower for stripes. Make sure you understand your requirements before you invest your hard-earned money on a rear roller petrol lawnmower.