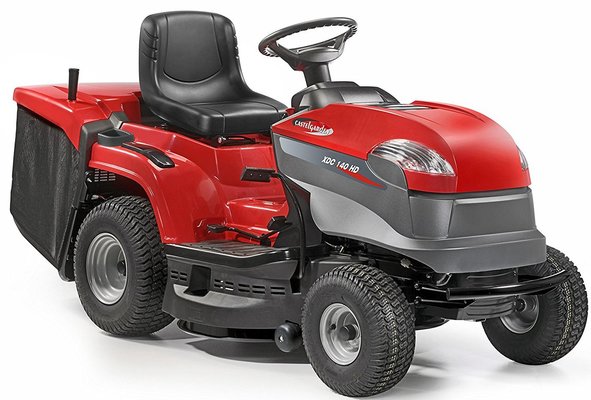 Best Castelgarden Ride On Mower Reviews 2022 UK
Last Updated on September 26, 2022
Do you own a large and hilly lawn? If yes, then a Castelgarden ride on mower is likely to save a lot of time and energy of yours. For lawn care professionals, a riding mower can be an excellent addition to their gardening toolset, especially if you have to maintain large lawns, golf course, or playgrounds.
Many brands manufacture ride-on mowers, so it is hard to find out the best that can suit your purpose. It's the reason we have collected four Castelgarden mowers that are stylish, powerful and efficient. We will take you through their reviews and a buying guide so that you find one of the best ride-on mowers to maintain your green grounds.
Buying Guide of Castelgarden Ride on Mower
Owner of a large property has a big responsibility to maintain the area. If you have a ground of more than one acre, then it will take a lot of time and effort to keep it clean and bright. Riding mowers are excellent tools to take care of a big garden or lawn. As there are many riding mowers available in the market, you have to be specific about what you need? We are listing the most critical factors that need your attention.
Cutting Width and Heights
A typical ride on mower has a cutting width starting from 60 cm and goes up to 110. If you own a mower with full deck size, then it will take fewer passes to clear the given area. Fewer passes mean you will spend less time and energy on lawn maintenance, and you will have umpteen of time and stamina for other tasks.
Full cutting length and numerous stops between them are useful in a ride-on mower. Different events might happen in a lawn or massive golf course. To suit that, the grasses have to look the same. Multiple cutting height adjustments are beneficial for house owners because it can set the mood according to the situation or event. And it's useful for professionals so that they can give their clients what they need.
Cuttings Management
What do you want from the grass clippings? Either you can send them back to the ground, or you can dispose of them off somewhere else. Depending upon the same, you have to choose a ride-on mower. You have three options
Choose a side discharge mower, which can be helpful if you tall or rough grasses.
If you want the lawn to look perfectly clean, then look for a ride-on mower with a grass-catching bag. Keep in mind that you have to dispose of the collected leaves manually.
In the cases where lawn grass is not too long, or you mow very often, accept a mulching kit. You can add the mulching kit to all the mowers mentioned above.
Ergonomics & Ease of Use                      
Invest in a ride on mower that has a bigger deck size. Although, you can choose to own a compact mower for narrow driveways. The small cutting width is also useful if there are a lot many trees as obstacles or there are many flower beds to maintain. So, choose a riding mower that suits your lawn, park or garden.
Storage
No matter what is the engine power or blade size is, a riding mower will need some storage space. A lawnmower with a bigger deck similar storage area. So, make sure you have some extra space in the garage, or you have a dedicated storage area for a mower.
Energy source
Power of a ride on mower is the essential thing that you should consider. Cutting strength of a lawnmower decides the results you will be getting; so choose a mower depending upon the area and grasses.
More power means, you will get better cutting results, even in large compounds. Example, XDC170HD has a 500 cc engine, so it has a coverage area of up to 4000 m2. But, XE966HDB is suitable for up to 1500 m2. Why is that? Because the latter has a less powerful engine when compared to XE966HDB.
Castelgarden Ride on Mower 2022 UK Reviews
1. Castelgarden XE966HDB Hydrostatic Ride on Mower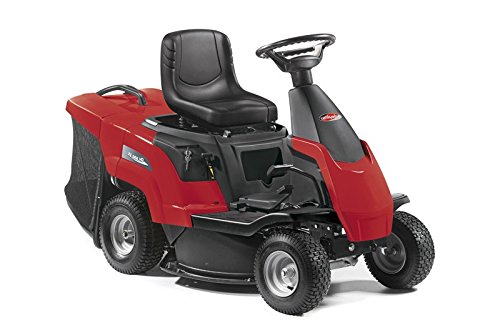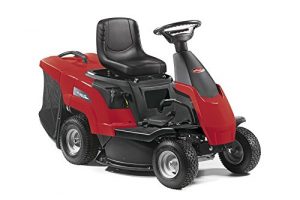 Specification
Engine power. 223 CC
Cutting width. 66 cm
Grass collector. 150 litres.
Overview
Easy and fun to ride, the XE966HDB is a suitable ride on mower for small areas. Its takes all the juice from a 223 CC Briggs & Stratton 950 Series engine that generates 3.3 kW at 2450 rpm.
The mower has a key start engine as well as hydrostatic transmission just like your car. Start the engine, press the pedal and move forward. If you want to increase its speed, press the foot pedal.
For reverse, use the rear section of the pedal. Overall, the riding mower gives you complete control and easy manoeuvring through tight spots.
XE966HDB has a 66 cm wide cutting deck that has a single blade with emergency brakes. You can manually change the cutting height between 30 to 80 mm. It has six height adjustments, which makes the ride on mower versatile for various areas and events.
It collects all the grass clippings in a 150 litres' box, which can be emptied from the driver's seat. If you want to retune some nutrients to the mother soil, there is also an optional mulching kit available for the riding mower.
The ride on ride on brush cutter has an ergonomically designed driving seat for complete comfort. Its steering is also coated with a soft grip that remains easy on your hands.
XE966HDB has a 3.2-litre fuel tank, which is enough to cover the required ground. Remember, the riding mower is suitable only for an area up to 1500 m². Battery charged is also included with the machine.
Pros
Powerful engine for a moderate area
Hydrostatic transmission
Compact size for secure storage and fit tough roadways
Cons
Only for small-sized lawns or gardens.
2. Castel Garden XD140HD Riding Lawn Mower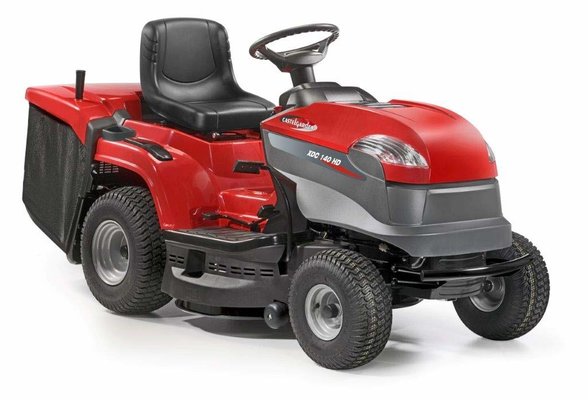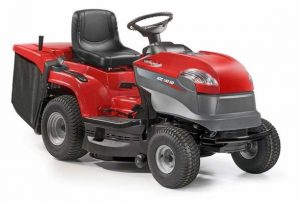 Specification
Engine power. 344 CC
Cutting width. 84 cm
Grass collector. 240 litres.
Overview
Made after research of three years, XD140HD is valuable lawn tractor that is compact, smart and easy to use. Using its 84 cm cutting deck, the riding mower gives you excellent results. You can adjust the cutting height between 25 to 80 mm, which makes it perfect for long grasses as well.
In between the given height range, it gives you seven cutting lengths. It discharges all the grass clippings into a 240litre rear-mounted catcher.
The riding mower comes with a Briggs & Stratton single cylinder petrol engine that has an output of 5.8 kW at 2400 rpm. Featuring Hydrostatic gearbox and electromagnetic brakes, the ride on mower runs smooth. It has integrated protection for belts to avoid unwanted downtimes.
The mower rides on big anti-scalp wheels with a diameter of 100 mm. With great control and small steer radius, you can quickly drive it over hilly grounds. LED dashboard and front headlights are included in the structure so that you can work at any hours of the day or night.
You will find a useful holder on its side that can be used for glass, coffee cup or mobile phone. Ergonomically made driving seat offers complete comfort, and hence you will never have to deal with shoulder or neck pain even after extended cutting sessions.
It has a key start engine. So, once you receive the product, you can directly use it because it also comes pre-assembled. The mower comes with a tow bar, and you can add an optional mulching kit whenever required.
Pros
Front bumper for added protection
Briggs & Stratton 344cc Engine
A low sound level of 100 dB
Cons
Pretty expensive for a 346CC engine.
3. Castelgarden XF140HD Hydrostatic Ride-On Mower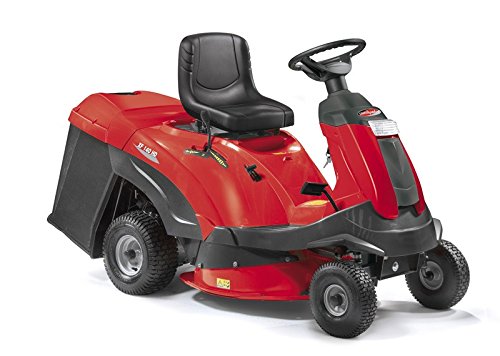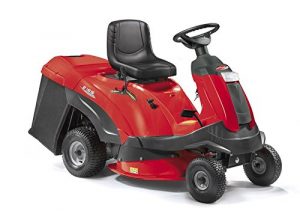 Specification
Engine power. 344CC
Cutting width. 72 cm
Grass collector. 170 litre.
Overview
Driven by a Briggs and Stratton 344 CC engine, XF140HD is suitable for any area up to 2500m2. The riding mower comes with a 72 cm cutting blade. So, you are not only getting a reliable and long-lasting engine, but also smooth cutting results.
The ride-on mower has a hydrostatic drive that means you don't have to shift any gears to move the mower forward. Press the paddle, and the vehicle will follow, according to the applied pressure. It gives you seven height adjustments between 30 to 80mm. So, you can mow the grass according to the season or any preferred style.
XF140HD come with a grass box, but its comparatively smaller than other variants we talked about today. On the positive side, its compact size can be helpful while mowing a garden with multiple flower beds. With a small form factor, it will pass narrow driveways. Moreover, you can easily store it in a garage or yard shed.
You can purchase a mulching kit if you want the cut grasses to be dropped into the lawns but in beautiful small pieces. Mulching will recycle the nutrients and also maintain the moisture level of the soil. Without a mulching kit, the mower will store all the grass clippings in its 170-litre grass box.
When you have some free time on a Saturday evening, and you want to mow your garden or lawn, you can easily do that with Castel Garden XF140HD because it comes with headlights and LED dashboard.
Pros
Decent maximum speed of 8.8 km/h
Turning radius of 140 cm
Inbuilt wash port to clean the deck
Cons
Comparatively low capacity grass catcher.
4. Castelgarden XD170HD Ride on Mower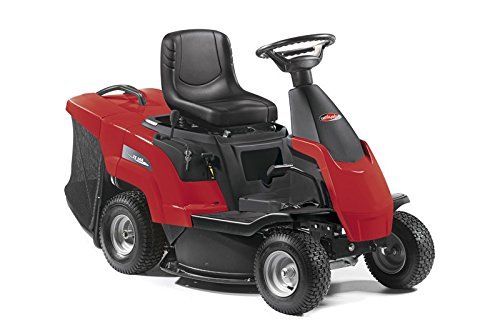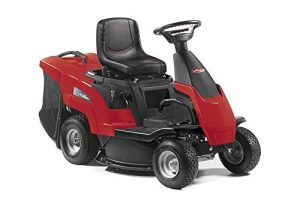 Specification
Engine power. 500cc
Cutting width. 66 cm
Grass collector. 150 litres.
Overview
No matter what size of land you have to maintain, you can always rely on XE 866 B. Powered by a robust Briggs & Stratton 223cc engine, it gives you improved cutting results. The single-cylinder petrol engine of the riding mower generates 8.6 kW at 2600 rpm.
With such power, it covers 4000 square meters of area. As the mower has pedal control with hydrostatic transmission, you can easily cover bigger grounds without feeling stressed or tired.
Perfect for tough terrains, the Castelgarden riding lawnmower comes with a 98 cm cutting deck and anti-scalp wheels. It achieves the given cutting width utilizing two metal blades. Adding to versatility, the grass cutting height of the mower can be adjusted between 25 to 80 mm.
All the green clippings are collected in a rear-mounted catcher, which is made of textile. XE 866 B has an LED dashboard and headlights that assist you on a weekend evening. There is also a front bumper for added protection.
The maximum noise this riding mower can create is 100 dB. So, you will not be irritated, and the lawn guests will not hear much from long distance. Moreover, there are minimal vibrations of its seat. If we talk about numbers, the recorded wave on the driver's seat is 0.7 m/s2. Now, you can understand how smooth your drive will be.
Amazon delivers it pre-assembled. If required, you can add the mulching kit with the mower. Tow hitch and charger is already included with the product, so you don't have to look for related items.
Pros
Powerful engine
Hydrostatic transmission for a smooth drive
Large cutting width covers more area in less time
Comes pre-assembled, so ready to use after delivery
Big grass collector
Cons
How To Operate A Riding Lawn Mower
Convenient to use, a lawnmower makes lawn cutting quick and enjoyable. However, to get the best results from a riding mower, you should follow the right process and some safety tips.
Step 1: Put the key in the ignition and turn it to start a riding lawnmower. Activate the choke if required. Make sure that the batteries are connected with the right terminals before you try to start it. Also, check the fuel level before you start the machine.
In case you own a mower with a manual transmission, you have to press the brake and clutch pedal down while turning the key to start.
Step 2: Use the shift lever to change its gear to the lowest level and press its pedal to move. If you have a mower with automatic transmission, press the gas pedal to move forward. The steering will work just like your car.
Step 3: To stop the mower, you have to press the clutch and brake at the same times.
Step 4: Once you reach the lawn or garden, use another lever to lower down the blades. Drive the mower over your yard until you are satisfied with the appearance. While cutting the grass, keep the mower on low gear all the times. Start from one end of a lawn and finish on the other. Turn around and repeat the process. Once you are done, use the same lever to retract its blades and drive back to the garage. Never operate the mower on concrete surfaces with its edge engaged.
Overall, a riding mower is incredibly simple to operate and gives you efficient lawn maintenance. You will master it after a few practice drives.
Bottom line
If you have a vast land to maintain and you want to save time as well as energy, then a riding mower is a smart investment. Ride on motors are available from different brands, but Castelgarden mowers are the best because they suit your budget, power requirements and terrain. So, assess your garden, know your needs and choose any of the above mowers according to your preferences.