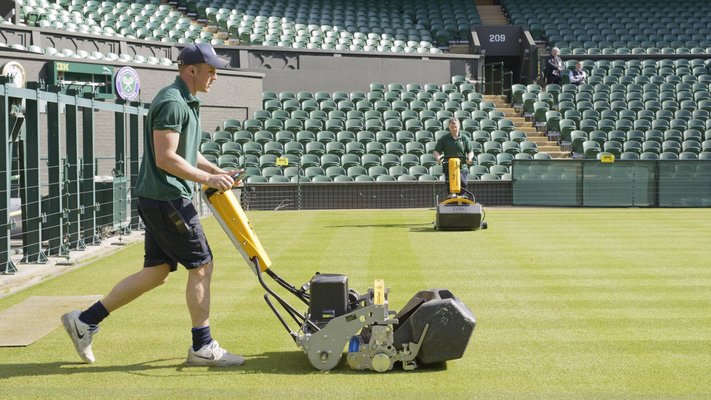 Best Lawn Mower For Stripes UK 2023 Reviews
Last Updated on May 4, 2023
---
Today, we will talk about the best lawn mower for stripes and ten other similar options that can make your lawn attractive. Our experts create this list after comparing many models on the grounds of power, performance, and ease of use.
Do you want to make your lawn immaculate? Try some regal strips on a flat lawn and provide a finishing that will make your garden look attractive as well as stylish. For that, you would require a lawnmower with a roller, which exists with the sole purpose of making stripes. Many of the manufacturers are making such lawnmowers. It's the reason we are presenting you with this collection so that you can choose from the best roller lawn mower available to purchase.
Best Lawn Mower For Stripes UK 2023
Buying Guide Of Best Lawn Mower For Stripes UK
Now you know some of the best lawn mowers for strips, but how would you choose one for your lawn? To help you with the same, we will describe the different types of lawnmowers available in the market. So, you will not waste time browsing models that you don't want and invest in the right option at the right price that can suit your requirements.
Types of lawnmowers
First, we will talk about the mowing machines according to their cutting actions, then according to the fuel. You have to choose one of them as per the current condition of your lawn.
A cylinder mower has a certain number of blades attached to a cylinder in its front, which revolves and slices the grass. The action is similar to a scissor, but in this situation, there is a fixed blade at the bottom that works against all the other knives as you move the mower. As the action slices the grasses instead of chopping them, the results are better and less stressful for the lawn.
However, the cylinder blade mower is not for all the lawns. If there are bumps or meadow grasses in an area, such a tool will not cut the weeds. On the other hand, if you own a flat lawn, then there can be nothing useful like a cylinder mower. It will give a better finish to the garden leaving it smooth and attractive.
Mowing machines with a single blade that spins at high speed to make impacts on the grass. Such a tool will be useful for a family lawn with common imperfections like divots, bumps, meadow, or coarse grasses. The most significant advantage of a rotary mower is that it creates suction when the blade spins. Means, it will not only vacuum the clippings for a rear/side discharge or mulch, but you can also use it to collect autumn and winter leaves. A rotary mower also reduces worms and their activities.
Great benefits, but rotary mowers also have a downside. They chop the grasses instead of slicing, which causes more stress to them. So, we recommend you to sharpen the blades as soon as you notice jagged leaves or added resistance while mowing.
According To The Fuel Type
A manual push cylinder mower
Entry-level mowers that are the most affordable and comes with a simple design. As the name suggests, you only have to push the tool, and its cylinder blades will spin and slice the grasses following a scissor-like action. Lightweight and compact, such mowers are only suitable for small areas. Also, it might not be sufficient enough on bumpy terrains and thick grasses.
Suitable choices for medium and large-sized lawns, petrol mowers do not have any limitations due to power cable or battery runtime. It needs fuel, so top that tank, and it will work until the petrol lasts. Keep this in mind that petrol lawn mowing tools are more robust and powerful than any other version.
Such mowers are expensive and need regular maintenance. You can keep it going as an expert, but if you are new to the world of a petrol mower, you will have to consult a local workshop. It will add to the running cost.
The most common type of lawn mowing tools, electric mowers are suitable for small and medium-sized lawns. Such machines are available in both rotary and cylinder blade versions. Whether you have a bumpy ground or harsh grasses, electric mowers give you the desired results. The only disadvantage of an electric lawnmower is its limitation due to a connecting power cable.
Such mowers get power from the battery. Hence you can use them virtually anywhere because a power cable does not limit them. A cordless mower lasts up to 45 minutes, depending upon the battery. Moreover, the battery takes some time for charging, which can go up to five hours. Hence, you can invest in one of those for a small or medium-sized lawn.
---
1. Grass collection
As you read in the reviews, lawnmowers have multiple options to deal with the grass clippings. Grass box, rear discharge, side discharge, and mulch are some of the common patterns available in the mowing machines, depending upon the make and model. Mulching is a feature wherein the grass clippings are cut in multiple tiny pieces by the blades and then they send them back to the lawn. This process enhances the nutrient level and moisture of your lawn grasses.
2. Cutting height
Most of the buyers overlook the cutting height adjustment while browsing for lawnmowers. You should not do the same, because it will affect the overall cutting performance of a mowing machine. Even if you don't have a lawn with many bumps or tough terrains, look for maximum height adjustments. Changing the levels should be comfortable as well.
3. Blade width
Another essential factor of a lawnmower is its cutting width. A wide blade will cover more area and finish the mowing session faster. However, you cannot choose a mowing machine with a wide blade for a small lawn. Otherwise, the manoeuvrability will be tight. Similarly, if you invest on a narrow edge to use over a large yard, it will take forever to cut all the grasses. So, how to go about it?
For small lawns, choose a mower with a cutting width between 30cm – 36m. For moderate gardens, go for a mower with a blade ranging between 36 to 41 inches. For large awns, you should choose anything equal and more than 42 cm.
4. Grass combs
Mowers with integrated rear roller works better when we talk about mowing along the edges. Some of the mowers also come with added grass combs that divert the grass under its deck for better cutting results. Bosch Rotak 430 is one of those that are also the best lawn mower for stripes.
5. Weight
Lightweight mowers are the right purchase, primarily if you are investing in a hand push model. Choose a model that you can easily manoeuvre and take off-site for storage.
Best Lawn Mower For Stripes Reviews
1. Cobra RM40SPCE 40cm-Best Lawn Mower For Stripes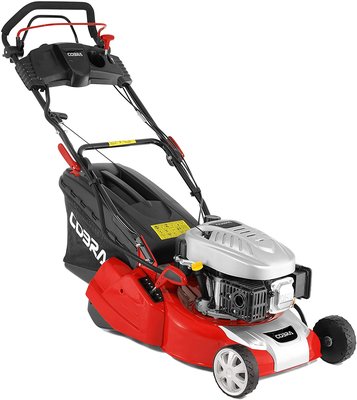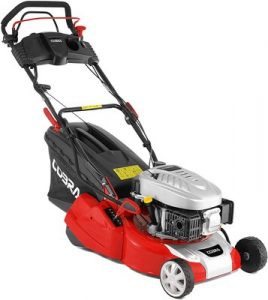 Specification
Engine Capacity: 135 cc
Cutting Width: 40 cm
Cutting Height: 17 – 75 mm
Grass Box Capacity: 50 litres.
Review
If you are looking for the best lawn mower for stripes that can stand the test of times, you should try the Cobra RM40SPCE. It is an electric-start machine, which enhances ease of use at all times. It comes with a rear roller meaning that you can easily leave a striped effect on your lawn. With its self-propulsion, you don't exert too much effort during operations.
Besides, it has a cutting width of 40 centimetres, hence, you can meet your set target without much hassle. With its single lever cutting height adjuster, it is possible for you to alter cutting heights without going through too much stress. Six stages of cutting heights are available, and you can choose between 17 and 75 millimetres.
With a walking speed of 3.4 km/hr, this machine makes it possible for you to carry out the most difficult mowing tasks with ease. You have two starting options – an electric start and recoil pull-start. That is why you can be more flexible with this machine to get the most satisfactory mowing results.
Its grass collection systems boast of a large grass bag of 50 litres. This makes it possible for you to dedicate enough time to your mowing task because there won't be incessant bag evacuation. Also, there is a full indicator on top of the bag, which keeps you up to date on the fullness of the grass collection bag.
Pros
Cobra DG450 OHV petrol engine with electric start.
Single lever cutting height adjustment.
Self-propelled engine for painless mowing.
Electric start for comfortable use.
Rear roller for a striped finish.
Cons
It does not come with variable speed.
---
2. Greenworks G40LM41K2x-Lawn Mower For Stripe Lawn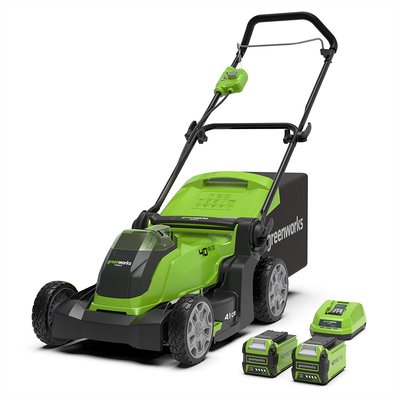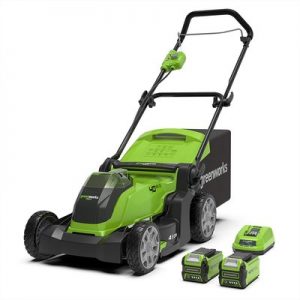 Specification
Battery Type: Lithium-ion
Voltage: 40V
Cutting width: 41 cm
Grass Box Capacity: 50 litres
Weight: 17.1 kg.
Review

If you want a lawnmower for strips that is battery-powered, you should go for the Greenworks G40LM41K2x. It is powered by a 40V lithium-ion battery, which guarantees optimum performance.

With a cutting deck of 41cm, you can cover enough ground within a short time. You can choose among five cutting heights, between 25mm and 80mm, so that you can be more precise with your cutting.

With a rear grass box of 50 litres, you will certainly work longer before going for an evacuation. It has a mulching capability making it possible for you to fertilize your lawn without extra spending.

You have two options with the machine – you can use the collection box or mulching function. It weighs just 17.1 kilograms, and that is why you can manoeuvre it without much hassle.

If you operate it with a 2 Ah battery, you can use it to mow a lawn as big as 300 square metres. However, if you opt for a 4 Ah battery, you can mow a garden measuring 600 square metres. It is easily foldable making its storage as easy as ABC.

You will like its ergonomic handle, which makes you more comfortable during operations.

There is a security starter key, and its steel cutting blade comes with an impact on motor protection technology. Its composite cutting deck is very durable guaranteeing high performance at all times.

There is a top handle, which is very helpful for picking up and carrying the machine. The package comes with two 2AH batteries as well as a charger so that you don't have to worry about buying batteries.

Pros
Powerful cutting blade made of steel with impact motor protection technology.
Foldable handle for ease of storage.
Ergonomic handle for ease of use.
Secure key starter for greater convenience.
Long-lasting cutting deck.
Cons
Difficult for corner manoeuvring.
---
3. Cobra RM40SPC Lawn Mower for Stripes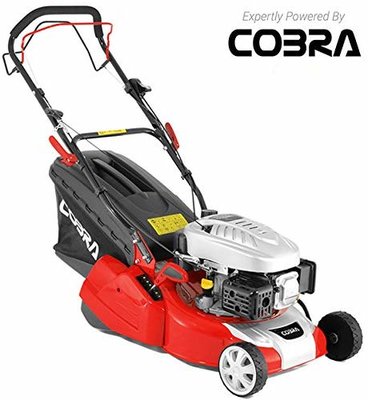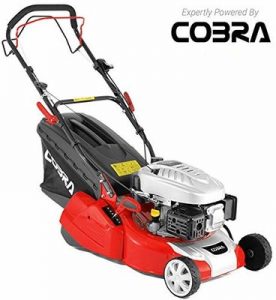 Specification
Power: 135cc
Cutting width: 40 cm
Cutting height: 17 to 75 mm
Grass collection: 50 liter.
Review

Cobra RM40SPC is a petrol mower that comes with a rear roller, which is perfect for making some strips on your lawn. The brand specifically designs this model to create professional British lawns. It works with a Cobra DG450 engine to provide you with exceptional cutting performance and efficiency.

Let us start with the most promising factor of RM40SPC; it's 135cc OHV engine that's quiet, powerful and delivers excellent cutting performance without adding to the overall weight. The rear roller petrol lawnmower includes the latest technologies to provide high torque and rpm to tackle demanding conditions. At the same time, this engine is efficient and works up to 600 square meters.

The Cobra lawn cutting machine has a full-width rear roller, which assists you while making professional strips. This roller also helps you to mow along the border and flowerbed edges. It supports the front wheels when the mower is cutting the grasses along the border and gives you the required balance.

RM40SPC has adjustable cutting heights between 17 mm to 75 mm. Whether you want supreme low cut grass or you need to tackle some overgrowth, try the Cobra machine for a satisfying finish. Changing the cutting height is also very easy; you only have to use a manual lever placed near the rear roller.

This petrol mower with roller comes with a robust 50-litre grass bag, which is suitable for medium-sized lawns. Due to its decent grass collection ability, you will waste less time on the trips to the disposal bin. High-quality fabric makes its grass bag, which allows the free flow of air and ensures even more compact and ample storage of the clippings.

Pros
The self-propelled mower for ease of use
Efficient and powerful engine
Six cutting height adjustments
Comparatively inexpensive
Cons
Assembly instructions are not clear enough
---
4. Bosch Rotak 430 LI- Best Lawn Mower For Stripes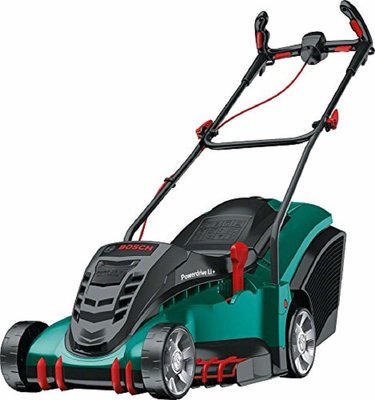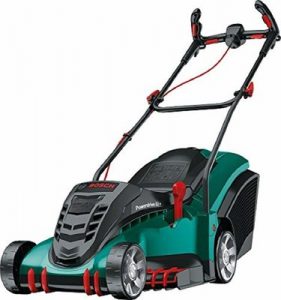 Specification
Power: 36 V (2 Ah)
Cutting width: 43 cm
Cutting height: 20-70 mm
Grass collection: 50 liter.
Review

If you own a small or medium-sized lawn, then Rotak 430 is the best rear roller lawnmower that you can purchase. It provides you with complete ease of use and also seeks minimal maintenance. The wide cutting width is another helpful feature it has so that you can complete the lawn mowing faster.

At 13.9 kg, the mower is lightweight and has ergo flex handles that give an ergonomic hold and complete control. Due to its 2.0 Ah battery, the machine starts quickly and gives you smooth cutting results.

All thanks to its hardened steel blade, which is sharp as well as durable. Rotak 430 has power drive li technology that maintains constant high torque, irrelevant to the working conditions. Looking at these features, it's easy to guess that the Bosch mower is here to give you the best mowing experience.

Bosch rotak 430 ergo-power rotary lawnmower works on a 1800w motor, which promises to take you through the worse grasses and shrubs. This engine never struggles, even if you expose it over long and damp meadows. Its battery needs 140 minutes for a full recharge, but you can charge it for 80 percent within 70 minutes.

Are you one of those who enjoy lawn mowing? If yes, then you can try the Bosch mower to get excellent results. It's worth to invest if you want to achieve some great strips on the greens. Apart from features and performance, it's the price tag that also takes your attention.

Overall, a high-quality mowing machine available at an affordable cost.

Pros
Includes two 2.0 Ah batteries and charger
Ergonomic handling
Powerful motor
Easy to set up
Rake COMB to cut along the edges
Cons
Battery runtime is not high
---
5. Webb WERR17 Petrol- Great Lawnmower For Stripes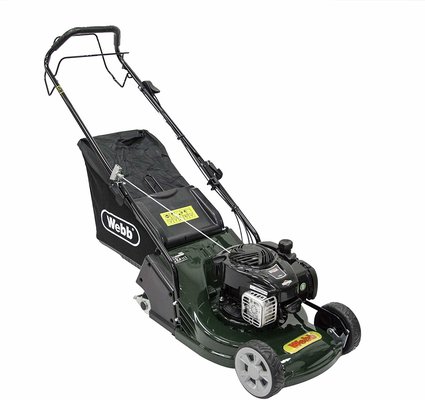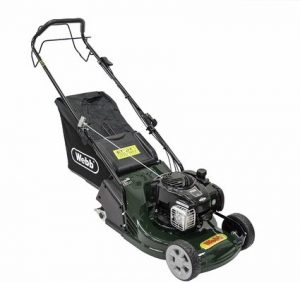 Specification
Power: 140cc
Cutting width: 42 cm
Cutting height: 23 – 77 mm
Grass collection: 50 liter.
Review

Want a classic striped finish on your lawn? Try the Webb 17-inch lawnmower that comes with a Briggs and Stratton 500e engine that's easy to start and provides high-quality performance without any compromises.

The Webb machine works on a 140cc engine, which is sturdy and also easy to start. At 32 kg, this mower is comparatively heavy. However, due to padded handles, high-quality wheels as well as roller, it's easy for you to handle the grass cutter. You can also fold its stems, which will be helpful for a secure storage.

If you own a large garden, then you will enjoy its six grass cutting height adjustments that range between 23 to 77mm. You can change the cutting heights from a manual lever, which is very easy to move. Not only power and features, but the Webb mower also have rich durability. ABS thermoplastic makes its deck and blades are all steel. So, you can imagine how long it will be at your service.

For a medium or large-sized lawn, you also need a decent grass collection. This one has a 50-liter grass box that gives you plenty of room for extended cuttings. If you want to stop storing the clippings, use its mulch feature to recycle some of them.

A long wheelbase keeps the mower stable on all the terrains, including the slopes. It has an engine stop brake bar, so once you let off the handle, the engine will stop. The product comes with an easy to follow instructions manual that helps you get it ready within ten minutes. These are the reasons why Webb WERR17 is the best petrol lawn mower with roller.

Pros
The self-propelled mower for improved control and ease of use
A powerful engine that also needs less maintenance
Robust and long-lasting design
Cons
Below par cutting results on high cutting length
---
6. Hayter Harrier 48 cm Rear Roller Lawnmower for Stripes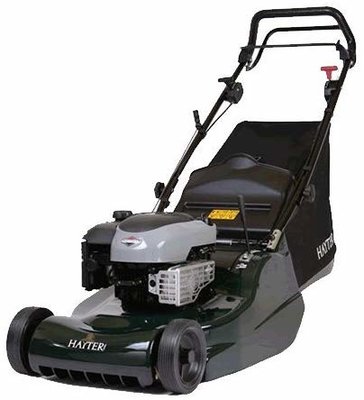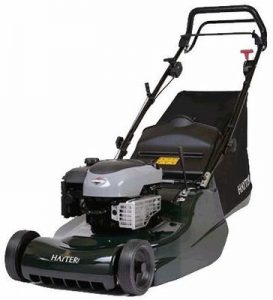 Specification
Power: 163cc
Cutting width: 48 cm
Cutting height: 13- 60 mm
Grass collection: 70 litres.
Review

A modern version of lawnmowers, the Harrier comes with a rear roller to make perfect stripes on medium and large lawns. An impressive cutting width, self-propulsion, electric start, and variable speed are the other features that add to its value.

The Hayter Harrier has a blade width of 48 cm, so it covers a large area in one pass, and hence it's another best petrol lawn mower for stripes for medium and large-sized properties. It's a self-propelled machine, so you only have to walk behind it for guidance, and the mower will do the needful.

With this machine, you don't have to pull any cords because it comes with an electric start. You can also adjust the moving pace according to yours, as the machine gives you the option of variable speed control.

A robust built is one of the essential traits of a high-quality mower. Well, you can't complain about the Harrier because it has an aluminium body that avoids damage and is suitable to deal with professional usage. Next comes its cutter blade friction disc, which promises error-free cutting performance.

Talking about its cutting heights, the self-propelled lawn mower with roller has a range between 13 to 60mm, which means the cutting results can be flexible according to the season.

Height adjustment is easy due to a central manual lever. Grass collection is 70 litres, which is sufficient for a large garden. Removing and emptying the grass bag is also very convenient.

Pros
Seven heights for versatile cutting results
Decent grass collection to save the time upon emptying
Variable speed control and self-propulsion
Long-lasting aluminum deck
Cons
---
7. Einhell GC-PM 46 S Lawnmower for Stripes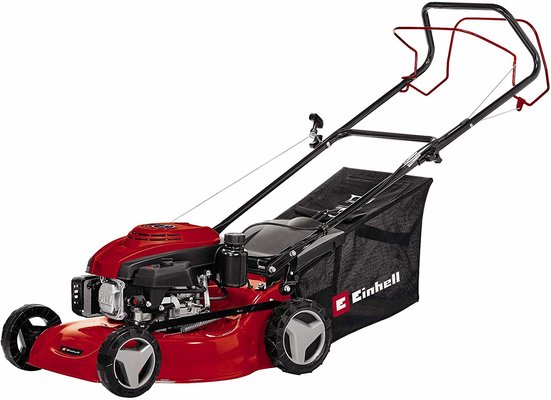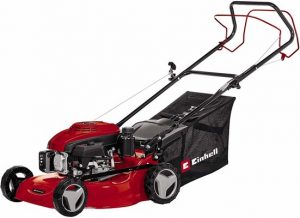 Specification
Power: 139cc
Cutting width: 46 cm
Cutting height: 30 to 80 mm
Grass collection: 50 liter.
Review

With a high-quality engine, the GC-PM 46 S works with great power to give you perfect cuts as per your expectations. Ideal for medium to large-sized garden or lawn, this is a self-propelled machine. Hence, you can get an attractive lawn without applying much energy. You can disengage the rear-wheel-drive whenever you want to take control.

The GC-PM 46 S comes with a 139cc four-stroke engine that produces high torque at 3000rpm. Due to such power, the rear-wheel-drive works quickly to cut all the grasses, including the thick and damp ones.

There is a recoil starter on the handle for an easy reach. Then it has nine cutting height selections available between 30mm to 80mm. You can change the height using a manual lever, which is quick and easy to operate. Due to a generous cutting width of 46 cm, the mower can cover large lawns faster. Its handle is ergonomic and hence comfortable to handle and also folds for secure storage.

Einhell uses powder-coated steel to build this mowing machine. So, it can easily withstand regular usage and provides long-lasting services without any damage. The self-propelled petrol lawn mowers with roller have a 50-litre grass collection that also has a level indicator.

Pros
Steel made powder coated deck
Powerful engine working at high torque
Decent grass collector with level indicator
Multiple easy to change height adjustments
Cons
High vibrations when compared to other models from the same class
---
8. Mountfield S421R PD Lawnmower for Stripes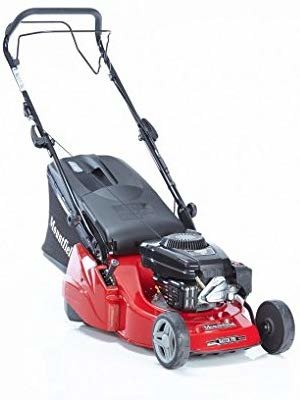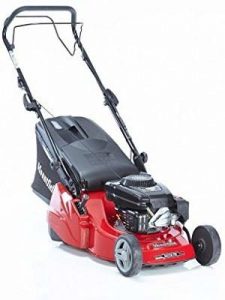 Specification
Power: 100cc
Cutting width: 41 cm
Cutting height: 20 to 70 mm
Grass collection: 55 liter.
Review

Mountfield S421R PD has a rear roller that revolves well to give you even strips. At the same time, its 41 cm blades do the needful to provide you smooth cuts. The machine has five different cutting heights between 20 mm to 70 mm.

To use any of the functions or get the strips, you don't apply much effort because the mower is self-propelled. Changing the cutting heights is also convenient because of an easy to use the lever.

S421R PD draws all the power from a 100cc four-stroke OHV engine, which is reliable and forces you through any of the working conditions. Due to this engine and powered rear roller, the Mountfield machine never falls behind when it comes to making professional strips on the British lawn.

The rotary mower with roller promises to be with you for a long time. It has a powder-coated steel deck, steel blades, and other high-quality materials that deliver outstanding durability. With its sturdy design and decent cutting abilities, the mower is good for an area up to 20 by 20 meters. And once it completes the job, you can simply sit back and admire the striped grass.

To collect the grass clippings from any area within the given limit, it has a 55 liters collection bag. It is easy to attach or remove and also has a grass level indicator that keeps you informed when you have to stop for emptying.

Pros
Rotary rear roller for excellent stripes
Cuts the grass along the edges for a smooth finish
Collapsible handles for a secure storage
Five cutting heights for versatile results
Grass level indicator
Cons
Suitable only for small lawns
---
9. Mountfield M13 Princess for Stripes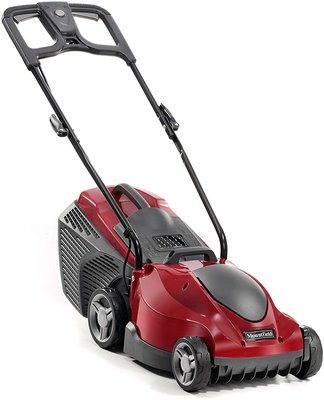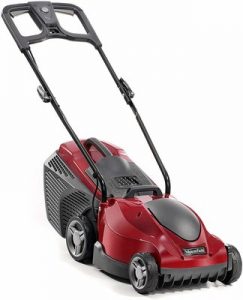 Specification
Power: 1400W
Cutting width: 34 cm
Cutting height: 25 – 75 mm
Grass collection: 35 liters.
Review

M13 Princess is a 1400W electric motor that comes with a rear roller for striped lawns and a 34 cm cutting deck. Height adjustments are available between 25 mm to 75 mm. It has a 15-meter power cable, which is comparatively longer than other electric mowers. Its durable design, including a 35 liters' grass bag and ergonomic handles, adds to its value.

If you need a powerful mains powered mower that can give you some excellent lawn stripes, choose the M13 Princess from Mountfield. It has a robust motor that works well for any of the small or medium-sized lawns. This powerful engine quickly deals with long and wet grasses to give you precise results. Due to its power, the blades work without any lag, and hence you get a smooth movement.

Six cuttings present in the Princess allows you to get the best from your lawn or garden. Its decent sized grass bag will collect most of the grasses from a small area, and hence you will complete the mowing session faster. Another commendable feature of the mower is its mulching ability. It's one of the most environment-friendly of this tool, which will not save your time, but also add some moisture and nutrients back the soil.

The electric mower with roller lacks self-propulsion but weighs only 14.2 kg. Due to its lightweight, you quickly push the mower without feeling tired. On the contrary, its smooth movement makes the mowing process more of an enjoyable task, not a burden. Moreover, due to an extended power cable, you do not have to look for extension boxes, until and unless you have a significant area to cover.

Pros
Rear roller and front anti-scalping plate
Mulching ability
Foldable handles
Cons
The grass box is difficult to attach and remove
---
10. Hayter Envoy Lawn Mower for Stripes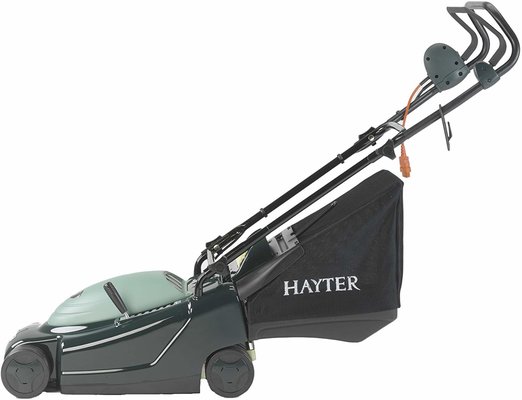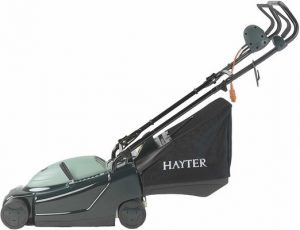 Specification
Power:1500W
Cutting width: 36 cm
Cutting height: 13 to 60 mm
Grass collection: 38 liters.
Review

Hayter exists with only one motive; to make the best lawnmowers. Envoy is no different. Its designs characterize style and functionality. Takes power from a 1500W induction motor and uses a rear roller to create attractive strips on your lawn. It has 36 cm blades to cover a big area, which is supported by a 17-meter power cable.

The Envoy has a durable structure made of sturdy ABS polymer. You can use the mower over all types of grasses, including the wet and long ones. There are seven cutting heights between 13 to 60 mm that you can change using a lever, which is manual and easy to operate.

As it can easily tackle longer grasses, the tool is suitable for individuals who don't want to spend time on lawn mowing every weekend.

On top of everything, the machine has a big grass box worth 38 litres. Due to its decent storage capacity, you will not waste much time emptying the grass bag. You can also remove the bag for rear disposal of the grass clippings.

This electric lawn mower with a roller is heavy at 25.4 kg, but still, it's easy to manoeuvre. Apart from mowing and making professional strips, you can also use this tool to collect the autumn leaves.

Keep the cutting height at the maximum so that the lawn grass remains intact, and the mower can only pick then shred those fallen leaves to give you a clean lawn. Moreover, it's easy to store due to a compact design and foldable handle.

Pros
Quiet operation
Foldable handles for secure storage
Long-lasting built
Multiple cutting height adjustments
Cons
---
11. WEBB R41SP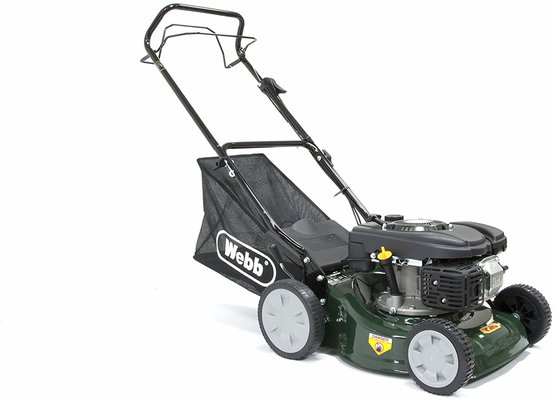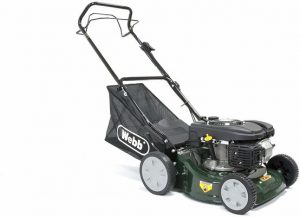 Specification
Power: 118cc
Cutting width: 40 cm
Cutting height: 20 to 75 mm
Grass collection: 50 liter.
Review

If you are looking for lawnmower with high-quality features available at an affordable price, then you should not overlook Webb R41SP. It offers plenty of power and performance at a reasonable price. What good can it bring for your lawn? Well, it's what we will cover next.

Webb R41SP uses a 118cc 4-stroke engine, which is well suitable for a small and large-sized lawn. Its fuel-efficient, so the machine has a habit of giving more and consuming less. The blade also plays a supportive role here.

At a cutting width of 40 cm, you can expect it to finish the lawn mowing task earlier than expected. For experienced gardeners, it has even more to offer. Seven cutting heights between 20mm to 75mm is one of them.

Then comes its 50-litre collection bag, which is sufficient to take you beyond small gardens or lawns. The third useful feature is its rear discharge, which is a time saver or nutrient enhancer for your yard.

Now, we will talk about the feature that you cannot get easily at this price: self-propulsion. As this petrol lawnmower with a roller can move automatically, you do not have to apply much effort. Be there for guidance, and the tool will do the job for you.

The mower is comparatively light at 27 kg, and its motor is powerful enough to carry it even after a full grass collection. Once it completes the striping and mowing session, you can easily store the machine because of its compact nature.

Overall, R41SP roller mower is a compact piece of machinery that never lacks in performance, efficiency, and features. Its motor is powerful enough to deal with all the grass types and terrains.

Pros
Durable product
Self-propelled
Soft ergonomic handle for comfortable usage
A decent grass collection bag
Cons
Problem with the front wheel axle
---
12. Bosch Rotak 37 Li Ergoflex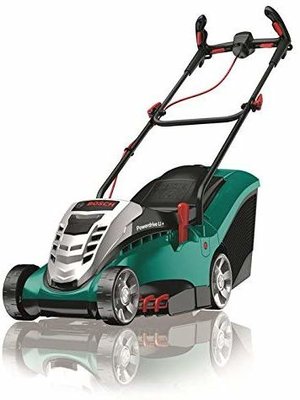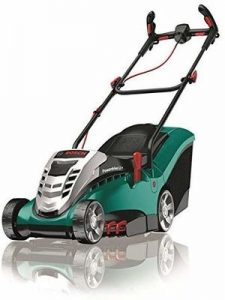 Specification
Power: 36 V (4.0 Ah battery)
Cutting width: 37 cm
Cutting height: 20 to 70 mm
Grass collection: 40 liters.
Review

Bosch Rotak 37 Ergoflex is a rotary lawn mower that has an integrated rear roller for strips. It takes power from 4.0ah Battery and has a cutting width of 37 cm. The machine comes with six grass cutting height adjustments between 20mm to 70 mm. To store and dispose of all the green clippings, it gives you a 40-litre grass box.

The Bosh gardening equipment is easy to use and gives you satisfactory results on all types of grasses, including the damp ones. It's so effective that you will see the vast difference only after one pass.

All thanks to its drive LI + motor, which gives you desired cutting results even under worse working conditions. Then it has an integrated Syneon Chip, which makes sure that the machine uses optimum power depending upon the cutting conditions.

This lawn mower striper charges within 140 minutes and works for up to 40 minutes. The runtime is enough to cover an area worth 500 square meters that equals to two tennis courts. It's a lightweight machine at just 13.2 kg.

Moreover, the mower has an ergonomic handle that makes sure that you never feel tired even after a lengthy mowing session.

With all these features, the Rotak 37 Ergoflex can give any corded mower run for its money. Moreover, it's built inside the UK. Why should that matter to you? Because you will get excellent support within the warranty, you will find nearby service centres and the spare parts will also be available quickly.

Pros
Rear integrated roller for strips
High quality built
Mulching ability
Six cutting heights
Cons
---
13. Mountfield Princess 42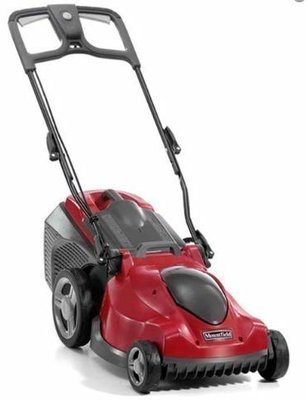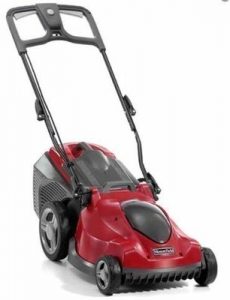 Specification
Power: 1800W
Cutting width: 42 cm
Cutting height: 25 to 75mm
Grass collection: 50 litres.
Review

Mountfield Princess 32 is a three in one machine, which collects, discharges, or mulch the overgrowth according to your instructions. It's a compact tool with an integrated rear roller, and foldable handles, which becomes useful when you are running low on storage space.

Made of strong plastic, the mower is rust and corrosion resistance. All the tires are wide and make sure you can enjoy a smooth movement.

Princess 32 draws all its power from a 1800W motor. Its cutting width is 42 cm and gives you six positions between 25 mm– 75mm. As it's a mains-powered machine, we expected a long power cable.

The brand does great according to our expectations by including 15-meter connectivity, which makes sure that you get ample of mowing radius.

The integrated roller of this tool performs well when you need striped finishing over a lawn. This roller also makes sure that the mower can work along the edges and flowerbed borders. At the rear, it has a grass collection worth 50 litres.

You can choose to rear discharge the clippings if you don't want to dispose of them somewhere else. If you're going to increase the rich nutrients of your lawn, use its mulch plug. However, when you need to make strips, the only available option is to collect the grass cuttings.

The Mountfield Princess 32 takes care of your lawn like a real princess with its anti-scalp technology. So, it never cuts too close to the ground and destroys its appearance. Also, it has the grass combs to provide improved finish and also assists in a better grass collection.

Pros
Powerful motor and wide cutting blade
Foldable handles for secure storage
Anti-scalp technology
Comes with a mulching plug
Cons
Comes with only one year of warranty
---
Conclusion
Only some classic strips can make a typical British lawn. That you can achieve using a lawnmower with an integrated roller. However, most of the time, we are not aware of the features and benefits a particular model has to offer. It's the reason we were discussing some of the best mowing tools that can create perfect strips for you. After reading the reviews and buying guide, you will be able to generate a checklist and choose the best lawn mower for stripes.