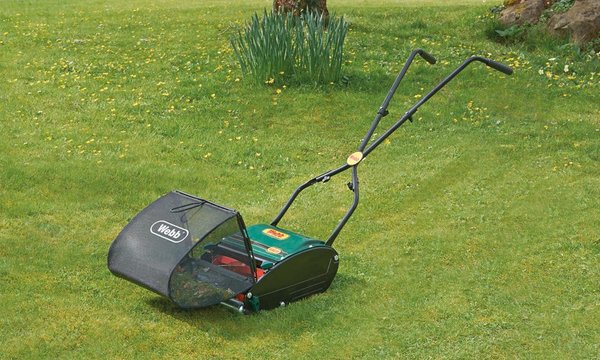 Best Manual Lawn Mowers 2023 UK Reviews
Last Updated on January 4, 2023
---
Traditional and straightforward, push lawn movers are the best solution to maintain your garden or lawn. If you are looking to buy a new manual lawn mower or want to replace an existing one, you are reading the right post. Today, we will look at some of the best hand lawn mowers available in the UK market. 
A garden in front of the house or a lawn where you want to spent the weekend evenings; if you own any of these and want to keep it impeccable, the motor-driven lawnmower is the best. But, what if you don't want to spend an extra amount of gasoline? Or you don't have a power outlet near your green property?
In such cases, a manual lawnmower comes into the picture. Such lawnmowers don't require a motor to keep your lawn manicured. Also, it will not add to the noise or air pollution. So, here is a list of some efficient, affordable, and high-quality manual mowers that can make your lawn look flashy and uncluttered.
Best Manual Lawn Mowers UK 2023
Manual Lawn Mower Buying Guide
A manual mower is a great lawn maintenance machine for several reasons. Zero carbon emission, less maintenance, quiet nature and easy for storage are some of those. But, if you want to enjoy the full benefits of a manual lawn mower, you should look for the points mentioned below.
Cutting Width. Width of blades is an essential factor that decides the cutting performance of a lawnmower. It's easy to understand that a full cutting mouth means a mower will spend less time swallowing all the extra-large grasses from your lawn. At the same time, a mower with wide cutting blades might be tough to move because the weight can also be higher if compared to a mower with blades having less width. So, you will spend extra physical power on a large mower, and you might be tired early. 
You only have to ask one question to yourself; is bigger mower will be a better option for your lawn? Well, that depends upon your ability and size of a park or garden. Choose one of the lightweight lawn mowers with a medium cutting width if you own a small or medium-sized lawn. According to us, 30 cm of cutting width will be enough. On the other hand, if you have a large property, then you will have either choose between a few extra passes or extra wide blades. If you are well built, then you can choose a mower with a better cutting width. For an elderly or users dealing with back pain, a lightweight manual mower with around 30 cm of cutting width will be suitable. 
We have discussed lawn mowers with cutting width up to 46 cm. There are many options with a cutting width of 30 cm. So, you can choose any one of them depending upon the lawn size and your physical strength. 
Cutting Height. Whether you want it or not, height adjustment is another feature that should be present in a manual lawnmower. So, invest in a push lawn mower with several cutting height adjustments. Few kinds of grass can be damaged if cut beyond half of their height. Apart from that, the grass height of the lawn should depend upon your choice; it cannot keep it too short or too long. So, choose a lawnmower with at least four or five height adjustments. 
Blades. Hand push lawn mowers have several cutting edges varying between four to eight. More edges mean extra cutting power, but a high number of knives will also need some extra physical strength to move. Therefore, it's essential to choose a lawnmower according to the grass type as well as your ability. 
Stubborn and dense grasses need more blades or extra passes for even cuts. So, if you own a lawn with robust types of herbs, select a mower with at least five leaves. If you have thin grasses that don't require much power of sharpness, then you can also opt for a mower with four blades. 
Manoeuvrability. How heavy is a lawnmower? Can you push it across the lawn for more than a few times? Think about these two answers while you look for a push lawnmower. Movement of a manual push lawn mower depends upon its weight, size of wheels, and as we discussed; the cutting width. Most of the variants that we described have large wheels and are comparatively lightweight than other models. So, you can choose any one of them depending upon your preferences and budget. 
Grass box capacity. Does the mower have a collection bag that can catch all the grass from your lawn? Or is it big enough so that you don't always have to empty it? Answer these two questions and then choose a model. The models we have discussed are ideal for small, medium and large lawns. You only have to select, depending on other factors. 
---
Best Hand Push Lawn Mower UK Reviews
1. Bosch AHM 38 G-Best Manual Lawn Mower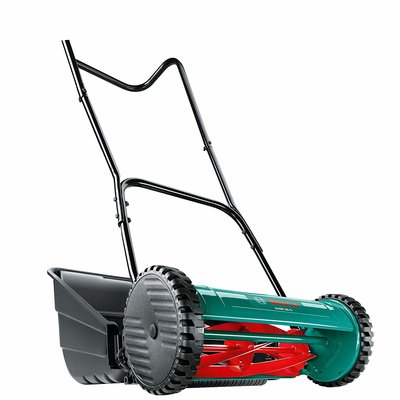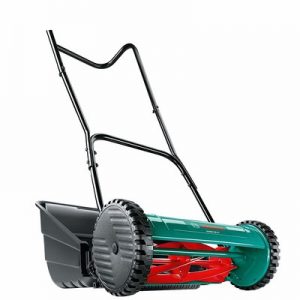 Specification
Cutting width: 38 cm
Cutting height: 15-43 mm
Grass box capacity: 25 litre
Number of blades. Five.
Review

Easy to assemble and convenient to use, the AHM 38 G is our top pick for best hand lawnmowers. Well-built as well as inexpensive, the garden lawnmower gives an excellent appearance to your green property. 

AHM 38 G has a significant and useful grass collection box that catches all the grass cuttings without spreading them on the lawn. As the size of its grass box is excellent for a medium or big sized yard, you will spend less time emptying it.

The mower is lightweight and does all the work smoothly without making any noise. It's easy to push and gives you desired cutting results. Blades provide an effective cutting and can be adjusted between 15-43 mm using an easy to adjust lever.

As the mower has a decent cutting height, the mower never faces challenges from long grasses. Apart from the blades, the mower has a rear roller that provides a stable cutting on edges and allows you to produce strips on a lawn. 

Looking at the cutting width, the push along mower is an ideal grass cutting solution for a small-sized lawn. If you need a high quality and efficient lawn mower without disturbing your expenses, AHM 38 G is the option you should consider. 

Pros 
Non-electric lawn mower
Lightweight and hence easy to manoeuvre
Cost-effective
High quality built.
Cons
The roller is ineffective sometimes.
2. WEBB H30 30cm Hand Mower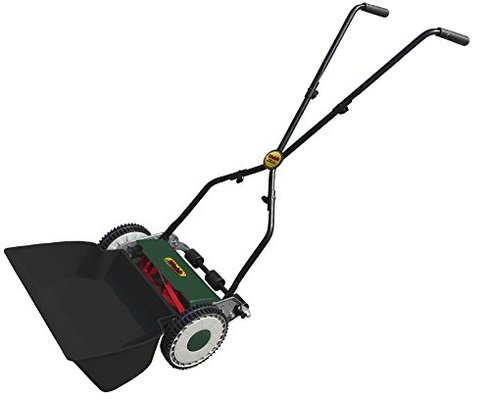 Specification
Cutting width: 30 cm
Cutting height: 10mm – 40mm
Grass box capacity: 18 litre
Number of blades: Six.
Review

Comfortable to push and easy to use, the WEBB H30 30cm Hand Mower comes with six blades to gives you beautiful cut overall the awn, even on the bumpy areas. The adjustable cutting height shows its versatility and allows you to customize a lawn according to the situation and mood. Guess what? You can change the cutting height using a simple lever, no tools required for the adjustment. 

The non-electric lawn mower comes with an 18-litre grass carrying ability. Its grass box is easy to attach and never showers the mowed grass back to the lawn. Apart from that, the lawnmower comes partially assembled; you only have to connect the handles, grass box and it's good to go.

Six blades are more than enough for a precisely cut lawn. All the leaves are attached with a cylinder that has an Autoset mode, wherein the edges automatically adjust to give you a sharp and clean cut. Moreover, the mower has a couple of rollers that help you while making strips.

An ideal cutting width of 30 cm is suitable for a small garden or lawn. Large wheels on both the side of H30 makes it easy to manoeuvre, especially on long grasses. A smooth and delightful lawn mower causes no harm to the environment or your health.

It keeps you fit by giving you some extra steps to walk during lawn maintenance. If you need clean cut on your lawn without spending much time and energy, choose Webb H30. 

Pros
Easy adjustment of cutting height
Decent cutting height to handle even long grasses
Grass box capacity if suitable for a small-sized lawn.
Cons
Only works for small yards or gardens.
3. Garden Gear Manual Garden Lawnmower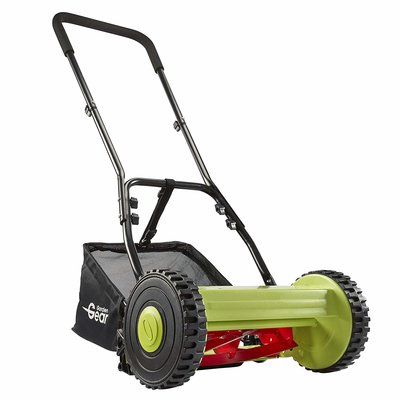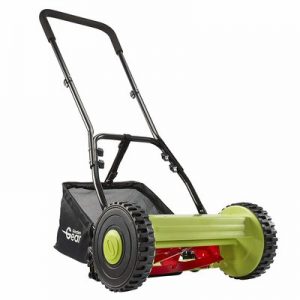 Specification
Cutting width: 30 cm
Cutting height: 12 – 45 mm
Grass box capacity: 17 litre
Number of blades: Six.
Review

An affordable manual garden lawnmower from Garden Gear comes with a cutting height that is feasible for almost any lawn. A rear roller and a useful grass box capacity add to its value.

The easy to push lawn mower has six blades to gives you precise cuts. It's relatively easy to drive and gives you excellent results even on lawns unmaintained for a long time. For overgrown grasses, it might need another pass for a beautiful finish.

On natural herbs otherwise, the garden mower gives you desired results and leaves you excited to celebrate the weekend party. 

Cutting width and grass carrying ability of the mower is suitable for small-sized lawns. As it's a manual mower, you don't have to manage a power cable. Moreover, you will not pollute the environment either with noise or carbon emissions.

If you need an inexpensive best push lawn mower that can complete the given cutting task efficiently within a short period, you should consider the mower from Garden Gear. 

Pros
Wide cutting width
Decent sized grass collection box
Excellent cutting height.
Cons
Struggles while cutting long grass, especially on bumpy areas.
4. Einhell GC-HM 30 Manual Hand Push Lawnmower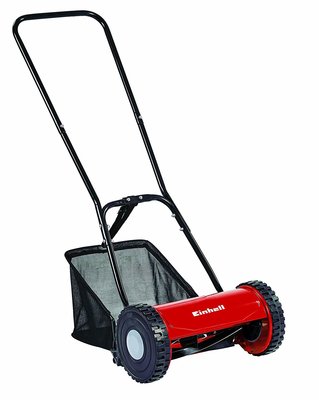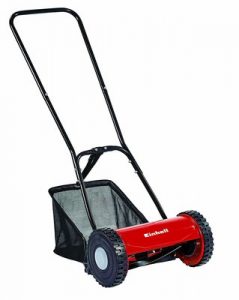 Specification
Cutting width: 30 cm
Cutting height: 15-42 mm
Grass box capacity: 16 litres
Number of blades: Five.
Review

Engineered in Germany, the GC-HM 30 cylinder-mower has a high quality built that gives you the confidence to use it for a long time. Built for easy use, the manual mower has large wheels and a weight of 6.46 kg, which minimizes the required movement effort through the grasses. 

Five extremely sharp steel blades give you a cutting height between 15-42 mm. However, it's recommended cutting the grass when they reach a maximum height of 25 mm. The mower has a large grass box and a rear roller that assists while making strips on the field.

Recommended for a lawn up to 150 cm square in size, the mower never makes much noise due to its compact size, it's also easy to store in a garden shed or garage. 

Einhell gives you an eco-friendly alternative in the face of GC-HM 30. If you need a quality machine that works without the motor power and can provide you with a maintained lawn, choose GC-HM 30. Suitable for small gardens and area that lacks power connection, the manual cylinder mower is inexpensive, robust and effective. 

Pros
Superior construction for long-lasting lawn maintenance
Lightweight design and large wheels promote easy usage
Five blades for sharp cutting results
Four adjustment settings 
Rear roller for strips
Spacious fabric made grass catcher.
Cons
Fragile and inefficient grass collection.
5. WEBB H18 46cm Hand Mower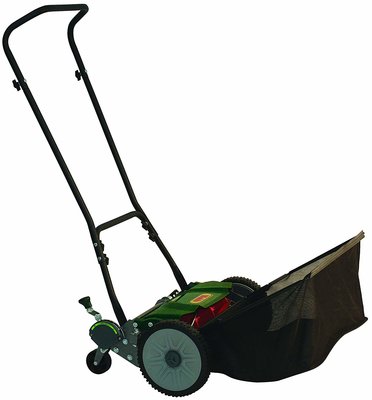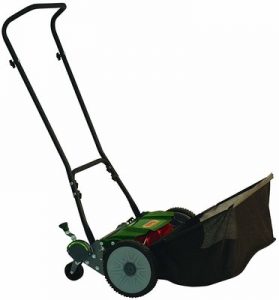 Specification
Cutting width. 46 cm
Cutting height. 12-75mm
Grass box capacity. 22 litres
Number of blades. Five.
Review

One of the best hand lawnmowers, the H18 has decent cutting width and many other useful features; all at an affordable price. Its comes partially assembled, you only have to attach the handles for a well-built lawnmower. 

Due to the large cutting width, the mower never takes too long to cut the lawn grasses. Ranging from 12 to 75 mm, it has plenty of height adjustments during grass cutting. You don't have to use any special tools; the cutting height can be changed via a manual lever.

Most of the manual mowers are unable to cut long grasses, but this is not the case with H18. It's perfect for long greens as well as unmaintained lawns. 

Grass box capacity of 22 litres is sufficient for a small or medium-sized lawn. Its five steel blade cylinder works in the best possible way to give you desired cutting results. Due to its weight of 18.5 kg and a couple of rear rollers, the mower is expert in creating attractive lawn stripes.

The rollers also help while taking turns, hence adds to its manoeuvrability. Whatever the grass type of length you have in a lawn, H18 has the crack for all of it. 

Pros
High quality built
Expert in making strips
Many height adjustments.
Cons
Large size may lead to storage trouble.
6. AL-KO Soft Touch 380 HM Hand Lawnmower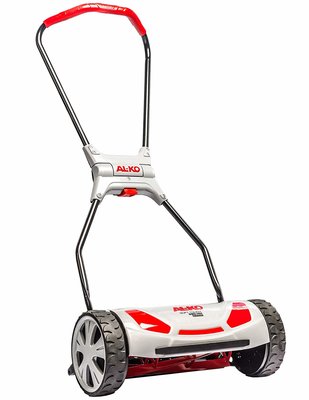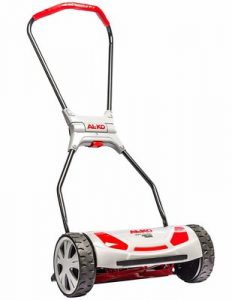 Specification
Cutting width: 38 cm
Cutting height: 14 – 35 mm
Grass box capacity: No grass box
Number of blades: Five.
Review

Now the cuts can be made quietly, that also without any carbon emission. All the credit goes to AL-KO Soft Touch 380 HM Hand Lawnmower, which gives smooth and perfect grass on your green property. Its stylish structure has an ergonomic plastic handle that allows natural displacement.

The cutting height of the lawnmower can be set to as low as 14mm, and the maximum is 35mm. With five high-quality steel blades and four adjustable height settings, you can get what you want. Being extremely gentle on grasses, it leaves them they smooth as if scissors cut them.

You might find similar features on other manual mowers in this list. However, 380 HM has a unique system called quick-lock, which folds the mower together for space-saving storage. 

Wide tires and low weight of 9.8 kg makes the push cylinder lawn mower easy to use and move around. Rubber bumper fitted at the front of its cylindrical design protects the mower from bumps and scratches.

Overall, 380 HM gives you a fantastic alternative to a motor-driven lawnmower. So, you don't have to worry about petrol, power cables, battery recharge or any other constraints caused by electric or battery-powered mowers. 

Pros
Very manoeuvrable
Steel blades for sharp and smooth cuts
Gentle on the lawn 
Ergonomic handle
Folding handles for safe and secure storage as well as transportation.
Cons
Difficult to follow assembly instructions.
7. Webb WEH12R Rear-Roller Hand Mower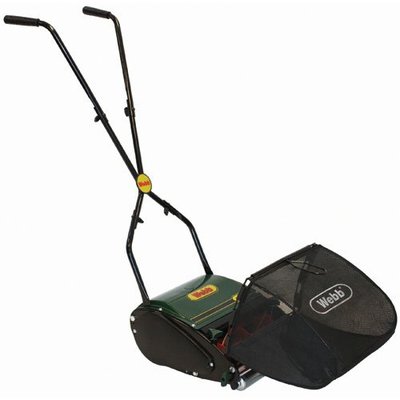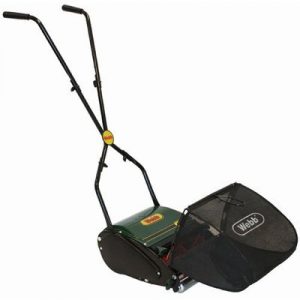 Specification
Cutting width: 30 cm
Cutting height: 13mm – 23.5mm
Grass box capacity: 18 litre
Number of blades: Five steel blades.
Review

The Webb WEH12R Rear-Roller Hand Mower is famous for producing and releasing some of the critically acclaimed garden products. The stylish mower here is no exception and produces some fine cuts once set up properly.

If you need some beautiful strips in your garden or lawn, try the WEH12R, and in return, it will give you a smoothly cut lawn that cannot be achieved by expensive motor-powered machines.

Mostly made of plastic, the WEH12 weighs only 11.1 kg, which makes it easy to move around. It includes a large roller that can produce attractive strips. Cutting height is comparatively less but still can work up 23.5 mm, which means it's suitable only for lawn with medium-sized grasses. 

Five blades cylinder has a cutting width of 30 cm. Changing the height of grass cutting is also easy and as it has an 18 lire collection bag, you will not spend much time on emptying it, especially if you are working on a small or medium-sized lawn. 

The hand mower has solid steel and alloy built, so it's here to stay for a long time. If you are an environment enthusiast who likes to be quiet in the morning, choose the hand mower from Webb. 

Pros
Precious and smooth cuts
Very easy to manoeuvre.
Cons
Comparatively tough to assemble.
8. WOLF-Garten Hand Push Garden Lawn Mower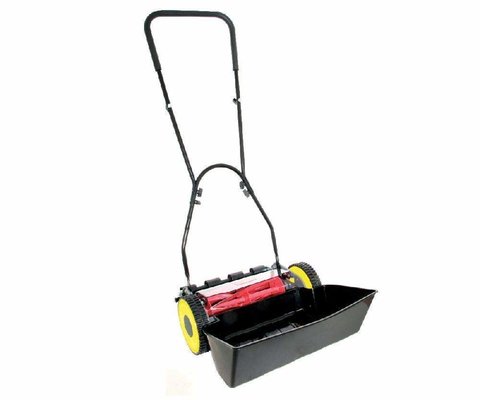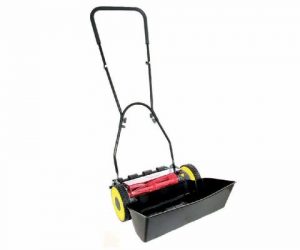 Specification
Cutting width: 30 cm
Cutting height: 10 – 40mm
Grass box capacity: 15 litre
Number of blades: Five helix carbon steel.
Review

The WPCM-F packs a lot of punch when it comes to cutting height and width. Smart height adjustment and a rear roller for guided strips add to its value. Its affordable price tag attracts you to try it once.

This hand push cylinder lawnmower has five carbon steel blades that give you unmatched cutting results. To move these sharp blades, it has an ergonomic handle for a soft and comfortable grip with minimal wrist stress. 

The grass box is attached at the front. As it has an average grass carrying ability, WPCM-F is only suitable for small or medium-sized lawns. Adjustment of height cutting is effortless, and its 10 kg weight makes the mower very easy to manoeuvre. The movement is sided by the large yellow wheels that look trendy with its red cylinder in the middle. 

No restriction of power cable and you don't have to invest in petrol or recharge a battery. Move around the manual mower during your morning or evening walk. However, you will have to make some storage space for the mower because it has a long handle. 

Pros
Sturdy steel blades for precise cuts
Easy height adjustment
Roller to create strips
Ergonomic handle for a soft grip.
Cons
Chews dense grass instead of cutting.
9. Charles Bentley Hand Push Lawn Mower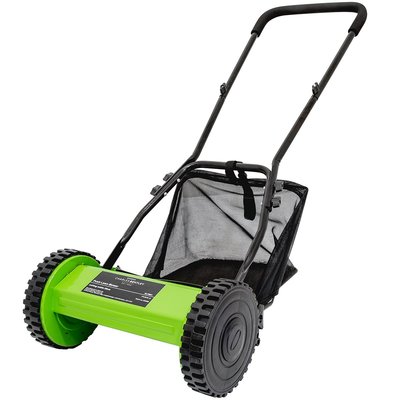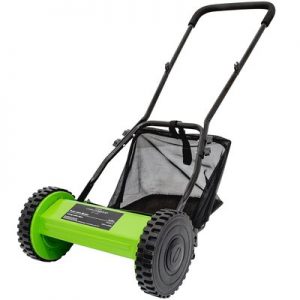 Specification
Cutting width: 30 cm
Cutting height: 12 to 45 mm
Grass box capacity: 16 litre
Number of blades: Five.
Review

Do you own a lawn and want it tidy this summer? Then its time you invest in the hand push lawn mower from Charles Bentley. It's cutting width of 30 cm, and height adjustment between 12 to 45 is more than enough to maintain a small garden, lawn, golf course or any other green property you want to manage.

As the lawnmower is manual, you will never have to invest in fuel, battery or any of its related accessories. It is a onetime investment, a great option to keep your lawn or garden uncluttered and attractive.

Talking about its grass collection ability; it's enough to carry all the mowed grass from a small or medium-sized area. At 6.5 kg, the mower is very lightweight and easy to carry. Made of steel and plastic, the product is also durable and stay at your assistance for a long time.

Giant wheels of the hand grass cutter encourage effortless movement. Moreover, its handle is at an ideal height that makes the lawn cutting comfortable and gives less strain on your arms. As it does not require any electricity, you don't have to worry about the power cable or outlets.

Take it along to any of your places wherein the overgrown grasses are irritating you. It will give you the desired results without disturbing the eco-system. 

Pros
High quality built
Lightweight and easy to manoeuvre
Decent cutting height with adjustment.
Cons
Unable to cut long grasses.
10. Einhell GE-HM 38 S-F Hand Push Lawnmower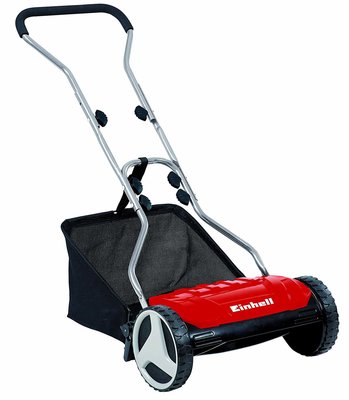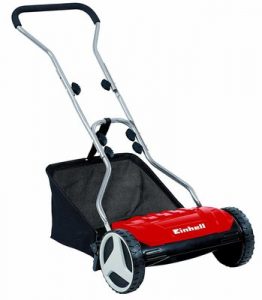 Specification
Cutting width: 38 cm
Cutting height: 13 to 38 mm
Grass box capacity: 26 liter
Number of blades: Five.
Review

If you need a small and portable lawnmower, then the GE-HM 38 S-F is one of the best hand push lawn mowers. This brilliant device has some great features that can take care of your small to medium-sized lawn up to 250-meter square. 

Due to a massive 38 cm cutting width and sharp steel blades, the mower wastes no time in giving you a smoothly cut lawn. Its modules have a design that minimizes friction, enhances the strokes and gives you the desired cuts. A ball bearing moving spindle carries the blade, and there is also a 50 mm plastic roller that covers the overall width. 

Cutting of the lawnmower is fully adjustable for four different heights between 13 to 38 mm. It has a sizeable 26-litre box for collection. Above all, assembling the mower is very easy. You can set it up within ten minutes without any external help. 

One of the best features of Einhell GE-HM 38 S-F is its quiet working nature. It practically makes no noise, and that's why it can be used early in the morning or late evening.

Being small, the manual grass cutter is not powerful enough and faces difficulties while cutting thick and stubborn grasses. At times, these grasses get tangled in its blades to stall the mower.

However, this is the only negative aspect the mower has. Apart from that, it's a sturdy piece of tool that gives you a maintained and attractive lawn for many years to come. Due to sharp blades, the mower provides you consistent grass cutting all over the yard.

The price tag is comparatively higher than other variants on this list. However, the quality results and durable built compensates for that. 

Pros
Effortless grass cutting machine
Sharp blades for consistent results
Ergonomically designed comfortable handle
Eco-friendly and quiet.
Cons
Struggles while cutting dense grasses.
Frequently Asked Questions (FAQs)
1. How do I maintain my hand push lawnmower?

As we discussed earlier, a manual mower requires less maintenance. Due to a simple mechanism, you only have to take care of the blades, ball bearing and some other parts. Once the blades are blunt, contact a local professional and get it sharped again. Apart from that, you should oil the gears regularly. Checking the tires and storing the lawnmower under a shed in good seasons are the other steps that you can follow for a maintained push lawnmower. 

2. How to use a manual lawn mower?

Push mowers have a set of blades the revolve and cut the grass that comes under it. For that, you have to move it over the lawn. Before you do that, you should set the cutting height depending upon the season and requirements. Once you set the cutting height, start pushing the mower at average speed from one end of the end to another. Turn the mower and repeat the same process on the adjacent side of the first rail. Keep repeating the same until the entire lawn or garden is mowed. 

3. How do you adjust a hand push manual lawn mower?

A manual lawn mower comes with a lever for height adjustments. It's not compulsory, but if you move the lever outwards towards the wheel, the height will be increased, and you will see long grasses. Similarly, lower down the bar for short greens. Most of the times, you will find only one gear for all the blades. 

4. Are manual lawn mowers good?

A pollution-free alternative to motor-powered variants; manual mowers are the first choice for environmental enthusiasts. Apart from that, a manual mower is quiet, inexpensive, safe, and needs less maintenance. However, all these fantastic factors are only fruitful if you have a small or medium-sized lawn. 

5. How long do push mowers last?

With proper maintenance and care, a push lawn mower can last up to ten years. If left unmaintained, life can be degraded to up to five years. 

6. Can I sharpen the blades of my hand push mower?

Yes, you can sharpen the blades of a hand push mower. Clean the leaves and its reels with a brush or coarse sandpaper. Once cleaned, place a mower on a benchtop and choke the wheels with a broom to avoid any movement. Use a metal file on the bevel edge of the blades one by one. You can also put some grinding compound and move the mower backwards.
Bottom Line
Affordable and very easy to use, a manual lawn mower is an excellent choice for environment enthusiasts. It's a healthier and low maintenance alternative to electric or cordless mowers. If you have a small or medium-sized lawn, garden or yard, a manual mower can be the best investment that you can make. 

You are pushing the best hand push lawn mower in the morning while you take a walk can the best habit that can be included in your daily routine. The primary thing you have to take care; keep the blades sharp. Once you have sharp knives in a hand lawn mower, you will be able to manage the lawn in no time.