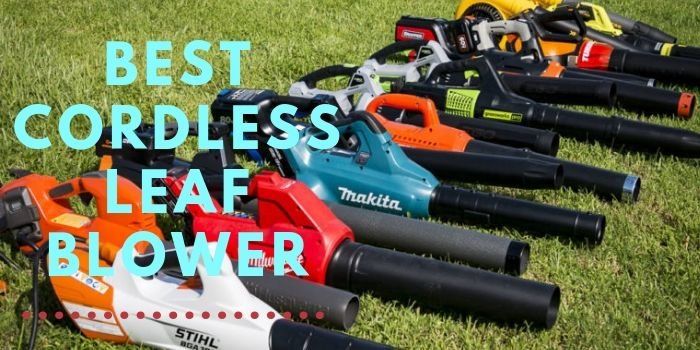 Best Cordless Leaf Blower Reviews UK 2023
Last Updated on January 22, 2023
---
In the given cordless leaf blower reviews, you will find all the features, advantages and disadvantages. So, if you are struggling to find an appropriate garden vacuum, you are on the right page.
In autumn, we all have to clean leaves from the garden and backyard. It sounds like a straightforward task, but only if you have the right cleaning equipment. Otherwise, you will hate the time that you spent to clear the leaves out of your pathway.
If you do not want that to happen, you need a cordless leaf blower. It's the reason we have collected eleven leaf blowers with a variety of features so that you can pick one that suits your needs.
Using any of the mentioned cordless blowers, you can put together all the leaves into a pile and get a clean garden. Moreover, as you do not require any power cable, there are no strings attached with the vacuum that can stop you using it anywhere in the garden.
We have tested the noise levels, durability, functions, and all the other factors to give you the top eleven cordless leaf blower reviews. Read the descriptions carefully because there are differences in the price, traits, and design for all the entries.
Top 10 Best Cordless Leaf Blower UK in 2023
Best Cordless Leaf Blower Reviews
1. Einhell 3433533-Best Cordless Leaf Blower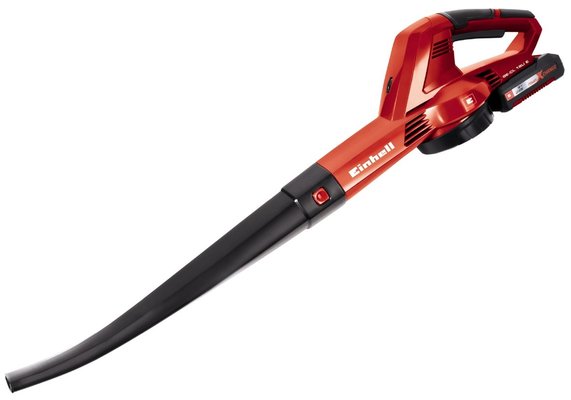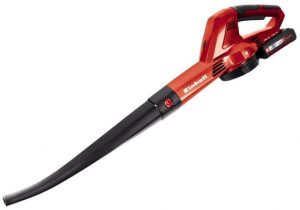 Reliable and sturdy: GE-CL 18 Li E Kit cordless blower from Einhell allows you to clean open areas easily. Due to its Power X technology and 18 V 2.0 Ah battery pack, the leaf blower has a maximum operating time of 240 minutes and a charging time of 40 minutes.
The leaf blower has three battery level indicators that keep you very well informed about the power it has left. Its battery comes equipped with automatic ABS-battery monitoring, so they are not only sturdy but also durable and robust.
A low weight of 1.73 Kg and compact size allows you easy use and storage. It has an electronic speed control for the airflow so that you can change the power dose depending upon the situation and area.
Due to its soft grip, it securely settles in your hand and makes the leaf blowing session stress free and convenient. Operating the GE-CL is so easy to operate that even your kids can clear the pathway for you.
The blower also comes with the battery and fast charger, which is a decisive factor and saves you from further investment.
Pros
Lightweight
Speed control setting
Charge level indicators
Cons
Not suitable for large areas.
2. Greenworks 40V Cordless Axial Blower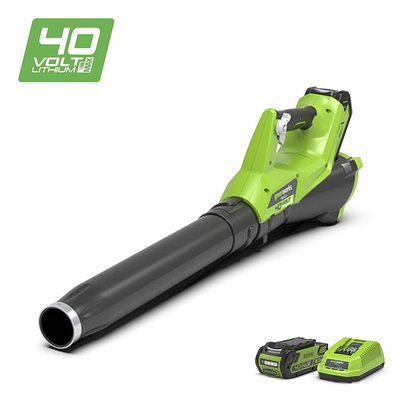 Another option comes from Greenworks; the cordless Axial Blower that uses 40V battery and has a low weight of 2.34 kg (including cell). It works at a sound level up to 75 dB, which is one of the weakest if we talk about battery operated blowing machines. With an electric start, variable speed control, and cruise control, the Axial is easy to use and operate.
The Greenworks Blower comes with a 2.5 Ah battery, charger and an instructions manual. This battery can be used in 25 other Greenworks tools. Its assembling guidelines are easy to follow, and you can ready the blower within minutes.
The battery has a slide-in compartment, and you can check the charge left with a push button. Its button activates four LED lights to inform you about the charge status. before using the Blower for the first time, you have to charge it for 70 minutes. Once loaded, it would run up to 25 minutes at medium airspeed.
As we already stated that the Axial Blower has a cruise control feature that locks the variable speed trigger to a fixed place and causes less strain to your fingers and wrist. The cruise control is easy to access from the soft moulded grip of this Blower.
Axial has the highest airspeed of 177Km/h at a volume of 300 CFM. Using the adjustable rate, you can choose the required airspeed according to the conditions and leaves.
Greenworks 40V Axial blower is lightweight, balanced, and convenient to use a gardening tool that impressed us with its quality performance. Looking at its affordable price tag and useful features, it deserves your attention for sure.
Pros
Easy to put together
High quality built
Speed control trigger
Cruise control feature
Lightweight
Cons
Blower powers on if you install the battery while the cruise control is engaged.
3. VonHaus 3 in 1 Leaf Blower (Budget Pick)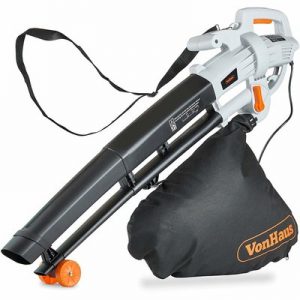 Another powerful blower from VonHaus; compact, lightweight, and a perfect leaf cleaning machine, if you own a small garden or similar property. At 1.85 kg, it's easy to operate and can be performed by your kids as well. So, you can include them in the weekend cleaning session for a combined activity of fun and training.
The cordless blower can be your favourite if you love machine with low noise levels. Anyway, none of you would like to let the whole neighbourhood know that you are cleaning.
At 60 dB the blower is the quietest among the lot. It looks stylish and catches immediate attention as well as appreciation from family members and visitors.
The blower needs only one hour for a full charge and works for 15 minutes after that. It has a soft grip and easy to carry design that adds to your convenience. Keep in mind; comfort should be one of the primary factors that you should consider while buying a cleaning machine.
There are fewer benefits in stopping after regular intervals because you are tired of carrying or working with a large and unusual blower or similar devices.
Pros
Lightweight
Inexpensive
Detachable blower tube for secure storage
Cons
Suitable for small areas only.
4. Bosch ALB 36 LI Cordless Leaf Blower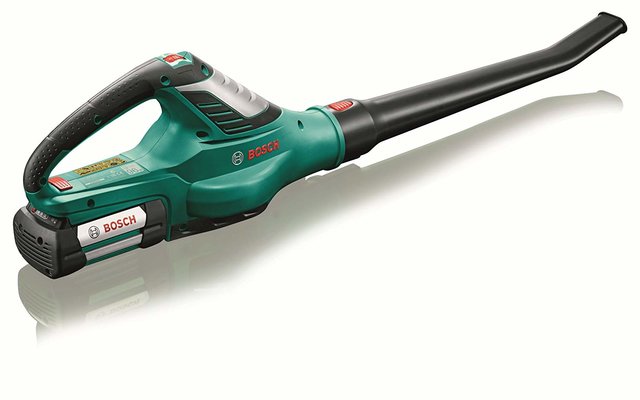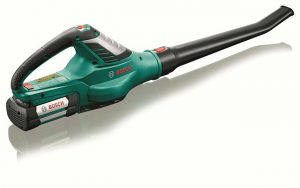 Our first recommendation, ALB 36 AI, is a lightweight cordless blower that is also easy to carry because of its ergonomic handle and design. Due to its built, you will not stress your arms even after an extended leaf blowing session. Moreover, it gives you fast as well as efficient results and makes you forgot the previous ways to use to apply to make a pile of leaves in your backyard.
ALB 36 gives you an easy time blowing the leaves. It has different airspeed settings that vary from 170 to 250 km/h. So, even if wet leaves are lying all around the pathway, you can use its highest airspeed setting to clear them all. Once you collect them together, put the leaves inside the dust bag and voila! You are done. As easy as it sounds.
The rechargeable blower carries the juice from a 36V lithium-ion battery that gives you a runtime of 35 minutes, which suffices to clean a small or medium-sized garden. Furthermore, the charging time is only one hour, so you can use it whenever and wherever you want.
Pros
Lightweight
Reasonably priced
Easy to store, due to the removable blower tube
Cons
5. Bosch ALB 18 LI Cordless Leaf Blower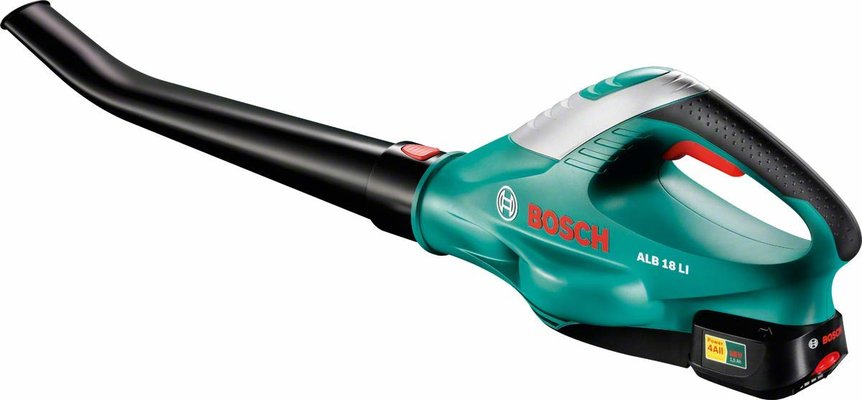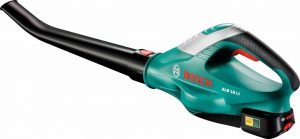 One of the lightest, the ALB 18 LI, comes with a 2.5 Ah Lithium-Ion battery that gives it a power of 18 volts. Minimal vibration and soft handle further adds to the convenience and makes your blowing time productive.
Forget bending over or use other tools to pick stubborn leaves. Looks small, but the blower has the power to remove even the wet leaves. Moreover, it has controlled speed settings up to 210km/h.
Another essential factor is runtime; the blower runs continuously for 11 minutes. You can also detach the blower tube for secure storage. It's not over yet; the fan also has low noise levels. It looks like ALB 18 LI is giving you all the reasons to be in your garden.
At 1.80 kg, Bosch ALB 18 LI is an ideal blower for individuals dealing with a bad back. If you have injuries in your shoulder or hands, then also it's a perfect option. Additionally, it's easy to operate, so if you want your kids to help you on the weekend cleaning, you can handle over the blower to them as well.
Pros
Lightweight
Battery included
Compact storage due to the removable blower tube.
Cons
Can work only in small and medium-sized areas.
6. Makita DUB362Z (Top Rated)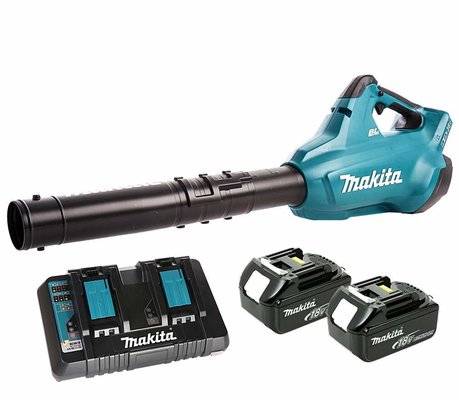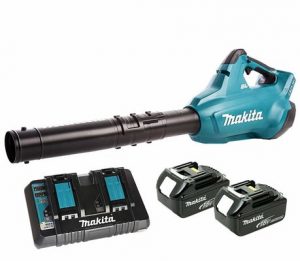 The Makita DUB36Z powered by 18v lithium-ion batteries and a mighty 36v DC brushless motor, it is built to outperform other cordless blowers. The runtime of its fan is up to 29 minutes, depending upon the settings and conditions.
Maximum blowing speed is 193km/h at the volume of 13.4m³/min. You can change the blowing power with a variable speed trigger that has six stops. At the highest strength available at the sixth stop, its battery will drain faster.
The blowing machine has a cruise control feature wherein you can and lock the trigger at a particular speed. Apart from speed control, it also has a dial to change the air volume.
DUB362Z comes with a three-stage adjustable blowing tube, which is automatically angled towards the ground for efficient leaf blowing. Due to its comfortable grip, you can use the blower with either left or right hand.
There are two nozzles included; one of them is flat and can be used for the higher air force. The products also come with two 5.0 Ah batteries.
At 2.8 kg, the gardening tool is lightweight and has fantastically low sound levels; only up to 79dB. It's battery-operated, and hence, there are no carbon emissions to regret. Batteries are easy to insert and makes an audible click sound to acknowledge the connection.
Despite being a powerful tool, it has a push start button, which is comparatively very easy to use and smooth then petrol blowers.
This Makita blower is one of the expandable machines that utilise lithium-ion battery and a powerful motor to give you a cost-effective gardening solution. As its motor is brushless, you can expect efficiency, durability and unmatched performance from the Makita tool. Lightweight, carbonless, but provides an excellent return on a garden or lawn.
Pros
High airspeed and volume
Lightweight machine
Variable speed control
Cons
According to our experts, there are no potential negative aspects.
7. Hyundai Cordless Powered Leaf Blower – HYB60LI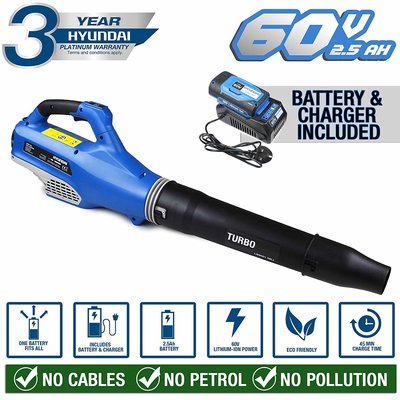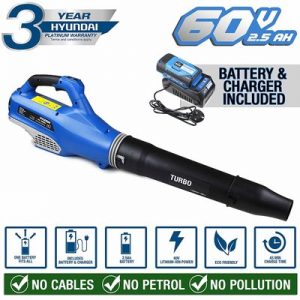 If you need a powerful and hardworking blower, then Hyundai HYB60LI is the one you should consider. This well-made cordless Blower works efficiently and has all the features to be the next addition for your garden. Let's know-how.
Boasting a 2.5Ah battery and a mighty 58V motor, the Blower works anywhere between 15 to 22 minutes. The charging time is 90 minutes, and its battery can handle a thousand charge cycles. The Blower has an impressive air speed of 207 km/h (129 mph).
Now we know all the major specifications of the Hyundai blower. Let us talk about its design. Given the power, the machine might be a little heavier at 4.07 kg. However, its light if compared to other blowers in the same class and can be easily used and controlled.
Next feature that makes HYB60LI extremely practical to use is its speed control options; low, high and turbo. You can choose low and high airspeed according to the conditions, and the turbo mode is for the harshest conditions. It has a brushless motor, which is efficient and performs well. Moreover, the battery included with the device is compatible with all the other Hyundai cordless tools.
Another department where the Hyundai blower excels is the sound level. Even after such power, it works quietly. Hence, you can blow all the leaves out of your yard, and no one will be disturbed.
HYB60LI is a well-designed blower that is comfortable to use and delivers excellent power. If you need some extra power and speed, but don't want a noisy and demanding petrol blower, you can take a close look.
Pros
Powerful motor generates high airspeed
Low noise level
Fast charging in 90 minutes
After-sales support is great
Battery and charger included
The battery can be used with many other Hyundai power tools.
Cons
Might be cumbersome for some users.
8. Aerotek 40V Series X2 Battery Powered Leaf Blower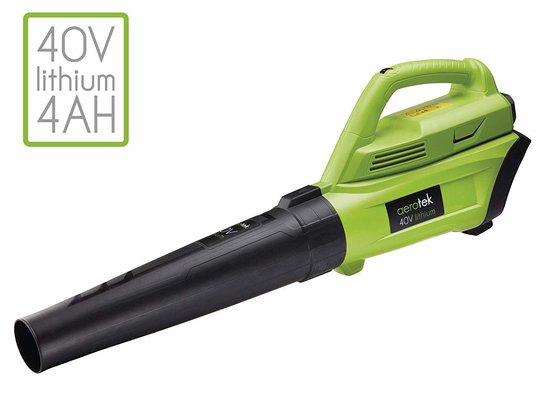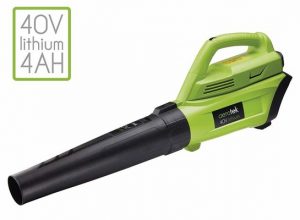 With the 40V blower from Aerotek, you can effortlessly clean the garden leaves. It's sturdy and cordless, so there are no cleaning radius restrictions and extra trouble of cable management. All you get is freedom to use the leaf blower anywhere in the garden or lawn.
Weighing only 2.28 kg, the blower has an ergonomic design and soft grip, which makes it comfortable to use. It comes with a long tube that helps you to clean hard to reach areas. Moreover, once you are done, the tube can be removed for secure storage.
With a blowing speed variable up to 177 km/h, the device can clean all the leaves, even the wet and stubborn ones from your backyard to give you a neat appearance. The blowing speed is gained by the blower due to a high input voltage of 750V.
The blower does not include the charger or the battery; you have to purchase these two items separately. However, the discounted price on Amazon and an extended warranty will attract you.
Pros
Removable tube for compact storage
Lightweight
Ergonomic design and soft handle
Cons
Wheels fell off sometimes, which can be a problem while blowing the leaves.
9. Garden Gear 20v Cordless Leaf Blower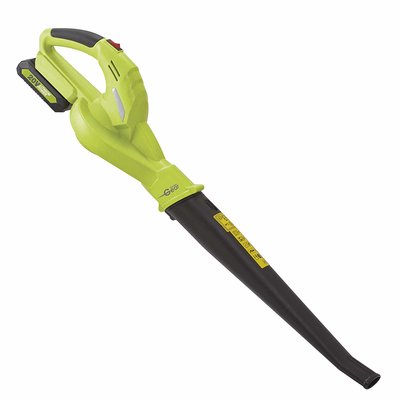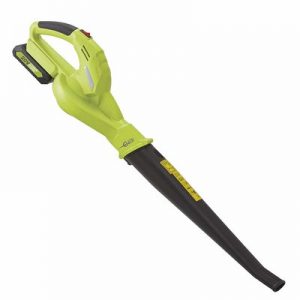 Powerful and cordless blower from Garden Gear is easy to use the device if you want to clean leaves from an area, that also swiftly and efficiently. As it comes with a long blowing tube; you can easily access the nooks, crevices, trunks and all the other tough to reach areas.
The leaf blower does not have any cables so that you can use it anywhere. Due to a low weight of 1.76 kg, the device is easy to carry. Moreover, it has an ergonomic design and soft grip that makes blowing the leaves a convenient task. It's powered by a 1500 mAh lithium-ion battery, which can be fully charged within 3 to 5 hours.
Once you are done, remove the blowing tube for easy storage. It's a compact blower, so will not take much space in your garage or garden shed. At 96 dB, the battery-operated blower is not noisy as well. Plus, you can also purchase a 20V lithium-ion battery as a spare for additional runtime.
Pros
Compact storage due to removable tube
Lightweight
Powerful
Cons
No indicator for battery levels.
10. DEWALT DCM562P1-GB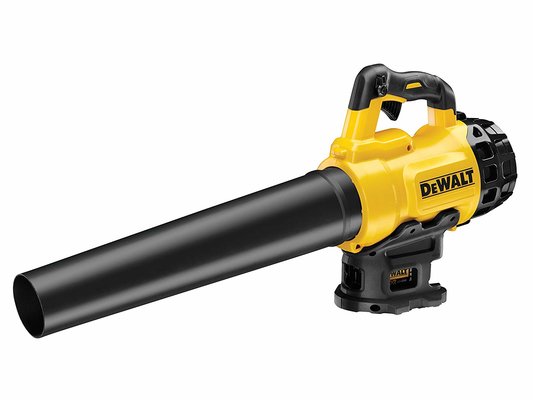 The DEWALT DCM562P1 is the latest offering from Dewalt that offers professional performance and adds to your convenience by being cordless. It's a great choice if you live in noise restricted areas because the Blower works at 65 dB.
An 18V 5.0Ah Lithium-ion battery powers a durable brushless motor that enhances battery backup and performance. It takes 75 minutes for a full charge, and after that, it runs up to 18 minutes; depending on the airspeed.
The motor generates an airspeed of 144 km/h, 400 CFM and clears the foliage and debris effectively within a short period. As it uses a Li-ion battery, the blower never loses charge and gives you fade-free blowing power.
Lightweight at 3.2 kg, the Dewalt blower has a compact design that offers complete balance and control to the users. Its ergonomic handle has an over mould for added comfort. The blower has a variable speed trigger and an ability to lock the airflow at a particular rate.
With such features and settings, it is suitable for small and medium-sized gardens. Whether you have some tough pile of leaves or you have to use the blower very frequently, you can try the Dewalt blower without much fatigue to arms and shoulders.
Dewalt DCM562P1-GB comes with a brushless motor that seeks minimal maintenance. No need to change the fuel or replace the spark plugs like a petrol-powered blower. Charge the battery to enjoy a long-lasting backup and unmatched performance.
Pros
Quiet
Lightweight blower, hence minimal stress to the arm
Ergonomically designed comfortable handle
High-quality performance
Battery included,
Cons
Comparatively less runtime.
11. WORX WG547E 18V Garden Leaf Blower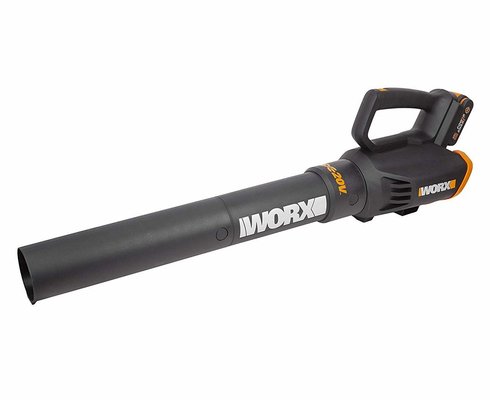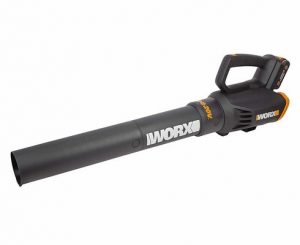 With dynamic airflow generated from turbine fans and variable speed settings control, WG547E is the blower you would like to use this season. It efficiently clears the garden, patio, pathways or any other area where leaves are disturbing your mind.
Due to the dynamic airflow, the battery-powered blower removes the leaves with more air and speed, so that you can finish your work early and spend the rest of your weekend with your friends or family. It looks enormous but has a little weight of 4.3 kg and an ergonomic design. As it has a one-handed operation, you do not have to stop or adjust anything.
WG547E works for 30 minutes if you are using it on low settings. If you need full power, you got only ten minutes to utilise it. With power comes greater responsibilities. So, use it wisely. Overall, a powerful blower that can complete the given job within minutes, even if you have a big house or an enormous garden.
Pros
Suitable for large areas
Lightweight
Batteries included.
Cons
12. Makita DUB362 Twin 18v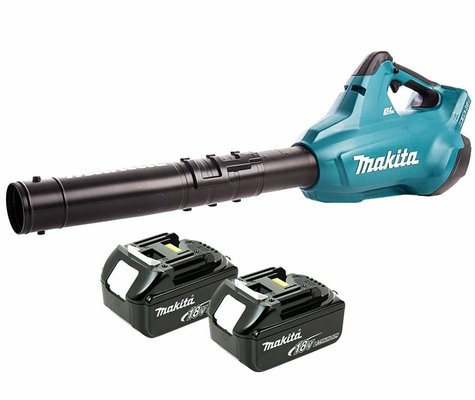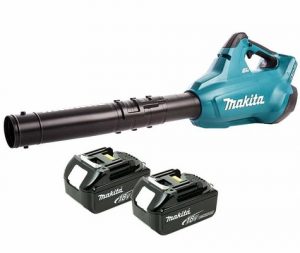 Using two 18v Lithium-Ion batteries, the DUB362 works at 36v. Due to its robust operation, the blower is used by professionals to take care of the garden and other grounds.
Both the batteries are directly installed on the central unit to supply all their power to its DC motor. With 21,500rpm, the blower produced an airspeed of 50 m/s. You can control the airspeed with six settings given near the handle. It comes with Makita's XPT (Extreme Protection Technology); an improved water resistance that channels the dust and water away from internal components of the device. So, you can use it freely under any conditions or weather.
One of the most potent blowers, still DUB362 is lightweight at 4.5 kg and hence easy to carry. It has vibrations up to 2.5 m/s², which is low as compared to other blowers. Soft and comfortable grip further adds to the convenience, and you get stress free garden cleaning session. Moreover, it has a long 100 mm long telescopic nozzle. The maximum noise level it can create is 79 dB, which is again lower than many other blowers.
Pros
XPT
Dual battery for better power
Speed control
Cons
13. Stihl BGA 45 Cordless Leaf Blower Review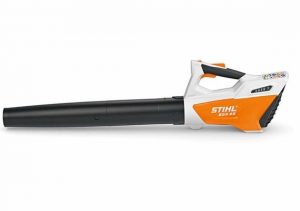 BGA45 delivers a great speed of 136 km/h. The blower is quiet, lightweight at 2 Kg and includes the battery, which gives a runtime of 10 minutes after a full recharge. The given period is enough to clear approx. 2, 153 sq. Feet or let's say 13 parking lots.
The blower is cordless so that you can enjoy added mobility. It works with a 2 Ah 18 V Lithium-Ion battery. The blower has a charge level indicator, which is a neat addition. It's portable and convenient to use. Due to its compact size, the blower can be easily stored as well. However, it lacks speed control. Reaches a maximum noise level of 76 dB, which looks fine if we compare to other blowers.
Ten minutes is a little less; it's the reason we have kept it lower in the order. If you own a small garden or property where you need clear pathways, Stihl BGA45 is the blower you should have in the garage. Moreover, it comes with the battery as well as the charger; you will not have to purchase other products and invest more.
Pros
Lightweight
Acceptable noise level
Includes the battery and charger.
Cons
No speed settings
Average airspeed.
14. Ryobi OBL1820S 18v ONE+ Cordless Blower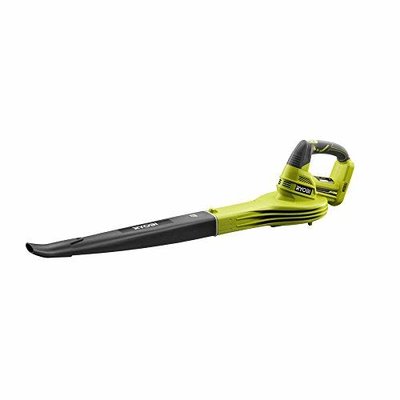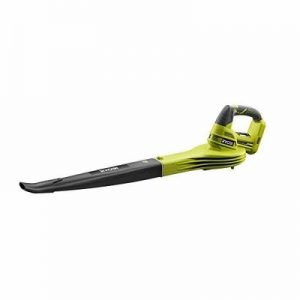 If you need an efficient blower that can keep your garden neat and clean, then you should consider the OBL1820S. It checks all the boxes to be your gardening partner; its lightweight, balanced, has a comfortable grip, easy to assemble and comes with high blowing power.
OBL1820S is not bigger like expensive variants; we agree to that. But, that does not mean it does not have the calibre to work like them. With an airflow of 245 km/h, Ryobi blower can remove even the wet leaves out of your garden pathway with ease. Slim design and removable tube make it easy to store anywhere in the garage.
Due to the low weight of 2.21 kg, the blower is easy to control. Its narrow nozzle gives you access to small areas as well. Plus, you get 20 minutes of runtime to clean the garden. Make a note that the offered price is only for the tool, without the battery and charger. You can purchase these items and other accessories from the linked page.
Pros
Powerful
Lightweight
Narrow nozzle for easy cleaning
Cons
Does not include the battery or charger.
15. BLACK+DECKER 36 V Blower Vacuum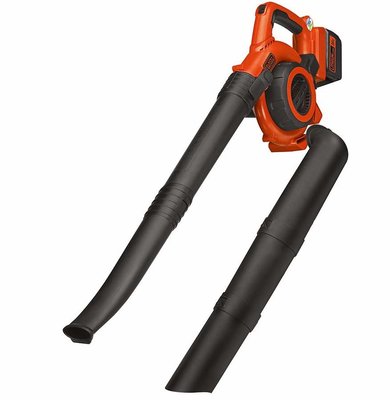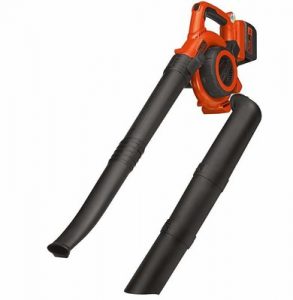 The cordless 36V leaf blower from Black and Decker clears the lawn without any hassle of cables and extra weight. Whether you have a garden or any other area where leaves have covered the ground, this can be a perfect tool to clean them.
With a blowing speed 218 Km/h, there are fewer chances you will complain about its blowing performance. There is a vacuum mode as well that you can get with a simple switch. It changes the pattern without any trouble. Moreover, the blower has the mulching capacity that enhances the decomposition chances and makes disposal easy and fast. For each model, you get different tubes.
The blower has a soft grip and a comparatively little weight of 998 g. There are two modes in its power setting as well; Eco Mode that gives you maximum runtime and TURBO mode for optimum power. Its paddle switch further encourages the convenience, so that you can complete the task early and invest your time in some other works.
Overall, a perfect leaf blower for flower beds, which never picks up soil or stones.
Pros
Two in one tool
Powerful performance
Dual power modes
Cons
How to Choose The Best Cordless Leaf Blower?
There are lots of cordless leaf blowers available in the market with various styles and different form factors. But what you need depends upon your requirements and personal preferences. So, what you should be looking at while browsing the cordless blowers? Let's know the answer.
Types of Cordless Leaf Blowers
1. Handheld. As you must have noticed, handheld cordless leaf blowers are lightweight. Gives you free rein to work. But for that, you have to sacrifice some power. Then comes the battery backup or runtime. A battery-operated handheld might last for 45 minutes or an hour.
So, if you have a large lawn to cover that needs more than that, you need a spare battery. Or, you can take a break while it takes the juice. Suitable for users who don't want the headache to maintain a petrol-powered blower or don't want the restricted blowing radius of a corded model. Price range: £50 to £200.
2. Backpack. Gas-powered backpack blowers have more power than handhelds. They can weigh up to 8 kg, but the weight is distributed throughout your upper body. So, you can work for longer, but you have to bear the extra noise. Gas-powered engines are noisy anyway, and the same goes for the backpack blowers. And yes, they are expensive than the handhelds. Price Range: £130 to £450.
3. Wheeled or walk-behind blowers. Looking for a powerful blower that can cover a large area without wasting much of your time? A gas-powered wheeled blower will be suitable for the situation. Massive, expensive, and works at high sound levels; such blowers mostly use 4-stroke engines.
There are no multifunctional wheeled blowers available. Means, they can only take out the leaves out of your golf course or a large lawn. But, it cannot vacuum to shred the leaves. Due to heavy built, a wheeled blower is tough to push, especially uphill. Price Range: Up to £700.
Other Factors to Consider While Buying a Cordless Leaf Blower
1. Sound level. Noise pollution has been associated with leaf blowers. Battery-powered blowers perform well in these departments because they work at a low sound level, which ranges anywhere between 65 to 95 dB. Choose a less noisy model, so that your family members and neighbours can thank you later.
2. Cordless leaf blowers run on batteries ranging anywhere between 20V to 120V. Choosing the power depends upon the size and conditions of a lawn. If you have a small or medium-sized yard to cover, decide a blower with 20V battery. For significant areas, you should go for A 40V blower.
3. Weight. Some of the cordless leaf blowers might be heavier than the corded variants, because of their massive battery. However, as they lack petrol engine and fuel tank, cordless blowers are comparatively lightweight than petrol or gas-powered options.
Weight of cordless blowers varies between 2.5 to 6 kg. While browsing the cordless options, you should check the load with and without the battery. Choose a blower that you can easily carry and roam around a garden while blowing some leaves.
4. Runtime. When shopping for a cordless leaf blower look for the maximum runtime after a full recharge. It should be sufficient enough to cover the lawn or garden. Apart from that, you should also check the charging time. If you want to work without any downtime, we suggest you should purchase a spare battery.
Which Handheld Leaf Blower is Best for You?
Small area. As we discussed earlier, 20V cordless is suitable for small lawns, gardens and yards. The runtime should be more than ten minutes to the least. So, DEWALT DCM562P1-GB and Makita DUB362Z are the best ones for small areas.
Medium to large areas. For a medium-sized lawn, you can use Greenworks Cordless Axial Blower. It has the necessary power and runtime that will cover the required field. It has comparatively lower weight and variable speed control so you will not feel tired after the blowing the eaves out of your garden.
Large areas and professional usage. If you are a professional or own a significant green land, then you need something more powerful. Someone like Hyundai HYB60LI will fit the bill for both the situations. It's sturdy and has extended battery backup. It's comparatively more substantial than the other options we discussed today, but looking at the power and runtime, you could ignore that.
Cordless Leaf Blower – Pros & Cons
In this section, we will discuss the advantages and disadvantages of a cordless leaf blower. Stay with us, if you want to know the benefits of investing in a battery-operated leaf cleaning equipment.
Pros of Cordless Leaf Blower
First, we will discuss the positive impacts of a battery blower.
Freedom. A cordless leaf blower works without any power cable. Hence it's an outstanding piece of machinery if you want to get rid of the cords. If you own a small or medium-sized garden, lawn, or yard, battery leaf blowers will be a great choice.
Lightweight. All the cordless variants are less in weight, especially when we compare them to the gas-powered blowers. If you own one of the batteries operated blowers, you can keep your garden clean without being tired.
Low sound level. One of the most essential traits of a cordless blower is its quiet nature. If we talk about gas-powered blowers, they operate with a very irritating sound that can also annoy your neighbours.
Eco-friendly. Our Earth is facing one of the biggest challenges today, known as global warming. By using petrol and gas engines, we are adding carbon emissions to the ecosystem, which will add to the pollution. On the favourable side, battery blowers do not have any harmful emissions.
Minimal maintenance. Battery dependent blowers need less maintenance, especially those with brushless motors.
Cons of Cordless Leaf Blower
Knowing only the benefits is not enough. So, we should also focus on the negative side of cordless leaf blowers.
Limited runtime. Cordless blowers give you the freedom to work anywhere, but only until the battery lasts. It can be a disappointing situation when you have to blow some or leaves and the battery discharges. You can only wait until the battery charges again.
Low power. When compared to gas-powered blowers, battery dependent blowers are low in energy. It's the reason the latter is only suitable for small or medium-sized yards. For significant areas, you will need petrol or gas blower.
How to Maintain a Leaf Blower?
Wipe it. After every use, spend some time and wipe the leaf blower. Use a damp cloth to remove the dirt from its case, area near the air filter, and fan blades. If you own a petrol blower, then you have to clean the area around its carburettor.
Filter check. Clean the filter regularly to keep it free from dirt and debris. If it's extra soiled, wash the filter and reuse. In case the filter is exhausted and cannot be washed or reused, you should replace it immediately.
Inspect the hose. Take a look on its tube once you are done using the Blower. If it's not fitted, then adjust accordingly and if there is a crack, replace the part.
Storage. You should store blower in a well-ventilated space away from any chemicals. Remove the battery while saving it for the next season. If you have a petrol variant, run it dry after adding some fuel stabiliser. Once it shuts off on its own, you can store it at a secure place.
How Powerful Should a Leaf Blower Be?
While reading the reviews and browsing the leaf blowers, you will find specifications like airspeed and air volume. But, the question is; what should be the right airspeed? Measured in km per hour or miles per hour (MPH), it's the speed of airflow coming out of the blowing tube in one hour. Example, Makita DUB362Z has an airspeed of 193 km/h, means it will blow air and leaves at the given rate.
Next comes the air volume or CFM (cubic feet per minute). It measures the amount of air that comes out of the tube in one minute. It's the real strength or power of a leaf blower. In general, bigger mouth means high CFM. Overall, you need the right mix of both MPH and CFM (speed and volume of air). To know the necessary power, you need to answer three questions.
What is the size of your lawn or yard?
What kind of leaves and debris are you trying to remove?
Are there any noise restrictions in your area?
If you need to clear a small area like patio, driveway or decks, you can choose a leaf blower up to 200 to 400 CFM, like DEWALT DCM562P1-GB. For areas around an acre or more, a blower should have a CFM between 400 to 700 — something like Makita DUB362Z. For more significant areas, you should consider the Hyundai HYB60LI.
Finally, you have to consider the noise limitations. If you are less on permissible noise levels, then you cannot choose a blower with high CFM. High CFM means, more power and noise.
Final Verdict
If you want the best among all, you should choose Bosch ALB 36 LI, which is an all-round performer that can keep your garden or other open areas clean. However, if you have a small space to clean, do not want to compromise on the features, but do not want to spend a fortune on the leaf blower as well, then you can consider the second entry from Aerotek.
We have shared the information mentioned above after extensive research and tests. So, we hope that you have been helped by reading this post. Enjoy the autumn.