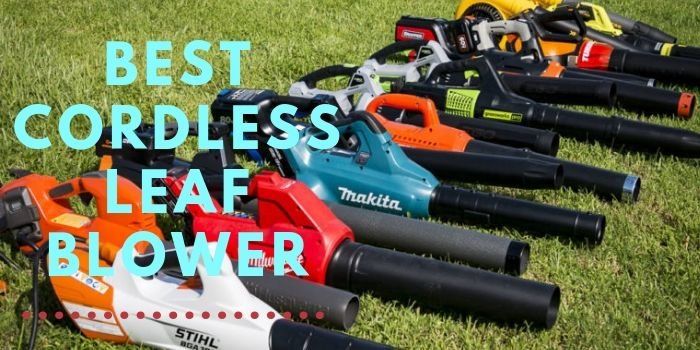 Best Cordless Leaf Blower In UK Reviews 2019
Last Updated on
In the given cordless leaf blower reviews, you will find all the features, advantages and disadvantages. So, if you are struggling to find an appropriate garden vacuum, you are on the right page.
In autumn, we all have to clean leaves from the garden and backyard. It sounds like a straightforward task, but only if you have the right cleaning equipment. Otherwise, you will hate the time that you spent to clear the leaves out of your pathway.
If you do not want that to happen, you need a cordless leaf blower. It's the reason we have collected eleven leaf blowers with a variety of features so that you can pick one that suits your needs.
Using any of the mentioned cordless blowers, you can put together all the leaves into a pile and get a clean garden. Moreover, as you do not require any power cable, there are no strings attached with the vacuum that can stop you using it anywhere in the garden.
We have tested the noise levels, durability, functions, and all the other factors to give you the top eleven cordless leaf blower reviews. Read the descriptions carefully because there are differences in the price, traits, and design for all the entries.
Top 11 Best Cordless Leaf Blowers in the UK
1. Einhell 3433533 Power X-Change Cordless Leaf Blower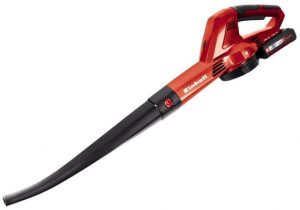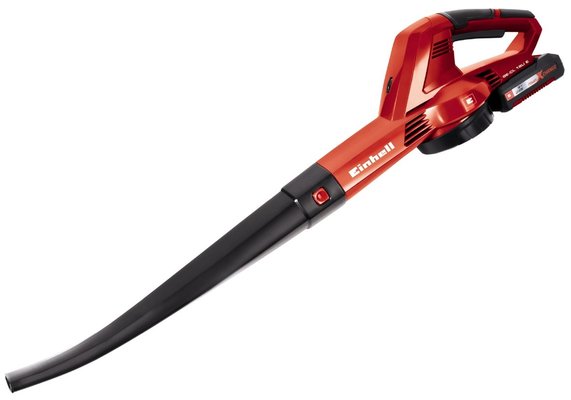 Reliable and sturdy: GE-CL 18 Li E Kit cordless blower from Einhell allows you to clean open areas easily. Due to its Power X technology and 18 V 2.0 Ah battery pack, the leaf blower has a maximum operating time of 240 minutes and a charging time of 40 minutes.
The leaf blower has three battery level indicators that keep you very well informed about the power it has left. Its battery comes equipped with automatic ABS-battery monitoring, so they are not only sturdy but also durable and robust.
A low weight of 1.73 Kg and compact size allows you easy use and storage. It has an electronic speed control for the airflow so that you can change the power dose depending upon the situation and area.
Due to its soft grip, it securely settles in your hand and makes the leaf blowing session stress free and convenient. Operating the GE-CL is so easy to operate that even your kids can clear the pathway for you.
The blower also comes with the battery and fast charger, which is a decisive factor and saves you from further investment.
Pros
Lightweight
Speed control setting
Charge level indicators
Cons
Not suitable for large areas.
2. VonHaus 3 in 1 Leaf Blower – 3000W Garden Vacuum & Mulcher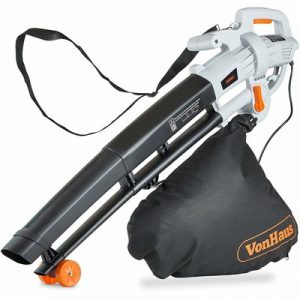 Another powerful blower from VonHaus; compact, lightweight, and a perfect leaf cleaning machine, if you own a small garden or similar property. At 1.85 kg, it's easy to operate and can be performed by your kids as well. So, you can include them in the weekend cleaning session for a combined activity of fun and training.
The cordless blower can be your favourite if you love machine with low noise levels. Anyway, none of you would like to let the whole neighbourhood know that you are cleaning.
At 60 dB the blower is the quietest among the lot. It looks stylish and catches immediate attention as well as appreciation from family members and visitors.
Also, you can check the best garden vacuum reviews.
The blower needs only one hour for a full charge and works for 15 minutes after that. It has a soft grip and easy to carry design that adds to your convenience. Keep in mind; comfort should be one of the primary factors that you should consider while buying a cleaning machine.
There are fewer benefits in stopping after regular intervals because you are tired of carrying or working with a large and unusual blower or similar devices.
Pros
Lightweight
Inexpensive
Detachable blower tube for secure storage
Cons
Suitable for small areas only.
3. Bosch ALB 36 LI Cordless Leaf Blower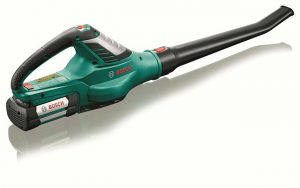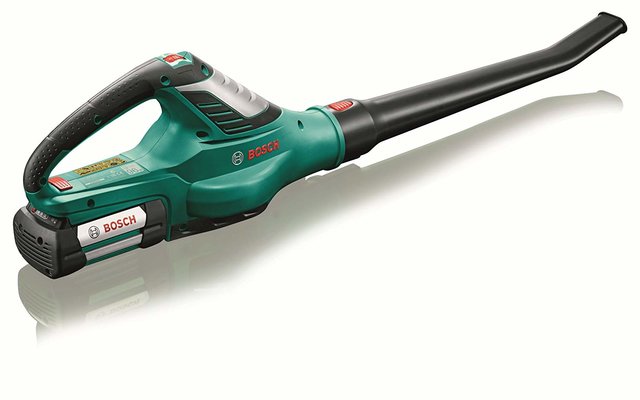 Our first recommendation, ALB 36 AI, is a lightweight cordless blower that is also easy to carry because of its ergonomic handle and design. Due to its built, you will not stress your arms even after an extended leaf blowing session. Moreover, it gives you fast as well as efficient results and makes you forgot the previous ways to use to apply to make a pile of leaves in your backyard.
ALB 36 gives you an easy time blowing the leaves. It has different airspeed settings that vary from 170 to 250 km/h. So, even if wet leaves are lying all around the pathway, you can use its highest airspeed setting to clear them all. Once you collect them together, put the leaves inside the dust bag and voila! You are done. As easy as it sounds.
The rechargeable blower carries the juice from a 36V lithium-ion battery that gives you a runtime of 35 minutes, which suffices to clean a small or medium-sized garden. Furthermore, the charging time is only one hour, so you can use it whenever and wherever you want.
Pros
Lightweight
Reasonably priced
Easy to store, due to the removable blower tube
Cons
4. Aerotek 40V Series X2 Battery Powered Leaf Blower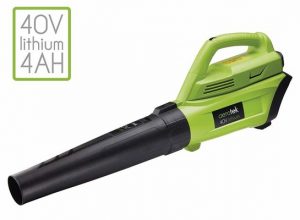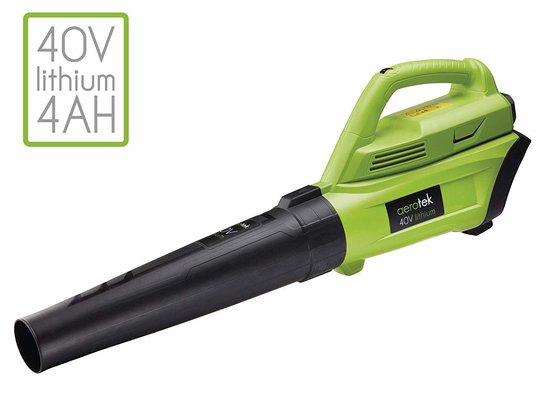 With the 40V blower from Aerotek, you can effortlessly clean the garden leaves. It's sturdy and cordless, so there are no cleaning radius restrictions and extra trouble of cable management. All you get is freedom to use the leaf blower anywhere in the garden or lawn.
Weighing only 2.28 kg, the blower has an ergonomic design and soft grip, which makes it comfortable to use. It comes with a long tube that helps you to clean hard to reach areas. Moreover, once you are done, the tube can be removed for secure storage.
With a blowing speed variable up to 177 km/h, the device can clean all the leaves, even the wet and stubborn ones from your backyard to give you a neat appearance. The blowing speed is gained by the blower due to a high input voltage of 750V.
The blower does not include the charger or the battery; you have to purchase these two items separately. However, the discounted price on Amazon and an extended warranty will attract you.
Pros
Removable tube for compact storage
Lightweight
Ergonomic design and soft handle
Cons
Wheels fell off sometimes, which can be a problem while blowing the leaves.
5. Garden Gear 20v Cordless Leaf Blower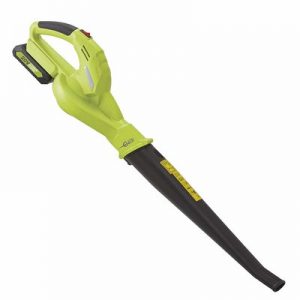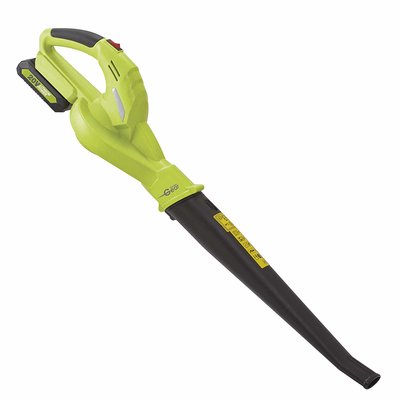 Powerful and cordless blower from Garden Gear is easy to use the device if you want to clean leaves from an area, that also swiftly and efficiently. As it comes with a long blowing tube; you can easily access the nooks, crevices, trunks and all the other tough to reach areas.
The leaf blower does not have any cables so that you can use it anywhere. Due to a low weight of 1.76 kg, the device is easy to carry. Moreover, it has an ergonomic design and soft grip that makes blowing the leaves a convenient task. It's powered by a 1500 mAh lithium-ion battery, which can be fully charged within 3 to 5 hours.
Once you are done, remove the blowing tube for easy storage. It's a compact blower, so will not take much space in your garage or garden shed. At 96 dB, the battery-operated blower is not noisy as well. Plus, you can also purchase a 20V lithium-ion battery as a spare for additional runtime. You can see how to choose a leaf blower.
Pros
Compact storage due to removable tube
Lightweight
Powerful
Cons
No indicator for battery levels.
6. Bosch ALB 18 LI Cordless Leaf Blower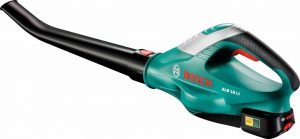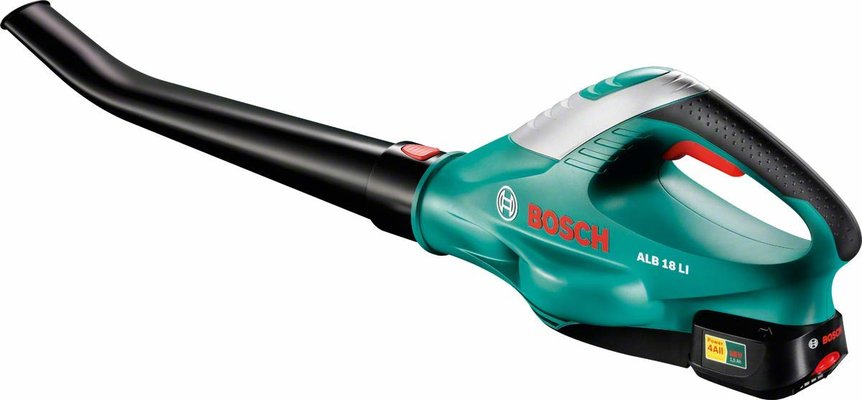 One of the lightest, the ALB 18 LI, comes with a 2.5 Ah Lithium-Ion battery that gives it a power of 18 volts. Minimal vibration and soft handle further adds to the convenience and makes your blowing time productive.
Forget bending over or use other tools to pick stubborn leaves. Looks small, but the blower has the power to remove even the wet leaves. Moreover, it has controlled speed settings up to 210km/h.
Another essential factor is runtime; the blower runs continuously for 11 minutes. You can also detach the blower tube for secure storage. It's not over yet; the fan also has low noise levels. It looks like ALB 18 LI is giving you all the reasons to be in your garden.
At 1.80 kg, Bosch ALB 18 LI is an ideal blower for individuals dealing with a bad back. If you have injuries in your shoulder or hands, then also it's a perfect option. Additionally, it's easy to operate, so if you want your kids to help you on the weekend cleaning, you can handle over the blower to them as well.
Pros
Lightweight
Battery included
Compact storage due to the removable blower tube.
Cons
Can work only in small and medium-sized areas.
7. WORX WG547E 18V Cordless Air Turbine Garden Leaf Blower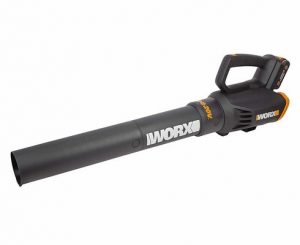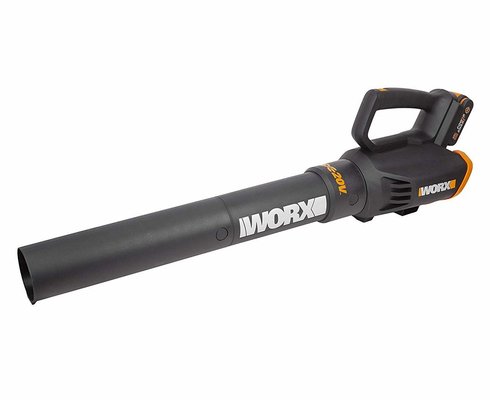 With dynamic airflow generated from turbine fans and variable speed settings control, WG547E is the blower you would like to use this season. It efficiently clears the garden, patio, pathways or any other area where leaves are disturbing your mind.
Due to the dynamic airflow, the battery-powered blower removes the leaves with more air and speed, so that you can finish your work early and spend the rest of your weekend with your friends or family. It looks enormous but has a little weight of 4.3 kg and an ergonomic design. As it has a one-handed operation, you do not have to stop or adjust anything.
WG547E works for 30 minutes if you are using it on low settings. If you need full power, you got only ten minutes to utilise it. With power comes greater responsibilities. So, use it wisely. Overall, a powerful blower that can complete the given job within minutes, even if you have a big house or an enormous garden.
Pros
Suitable for large areas
Lightweight
Batteries included.
Cons
8. Makita DUB362 Twin 18v Brushless Cordless Leaf Blower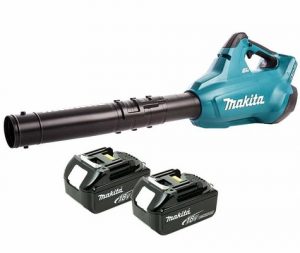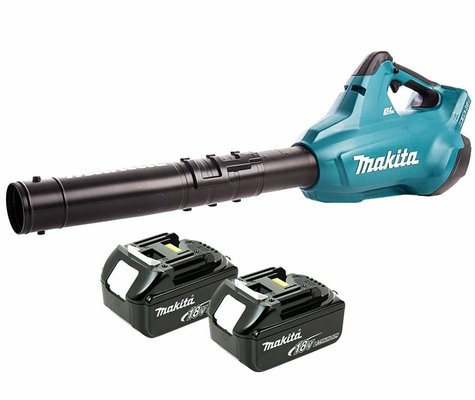 Using two 18v Lithium-Ion batteries, the DUB362 works at 36v. Due to its robust operation, the blower is used by professionals to take care of the garden and other grounds.
Both the batteries are directly installed on the central unit to supply all their power to its DC motor. With 21,500rpm, the blower produced an airspeed of 50 m/s. You can control the airspeed with six settings given near the handle. It comes with Makita's XPT (Extreme Protection Technology); an improved water resistance that channels the dust and water away from internal components of the device. So, you can use it freely under any conditions or weather.
One of the most potent blowers, still DUB362 is lightweight at 4.5 kg and hence easy to carry. It has vibrations up to 2.5 m/s², which is low as compared to other blowers. Soft and comfortable grip further adds to the convenience, and you get stress free garden cleaning session. Moreover, it has a long 100 mm long telescopic nozzle. The maximum noise level it can create is 79 dB, which is again lower than many other blowers.
Pros
XPT
Dual battery for better power
Speed control
Cons
9. Stihl BGA 45 Cordless Leaf Blower Review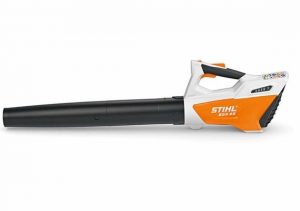 BGA45 delivers a great speed of 136 km/h. The blower is quiet, lightweight at 2 Kg and includes the battery, which gives a runtime of 10 minutes after a full recharge. The given period is enough to clear approx. 2, 153 sq. Feet or let's say 13 parking lots.
The blower is cordless so that you can enjoy added mobility. It works with a 2 Ah 18 V Lithium-Ion battery. The blower has a charge level indicator, which is a neat addition. It's portable and convenient to use. Due to its compact size, the blower can be easily stored as well. However, it lacks speed control. Reaches a maximum noise level of 76 dB, which looks fine if we compare to other blowers.
Ten minutes is a little less; it's the reason we have kept it lower in the order. If you own a small garden or property where you need clear pathways, Stihl BGA45 is the blower you should have in the garage. Moreover, it comes with the battery as well as the charger; you will not have to purchase other products and invest more.
Pros
Lightweight
Acceptable noise level
Includes the battery and charger.
Cons
No speed settings
Average airspeed.
10. Ryobi OBL1820S 18v ONE+ Cordless Blower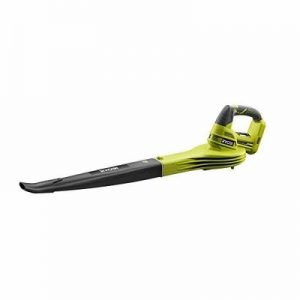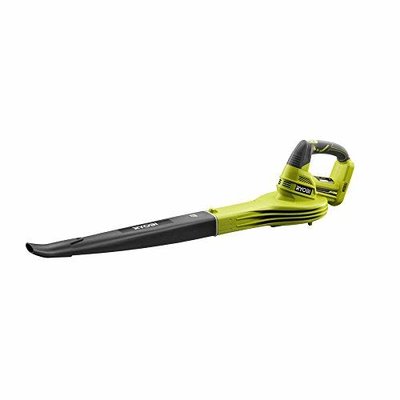 If you need an efficient blower that can keep your garden neat and clean, then you should consider the OBL1820S. It checks all the boxes to be your gardening partner; its lightweight, balanced, has a comfortable grip, easy to assemble and comes with high blowing power.
OBL1820S is not bigger like expensive variants; we agree to that. But, that does not mean it does not have the calibre to work like them. With an airflow of 245 km/h, Ryobi blower can remove even the wet leaves out of your garden pathway with ease. Slim design and removable tube make it easy to store anywhere in the garage.
Due to the low weight of 2.21 kg, the blower is easy to control. Its narrow nozzle gives you access to small areas as well. Plus, you get 20 minutes of runtime to clean the garden. Make a note that the offered price is only for the tool, without the battery and charger. You can purchase these items and other accessories from the linked page.
Pros
Powerful
Lightweight
Narrow nozzle for easy cleaning
Cons
Does not include the battery or charger.
11. BLACK+DECKER 36 V Lithium-Ion Blower Vacuum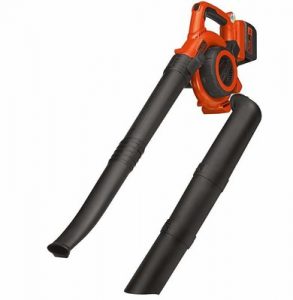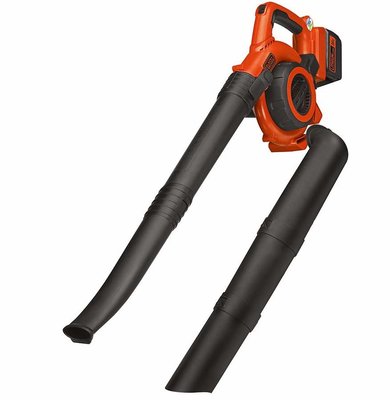 The cordless 36V leaf blower from Black and Decker clears the lawn without any hassle of cables and extra weight. Whether you have a garden or any other area where leaves have covered the ground, this can be a perfect tool to clean them.
With a blowing speed 218 Km/h, there are fewer chances you will complain about its blowing performance. There is a vacuum mode as well that you can get with a simple switch. It changes the pattern without any trouble. Moreover, the blower has the mulching capacity that enhances the decomposition chances and makes disposal easy and fast. For each mode, you get different tubes.
The blower has a soft grip and a comparatively little weight of 998 g. There are two modes in its power setting as well; Eco Mode that gives you maximum runtime and TURBO mode for optimum power. Its paddle switch further encourages the convenience, so that you can complete the task early and invest your time in some other works.
Overall, a perfect leaf blower for flower beds, which never picks up soil or stones.
Pros
Two in one tool
Powerful performance
Dual power modes
Cons
Final Verdict
If you want the best among all, you should choose Bosch ALB 36 LI, which is an all-round performer that can keep your garden or other open areas clean. However, if you have a small space to clean, do not want to compromise on the features, but do not want to spend a fortune on the leaf blower as well, then you can consider the second entry from Aerotek.
We have shared the information mentioned above after extensive research and tests. So, we hope that you have been helped by reading this post. Enjoy the autumn.
Also Read: