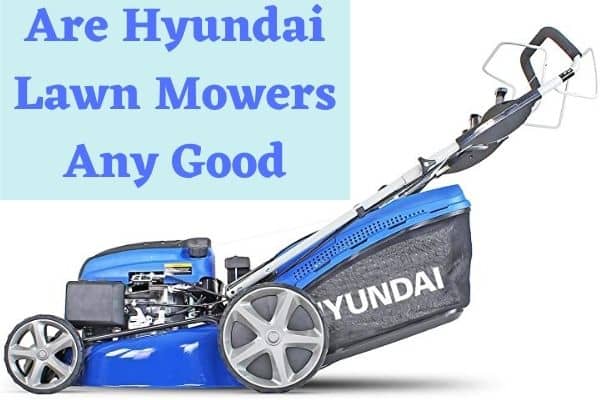 Are Hyundai Lawn Mowers Any Good
Last Updated on October 12, 2023
Are you planning to purchase a Hyundai mower in the upcoming season? But, are Hyundai lawn mowers good enough? Well, we will discuss the same here.
Hyundai has a wide range of mowers available. Plus, the price tag of its products hugely varies according to the available features. Here, we will discuss both electric and petrol propelled mowers manufactured by Hyundai along with their benefits and disadvantages. So that you can understand whether this brand deserves your attention or you will browse other manufacturers.
Are Hyundai Lawn Mowers Any Good
Hyundai electric mowers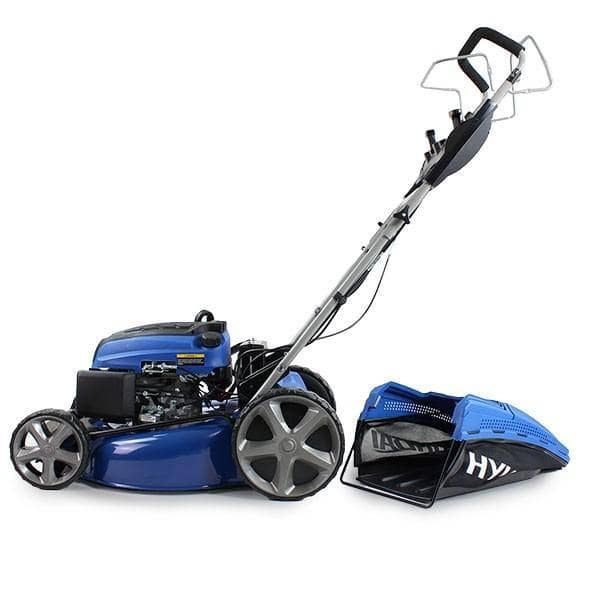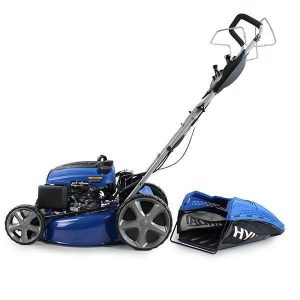 You can get a high-quality Hyundai electric mower for £125. However, the maximum price tag is £425. The cutting width in Hyundai electric mowers varies between 32 to 45 cm. For instance, HYM80LI460P comes with a deck size of 45 cm, which is perfect if you own a medium to the large-sized garden. On the other hand, HYM3200E has a cutting width of 32 cm that's perfect for a small or medium-sized garden.
Motor: You will find a maintenance-free motor on entry-level models like HYM3200E. However, expensive models like HYM40LI420P comes with an efficient and powerful brushless engine. Apart from that, the available cable length in corded models varies between 10 to 15 meters, which can easily cover an average-sized garden.
Grass collection: The grass collection capacity of Hyundai electric mowers starts from 40 litres, which is suitable for all the lawn types.
Cutting heights: Most of the brand's electric mowing machines come with cutting height adjustments between 25 to 75 mm. All of them have a single lever adjustment, which is easy and convenient to use for everyone, especially beginners.
Storage: Most of the Hyundai electric mowers come with foldable handles, which is helpful when you are running low on storage space. Plus, there is a soft grip on all these handles that keeps you fatigue-free and comfortable.
Advantages of Hyundai electric mowers
Robust and high quality built
Easy to start using a push start button
Seeks minimal or no assembly
Available at reasonable price tags
Comes with a decent cutting width of at least 32 cm
Includes either maintenance-free or brushless motor
Lightweight and easy to manoeuvre
Comfortable grips for convenient usage
Foldable handles for secure storage
Single lever cutting height adjustment
Woks at low sound levels
An average grass collection of 40 litres that's suitable for all lawn types
The power cable of at least 10 meters, which can easily cover an average-sized lawn.
Disadvantages of Hyundai electric mowers
Connecting power cable restricts the movement
Some of the models are not suitable for large lawns
A few cordless models are very expensive.
Hyundai petrol mowers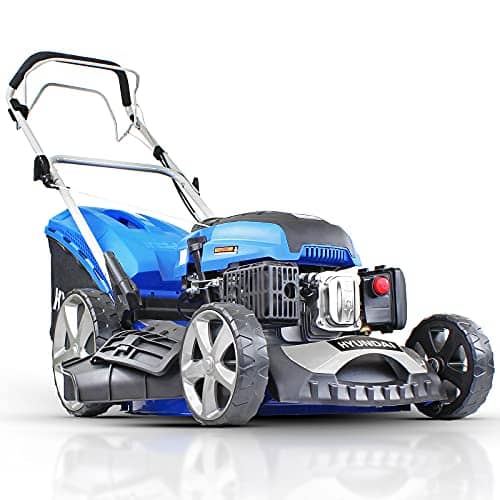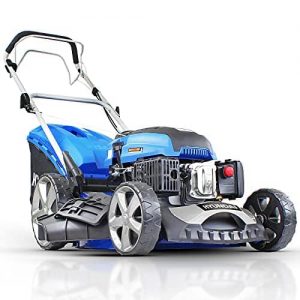 Petrol propelled mowers manufactured by Hyundai are available at reasonable price tags, which varies anywhere between £175 to £500. The displacement of these mowing tools varies between 175 to 196cc. So, you can choose any of them according to the size of your lawn.
Cutting width: The deck size varies between 42 to 56 cm. It means you can choose any Hyundai petrol propelled mowers according to the area you need to cover. For example, HYM430SP comes with a cutting width of 42 cm and HYM510SPE has a blade size of 51 cm. Hence, you can use the small machine to deal with average sized areas. But, the latter is best if you own a large lawn.
Grass collection: The collection bag varies anywhere between 45 to 75 litres depending upon the model. For instance, HYM430SP comes with a collector worth 45 litres while HYM510SPE has a storage space of 70 litres. So, you can choose the former for an average sized lawn and the latter will suit a significant property.
Cutting height: Height adjustments in Hyundai petrol mowers are generally available between 25 to 75 mm. However, all of them have a single lever to adjust the cutting levels.
Storage: Similar to Hyundai electric mowers, petrol dependent models also come with foldable handles. So, you can store such a machine without any hassles.
Advantages of Hyundai petrol mowers
Almost all the Hyundai petrol propelled mowers comes with a decent grass storage box
These machines are powerful and can easily move over hills and uneven terrains
Central lever for height adjustment
Easy to power on due to electric startup.
Disadvantages of Hyundai petrol mowers
Not eco-friendly due to carbon emissions
High maintenance time and cost
Need regular supply of fuel and engine oil
Works at high sound levels.
Final talk
Are Hyundai lawn mowers good? Yes, Hyundai mowing tools are one of the best that you can purchase in the UK market. If you need a high-quality lawn maintenance solution without investing a high amount of money, try the models manufactured by this brand.
We hope that you can find the best grass cutting equipment after reading the points we discussed above. Good luck with your final decision.