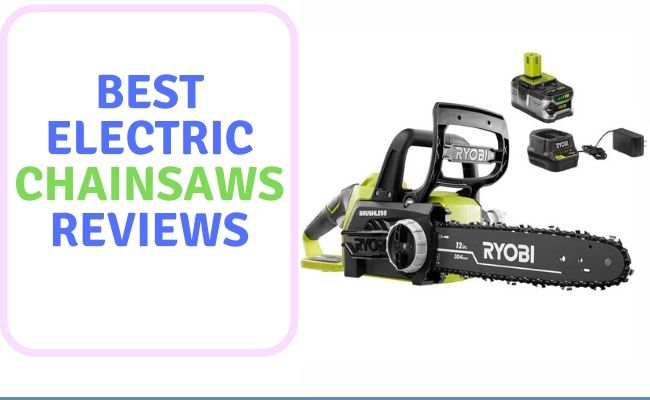 Best Electric Chainsaws UK Reviews 2023
Last Updated on January 3, 2023
Are you looking for one of the best electric chainsaws? Well, you are not the only one. Professional lawn or garden service providers and homeowners with generous garden has multiple jobs for such a cutting machine. In fact, anyone who needs some firewood for winter needs an electric chain saw. Apart from that, electric chainsaws make your outdoors beautiful, but you don't have to deal with heavyweight or high noise levels.
A "best" chainsaw should suit all your requirements. It's right because you can use a chainsaw for multiple purposes like pruning and tree limbing or felling Therefore, read the given reviews carefully and select something that can cater to all your gardening needs.
Best Electric Chainsaw UK 2023
Best Electric Chainsaws–The Buyer's Guide
What are the factors that you need to check while looking for an electric chain saw? Let's discuss the same so that you can choose the best model.
Bar Length and Chain Speed
Length of the chain or cutting area determines an area you can cut at one time. Do you need a chainsaw to cut wide wooden logs? Or you want a simple machine to cut some small branches. In any case, you need to make sure that the bar length should be able to cover your tasks. Choose a chainsaw with a blade size of 35 cm, if you are only interested in general gardening tasks like pruning and trimming.  To prepare firewood, try anything with a guide equal to or better than 40 cm.
Chain speed is the time duration that a chain takes to complete one rotation cycle. Measured in m/s, chain speed decides how much time you need to spend on a project. High chain speed means the machine can cut through the wooden logs without wasting a second. Fast cutting also means that you can repair more firewoods within a short time.
Cordless and Corded Chainsaws
If you need complete mobility and freedom, then try a cordless chainsaw. With a battery dependent cutting machine, you don't need to locate a nearby power outlet. Cordless machines draw power from a Lithium-ion battery, which is great to use anywhere away from a power outlet.
Cordless models are convenient but also limited because of their runtime that goes maximum up to 90 minutes. Also, it takes more than an hour for a full recharge. So, if you are stuck with a flat battery, then you have to wait for long. You can eliminate such a situation by purchasing a spare battery, but it will increase the initial cost. Also, a battery adds to the weight and makes it tough to use the machine for a long time.
On the other hand, corded chainsaws never run out of energy and are also more powerful when compared with cordless versions. So, if you are cutting stubborn and tough woods, then a corded model could be the right selection. However, a corded cutting machine needs a power outlet nearby all the times, which reduces the coverage. So, you might have to use an extension box, especially if you own a large garden with multiple trees.
Weight
Electric chain saws start easily and are convenient to use. However, the situation changes when such a wood cutting tool is very heavy. So, if need to cover lots of wooden logs, then choose a model with low heft and suitable features.
Ease of Use
Choose an ergonomic electric chainsaw with ergonomic handles. Some of the models come with dual handles that make them easy to hold at awkward cutting positions. You will not feel a tired or extra strain on the upper part of your body, especially wrists.
Tool-less chain adjustment and automatic lubrication are some other features that you should check. Multiple chainsaws come with an adjustment dial that gives you the adjustment results without wasting much time. As you don't need any additional equipment, you don't have to waste time looking for them.
Safety
If you don't use a chainsaw properly, it might cause major life-changing injuries. Within a blink of an eye, kickbacks can send the chainsaw towards you. It generally happens when the saw blade cannot cut through any of the wooden objects. Hence, you should choose a model that has built-in kickback brakes, which automatically stops the chain movement and protects you from unwanted jerks.
You should choose a model that has an automatic stop feature and two switch startup, which never allows the chainsaw to start unnecessarily. With an auto-stop feature, the blade movement comes to halt when you leave its trigger.
Cutting Performance
After reading the electric chainsaw reviews, it's easy to understand that these machines are useful for multiple purposes. The cutting performance of a corded or cordless chainsaw depends upon its motor power, blade speed and comfort level.
If you need something that can deal with bulky firewood, then choose something that has a motor power between 1500 to 2000W. If it's a cordless then 18V works to deal with most of the cutting jobs. On the other hand, if you need a cutting device for regular pruning, then you can try any of the lightweight chainsaws like Bosch UniversalChain 18.
Noise & Vibration
If you are planning to use a chainsaw for longer durations, then look for a model that works without any vibrations. Chainsaws with uncontrolled jerks make negative impacts on the tissues and damage them. The result could be anything including pain or hand-arm vibration syndrome.
All the chainsaws generate some amount of noise while functional. So, you should a model that has the lowest sound level, especially if you are living in a neighbourhood where noise can travel fast towards other houses. A quiet or near-silent cutting machine will not disturb any of your family members as well and you will be able to work for long without any complaints.
Budget
Cordless chainsaws are expensive than the cordless versions. However, there are a variety of models available at different price ranges. Shop for a product that suits your requirement and has all the required features. You don't need a high end cutting beast if you need to deal only with minor firewoods. If you are looking for a professional solution, then the price tag should be secondary. Try to choose a machine with maximum blade length and power.
Maintenance
A high-quality chainsaw works for long, especially if you maintain it regularly, follow proper storage and provide timely replacements. Corded models are powered by mains, so they need cleaning, storage and replacement only if one of its components are not functional. Battery dependent options seek battery replacement after every 3 to 6 years, depending upon the make and model. Moreover, you might have to purchase and replace the spare battery as well.
Best Electric Chainsaw Reviews UK
We will discuss the top eleven electric chainsaws available in the UK market, so that you can choose the most suitable models accordingly. All of them are eco-friendly and quiet than the petrol versions. Let's dive in for more info.
1. Makita UC3541A/2 240V-Best Electric Chainsaw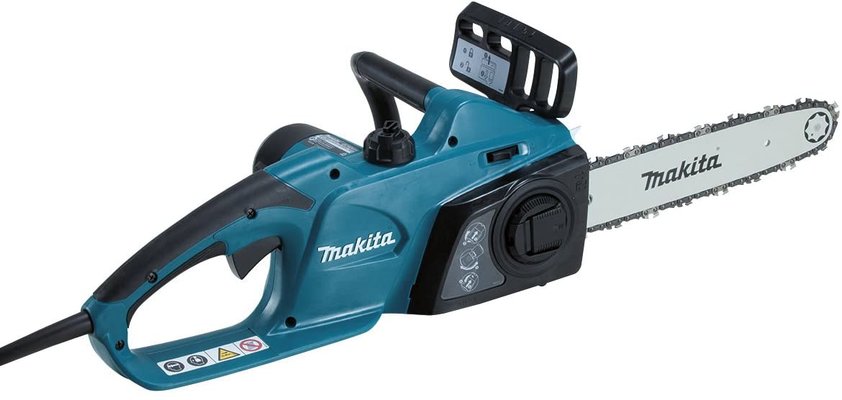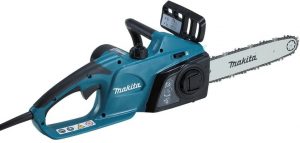 Specification
Power: 1800W
Blade: 35 cm
Weight: 4.7 kg
Cord length: 10 meter.
If you need to deal with medium-sized branches or logs, try this Makita UC3541A for efficient results. This corded chainsaw features a 1800W motor that drives its blade at 14.5m/s. It comes with a couple of grips to keep you comfortable and provide complete balance. Your muscles will never complain while using the chainsaw and hence you will be able to complete any project without many breaks.
UC3541A has a trademark Makita style blue and black appearance. Its lightweight construction is inbuilt with a 35 cm blade. The machine has a compact, but durable design that promises to be at your assistance for long.
All thanks to a large oil window, oil check, refiling is easy and lubrication is also automatic. Moreover, its chain tensioning is tool-free. When you need to change the blade, you don't have to look for any special tools.
Talking about safety, the Makita cordless has a chain brake as well as kickback brake. There is an additional metal spike bumper that provides better control when you are cutting any wooden material at awkward positions.
The motor housing end is flat so that you can easily reach difficult corners. Its power cable is comparatively longer than other models, which means you can easily cover an average-sized area. This small electric chainsaw includes a guide bar/blade cover, but you will not find the battery or its charger.
Pros
Strong motor for fast cutting results
Tool-free blade change
Automatic lubrication of chain
Separate metal spike for added control
Kickback and mechanical brakes to maintain user's safety
A large view of an oil tank
Long power cord for significant coverage.
Cons
The plastic tensioner is not durable.
2. Ryobi OCS1830 18V Electric Cordless Chainsaw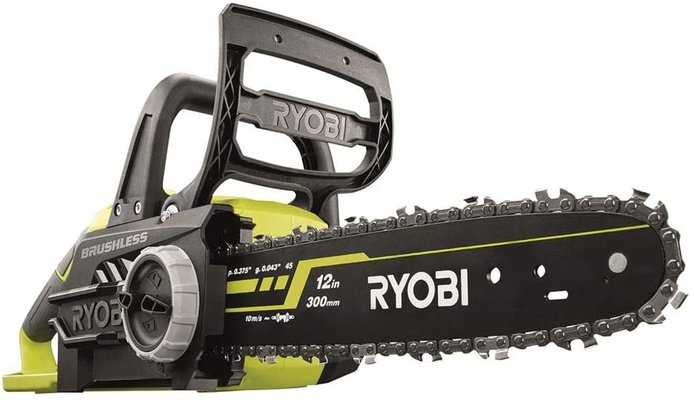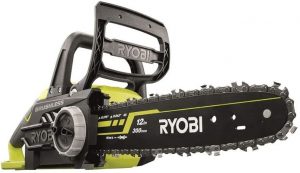 Specification
Power: 18V
Blade: 30 cm
Weight: 4.49 kg
Runtime: 60 minutes (depending upon the conditions).
Ryobi OCS1830 is lightweight and encases a 5Ah Lithium-ion battery. Easy and convenient to use, the electric chainsaw comes with an 18V brushless motor that never seeks any maintenance.
Moreover, this motor is comparatively efficient because of its brushless nature and provides extended durability as well as battery backup. As it's a cordless variant, you don't have to worry about the noise or carbon emissions.
OCS1830 comes with a 30 cm blade, which easily deals with average-sized wooden logs, stems and branches. You can use its tool-less tensioning to adjust its chain and bar. This chainsaw comes with a full wrap-around handle.
Which means you can easily use it any position, direction or orientation. The tool is safe to use because of its electrical and mechanical chain brakes that immediately stops its blade movement. If you need something that can tackle all the overgrows in awkward areas, then you can consider the Ryobi cutting machine here.
The cordless chainsaw is relatively lightweight and portable. So, you can use it for a long time without feeling much strain in your arms and back. Its runtime depends upon the cutting material and conditions. Charging requirement is 90 minutes, so you can invest in a spare battery to enjoy a virtually unlimited runtime.
Pros
Performance-oriented brushless motor for ultimate cutting results
Automatic oiling system
Chain tensioning is also tool-free
Electrical and mechanical chain brake for improved user's safety.
Cons
No battery or charger included
Blade size is comparatively less.
3. Makita UC4051A 240 V Electric Chainsaw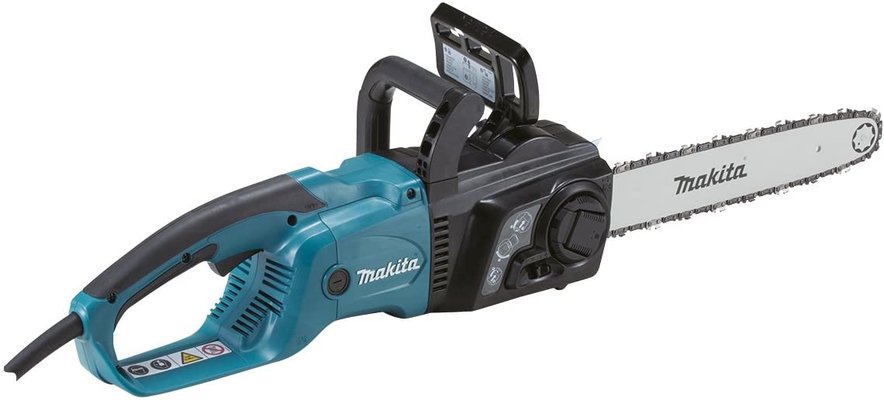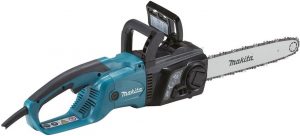 Specification
Power: 2000W
Blade: 40 cm
Weight: 5.62 kg
Cord length: 10 meter.
Makita chainsaws are easy to review because they are excellent cutting tools. And we can state the same for UC4051A, which is a rare combination of power, performance and ease of use. It gives you a feel of power, but at the same time remains balanced and keeps you comfortable while cutting wooden logs. It is also the best electric chainsaw UK, you can choose it.
Specially designed for domestic use, Makita UC4051A tackles stems and branches up to 31 cm. All the credit goes to its generous cutting blade of 40 cm. Keep in mind that should always prefer a few extra cm over the required width. With ample power, it's a great cutting tool for small and medium-sized trees and wooden logs.
Makita UC4051A is a corded saw, which might restrict your usage a little. It works quietly and you might not even require hearing aid for small tasks. On top of that, you don't have to deal with fuel mixings and harmful carbon fumes. Also, the machine is easy to maintain and has a less mechanical component that might cause downtime.
At 5.6 kg, the Makita chainsaw electric is not super light. However, we cannot expect it to be very lightweight because of a significant guide bar. To be favourable, the machine has dual handles for proper weight distribution and steady feel. Due to ergonomic grips, you never feel tired while using this cutting tool for long. On the contrary, you will enjoy its smooth cutting and fast results.
Pros
Push button for easy startup
Clear windows to check the oil level
No tools required for blade adjustments.
Cons
You need to consistently manage its power cable because the saw lacks any clip.
4. Bosch Universal Chain 18 Cordless Chainsaw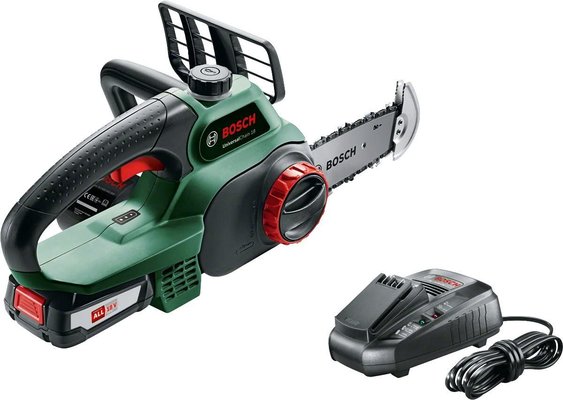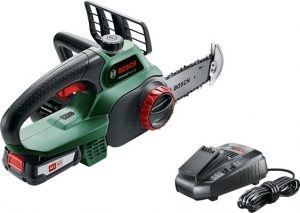 Specification
Power: 18V
Blade: 13.5 cm
Weight: 3 kg
Runtime: 40 cuts of 75 mm per battery charge.
UniversalChain 18 is compact and lightweight to offer a controlled as well as effective pruning. At just 3kg (battery included), the Bosch chainsaw is very lightweight and easy to manoeuvre. It features a patent SDS system which means you never have to use any tool for chain tensioning or replacement.
The cordless chainsaw has stabilizing tip protector that also has grip teeth that provides maximum control while cutting under the branches. So, you will never notice any branch damage. With such built and features, the Bosch cordless electric chainsaw is useful for multiple purposes including cutting firewood, waste management and pruning without any trouble.
This cutting machine has an automatic oiling mechanism that keeps chains lubricated. Its chain bar length is 13.5 cm, which is great for minor projects. Due to a chrome chain, the chainsaw works for long and gives you efficient cutting results. To check the oil levels, there is a viewing window.
Bosch UniversalChain 18 includes a 2.5Ah Lithium-ion battery and its charger. It charges up to 80 per cent within 40 minutes, which is helpful when you need to finish some urgent tasks.
However, you need to wait for 60 minutes for a 100 per cent charge. This cordless chainsaw has a battery level indicator that shows you the charge level all the times so that you can work without any downtime. You can also use this battery with all other Bosch 8V power tools.
Pros
Compact, easy to use and versatile
Lightweight and hence creates a minimal strain on your upper body
Stabilizer tip for clean and damage-free cuts
Battery and oil level indicator
Automatic chain lubrication.
Cons
Limited to young branches and minor wooden logs.
5. Einhell GH-EC 2040 2000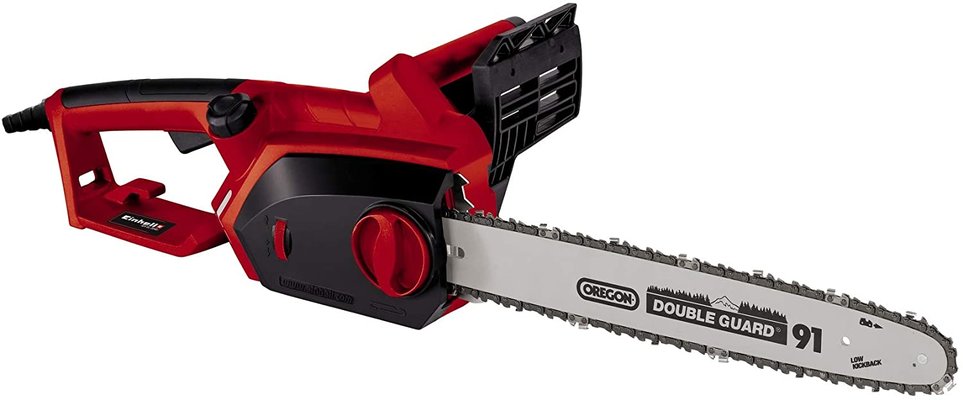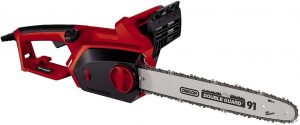 Specification
Power: 2000W
Blade: 40 cm
Weight: 6.93 kg
Cord length: 5 meters.
Are you living in a countryside house with a significant adjacent territory? If yes, then you need a robust electric chainsaw with an ability to handle a wide range of wooden projects. Einhell GH-EC 2040 is the tool you need for such situations because it comes with a powerful 2000W motor. With such mighty attitude, the saw easily tackles wide branches and muscled trees.
GH-EC 2040 has a 40 cm blade and Oregon chromium chain that cuts through all wood types and also maintain optimum efficiency. To maintain productivity, high-quality cutting results and error-free performance, the electric chainsaw has an automatic chain lubrication system.
Moreover, it never produces disturbing noise or air polluting elements. At the same the machine works with full power and efficiency without any compromise.
Einhell GH-EC 2040 is not only powerful and performance-oriented chainsaw, but it's also convenient as well as safe to use. The wood cutting machine has an ergonomic set of rear and side handles that optimizes weight distribution provides you with excellent balance and control.
Its low weight body makes sure you can work for prolonger hours without feeling tired. Whether you need to cut down small plantations or prepare some firewood, try the Einhell chainsaw that handles everything with panache and gives you the desired results. These are the reasons why GH-EC 2040 is the best electric chain saw UK.
Pros
Powerful motor
Long-lasting metal gearbox
High-quality Oregon blade for excellent cutting results
Offers tool-free chain tensioning
Automatic chain lubrication
Cable relief clip for added protection.
Cons
The motor might overheat during extended cutting hours.
6. Bosch AKE 40-19 S Electric Corded Chainsaw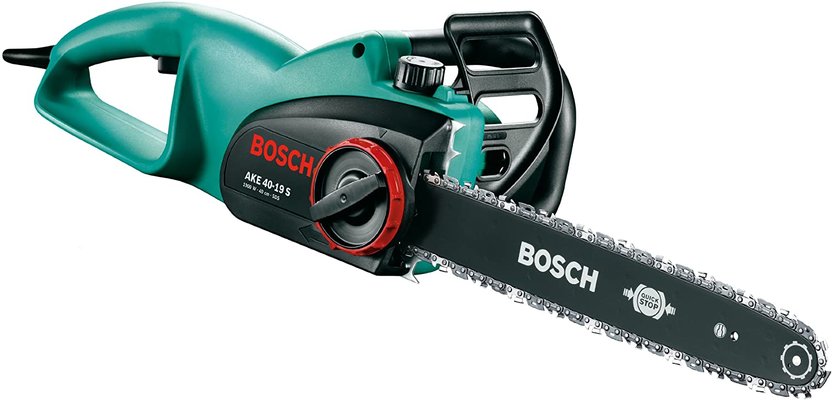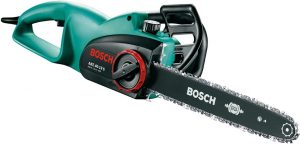 Specification
Power: 1900W
Blade: 40 cm
Weight: 2.68 kg
Cord length: 5 metres.
Bosch AKE 40-19 S has a long-lasting and well balanced built. The electric corded chainsaw comes with a 1900W motor, which makes it one of the most powerful cutting tools that you can purchase in the UK. If you are a DIY enthusiast or garden owner wherein regular cutting or trimmings is required, try this Bosch electric cutter.
For fast and precise cuttings, the machine features a 40 cm guide bar with a monochrome coated chain moving at 12 m/sec. Due to a decent bar and cutting chain movement, Bosch chainsaw gives you unmatched results. Its automatic lubrication system makes sure that the blade chain is lubricated. With such features, you are less likely to face any downtime.
AKE 40-19 S has an SDS system, which means you can easily adjust the chain tensioning without using any of the tools. As the machine is lightweight, it's comfortable to use at any angle. No matter how you hold the chainsaw, it gives even, neat and quick cutting results.
The Bosch chainsaw has a kickback brake that responds within 0.1 seconds. It also produces an audible signal to warn you, so that you can be safe from any unwanted consequences. Rundown brake is also inbuilt, which is very helpful while cutting firewood.
However, you don't have to worry about kickbacks, because the machine reduces all of them and gives you a comfortable wood cutting experience. The Bosch AKE 40-19S is one of the best electric chainsaws UK.
Pros
Lightweight and easy to use
Excellent cutting results
Maintains user's safety due to chain braking mechanism
Chain tensioning or installation requires no tool
Seeks minimal maintenance
Offers complete control and convenience.
Cons
Needs constant chain tightening.
7. Ryobi RCS2340 Chainsaw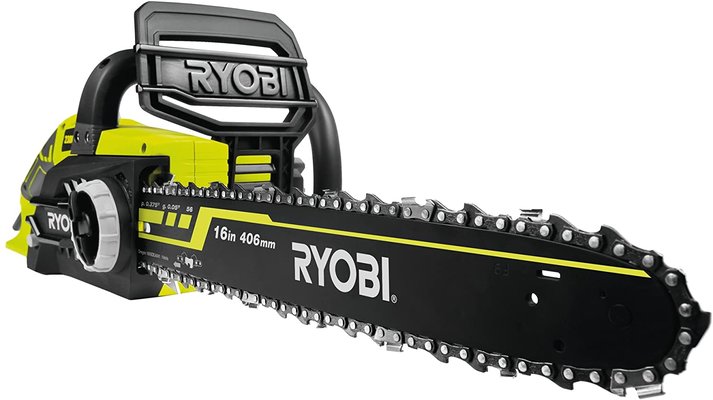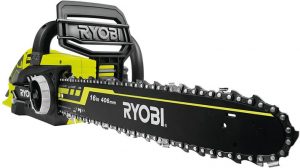 Specification
Power: 2300W
Blade: 40 cm
Weight: 6.85 kg
Cord length: 50 meters.
Today's next recommendation comes from one of the best electric corded chainsaw brand. Preferred by professionals and homeowners alike, Ryobi RCS2340 is a powerful and performance-oriented chainsaw that provides you with excellent cutting results.
The first thing you will like about this electric chainsaw is it's ready to use nature. You don't have to attach its bar or adjust the chain, because the woodcutter comes pre-assembled. Simply take out its bar sheath, plug in its power cable and start cutting the wooden logs.
Ryobi RCS2340 chainsaw has a lightweight built and it's the reasons the cutter is convenient to handle and causes minimal stress to your hands. Well, all the credit goes to its well-designed structure.
First comfortable factor is its handles that distributes the heft for optimum balance. Rear loop handles maintain a slip-free grip and a front wrap-around handle provides complete balance under awkward cutting positions.
Moreover, the machine has an inbuilt vibration reduction mechanism that enhances the comfort level. So, no matter how many wooden logs you cut, the machine keeps you away from the being tired.
The manufacturers want you to focus only on cutting woods because RCS2340 has very easy adjustment and maintenance. Chain tensioning is tool-free and its lubrication system is also automatic. There is a tensioner on its side, which is useful when you notice its chain is loose or slipping. Also, the wood cutting machine has a clear oil tank that allows you to monitor its level without any hassle.
Pros
Mighty motor to tackle all the wooden types
Durable Oregon chain and bar
Effective mechanism chain brakes
Tool-free chain tensioning
Anti-vibration mechanism to reduce fatigue
Automatic chain lubrication
Lightweight and well-balanced structure.
Cons
You need to check its chain tightness very frequently.
8. Worx WG303E 2000W Electrical Chain Saw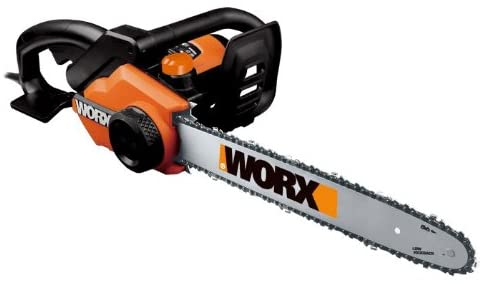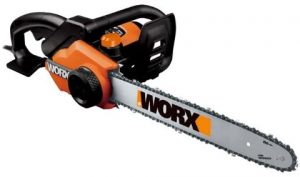 Specification
Power: 2000W
Blade: 40 cm
Weight: 6.92 kg
Cord length: 5 meters.
We don't want to keep you in suspense. So, let us tell you initially that Worx WG303E deserves a space in your garage because it's one of the most powerful chainsaws that you can try for any of the projects. Moreover, it's easy to use and includes a wide range of useful features that also at a pocket-friendly price tag.
WG303E has a low weight and it comes with an effective chain brake, which simply means that the machine will shut down in case of kickbacks. Such a feature protects you from unwanted physical injuries. It's a high-end protection feature only available in expensive chainsaws, but Worx is offering you the same at an affordable price tag.
The brand designs this chain saw to keep you comfortable at all times. It's the reason this Worx chain saw comes with an auto tensioning mechanism, which works without any input. The machine comes with a 40 cm blade, but it's not recommended for commercial usage. Talking about residential cutting jobs, it has enough power to deal with everything as per your needs.
To offer you some extra peace of mind, this best cheap electric chainsaw comes with a warranty of 3 years. It's also an indication that its makers trust this machine. If you don't abuse or force the chainsaw and let the machine work at its speed, then be assured that it will give you best cutting results than any other model available in the same price range.
Pros
The enclosed bar for added safety
Scissor cut mechanism for minimal kickback
Stable, balanced and lightweight
Automatic chain tensioning
Flexible and useful for a wide range of wooden types.
Cons
9. Mcculloch CSE2040S Electric Chainsaw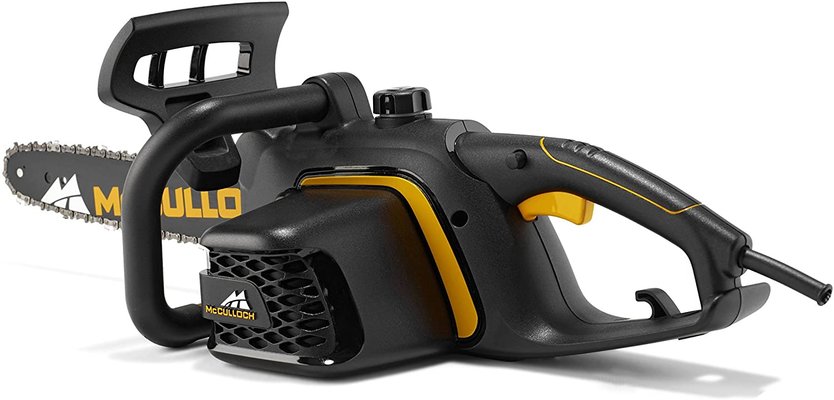 Specification
Power: 2000W
Blade: 40 cm
Weight: 6.52 kg
Cord length: 4 meter.
McCulloch CSE2040S is a well-designed corded chain saw that comes with a 2000W motor and 40 cm cutting bar. Its maximum cutting speed of 13.5 m/s that gives perfect results when you need to trim some branches, prepare firewood, or any other wood cutting work. The machine has a tool-free chain tensioning that ensures easy and fast adjustment without any hassle.
CSE2040S Electric Chain Saw has a chain brake and its indicator. The light lets you know that its brake is active so that you don't even start the machine accidentally. Chain and working motor in combination might damage the machine permanently. So, it's a great feature that enhances the durability of this chainsaw.
The chainsaw has the power of 2000W to complete all the cutting tasks for you. It has a sleek design, transparent oil window that allows a clear view of the oil chain level. The volume of the oil tank of 0.24 litres, which is enough for a long. There is a clip for its power cable, which makes the usage even easier. The machine has a sound level of 110 dB, which means you cannot use it early in the morning.
This corded cutting machine has a black and yellow colour scheme that looks stylish and matches well with other gardening or power tools. It has a moderate weight just above 6 kilograms. As there are a couple of handles, you don't have to stress your arms or upper body; even when you need to work for long.
Pros
Comparatively high chain speed for fast and smooth cutting results
Window to check the oil level
Tool-free chain tensioning
Indicator for a chain brake
Cable clip for better convenience.
Cons
10. Oregon CS1400 Corded Chainsaw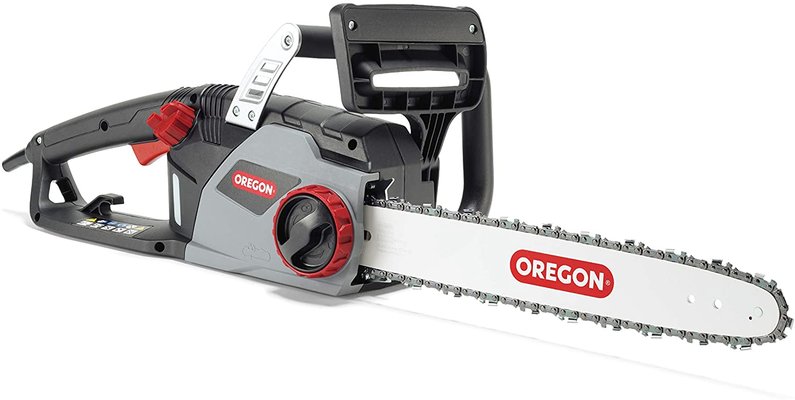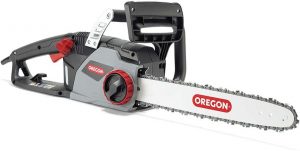 Specification
Power: 2400W
Blade: 40 cm
Weight: 7.28 kg
Cord length: 6 meter.
If you need high power and quiet electric chainsaw than take a closer look at Oregon CS1400. Whether you want to trim unwanted branches or prepare some firewood, CS1400 works great and gives you desired cutting results without any hassle. The corded machine starts instantly and never seeks any fuel mixing or frequent maintenance like its petrol counterparts.
Oregon is one of the leading manufacturers of chains. It's the reason CS1400 either meets or exceeds your expectations with its 40 cm guide bar having 4.7 m/sec chain speed. The blade and chain have an inbuilt tensioning ring so that you manage them without using any special tool. Moreover, it features an automatic oil distributor that lubricates the chainsaw and prevents early wear.
CS1400 is a DuraCut saw, which means it can cut three times longer than other models. The primary reason is its advanced plating of heavy-duty chrome that makes the chain strong. The machine comes with a 6-meter power cable, which is comparatively longer and gives you better coverage. It also has a cable clip that's helpful when you are working in awkward positions.
The cheap electric chainsaw weighs more than 7 kg, which is higher than other models we were discussing today. However, its ergonomic design and even weight distribution make sure that you never feel tired within a few minutes of work.
There are a couple of over-mould handles that maintains your comfort level and keeps your arms strain-free. The machine also has a front guard that protects your body from debris.
Pros
Instant start function
Plenty of power to deal with all the wood types
Works at low noise levels and remains near silent in between the cuts
Chain tightening without any tool
Inbuilt Lubri-Tec oiling system to reduce chain friction
ControlCut chain for reduced vibration and low kickbacks.
Cons
11. TACKLIFE 1800W Chainsaw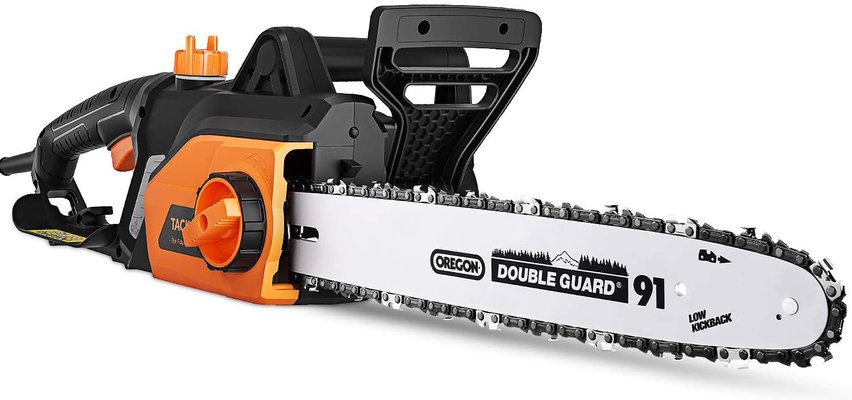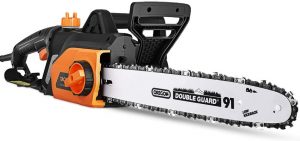 Specification
Power: 1800W
Blade: 35 cm
Weight: 4.45 kg
Cord length: 10 meter.
Tacklife GCS1800 comes with an 1800 engine pure copper motor that delivers all the power without any loss of energy. Hence the output or cutting results are stable and accurate. Its chain speed goes up to 15m/s ensuring smooth and quick trimming. The chainsaw reaches a depth of 35 cm and also has an automatic chain lubrication system to make sure you don't have to face any downtime.
GCS1800 has a heft of mere 4.45 k, which is evenly balanced due to its dual handles. Both the grips are ergonomic and maintain your comfort level. Moreover, its low vibration operation keeps you away from fatigue and reduces stress on your arms.
The corded chainsaw is not only powerful and convenient to use but safe as well. It comes with a safety button and mechanical brakes to avoid unwanted startups. You can only start the machine when both of these functions are turned on. Moreover, the machine stops its chain movement within 0.12 seconds to promise safe usage.
This electric chainsaw UK has a tool-less chain adjustment to provide an efficient and easy fitting as well as operation. Simply turn the tensioning ring to adjust its chain without any danger of physical injury. Means, you never have to touch the guide bar at any point in time. It also has an oil level window that allows you to easily check the level. This oil tank is reinforced and reduces any leaks.
Pros
Robust and long-lasting built
Lightweight and ergonomic design for maximum comfort
Low vibration operation keeps your strain and fatigue-free
Easy chain adjustment without using any tool
Automatically lubricates the chain
Double locking for instant braking.
Cons
Conclusion
All the options that we were discussing today are all great, but the best electric chainsaw UK happens to be Einhell GH-EC 2040. Its powerful 2000W motor works in combination with an Oregon 40 cm to give you the best possible cutting results. This machine has a chain speed of 13.5 m/s, which means it can go through the toughest objects without thinking twice. So, if you want to crack any of the projects full confidence, you can try the Einhell chainsaw. All the other options are equally valuable and you can choose any of them depending upon the purpose and other factors we were discussing in the buying guide.