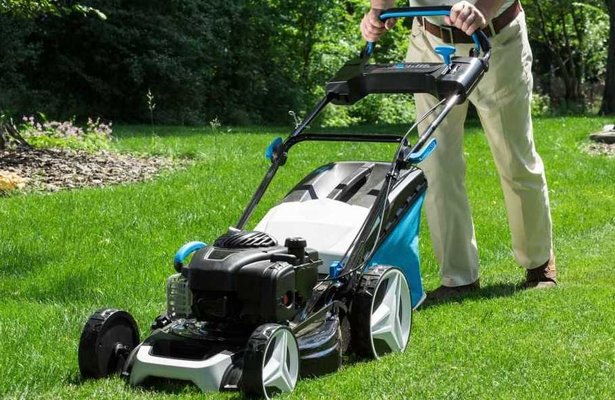 Best Self Propelled Lawn Mower UK 2023 Reviews
Last Updated on May 4, 2023
---
Tired of moving a heavy lawnmower in your yard? Hold on, its time you should invest in the best self-propelled mower. Here we are presenting you nine best self-propelled lawn mowers available to purchase in the UK market. Read the reviews as well as the buying guide and choose an option that suits you best.
Best Self Propelled Lawn Mowers UK 2023
---
Buying Guide of The Best Self-Propelled Lawn Mower UK
Which self-propelled lawn mower will you choose? Well, that depends on your requirements. We are suggesting you some of the factors that will help you to decide the best self-propelled lawnmower among the available options.
Why petrol Self-Propelled Lawn Mower?
If you have a medium or large-sized lawn, make up your mind to invest in a self-propelled lawnmower. You can very well arrange a small area with a hand push lawn cutter. On the other hand, a significant garden or yard needs a tool that can give you more power as well as freedom. It's the reason why are talking about some of the best self-propelled lawn mowers today.
A self-propelled lawnmower might be expensive than hand push models, but improved power and not having a power cable to manage or batteries to recharge will make it a worthy investment. Apart from that, petrol lawnmowers self-propelled are long-lasting and hence you will not mind spending some extra bucks on one of them.
Moreover, any of your family members including the elderlies will be able to walk behind a self-propelled mower because they will not have to push a heavy machine to get the job done.
What to look for when selecting a self-propelled lawnmower?
A self-propelled lawnmower is a useful investment, which will last for long if you maintain it regularly. However, if you want the best results from a lawn cutting machine, you should check some of the factors that we are mentioning here.
1.  Size of the lawn area: You should check various things before making the purchase. However, the most important among them is the size of your lawn or garden. As you read in the self-propelled lawnmower reviews that they differ when we talk about the area coverage.
For example, Einhell GC-PM 46 S can cover a land up to 1400 m2, but the McCulloch M46-110R Classic is good for only up to 1000 m2. So, choose one of them depending upon the area you want to maintain.
2. Power: A self-propelled mower needs to pack a lot of power so that you don't have to spent an entire day trying to maintain a significant area. Whether it's long, thick or wet grasses, a powerful motor will be able to cut through all of them to give you desired results.
3. Cutting width: It is easy to understand that if a mower has a large cutting width, it will be able to cover more space without repeated passes. So, choose a wide blade if you own a large lawn or garden. It will cut the lawn faster and save a lot of your time.
4. Grass box size: A Large grass collection means you will make fewer trips to the dispose area. Hence, you will be able to complete lawn maintenance faster. If you choose a powerful engine, it will not face any problem while carrying the additional weight of the grass clippings.
5. Cut height options: You would like to maintain your garden according to the season, weather, mood or other requirements. To accomplish the versatile results, you need a self-propelled mower with cutting height adjustments. Moreover, it should be easy to change with a manual level.
6. Noise level: Choose a mower that creates less noise, especially if your neighbours are living nearby. Apart from that, certain regions have limitations over the sound levels a power tool can make. So, in any of such situations, go for a machine that has the lowest disturbance level.
7. Other considerations
Front-wheel drive vs rear-wheel drive: Rear-wheel drive provides more traction and hence makes it easy for you to move the mower in a straight line. A front-wheel-drive mower is better when we talk about manoeuvrability because you can easily tip it on the rear wheels to stop or change the directions. So, if you have a large garden and you don't mind spending some extra bucks on its maintenance, try a mower with rear-wheel drive. On the other hand, if you own a small area with lots of curves then go for a front-wheel-drive mower.
Recoil or electric starter? Recoiled starters are reliable but need some effort before you start the mowing process. If you want the ease of use and fast starting process, then choose a machine with electric start.
Fuel consumption: If you are a frequent user of a lawn mowing machine, then we recommend you to find something efficient and economical. Once you have the mower, maintain it according to schedule to maintain its cost-effective nature.
Rear roller: If you want professional strips all over your lawn, then mowers with a rear roller can give you that. So, choose an option that should have a roller, especially if you like strips.
4-Stroke vs 2-Stroke: Four-stroke engines are heavy and work at low RPM, but they generate high torque. Also, a 4-stroke engine never needs fuel mixing. On the other hand, two-stroke engines are relatively lightweight, requires mixing of fuel and oil and works at high torque as well as RPM. So, if you don't want any fuel mixing and bear some extra weight go for a mower with a 4-stroke engine. Choose a 2-stroke mower if you need to work with high RPM as well as torque.
Storage: If you are running low on storage space, look for a compact mower with foldable handles.
Budget & price ranges: Lawn more comes expensive and hence it should last many more years to come. However, you should choose the price range depending upon your requirements. There is no point investing in a high powered mower if you only need to maintain a small yard or garden. Similarly, a cheap self-propelled lawnmower will not co-operate if there is a huge area to cover or some thick grasses to tackle. So, find a machine that can do the needful and is available in your budget.
---
Best Self-Propelled Lawnmower UK Reviews
We review multiple lawnmowers every day, but self-propelled variants are our favourite. It's because their engine also powers the movement apart from grass cuttings. After all the tests and user reviews, we came up with nine self-propelled models that are the most reliable and has some fantastic features.
1. Hyundai HYM510SP 4-Stroke Petrol Lawnmower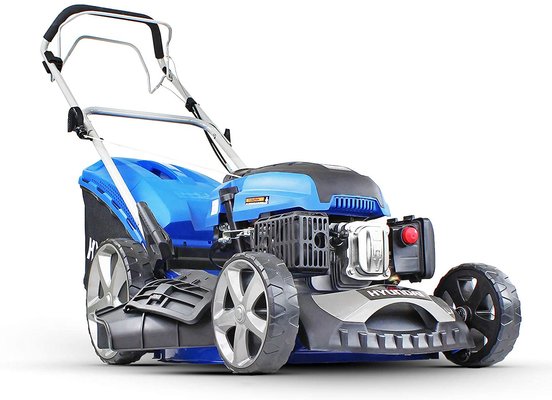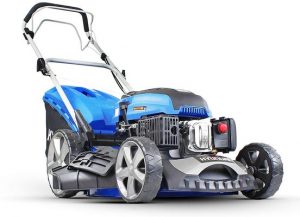 Specification
Displacement: 173 cc
Cutting width: 51 cm
Grass Box Capacity: 70 litres
Weight: 38.7kg.
Review

The Hyundai HYM510SP is a self-propelled mower with plush features you will like. As a self-propelled machine, you don't need to use too much effort when working on your lawn. It is powered by the Hyundai IC175V 173cc OHV 4-stroke Euro 2 engine. The fuel consumption of the engine is low, and that is why it is cost-efficient to use.

Its installation does not require any tool, within some minutes, you are good to go. This machine has a cutting width of 51cm, making it perfect for medium and large-sized gardens. There are six cutting height positions between 25mm and 75mm. You can adjust the positions with a single lever so as to get the most satisfactory result.

Also, it has a CDI ignition system so that you won't have issues starting the machine. The rear-mounted handle control regulates the drive to its big rear wheels so that you can achieve optimum performance. You can get access to the fully enclosed belt with the aid of the removable maintenance cover. The large grass box of 65 litres has a high airflow plastic top, and there is a level indicator to let you know when to go for an evacuation.

You can easily clean the deck underneath after use, thanks to the deck's cleaning system that accommodates garden hose connection. With the Operator Presence Control (OPC) technology, you can expect perfect safety when using the machine.  The OPC technology ensures that the engine stops running when you accidentally leave the handle. You can easily fold the handle so that you won't have issues storing it.

Pros
Low emission engine for environmental-friendly operations.
Soft-grip handles for ease of use.
Foldable handles to maximize storage space.
Low fuel consumption guarantees economical usage.
Easy to assemble requiring no tool.
Cons
Speed may be too low for a large garden.
---
2. Einhell GC-PM 46/1 S- Gas Powered Self-Propelled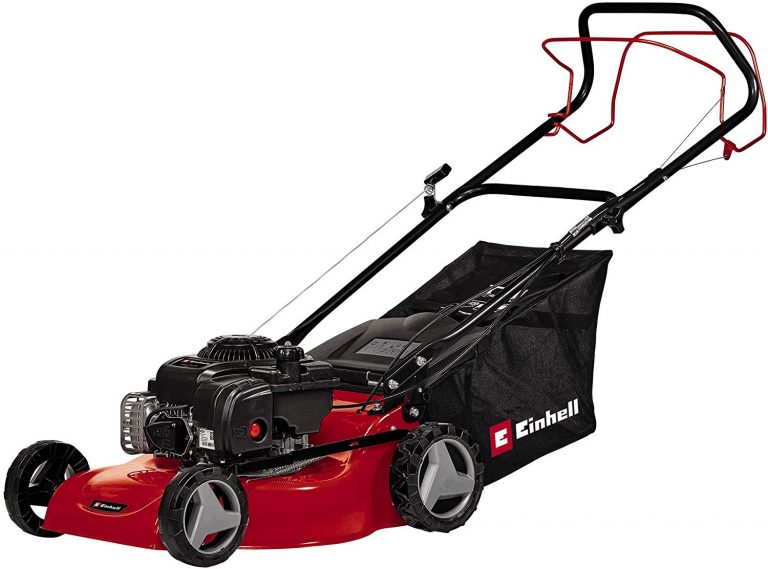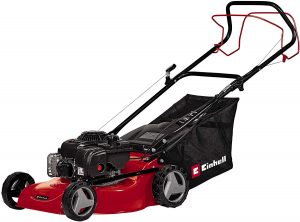 Specification
Power: 125cc
Grass box: 60 litre
Cutting width: 46 cm
Cutting height: 30-80 mm
Maximum coverage: 1400 m2.
Review

Einhell GC-PM 46/1 S B&S is a robust and powerful lawnmower, which is a suitable choice for medium or large-sized gardens. Its user-friendliness meets your comfort level so that you never feel stressed, even while mowing an extensive garden.

Its engine works at high torque to take out the dense grasses out of the way and give you an attractive lawn. With a tank full of petrol, the Einhell lawnmower can cover up to 1400 m2 without looking for any rest.

All thanks to its 125 cc engine that muscles out some serious grass cutting jobs for you. After digging a little deep, we came to know that it has a Briggs and Stratton four-stroke engine, which means that it's made to perform.

As we know it's a self-propelled machine, so you only have to disengage the rear-drive mechanism and it will move automatically. You can take control on tricky roads or dense grasses.

An impressive engine is not the only attraction this lawnmower contains. It has a 46 cm cutting blades make sure that you don't have to repeat the same process again and again to get the desired results. This also means that you will some extra miles within the same amount of fuel.

When you are mowing a large lawn or garden, a height adjustment feature is always helpful to tackle grasses from a variety of heights. With this machine, you are getting nine height settings that are sufficient for most of the lawn or gardens.

In addition to other helpful features, it also has a 60-litre grass collector that has exactly the limit you would like on your next lawnmower.

Pros
Powerful engine for smooth cutting results
Folding handle for secure storage
Nine height adjustments for versatile cutting results
Cons
Grass collection bag comes off easily on rough terrains
---
3. Honda Izy HRG 466 SK-Four Wheel Self-propelled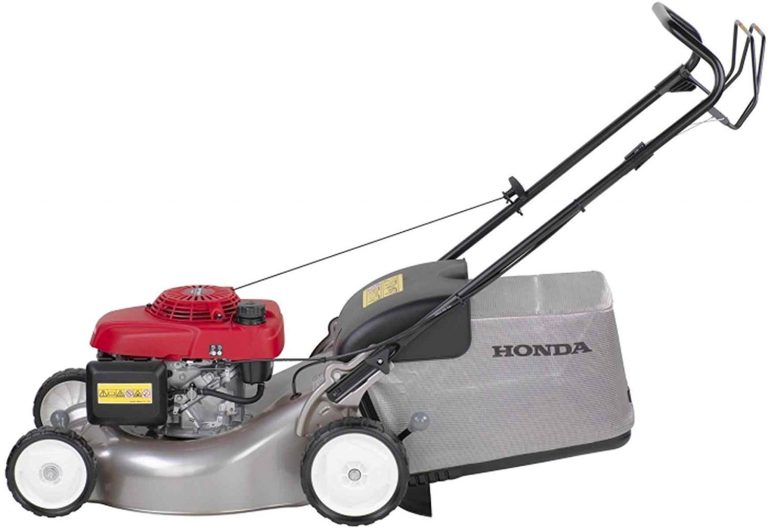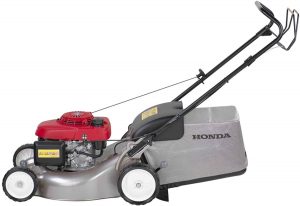 Specification
Power: 160 cc
Grass box: 55 litre
Cutting width: 46 cm
Cutting height: 20 to 74 mm
Maximum coverage: 1600 m2.
Review

Honda is one of the major power tool manufacturers and needs no introduction. Following the same grounds, the brand presents the Izy HRG 466 SK that works hard to maintain your small or medium-sized lawn. It has a low maintenance engine that gives you uncompromised results without consuming much of time.

Izy HRG 466 SK possess a powerful 4 stroke 160cc engine that produces an impressive 4.4 horsepower. This engine is powerful, but still its fuel-efficient and works on low sound levels. So, whether we talk about the self-propulsion, cutting results or disturbance-free mowing; the Honda machine is one of the best petrol self-propelled lawn mowers. Then, it has a recoil start that never fails to give you a quick initiation.

Made of high-quality steel, its deck is durable. Due to round corners, it's easy to clean and leaves no space to attract grass or dirt. Moreover, its powder coated for added protection against UV rays and corrosion. Due to its design that has improved airflow, the grass collection is also very easy.

You can choose from six cutting height adjustments between 20mm to 74mm. So, you can easily get the desired grass length that suits your lawn, mood, or event. Its 46 cm cutting width works great for a small or medium-sized lawn. A large grass collection box means you will spend less time emptying the clippings. Hence, you will be able to finish the mowing session early, which is beneficial for individuals who want to finish some other personal works over the weekend.

Pros
Solid built for a long-lasting life
Easy to clean
Power engine that seeks less maintenance
Easy starting due to auto choke
Works at a low noise level
Cons
---
4. Murray EQ500X- Self Propelled Lawnmower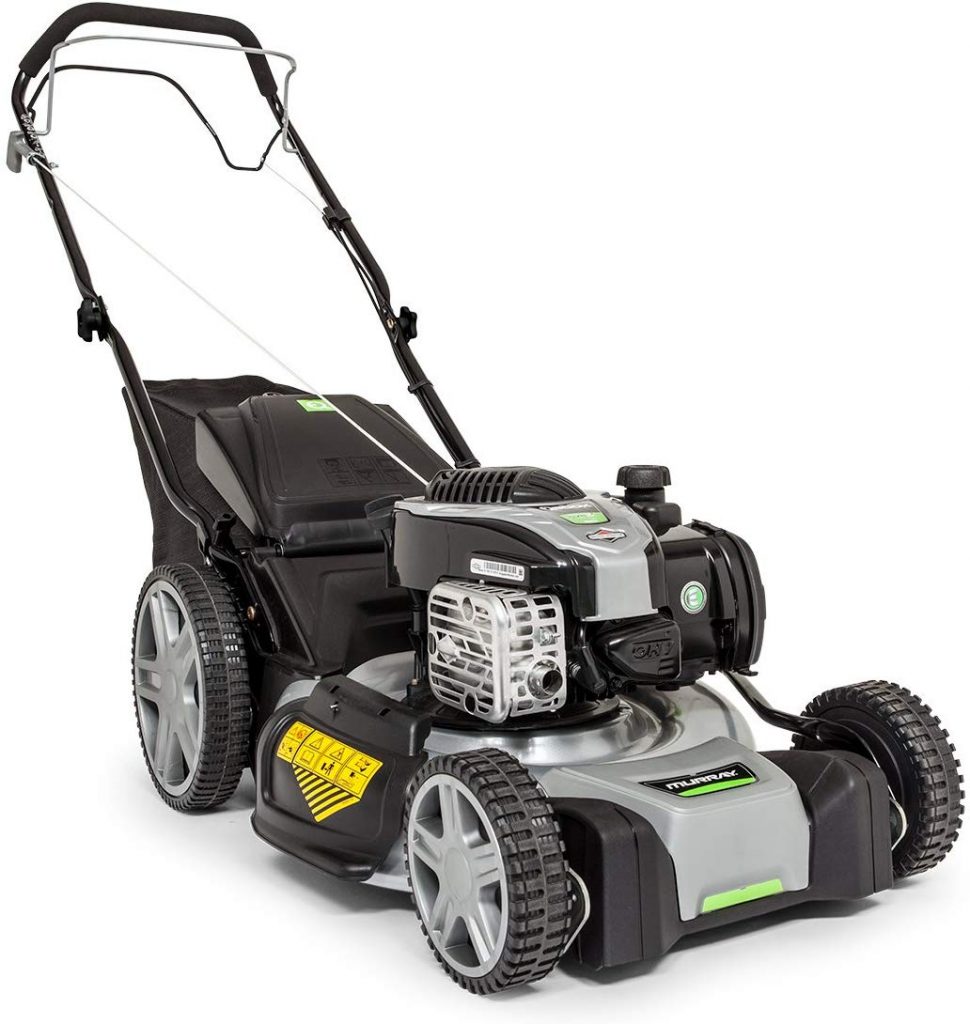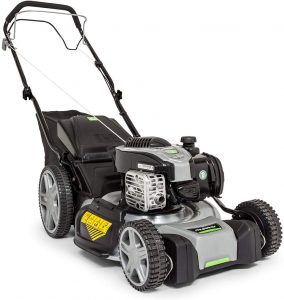 Specification
Power: 140 cc
Grass box: 60 litre
Cutting width: 46 cm
Cutting height: 28-92mm
Maximum coverage: 1500m².
Review

Featuring a powerful engine and easy start feature, the EQ500X is a suitable purchase if you own a small or medium-sized lawn. Multiple ways to dispose of the grass clippings, variable speeds, and a central height adjustment are the features that drive the Murray machine to our list.

EQ500X is a self-propelled mower that draws power from a Briggs and Stratton 575EX Series 140cc engine. It's a reliable motor that has the juice to get the job done. Still, it never adds to the weight and helps you to get desired results.

Next valuable feature is its ReadyStart technology, which eliminates manual priming or chokes. You only have to pull the chord once and it will be ready to go.

The 4 in 1 cutting system of the Murray machine gives you all the options that you would ever need to dispose of the grass clippings. You can bag them using its 60-litre grass collector, side discharge, rear discharge or mulch the cuttings according to your mood.

You will not need any special tool to make the changes and the mulching plug is also included with the unit. You can set the desired cutting height using its six cutting height levels ranging between 28-92mm.

To give you easy and tool-less height changes, there is a central lever. The self-propelled lawn mower mulcher has 28 cm rear wheels that allow easy movement on all the terrains, even the rough ones. So, if you need a self-propelled lawn mower for hills, try the EQ500X.

Pros
Ergonomic handle with a comfortable foam covering
Wash port for garden hose connection
Easy to start
Powerful engine.
Cons
Difficult to move backwards
---
5. Bosch Rotak 43 -Best Cordless Self Propelled Lawn Mower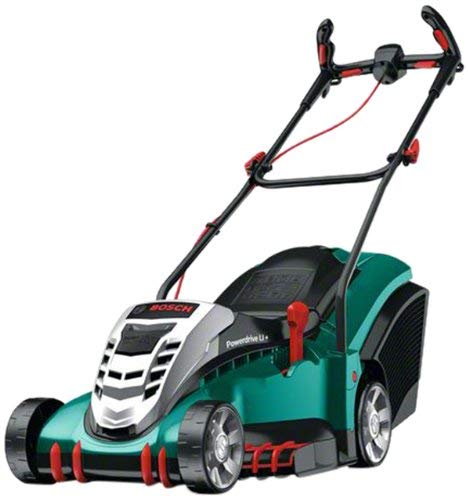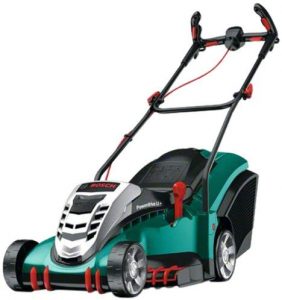 Specification
Power: 36V
Grass box: 50 litre
Cutting width: 43 cm
Cutting height: 20 to 70 mm
Maximum coverage: 1000 m2.
Review

Bosch Rotak 43 LI Ergoflex is an intuitive lawnmower that is very comfortable to use. It offers excellent cutting performance on all the grass types, including the damp ones. Moreover, the machine is lightweight and has a foldable handle for secure storage.

Fast cutting results are the first thing that we expect from a lawnmower, right? The Ergoflex excels in this department because of its Powerdrive LI + system, which delivers constant high torque irrelevant of the lawn conditions.

Bosch always wants to offer more than its price value. So, the brand also integrates a Syneon Chip in this unit, which make sure that its engine utilizes the battery in the most efficient way. It's the reason why you get an extended runtime of 140 minutes.

The Bosch cordless mower has a 43 inch of cutting width and six levels of cutting height adjustments between 20-70mm. There are ErgoFlex hands that give you a comfortable ride and a 50-litre grass collection box that can store all the green clippings for a medium-sized lawn or garden.

Apart from a folding feature, its handles have a Quick Click feature, which allows you to quickly assemble the machine for the first time use.

Its rubber-coated wheels allow smooth movement even on the rough roads and the grass combs makes sure that you get smooth cutting results on the edges as well as corners. For an improved grass collection, it has a LeafCollect function.

Pros
Comfortable and foldable handles for secure storage
Sturdy built
Excellent cutting performances on all the grasses
Decent sized grass collection
Easy to manoeuvre
Cons

Mower flattens some of the wet grasses instead of cutting them
---
6. Bosch AdvancedRotak 750 Electric Rotary Lawnmower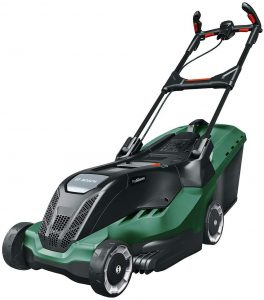 Specification
Power: 1700W
Grass box: 50 litres
Cutting width: 45 cm
Cutting height: 20 to 80 mm
Maximum coverage: 750 m2.
Review

Bosch AdvancedRotak comes with a powerful engine and a decent hardened steel blade, which works very well over a medium or large-sized lawn. Its ProSilence feature keeps the sound profile low so that you can work without disturbing your neighbourhood.

Bosch is a well-known brand to manufacture high-quality reliable lawnmowers. Following the same path, the brand presents this AdvancedRotak 750 that has a 45 cm deck and grass collection worth 50 litres.

Large clip catcher means you will make fewer trips to the main dispose bin. Hence, you will complete the lawn maintenance easily on the weekend to spend some extra hours with your family.

Due to a powerful 1700W engine, it easily tackles large areas and all the grass types inside it. One of the top attractions of this Bosch machine is its low sound level of 89 dB.

So, it's a disturbance-free power tool for your family members and neighbours. Then, it has seven level height adjustments between 20mm to 80 mm.

Another commendable feature of the machine is its ErgoSlide System, which ensures smooth movement and makes the lawn mowing easy than ever. Its ergonomic tools add to the comfort as well as convenient and you never feel much stressed after a mowing session. AdvancedRotak also has grass combs for smooth edges. These are the reasons why its shinning at the seventh position as the best self-propelled electric lawn mower.

Pros
ProSilence to keep the noise level down
ErgoSlide for smooth movement
Powerful motor
Decent grass collection
Cons
The 10-meter cord might not be enough for large lawns
---
7. Einhell GC-PM- Cheap Self Propelled Lawnmower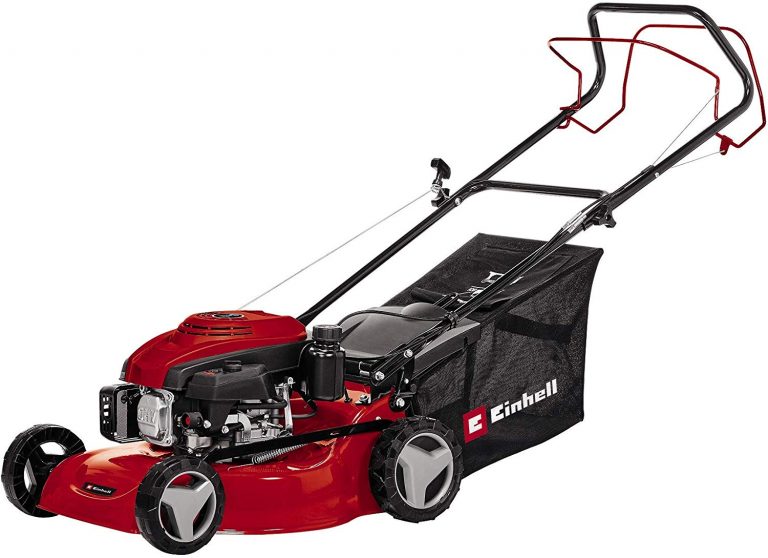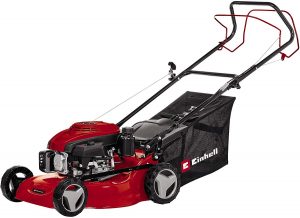 Specification
Power: 139 cc
Grass box: 50 litre
Cutting width: 46 cm
Cutting height: 30 to 80 mm
Maximum coverage: 1,400 m2.
Reviews

When you have to mow a large lawn or garden, you need something reliable, efficient and robust. Well, it's what the GC-PM 46 S is all about. It's an attractive self-propelled lawn mower that packs enough power and flexibility to benefit all its users.

The Einhell lawnmower has the versatility to adjust according to a variety of grass heights. It shines with nine cutting height adjustments between 30mm to 80mm with nothing but only a single lever. Add its ergonomic handle and you can easily cover an area with variable grass heights or terrains. Speaking of the handle, it's not only comfortable to hold, but you can also fold them for secure storage.

Design and appearance is another department where the GC-PM 46 S excels. Its powder-coated steel built is not only durable but also adds to some class and style. Its red and black colour scheme can brighten up your lawn maintenance activity, which can be a boring task for most of us.

Talking about its cleaning process, the manufacturers make sure you can cover a large area with its spacious grass collector, which comes with a grass level indicator.

When we talk about performance, GC-PM 46 S promises never to fall behind. It has a one-cylinder four-stroke engine working at high torque to make sure that you get the desired results without spending much time on the ground. Disengage able rear-wheel-drive works with this powerful engine to give you smooth and continuous cutting flow.

The starting rope is also present on the handle so that you never face a problem while reaching it. Now you understand why it's the best self-propelled petrol lawn mower in the UK.

Pros
9 level cutting height adjustment
Grass box level indicator
Foldable handle for secure storage
Cons
Comparatively high vibrations
---
8. Hyundai HYM46SPE- Best Self-Propelled Lawnmower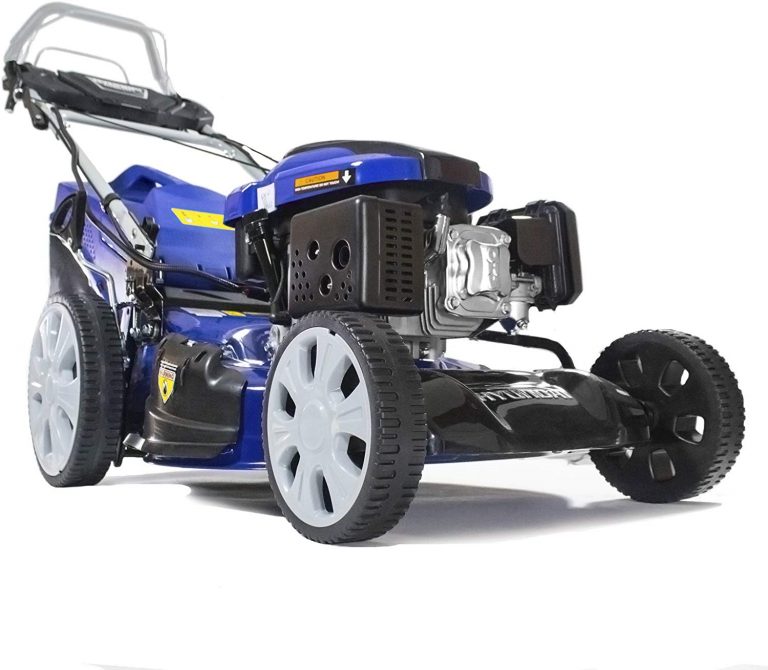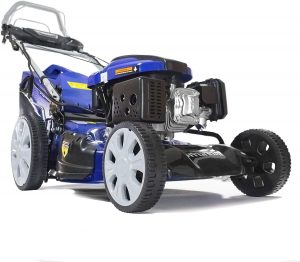 Specification
Power: 159cc
Grass box: 70 litre
Cutting width: 46 cm
Cutting height: 25 to 85 mm
Maximum coverage: 1600 m2.
Review

Hyundai HYM46SPE is one of those lawnmowers that comes with a positive feel. One glance and you will know that this machine does not have any shortcomings. Its price tag might hurt your eyes.

But you are willing to pay some extra pounds, Hyundai rewards you with a powerful and performance-friendly machine that gives you all sort of convenience you will ever need while maintaining a lawn or garden.

If power is the first thing that comes into your mind while choosing a lawnmower, then the HYM46SPE can impress you right away. All thanks to its 159cc 4-stroke engine that deal with all types of grasses with complete agreement. You should also know that this engine has an Overhead Value technology, which adds to the durability and maintains the performance.

The most enticing feature; it also utilizes an electric start in a combination of the conventional recoil pull-start setup. Electric start is not only easy, but it is also a time saver.

The electric start self-propelled lawnmower has a battery that charges while the machine is operational. If convenience is the next thing that comes after power, then you will find it hard to overcomes the Hyundai machine here.

The Hyundai mower is very easy to use and operate. All thanks to its self-propulsion, a handlebar with a soft covering and seven grass cutting height adjustments. Talking about the grass clippings, it gives you four options to dispose of them; cut to collect, cut and drop, cut then mulch and cut and side discharge.

Pros
Effortless start and movement
Decent sized grass box
Mulching plug available
Cons
No rollers to make strips
---
9. P1PE Hyundai Engine P5100SPE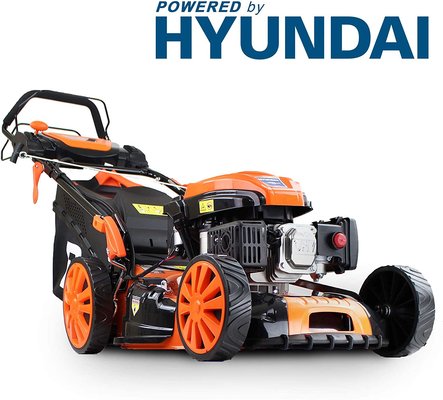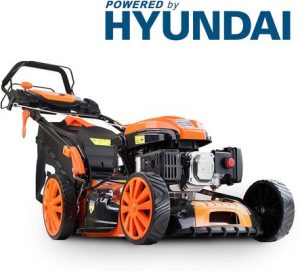 Specification
Power: 6 HP
Displacement: 173 cc
Cutting width: 51 cm
Grass Box Capacity: 60 litres
Weight: 42kg.
Review

This machine is powered by a Hyundai 163cc air-cooled 4-stroke petrol engine. Its performance is unique because a 6HP motor runs it. It has a maximum cutting width of 51cm, and that is why you can use it on medium and large-sized lawns.

If your lawn is sloppy, this is the right product for you. With its electric key start, you can kick off your work without much effort. The recoil pull start is also available for optimum flexibility.

You will like its handlebar lever, which makes it possible for you to pull it upwards. This will reduce your arm and back stress for effective cutting. With 4 cutting options, it is possible for you to cut with the highest level of precision. The cutting options are Cut and Mulch, Cut and Collect, Cut and Side Discharge, and Cut and Drop.

You cannot question the durability of this machine because it comes with a treated steel chassis, which prevents corrosion and rust. Its ergonomic soft-grip handle is a plus, giving you maximum comfort during operations.

You can choose among seven cutting heights, between 25mm and 85mm, so that you can be in full control of your lawn management. With a single cutting height adjustment lever, you can easily switch from one height to another.

Pros
Self-propelled rear-wheel drive for less mowing effort.
Large cutting width perfect for a medium and large-sized garden.
Electric push-button for easy start-up.
Single-lever cutting height adjuster.
Four cutting options for optimum result.
Cons

The battery does not charge during use.
---
10. McCulloch M46-110R- Recoil Start Petrol Rotary Lawnmower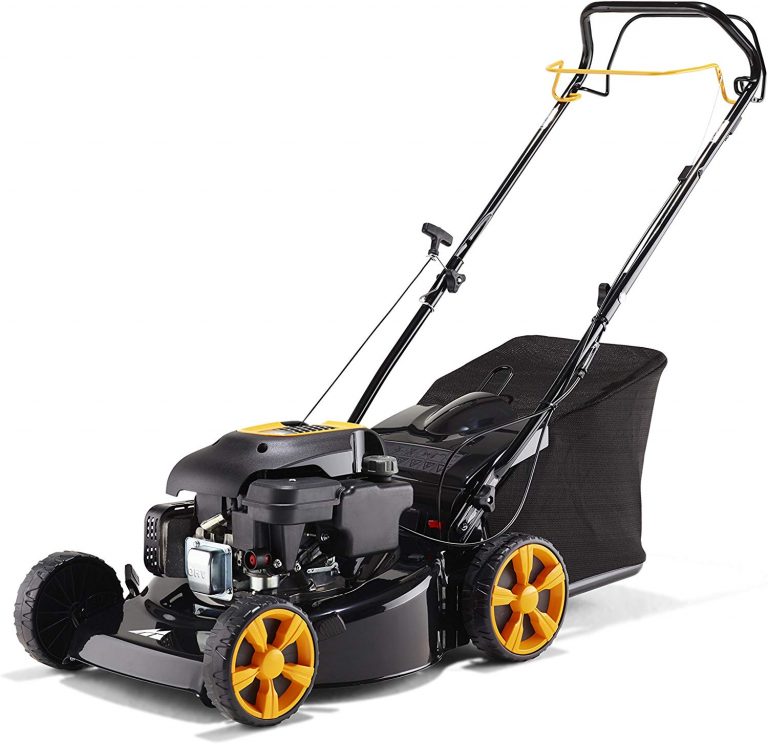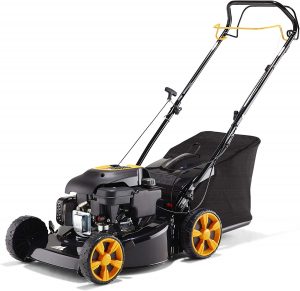 Specification
Power: 110cc
Grass box: 50 litre
Cutting width: 46 cm
Cutting height: 30 to 80 mm
Maximum coverage: 1000 m2.
Review

McCulloch M46-110R is a powerful rotary lawnmower that has a classic design to offer effective lawn cutting solutions on small and medium-sized lawns. With a robust body and heavy-duty engine, the McCulloch machine is built to last while giving the best possible results.

We all know McCulloch. The brand will never waste your money on a feature that you don't need. Making the same point true, they present you the M46-11R that's durable and very convenient to use.

Before we talk about its technology, know that the lawnmower has a powder-coated steel body that makes sure that it can stay at your service for many years to come. All the mower requires a handle and this one comes with a foldable, which also allows secure storage.

We expect a lawnmower to possess a powerful and reliable engine that can deliver some sort of likeable results. M46-110R does not have the most powerful engine among the options here but at its packs enough juice to take through some of the difficult cutting tasks and terrains.

And since we know that lawns might have a variety of grasses, McCulloch gives you six cutting height settings between 30mm up to 80mm.

A cutting width of the mower is 46 cm, means it will cover the area faster and hence you will spend less time mowing the garden. Grass collection is equally helpful at 50 litres, which is great for a medium-sized area. You will not find a better self-propelled lawn mower under 300 dollars.

Pros
Performance friendly engine
Foldable handle
Durable steel body
Comes fully assembled, you can use it out of the box within minutes
Cons
Grass cutting height adjustment is below par
---
11. Worth Powermax Self-Propelled Lawn Mower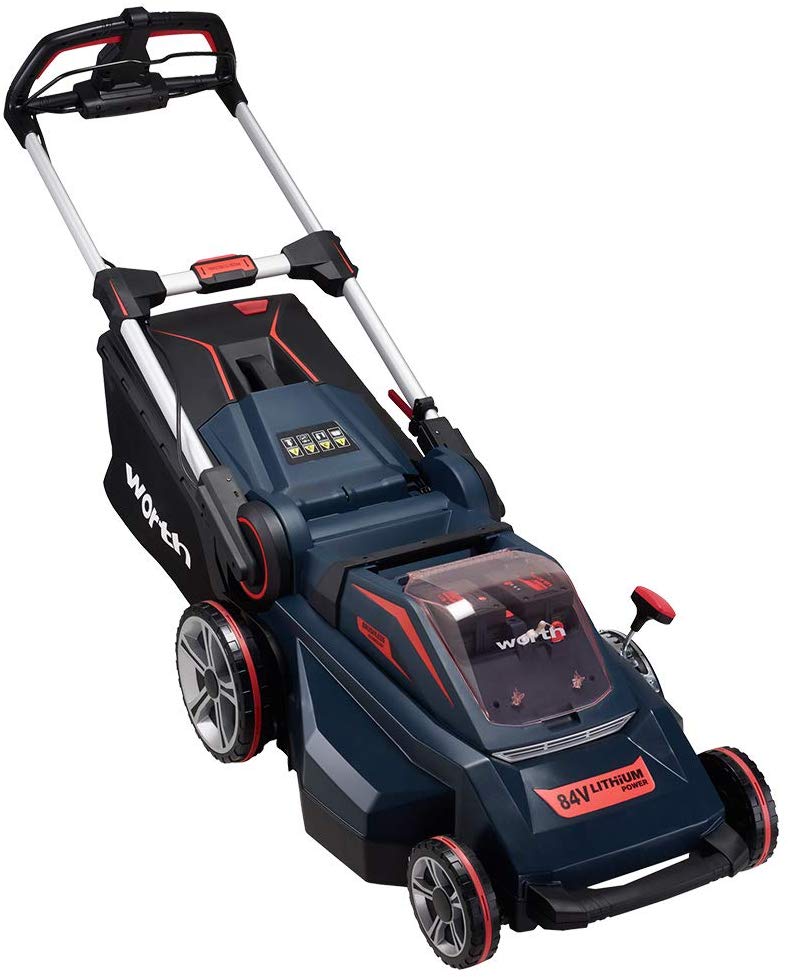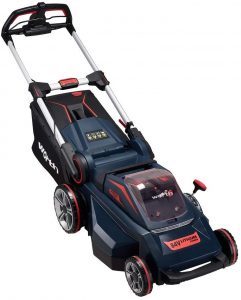 Specification
Power: 84V
Grass box: 60 litres
Cutting width: 20 inches
Cutting height: 30- 90 mm
Maximum coverage: 1400m2.
Review

Worth Powermax looks like a racing car, right? It does indeed, but there is a difference. Race cars are loud wherein the Powermax hums softly because there is no engine involved in its operation. Instead, it draws the power from a couple of lithium-ion batteries.

Two 84 volts' batteries add at the same to the Powermax, hence it makes way through the grass without considering the terrain or the grass type. It has powerful brushless motor powering its self-propulsion for a smooth movement.

Its 10-inch rear wheels add to the control and easily overcomes uneven terrains. So, if you need a self-propelled lawn mower for slopes and bumpy grounds, this is the option you need to choose.

As the machine does not have a petrol engine, our environment doesn't have to deal with its carbon fumes. Moreover, its 2800 RPM engine is brushless. So, you can expect efficiency as well as reliability. Once you complete the lawn maintenance, folds its handles for a secure storage.

The Powermax comes with two 2.5 Ah lithium-ion batteries and a charger. Combining both the batteries, it gives you a runtime of 45 minutes. You can use it on a single battery, but it will work only for 20 minutes.

The given periods are sufficient to maintain a small or medium-sized garden. To tackle all the grasses on a field, the mower gives you six different cutting heights that you can change via a manual lever.

If you are a lawn owner who also cares about the environment, then you can keep your lawn in the right shape with the Powermax, which is easily the best self-propelled cordless lawnmower. Decent runtime, great motor and variable cuttings heights are the factors that add to its value.

Pros
Powerful and reliable engine
Smart Cut load-sensing technology for even grass cuttings
The grass box is easy to remove and attach
Environment-friendly operation.
Cons
Blade width is comparatively less.
---
Final Talk
You have it all now; some of the best self-propelled lawn mowers and then a buying guide to choose one out of them. Think about your requirements before you choose a particular model. Getting recommendations from family members and friends is great, but do not go "only" by their words. Because only you are the person who knows better about your lawn or garden and the cutting conditions in and around it. So, check the factors mentioned in the buying guide, especially the size of your property, power and storage space available. As long as you agree with your inner self, we are sure that you will find the right option.