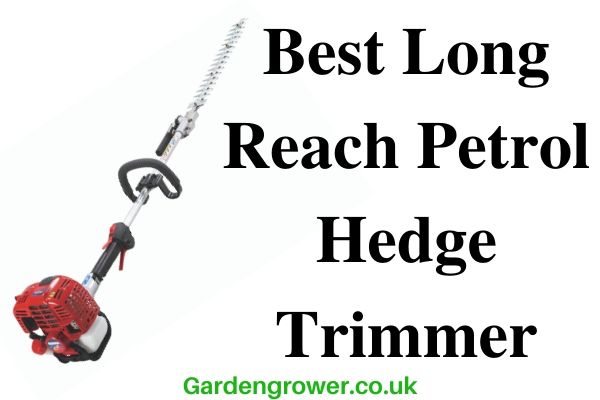 Best Long Reach Petrol Hedge Trimmer UK 2023 Reviews
Last Updated on May 4, 2023
---
Long reach petrol hedge trimmers are best when you have to maintain hedges. Conventional gardening tools will not work in such situations because of their restricted size. You can use a ladder or any other base, but that's too risky.
So, we suggest you use a long reach hedge trimmer wherein you can cut all the branches and leaves while both your feet stay safely on the ground. Why petrol version? Because they are mobile and you can use it virtually anywhere without any connecting cables.
Tank full of petrol is all you need, and the trimmer will go on for hours. With all these positive thoughts in mind, let us have a look at ten best long reach petrol hedge trimmers that you can purchase in 2020.
Best Long Reach Petrol Hedge Trimmer UK 2023
Best Long Reach Petrol Hedge Trimmers UK Reviews
 1. Makita EN4950H -Best Pole Hedge Trimmer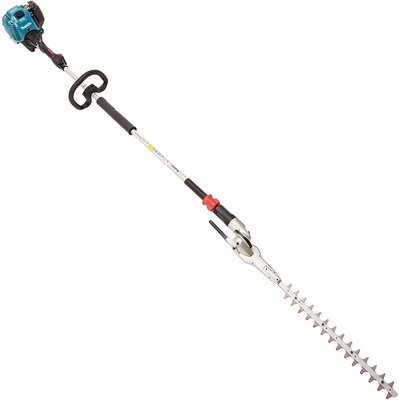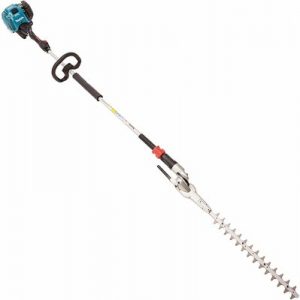 Specification
Power: 25.4 cc
Weight: 6.9 kg
Fuel tank: 0.6 litre
Overall length: 490 mm.
Reviews
Makita EN4950H is an extendable hedge trimmer that takes all the power from a powerful 25.4CC four-stroke engine working at a speed of 4,200 SPM. This engine does not require any fuel mixing as opposed to many other petrol-based variants available in the market. Hence, it also prevents any internal damage due to incorrect fuel mixing.
EN4950H has recoil start-up with automatic decompression, primer pump and a diaphragm carburettor. It has an adjustable trimming head up to 45 degrees upside tilt and 90 degrees down tilt in a horizontal position.
There are thirteen stops, each after 11.25 degrees that you can change using a simple lever. If you want to fix it at a particular angle; insert a lock pin. Due to its versatile cutting nature and flexible trimming head, this tool cuts both upper and lower parts without you looking for a ladder. As its engine has multiple lubrication angles, you can incline the trimmer at any angle while cutting the hedges.
The Makita pole trimmer is lightweight so that you can easily manoeuvre it in any area. Due to its balanced design, you get complete control over the trimmer and cutting objects.
Apart from the higher hedges, you can also cut lower hedges without bending down. These are the reason why Makita EN4950H is the best long reach petrol hedge trimmer in the UK market. Overall, the hedge cutter gives you the full value for your money.
Pros
Power engine with low carbon emission
Multiple angle lubrication for ease of use
Requires no fuel mixing.
Cons
---
2. BU-KO 52cc Long Reach Petrol Multi-Functional Garden Tool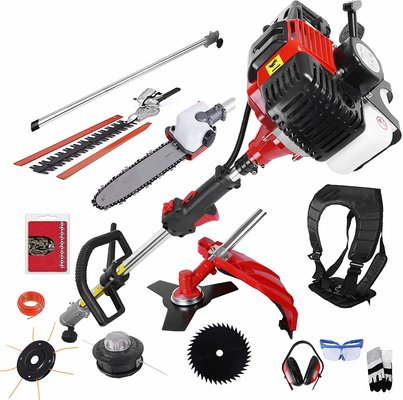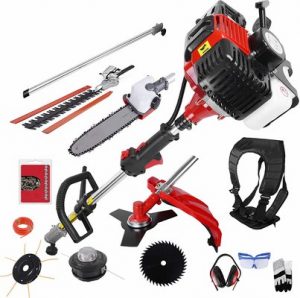 Specification
Power: 52 CC
Weight: 7 kg
Fuel tank: 1200 ml
Overall length: Up to 3.4 metre.
Reviews
BU-KO 52cc Multi-Functional Garden Tool is a piece of high-quality equipment that has all the attachments you would ever require for a better-looking garden. Add its powerful engine, and you will get an efficient solution that you can quickly deploy over a variety of tasks.
It's easy to use and takes less time to complete all the gardening chores; what else we can expect from non-living field assistance. You will thank the powerful 52CC engine of the tool because it gives enough juice for all the add-ons. Whether you need to cut or trim through different substances, it does it smoothly irrelevant of the thickness.
And why not? It has the nylon strimmer and brush cutter perfect for grass mowing. Then it has a pruning saw and chainsaw that are idle to remove thick branches, cut along the edges and tackle stubborn shrubs.
With the hedge trimmer attachment, the tool reaches up to one metre. So, it might not be suitable for the tallest hedges but reaches medium-sized plantations.
All the above-mentioned factors and features justify the price of this BU-KO garden tool. Still, the brand gives you more by including a toolkit, shoulder harness, protective glasses, ear protection and gloves.
If you want regular garden maintenance without looking for multiple tools, then try the Bu-KO tool. It gives you all the things that you require to maintain your lawn throughout the year.
Pros
Strong and powerful engine
Includes multiple tools to help with all the gardening maintenance tasks
Tool kit and all the safety gears come included.
Cons
Difficult to assemble
Low quality built.
---
3. Dealourus Multi-Functional Garden Tool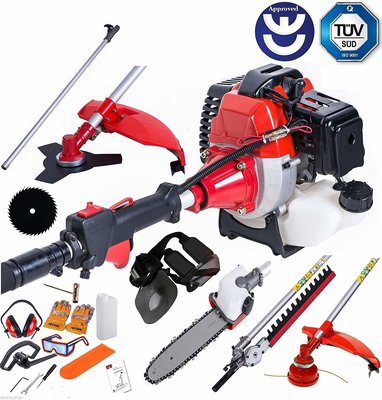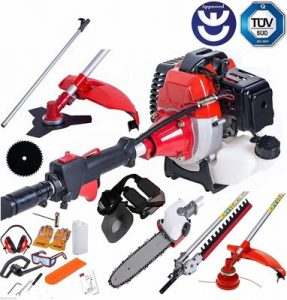 Specification
Power: 52 CC
Weight: 9.8 kg
Fuel tank: 1.20 litres
Overall length: 3.4 metres.
Reviews
Dealourus garden tool one of the most versatile gardening assistance that comes with a powerful engine and multiple attachments. As it's easy to set up and allows secure exchange of the add-ons, the multipurpose gardening tool saves your time as well as expense.
The multi-tool draws all the power from its two-stroke 52 cc engine, and its pole extends up to 3.4 metres. Its engine has a single-cylinder, which is vertical and hence you can use it at any angle.
Moreover, this motor is air-cooled, which means there will not be any downtime due to overheating. The recoil pull-start works in all the seasons and makes sure that you are ready to go in a jiffy.
So, you are getting power and one of the most extended poles to maintain everything that surpasses your height.
Talking about the inclusions, it has a grass strimmer, brush cutter, pruner chainsaw, and of course the hedge trimmer. All these attachments perform well due to its two-stroke heavy-duty engine that generates 3 HP to work at 7500 RPM.
The oil and gas ratio is 25:1, but you will not find a fuel mixing bottle with the tool. Apart from providing functional features, the Dealourus tool comes with a toolkit, shoulder harness, safety glasses, ear protection and safety gloves.
The device, its accessories and bonus items look attractive, but remember one thing here; it's a potent tool, and hence you need to operate and handle it with proper balance and care.
Pros
Best value for the price
Robust; cuts through thick stems with ease
East exchange between the tools; time-saving tool.
Cons
Heavy
Accuracy is somewhat challenging to achieve at full extension.
---
4. Webb WEPHT26 Split Shaft Long Petrol Hedge Trimmer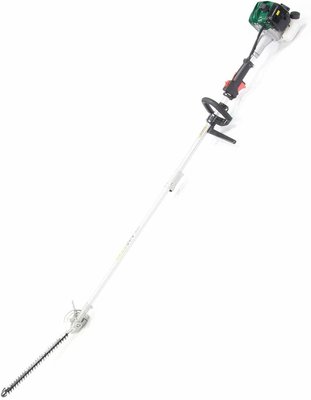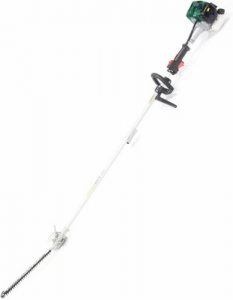 Specification
Power: 26 CC
Weight: 6.5 kg
Fuel tank: 500 ml
Overall length: 2.3 metre.
Reviews
Reputed for high-quality products, Webb always tries to include new tools in their range of products. Whenever the brand does it, they are always successful. Because their products are made of high-quality materials and use the latest technology to give you the best.
Also, their gardening tools are easy to use and seek minimal maintenance. All these qualities are present in WEPHT26, which has a 26CC two-stroke engine and a 2.3-metre extension. To help you in a better way, it has a loop handle that provides you complete balance while you trim some overhead leaves or branches.
Made of aluminium, this tool weighs 6.5 kg when attached with its hedge trimmer add-on. It has a champion spark plug that never fails and gives you instant start-up without much cord pulling.
Also, the tool has an absorption system for vibration. As you see, the brand takes care of all your needs; power, ease of use and comfort. No matter how long you use the tool, you will not feel tired. The reason behind is its moderate weight, powerful engine, and sharp blades.
The tool comes at a price tag that is higher than some of the multipurpose tools. However, it should not stop you from buying the product because it has the power and length to cover most of the tasks.
To be more helpful and convenient, the tool also includes a shoulder harness that further distributes to your upper body instead of arms. Also, you will not feel much wrist strain or backache because of its balanced design and moderate weight.
Pros
Powerful engine
Loop handle for extra control and balance
Includes a harness.
Cons
Expensive for a hedge trimmer.
---
5. Makita EN5950SH MM4 Pole Hedge Trimmer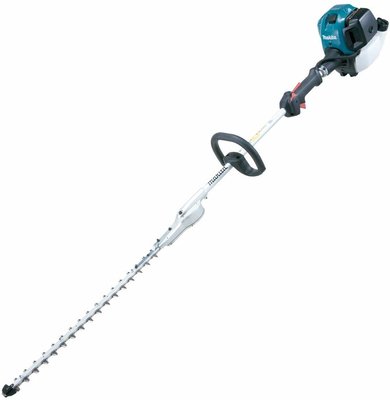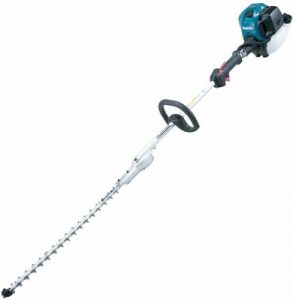 Specification
Power: 25.4 CC
Weight: 8.7 kg
Fuel tank: 0.6 litre
Overall length: 1.3 metre.
Reviews
It seems like Makita has the right programming codes for four-stroke engines. It's well known (and also documented at many places) fact that 4-stroke engine cannot produce the amount of horsepower like a two-stroke.
MM4 is different because it's getting 1.1 HP, which is near to two-stroke engines. What amazing here? Makita does it without adding extra weight to the tool.
There are many other exciting reasons to add Makita MM4 to your gardening arsenal. Its fuel efficiency is commendable, and the carbon emissions are also comparatively lower. You do not have to maintain any ration between gas and oil, because it only works on petrol.
Moreover, you get low noise levels, which again a fantastic feature for a petrol propelled garden tool. Due to Mechanical Engine Decompression System, you can quickly start the 25.4 CC engine, which works at maximum 10, 000 RPM to deliver an output power of 7000 RPM.
This motor has a multi-position lubrication system, so you can use it in any direction or angle without losing energy. There are thirteen angles to adjust the trimming head, which helps you to cut the overhead as well as underlying materials without any hassle. Its angle change lever is fast and easy.
For a secure storage, you can adjust the blade along its pole at 180 degrees. It includes a blade cover to keep everyone and everybody safe while the tool is idle. To store the device and related items, you will also find a carrying bag.
Pros
Powerful, fuel-efficient and massive duty engine
180-degree blade adjustment for secure storage
Built-in clutch to disengage the blade during movement.
Cons
---
6. Mountfield MM2603 M16


Specification
Power: 25.4 CC
Weight: 8.6 kg
Fuel tank: 650 ml
Overall length: 2.21 metre.
Reviews
Ideal for cutting rough plantations, grass, branches and hedges, the Mountfield MM2603 comes with a double-sided 40 cm trimmer blade and a strimmer head. The strimmer has a Tap & Go 2-Line Nylon head and three toothed blades.
Due to Tap & Go mechanism, you only have to bump the tool on the ground, and its auto-feed Nylon line will advance automatically. Mountfield petrol long reach hedge trimmer comes with a 25.4 cc two-stroke engine that has a recoil start-up. Its long trimmer blade smoothly goes through all the green materials up to 20 mm in diameter.
You can adjust the trimming head up to 45 degrees on both the sides. The combined reach of the trimmer blade and the pole is a whopping 221 cm, which allows you to cut tall hedges without looking for any ladder or support. With such specifications and power, the MM2603 makes the garden maintenance process look easy.
At 8.6 kg, this is a lightweight long reach petrol hedge trimmer. However, due to its balanced design and loop handle, you can easily use the trimmer. Moreover, it has an anti-vibration mechanism that keeps your wrists strain-free, and you can work for prolonged hours without feeling tired. For maintenance and other repairs, it also includes a tool kit.
Apart from a high-quality product, Mountfield also has a top-notch customer support that you can contact through phone line and mail. Overall, MM2603 is a versatile 3 in one tool that is easy to use and powerful. Due to multiple attachments, you can use it at many garden places where other means are ineffective.
Pros
Powerful engine
Includes a grass trimmer with auto-feed Tap & go Nylon head
Significant blade for fast results
Easy to start.
Cons
Strimmer wire is not long-lasting.
---
7. AOSOME Multi-Function 5 in 1 Garden Tool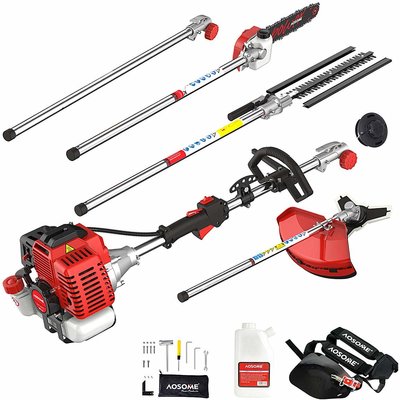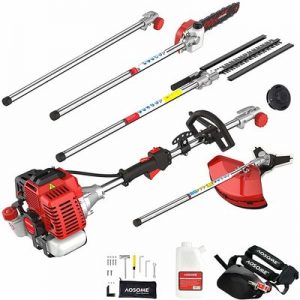 Specification
Power: 25 CC
Weight: 7.8 kg with the hedge trimmer
Fuel tank: 1200 ml
Overall length: 3.2 metres with the hedge trimmer.
Reviews
Our next contender is an incredibly durable multi-functional garden tool from Aosome. It takes all the power from a 52CC to stroke engine that works at 7500 RPM. With such power and speed, the device efficiently goes through sturdy materials and hedges that are left intact for a long time. Overall, a well-made tool for garden servicing.
Whenever you purchase any product, you look for value for the investment. When you are buying the tool, you get a trimmer, brush cutter, chainsaw pruner and grass trimmer. With these tools, you can take care of your lawn or garden in all the ways.
Whether you have to trim some overgrowing bushes, sort the edges along the walkway, maintain the hedges, or tackle thick stems and branches, you can use the given attachments one by one to complete all these separate tasks with one tool.
The petrol hedge trimmer long reach comes with an extension pole of 3.2 metres and a sturdy steel double-sided blade worth 45 cm. It also includes a double shoulder harness strap that spreads the weight to both of your shoulders. It has a quick-release coupling for easy usage and release of the machine.
Pros
Features five tools in one package
Powerful engine
Includes shoulder harness
Significant fuel tank.
Cons
A heavy machine, you cannot use it with one hand.
---
8. TRUESHOPPING Petrol Long Reach Hedge Trimmer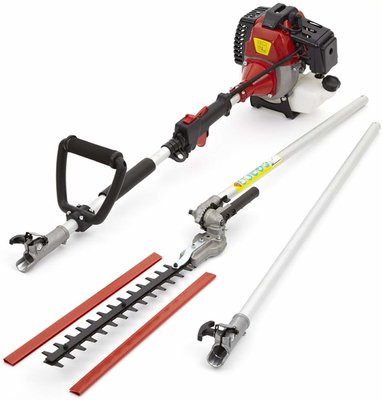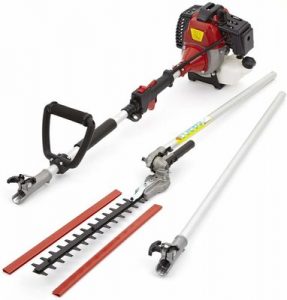 Specification
Power: 52 CC
Weight: 7 kg
Fuel tank: 1025 ml
Overall length: Up to 3 metres.
Reviews
Trueshopping manufactures a wide range of long reach hedge trimmers, but the MFS520HT with 52 cc engine is the most powerful among them. You can extend its pole up to 3 metres so that you can cut the tallest hedges. Its trimming head angles at ten different position to give you a convenient cutting session.
The petrol long reach hedge trimmer has an air-cooled engine that works at 9000 RPM. So, no matter how big your lawn is, the Trueshopping cutter will never overheat. Due to the long blade of 450mm, the trimmer will cover more area, and hence you will not have to spend extra time and energy on the weekend.
Moreover, it has an automatic transmission. Means, the blade will smoothly run without resistance, to take on everything that comes in front of it. The tool is comparatively heavy, but you can easily carry and handle it.
All thanks to a balanced design that distributes the weight and keeps your wrist strain-free. Also, it includes a shoulder harness that adds to the control and balance.
Overall, the Trushopping trimmer is a versatile gardening tool that you can use for shrubs or bush cutting, pruning and hedge maintenance. Due to its power, the machine is suitable for medium and large lawns.
It's easy to assemble and takes minimal time to get ready. Apart from the harness, it also comes with a tool kit, fuel mixing bottle, and an easy to follow the instructions manual.
Be aware that it's a mighty machine, and you need some experience to use it properly. If you are a beginner, then we advise you to be careful while using the added pole length.
Pros
Powerful air cooled gasoline engine
Includes a shoulder harness and fuel mixing bottle.
Cons
Build quality is not up to the mark.
---
9. Mitox 28LH-a Select Petrol Long Reach Hedge Trimmer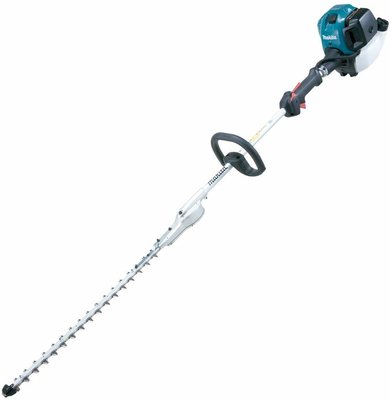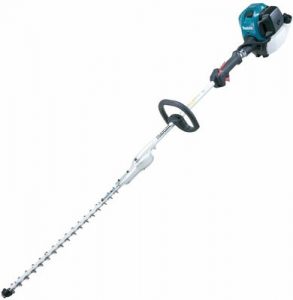 Specification
Power: 25.4 CC
Weight: 7.3 kg
Fuel tank: 0.65 litre
Overall length: 2.4 metre.
Reviews
If you need high quality and versatile long reach petrol hedge cutter, then you can try the 28LH from Mitox. Its works with a 25.4 CC engine that has recoil assistance for up to thirty per cent easier starting process. The garden tool has a 58 cm dual-sided blade that you can adjust through 180 degrees for flexible cuttings at multiple directions.
The 28LH gives you a maximum reach of 2.4m, which makes it suitable for tall hedges and branches. Its SmartPull recoil system makes the starting process up to thirty per cent faster. Auto choke mechanism of the Mitox trimmer has set positions for a cold and hot start, and once you pull the throttle, it automatically moves to idle.
There are aluminium couplings that allow you to bifurcate the pole into two parts during storage or transportation. Due to a long blade that moves at multiple angles, the tool finishes all trimming task without taking much of your time.
Even if you have to work for a prolonged time, you don't have to worry about wrist stress. This one has an ergonomic grip that discourages vibrations and jerks from keeping your wrists strain-free for a long time.
It has a front, padded grip that assists in multiple positions as well as heights and also reduce the vibrations due to a secure grip. There is also a single strap harness that distributes its overall weight to your upper body. This harness is especially useful when you have to cover a large lawn or garden.
Pros
High quality easy to start the engine
Aluminium coupling to divide the trimmer
Decent blade length with 180-degree articulation.
Cons
Handling might be difficult due to weight and long blade.
---
10. COSTWAY 4-in-1 Petrol Multi-Functional Garden Tool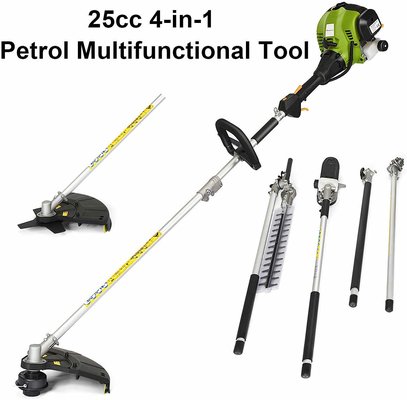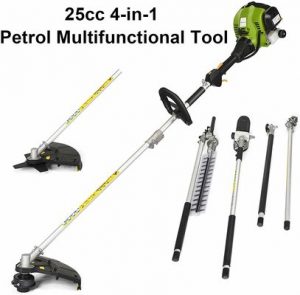 Specification
Power: 25 CC
Weight: 4.6 kg
Fuel tank: 500 ml
Overall length: 1.75 metre.
Reviews
Spice up your garden with this Costway multi-tool that comes with four interchangeable heads including hedge/grass trimmer, pruner and bush cutter. You can use all these attachments using an ergonomically designed grip, which makes the control and handling easier.
If you need a cost effective one-stop solution for your garden maintenance, then don't wait to invest in this one. Why? Purchasing four different tools will not be only expensive, but also have to manage their storage space and take care of their maintenance.
But, Costway gives you all the attachments in the affordable garden tool. The 4 in 1 petrol long reach hedge trimmer multi-cutter comes with a two-stroke 25 CC air-cooled engine that completes the job efficiently without getting exhausted.
It has an adjustable pole with a maximum length of 175 cm. Due to such distance, you can reach most of the hedges and other plantations. Also, it has a trimming head adjustable up to 80 degrees that clear all the awkward corners on your behalf.
Costway tool has an auxiliary handle, and it comes with a shoulder harness that gives you total control, even in the full extension. Also, there is a loop handle that adds to the overall balance and control. Above all, it's has a lightweight primary body. So, you will be able to use and carry it better than any other heavy trimmer.
With multiple attachments, the garden tool gives you the full worth of the investment by taking care of the whole garden, lawn or yard. If you have this one, then we don't think you would need anything else to keep your hedges maintained and garden bush free.
Pros
Secure soft pull start system
Powerful and efficient engine
Ergonomically designed handle
Includes a loop handle and shoulder harness
Easy to follow the assembly guidelines.
Cons
Costway tool does not have any considerable negative aspects that we can mention here.
---
Bottom Line
Maintaining the hedges and keeping your garden or lawn in the best possible shape is not an easy task. However, if you can get an extended petrol hedge trimmer, it will complete the job efficiently without wasting much of your time and energy.
Above given products is the best long reach petrol hedge trimmers among the many overwhelming options available in the market. If you know the requirements, then you can easily choose one of them. Consider the lawn size, weight of the trimmer, and budget to get the best gardening tool. Thank you for reading the best long reach petrol hedge trimmer reviews. We hope it will be helpful for you to make the right selection.