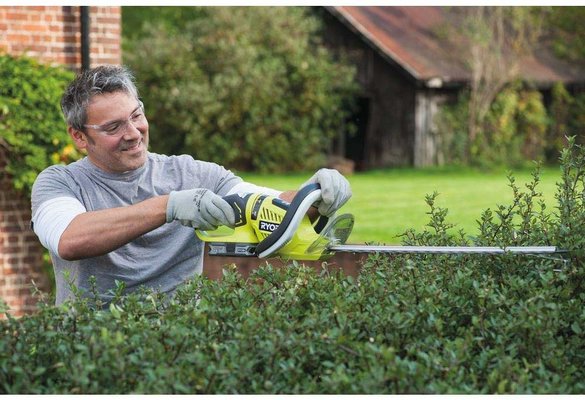 Best Cordless Hedge Trimmer UK 2023 (Reviews & Buying Guide)
Last Updated on May 4, 2023
---
Are you looking for the best cordless hedge trimmer in the UK's market to purchase? Well, it must be the reason why you are here. Because the pain of cutting hedges using traditional tools is not only tricky but also time taking and cumbersome. Cordless trimmers are great because they prove their worth by effortlessly maintaining the green fences and other foliage around a garden.
Today's list brings eleven best cordless hedge trimmers to you. So, if you are trying to maintain your lawn hedges the hard way, you can have something else to choose from. To help you select an appropriate option, we have also included a buying guide after the reviews.
Best Cordless Hedge Trimmer UK 2023
---
Buying Guide of The Best Cordless Hedge Trimmers
Cordless hedge trimmers are different from their corded counterparts because you can roam all over a park or lawn without managing a power cable or connecting multiple extensions to cover an area. Moreover, you don't have to take the risk of accidentally cutting the connecting lead. Trust us; it happens to many users. To enjoy their "no strings attached" nature to the fullest, you have to think and consider several factors.
Cutting materials: What are the materials you are trying to cut? This is the first question you should ask yourself. Large and robust devices are great, but they are sometimes heavy as well as expensive. So, you should have a clear idea about the sage. Take a look around, measure a few branches if you can. It will give you the insight to choose the blade size and tooth gap between the blades.
Power: Larger the volts and amp-hour, more power, and cutting the time you will enjoy. It's a good thing to have some extra energy in hands because no one wants to struggle in the middle of a garden just because the trimmer is unable to tackle resistance. Check the volts/wats and amp hours of a battery. Higher amp-hour means a battery will take longer to charge. So, it's a tricky situation that you need to handle depending upon the garden size and materials you are trying to remove.
Blade length: Your primary aim should be to find a hedge cutter with a long blade, especially if you own a significant area with harsh bushes around. For a medium-sized space, any module above 45 cm is suitable. For a more substantial area, you should choose more than 50 cm.
Budget: Now, the question comes about the cost. How much should you spend on a garden maintenance tool? We discussed eleven options today, and you saw they have different price tags. Bigger and powerful cutters like BLACK+DECKER GTC36552PC-GB are costly, while compact and tools like Ryobi OHT1855R are comparatively cheaper. Choose according to the size of area you have to cover and the power you will need for the same.
Weight: One of the foremost factors that you should check, especially if you want to use a garden tool for prolonged hours. You will enjoy the power, but what if it comes with too much heft to handle. You have to find an idle mix of sufficient strength and weight depending upon the area you need to cover.
Safety features: We have mentioned several hedge cutters with electric brakes, multiple-step startup, and wrap up handle. These are the most probable safety features that you can find on these tools. Electric brakes stop a cutter instantly, and a starting process that involves multiple steps avoids unfortunate incidents. Devices like Makita DUH523Z has both electric brakes and a two-handed operation where the motor will only engage the belt wherein the switch and top handle are under your control.
Best Cordless Hedge Trimmer UK Reviews
Let's start to read the reviews of the top-rated battery-powered hedge trimmer and among our selected products have some cheap products but good quality.
1. DEWALT DCM563P1-Best Cordless Hedge Trimmer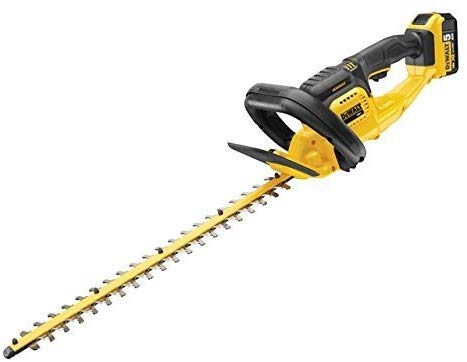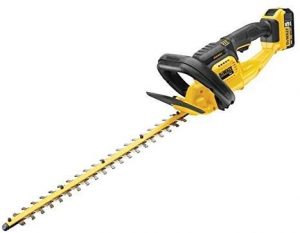 Specification
Power: 28V
Weight: 3 kg
Tooth gap: 19 mm
Blade length: 55 cm.
Review

Our runner up, DCM563P1-GB is capable of cutting all types of thick bushes and shrubs. All thanks to its 18V 5Ah battery and 55 cm dual-action cutting blade, the tool is suitable for medium and large-sized properties. However, the most impressive trait of the cutter its runtime of 75 minutes, which is higher and as good as its power and cutting length.

This rechargeable hedge trimmer has a cutting ability of 19 mm, which means it's idle to tackle stubborn branches and regular hedge maintenance. The total length of the tool, including its handle, is 1 meter, which is enough to trim hedges at a variety of heights.

With such power and useful features, the outdoor tool can be well-deserving professional assistance as well. Whether you need to trim large areas of bushes, including many thick stems or you have to remove stubborn overgrowths, it never fails.

Durable and robust, but at the same time, the gardening tool is easy to use. It weighs very little and has an ergonomically designed grip. Combined with the additional wrap-around handle, it gives you proper weight distribution for less fatigue. No matter which angle you are cutting, the tool remains steady.

Overall, DCM563P1-GB is one of the best rated cordless hedge trimmers that has a design to perform for hours. An unbalanced tool can be harmful while cutting high hedges.

Overall, it's a balanced and lightweight cordless hedge cutter that improves your safety to a great extent. The device itself is also impacted resistant so that it can withstand the regular use without downtime.

You can check the best long reach hedge trimmer UK reviews.

Pros
A large dual-action cutting blade
Cutting thickness is decent
Soft and ergonomic grip for complete balance
High runtime
Cons
Extended recharge time due to a powerful 5 Ah battery
---
2. Ryobi OHT1855R ONE+ 18V Cordless Hedge Trimmer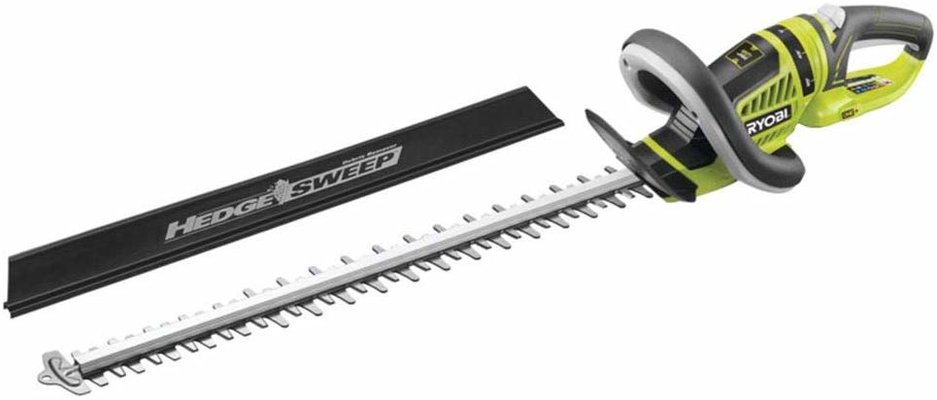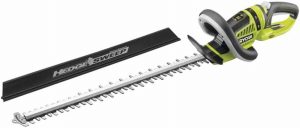 Specification
Power: 18V
Weight: 3.2 kg
Tooth gap: 22 mm
Blade length: 55 cm.
Review

Good news for Ryobi fans; one of their tools is ruling the category of best cordless electric hedge trimmer in the UK. The OHT1855R is a great choice for regular gardening tasks as it comes with an 18V battery and a 55cm cutting tooth.

So, you can take away all the overgrown bushes and branches without wasting much time. With a long diamond ground blades, the tool also has a tooth gap of 22 mm. Means, even the thickest of the branches will not be able to save themselves with its wrath.

Ryobi OHT1855R comes with a powerful motor that generates high torque. It has a rotating handle so that you can easily cut along the corners and edges. There is a handguard for ease of use and safety.

To prevent blockages, the tool has an anti-jamming mechanism. Then, there is also a HedgeSweeper attachment that clears off the debris from the hedges in a battery way.

Weighing over three kilograms, the cutter is not very heavy, not the lightest. Still, the right choice if you are in no mood to lift heavy gardening tools. For tall hedges, you would need a ladder. Its battery and charger are also not included.

However, the machine works on an 18V ONE+ battery. So, you might already own one if you have any other gardening or power tools. Ryobi recommends using a 2.5 Ah or higher battery with the machine.

Using such cells will provide a runtime anywhere between 30 to 40 minutes. To clean the blades, you can use Ryobi Blade Protect, which keeps the knife dirt-free as well as protected.

Pros
Easily cuts thicker branches
Anti-jamming feature for smooth cutting and precise results
Powerful
Cons
No battery or the charger included
---
3. Makita DUH523Z Lithium-Ion Hedge Trimmer


Specification
Power: 18V/4.0 Ah
Weight: 3.3 kg
Tooth gap: 26 mm
Blade length: 52 cm.
Review

The next recommendation comes from one of the leading gardening equipment manufacturers. Capable of handling heavy-duty trimming tasks, Makita DUH523Z never values thick branches, stubborn stems, or any other resistance. Innovation is one part, but Makita gives it all the characters to get high ratings from our experts.

Makita DUH523Z comes with a 52 cm cutting length and has tooth gaps of 26 mm (1.02 Inches). It's compatible with 1.5, 3.0, 4.0, and 5.0Ah Lithium-ion batteries that you have to purchase separately because it's available as a "body only" product.

You can replace the blades whenever required, which is an additional benefit over other tools. Most of the Makita tools never allows you to change the blades. Battery indications are worth talking about in the case of this Makita gardener.

It has a protector that shuts down the device when the battery is exhausted. Apart from that, the battery lamp indicates blinking red light when the battery is about to die. Solid red light is what you see when the battery is out of charge. Such features add to the durability of the device so that you can enjoy its services for long.

This cutter has a two-handed operation for safe and controlled usage. The first handle is covered with soft rubber to provide a comfortable grip. Moreover, it has a five-layered vibration absorber.

So, you never feel anything from the motor, blade movement, and trimming. Its low weight and overall length of 968 meters make the cutting process more convenient. Overall, a useful companion for your garden.

Pros
High-quality rust-free built
User-replaceable blade
Battery protector and indicators
Anti-vibration grip
Decent blade length
Lithium-ion technology for efficient performance
Cons
---
4. Bosch Advanced Hedge Cut 36V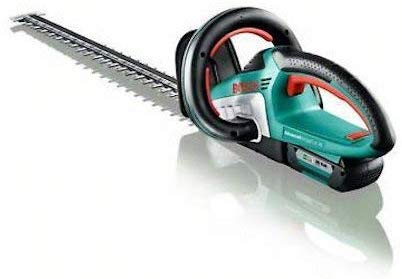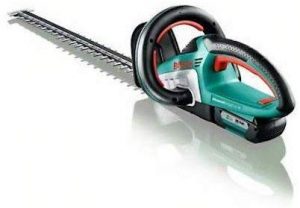 Specification
Power: 36V
Weight: 3.6 kg
Tooth gap: 20 mm
Blade length: 54 cm.
Review

Looking for a powerful trimmer? Take a closer look at Advanced Hedge Cut that has a whopping 36 volts of power, 54 cm of cutting length, and 20 mm tooth gap. With such power and cutting abilities, it's one beast of a machine to clear thick stems or to complete some significant trimming projects.

If you invest in this machine, you can proudly say that you once owned the Godfather of trimming tools. The Advanced Hedge Cut comes with a 36V 2.0 Ah Lithium-ion battery that takes only 45 minutes for a full recharge. After a hundred percent charge, the device has a runtime of approx.

One hour, depending upon the trimming conditions. It has an anti-blocking mechanism that makes sure that you don't have to stop only because of some debris is clogging the blades. The tool gives you cordless freedom that you can enjoy without the barriers of power cable and extensions. Due to its two-handed switch, you cannot start the device accidentally.

At 3.6 kilograms, this Bosch tool is not one of the lightest. So, you can choose any other option with less heft if you are suffering from back pain, or you just don't want to lift anything substantial. Above all, it's expensive than most of the other variants on this list.

These are a couple of drawbacks the machine possesses. However, if you need a dependable and hardworking device that can give you the desired results irrespective of the conditions, then you should choose the Bosch Advance Hedge Cut.

Pros
Includes the battery
Powerful
Anti-blocking mechanism
Cons
Comparatively heavy
Expensive
---
5. Bosch EasyHedgeCut 12-35 Cordless Hedge Cutter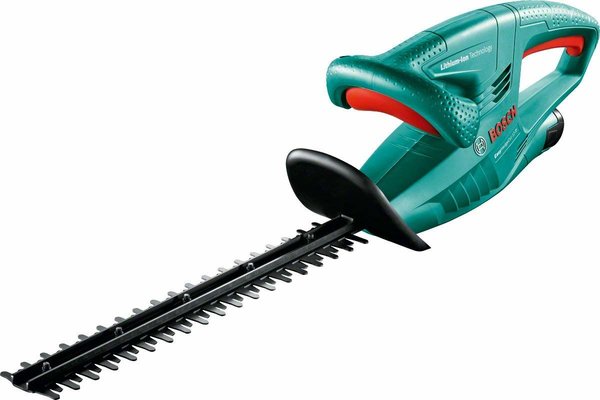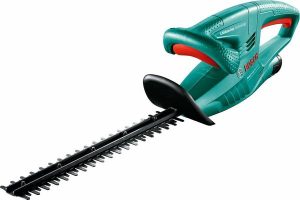 Specification
Power: 12V
Weight: 1.9 kg
Tooth gap: 15 mm
Blade length: 35 cm.
Review

If you need a lightweight hedge trimmer that can be useful for weekend trimming of your small or medium-sized lawn, then EasyHedgeCut can win your heart. It's not very cheap, but due to high build quality and other useful features, it gives you more than its price tag.

The Bosch hedge cutter comes with a 35-inch diamond-ground blade that takes all the power from a 12V lithium-ion battery. Due to 15 mm tooth openings, the edges can tackle thick stems up to an extent.

It also has an integrated Syneon Chip that optimizes the performance by intelligently managing the power consumed by every task. Looking at the power and cutting length, it's evident that the tool is only suitable for light maintenance and small to average-sized properties.

Its anti-blocking system makes sure that you get continuous sawing of green objects, and the comfortable handle gives you a soft grip to work conveniently.

As this is a lightweight and compact tool, you can easily store it. The included battery works for up to thirty minutes, and it never loses much charge when left idle for a long time. The charging time required for the cells in 65 minutes. You can use the same battery for all other 12V Bosch tools.

Bosch EasyHedgeCut is a relatively low powered hedge cutter with small tooth gaps. So, it's the best battery hedge trimmer for users who own a small yard. Its price did not match the features, but most of the users give it positive reviews. The tool is only unsuccessful if you try it on a significant area against some harsh bushes.

Pros
Anti-blocking mechanism
Safe and comfortable to use
Lightweight and portable
Cons
Expensive product looking at the features
---
6. Greenworks 40V Cordless Battery Hedge Trimmer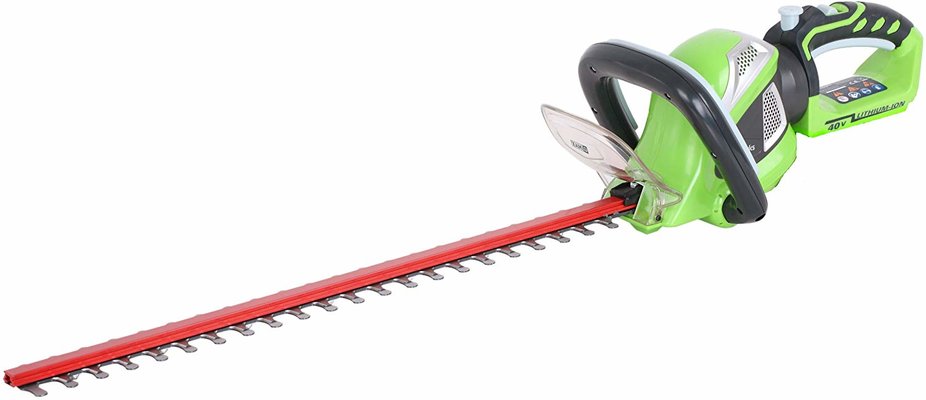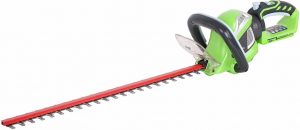 Specification
Power: 40V
Weight: 3.8 kg
Tooth gap: 20 mm
Blade length: 61 cm.
Review

Greenworks Tools cordless gardening equipment is one of those that's turning everyone's head towards itself. Gone are those days when you always have to be near a power outlet or purchase an expensive petrol trimmer to maintain the hedges.

Due to cordless options like this, now it's easy for users to maintain their property without any limitations of connecting cables.

The battery hedge trimmer weighs only 3.8 kg, which is moderate, and you can efficiently deal with it: one of the reasons why we have included it in this list. Its high-performance 40V battery delivers fade-free power without any interruption.

You can use 2 Ah and 4Ah cells with this equipment. So, choose the cell depending upon the area you want to cover. Keep in mind that there are no battery or charger included with the device.

To provide an extensive cutting range, the hedge cutter comes with a 61 cm blade. There are dual grips as well as a laser shield for added safety and protection. This laser shield is translucent. Hence you can see what you are trimming and keep the blade in line.

Both the grips are soft, ergonomic, and keeps you comfortable as well as balance while working. Its 180-degree rotating handle allows you to cut at different angles without much twists and turns. Overall, it's a good investment if you own a medium or large-sized garden.

Pros
Comfortable slip-free grip
Lengthy blade for fast cutting results
Cordless option with a powerful battery
Cons
No battery or the charger included. You need to buy them separately.
---
7. Greenworks Cordless Hedge Trimmer – 2200907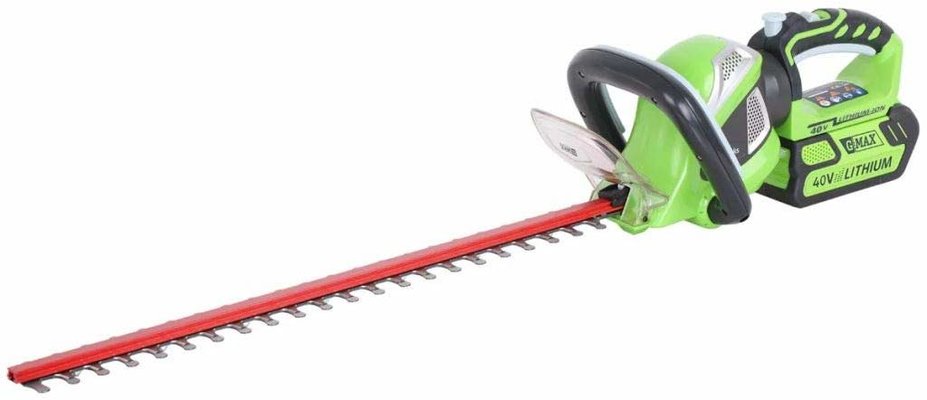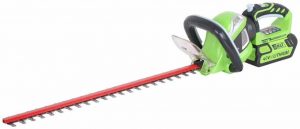 Specification
Power: 40V
Weight: 4.1 kg
Tooth gap: 27 mm
Blade length: 61 cm.
Review

Today's last, but one of the most delightful hedge cutter comes from Greenworks. It's an excellent product that delivers better that you can expect. Part of the 40V Gmax series, the cordless trimmer provides petrol like performance, but without extra heft, fumes, and noise.

Its dual-action cutting blades smoothly go through thick shrubs and bushes to give you smooth cuts. Its intelligent design includes a 180-degree rotating handle that makes it easier for you to cut at different angles.

Press a release button, and it turns 90 degrees to the left or right. There is a secondary wrap-around handle that adds to comfort and convenience. None of the handles transfers many vibrations or any kind of jerks to stress your wrist.

The tool comes with 61 cm laser cut steel blades wherein its tooth gaps have a size of 27 mm. So, it's a great trimmer to cut thick branches and stems. You can use 2 Ah or 4 Ah battery with the equipment, and depending upon the same; you will get the output.

A 40 V 2Ah battery will work for up to 15 minutes, while a 4 Ah battery will be alive for 30 minutes. The lithium-ion battery is the only compatible one. So, you will enjoy fade-free and constant power throughout the trimming process. Once you have the battery, you can use the same with all other Greenworks 40V GMax tools, including lawnmowers and strimmers.

Greenworks understands the ways you like to maintain to lawn or garden. It's the reason you can try the cordless trimmer from the brand, which is efficient, emission-free, and delivers cutting edge results to all the areas.

Pros
Dual ergonomic handles for better comfort and control
Laser shied to protect your hand
Dual-sided laser cut blades for smooth results
Cons
No battery or the charger included
---
8. BLACK+DECKER Anti-Jam Battery Hedge Trimmer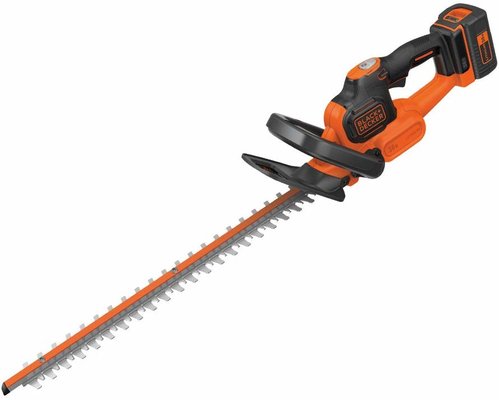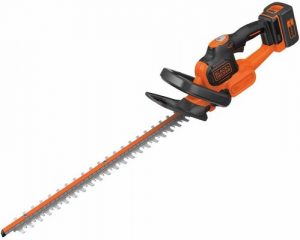 Specification
Power: 36V
Weight: 3.1 kg
Tooth gap: 22 mm
Blade length: 55 cm.
Review

GTC36552PC-GB is a powerful hedge trimmer suitable for medium and large-sized gardens or lawns and when required small-sized properties as well. Utilizing a 36V 2.0 Ah battery, the tool generates a whopping 1300 blade strokes per minute to cut through all types of thick branches and foliage with optimum ease.

With excellent build quality, this tool is entirely safe and balanced. It has a 55 cm hardened steel blade with a dual cutting action that generates 1300 strokes every minute, resulting in smooth and precise cuts. There is a 22 mm gap between the blade tooth to take out all types of stems and branches.

The black +Decker tool has dual handles that eliminate any unfortunate incident. Moreover, there is a large bale guard that works as an added protection for your hands. It has an anti-jam mechanism to clear the debris build-up that can cause its blades to halt.

You only have to press a button placed at the top of its handle if you notice a jam, and the tool automatically recovers — a very convenient feature for professionals and workshop owners. No matter what is the cutting angle; the device remains balanced and steady to give you the best possible results.

Even after such a powerful motor and battery, the tool is not on the heavier side. It charges within one hour and works for the same duration. As you are getting a lot of battery backup, without much wait, you will be able to cover a large area without spending much time.

Pros
Study dual-action cutting blades with great length
Suitable for thick materials
Anti-jam mechanism
Cons
Little heavy
Only for larger areas or professional projects
---
9. Bosch 36V Cordless Hedgecutter AHS 54-20 LI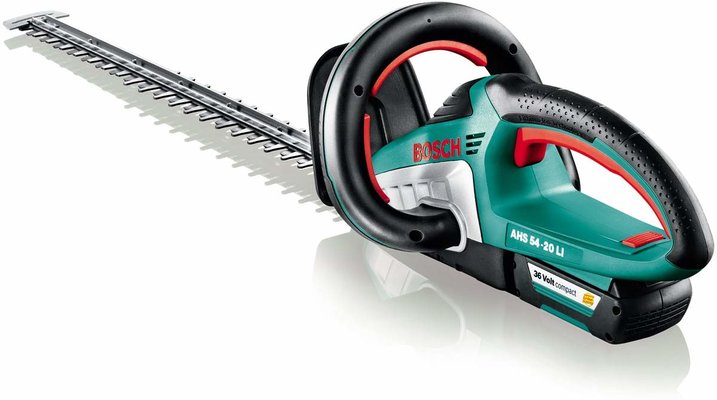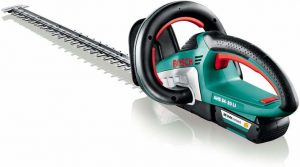 Specification
Power: 36V
Weight: 3.5 kg
Tooth gap: 25 mm
Blade length: 54 cm.
Review

The Hedge cutter gets a spot in the top five because of its appeal that you can only find in petrol-powered trimmers. No connecting cable to fiddle or a heavy engine to carry, but still, the Bosch trimmer gives you a power-packed performance.

It has an anti-blocking system makes sure that stubborn branches do not harass your trimming process. Under this mechanism, this tool immediately changes the blade movement once it detects resistance from stubborn stems. This feature makes sure that the device can go through thickest of the branches, wherein other hedge cutters might surrender.

Blade tip protector is another safety feature of the tool that protects the knives while you work. It keeps the tip safe from harsh materials and prevents further damage or injury — however, the main factor why its winning everyone's hearts is its full cutting length and tooth spacing.

The laser-cut blades have a diamond finish that ensures smooth and precise cutting every time. It includes a quick-charging battery and charger. After a full charge, the runtime is 45 minutes, which is sufficient to maintain hedges of a medium and large-sized lawn or garden.

As this Bosch cutter is cordless, you don't have to deal with the annoyance of power cables. Due to its Syneon chip, you get intelligently controlled power for every project without any internal lag.

There is a multi-functional front handle that allows you to hold the tool in any position. Its ergonomic design and soft-grip minimizes the stress and gives you a convenient trimming session.

Pros
Ideal tool for large hedges
Blade tip protector
Anti-Blocking System
Easy to use and control in any position
Intelligent battery usage and extended battery backup due to Syneon chip
Cons
The battery is not durable
---
10. VonHaus 20V Cordless Hedge Trimmer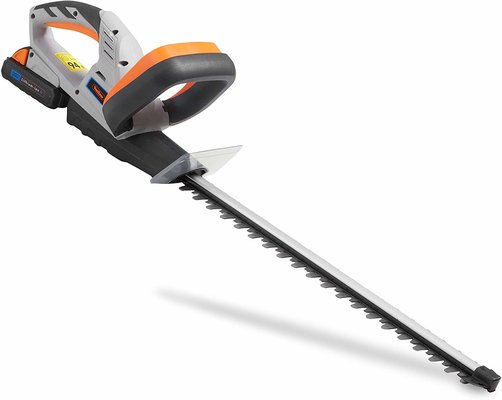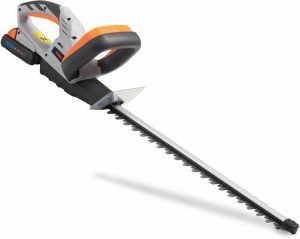 Specification
Power: 20V
Weight: 2.8 kg
Tooth gap: 14 mm
Blade length: 51 cm.
Review

If you are not going to use a hedge trimmer very frequently, then it's not beneficial to spend a huge amount of cash on it. For such users, the VonHaus cordless gardening tool is a great 20V cutter that comes with a 51 cm blade length.

It has a 1.5Ah 20V battery that's compatible with all other 20V VonHaus outdoor tools, including a garden blower and grass trimmer. So, without spending a high amount, VonHaus gives you a break wherein you can get a powerful tool and a versatile battery.

The gardening tools generates 1400 RPM and has an anti-vibration mechanism for enhanced control. Charging time is only 60 minutes, and the runtime after a full recharge is 50 minutes. It has a two-stage safety trigger, so nobody can start the device accidentally using only one hand.

The ergonomically designed soft primary handle keeps you comfortable so that you can work for prolonged hours without feeling tired. The secondary handle also works as an added protection as well as gives you a dual grip for better balance and control.

You will also find a laser shield for added protection from blades and debris. It has double action cutting blades for fast and efficient results, which also removes twigs up to 14 mm of thickness.

Overall, VonHaus cordless trimmer is one of the best lightweight cordless hedge trimmers with a long battery life that quickly deals with thick overgrowth. All the features we talked about are available at a budget-friendly price.

So, it's a great option for small or medium-sized garden owners who only need to trim the bushes only on the weekend.

Pros
Powerful dual-action cutting blades
Anti-vibration system for added comfort
Two-stage safety trigger
Fast charging and a decent runtime to cover significant areas
Cons
The battery is not durable enough
---
11. TECCPO Cordless Hedge Trimmer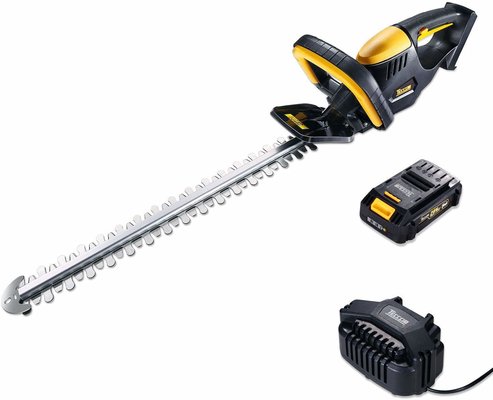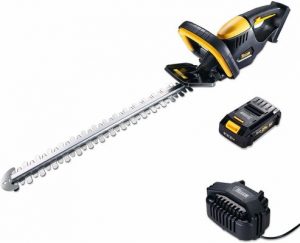 Specification
Power: 28V
Weight: 2.8 kg
Tooth gap: 20 mm
Blade length: 60 cm.
Review

The cordless hedge cutter from Teccpo comes with a powerful battery that gives you an extended backup to cover a significant area. A long blade with cutting thickness of 20 mm fulfils most difficult of the wishes to maintain garden hedges.

It's the dual-action cutting of a 60 cm blade that consumes all the juice giving efficient results without consuming much of your valuable time. The blade has a tip protector that keeps it safe while you cut along walls and poles.  Apart from the tip protector, the blade also has a plastic cover that keeps everyone and everything safe while the tool is not in use.

Powerful performance is something we all expect from a 28V hedge cutter. What Teccpo excels is giving its tool a high quality built, and very comfortable as well as safe operation. Due to its firm and balanced design, the device is long-lasting, and hence, you can enjoy its service for long.

This equipment has a three-step startup process that prevents accidental startups. Then there are electric brakes that allow you to shut down the device instantly. Two-handed operation is always safe, and that's what you have here.

Both the handles have soft grips and ergonomic design for optimum convenience. There is also a laser shield that guides your eye to be proper and protects your hands from debris. The machine comes with a charger and a 28V battery pack.

Pros
Three action start
Electronic brakes
The included battery is compatible with all other Teccpo 28V power tools
Cordless convenience
The affordable package consists of the battery and charger।
Cons
The instructions manual is not worth reading।
---
Bottom line
If you are going to use a cordless hedge trimmer or any of the gardening or power tools, make sure that you got your eyes covered. Choose safety goggles like Draper 51129 to avoid any potential damage from a flying thorn.

We have shared the cordless hedge trimmer reviews, wherein you will see some of the top-rated options available in your region. Check the recommendations, compare the power, features, price, and try to choose the right option. To help you in a better format, we have also included a buying guide that clears most of your confusion. If you know your requirements and follow the given instructions, you will buy the best cordless hedge trimmer UK for your garden.