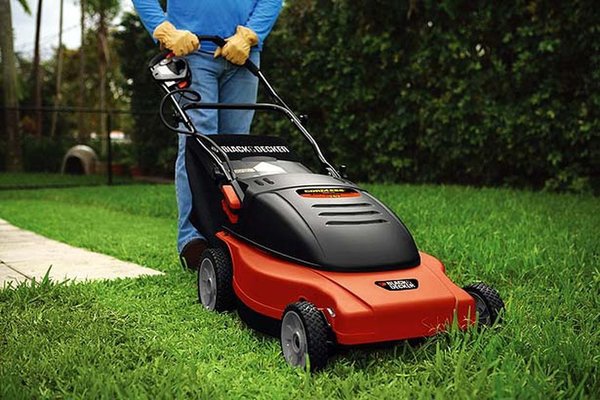 Cheap Electric Lawn Mowers 2023 UK (Inexpensive Lawnmowers)
Last Updated on January 4, 2023
---
Cheap electric lawn mowers are the right tools to trim your green property and bring out its best. If you have already browsed for lawnmowers, then you must know that there are a dizzying number of options available on Amazon. Cylinder or rotary mower? Manual or battery-powered? Which one do I need for perfect stripes?
You must be confused among these fundamentals. To answer all your questions, we have done the research and brought everything on this page. Here, you will find the top eleven cheap electric mowers, their reviews as well as pros and cons. We have also included a buying guide that will help you to get the right mower for a lawn or garden.
If you are desperate to get the lawn cut but don't want to throw a lot of money on a lawnmower, then you select any one of the given options.
Best Cheap Electric Lawn Mowers UK 2023
Best Cheap Electric Lawn Mowers 2023 UK Reviews
1. Swift EB132C2 40v-Best Cheap Electric Lawnmower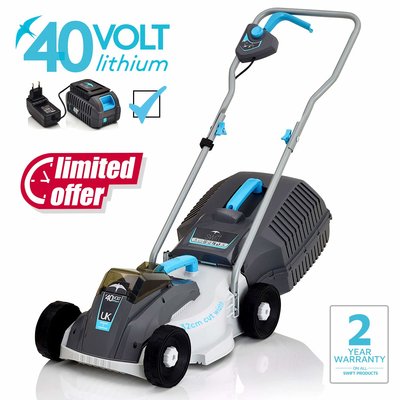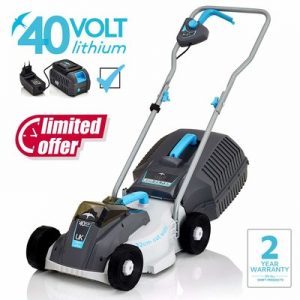 Product Specification
Cutting width. 32 cm
Coverage area. Up to 250m2
Height adjustment. 20 to 60 mm.
What an attractive and comfortable to use lawnmower? That's what you will think after trying the Swift EB132C2 Digital Lawn Mower from Swift. With technologically advanced engineering and a wide range of features, this mower will work along to give your lawn a perfect appearance this summer.

The grass mower comes with an extremely efficient and powerful digital motor. This marathon class engine runs smoothly, even after extending mowing hours.

The electric lawn mower also has a load sensing technology that automatically adjusts the cutting height according to the grass length. How smart?

With a decent cutting width, you can be assured that none of the grass will be left uncut. It also has a 30-litre grass catcher, which is a lot if you have a small or medium-sized lawn or garden.

Between the given range of cutting height adjustments of 20 to 60 mm, the mower stops after every 10 mm. You can use the variable cutting heights for any style or stripes that looks attractive.

The electric lawnmower has a convenient handle, and it's easy to push. All the controls are on the handle, near your hand so that you can operate them without any hassle.

It has a safety switch that locks the machine and eliminates any unwanted injuries. Then there is also a safety key that keeps the little ones away from your lovely mower.

Pros
Lifting handles on the primary unit and grass catcher.
Folding handles for compact storage.
Load sensing.
Cons
Maximum running time is only 20 minutes.
2. Ryobi OLM1833B Electric Cordless Lawnmower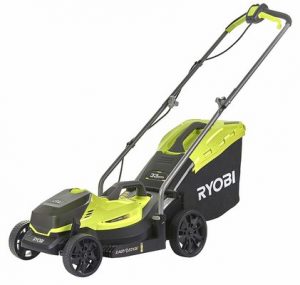 Product Specification
Cutting width. 33cm
Coverage area. Up to 250m2
Height adjustment. 25 to 65mm.
Driven by a ONE+ 18v battery, the OLM1833B can be used anywhere in your lawn without the need for an electric outlet and connecting cables.

Its ergonomic handle has three height adjustments to accommodate all individuals, and it has five cutting length adjustments between 25 to 65 mm. Its 35-litre grass box makes the lawnmower perfect for small and medium-sized lawns.

Due to a decent cutting width and sharp metal blades, the Ryobi lawnmower is easy to manoeuvre. Ryobi Lawnmower weighs 10 kilograms, but due to its comfortable adjustable handle, you don't feel much pressure on your wrists. Moreover, it has 'all-terrain' wheels that roll smoothly on every path that you choose.

The EasyEdge grass comb of OLM1833B mows right along the edges of a perimeter or fence. So, you will never have to use a grass trimmer for a smooth lawn.

Ryobi also adds a mulching plug with this model that converts it into a grass collector and mulcher, depending upon your requirements. For compact storage, you can either remove or fold its handles.

Investing in a ONE+ product has another benefit: next time onwards, you can purchase a "body only" product because they will all work on the same battery.

Pros
Handle can be folded for secure storage.
Includes mulch plug.
EasyEdge grass comb.
Cons
Average runtime up to 20 minutes.
3. WORX WG927E Electric Mower & Grass Trimmer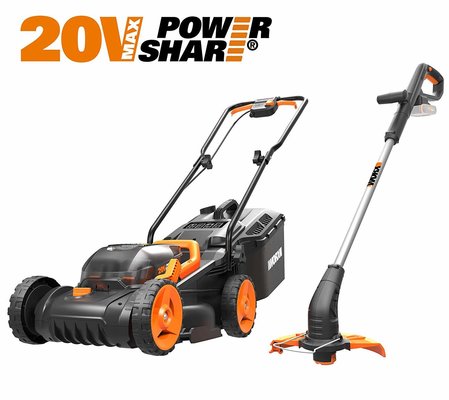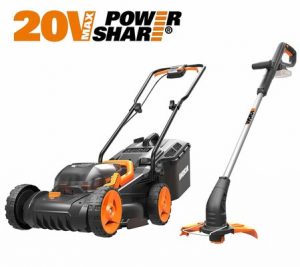 Product Specification
Cutting width. 34 cm
Coverage area. 400 m2
Height adjustment. 20 to 70 mm.
Complicated name, but a straightforward lawn mower: WG927E uses two 20V lithium-ion batteries to provide 35 minutes of runtime. At 16.6 kg, its comparatively more massive, but its decent coverage compensates for the heft.

Charging time of the mower is two hours. Both the batteries can be charged at the same time, and you can also extend the runtime using its eco mode.

In this mode, the mower uses minimal power wherever possible. If you have recently mowed the lawn and want to refresh its appearance, the power-saving feature will be handy.

The lawnmower has a fantastic deck design that becomes useful while cutting grasses along the fences or walls. So, most of the time you would not need the included cordless trimmer and edger.

The ower gives you six height adjustments between 20 to 70 mm. If you want to let the grass grow for this winter, then you can use the high settings for the first cut of the new year.

Worx WG927E has a battery level indicator so that the users can see how much time they have left before charging. Being an environment enthusiast, you can invest in this mower without any second thought, because it has zero emissions.

Moreover, it comes embedded with Mute technology, which makes the mowing session quieter. According to the makers, the operational sound is not audile after 10 meters.

Pros
Intellicut – Technology for constant smooth cuts.
Includes 2 in 1 tool; trimmer and edger.
Close to edge cutting.
Cons
No battery or charger included.
4. Bosch Rotak 32R Electric Rotary Lawnmower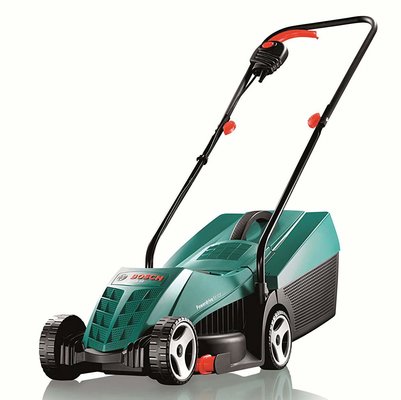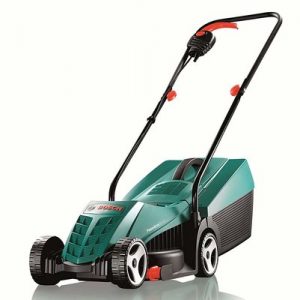 Product Specification
Cutting width. 32 cm
Coverage area. 150 m2
Height adjustment.20 to 60 mm.
If you own a small or average-sized lawn, then Bosch gives you Rotak 32R with 32 cm blade and 31-litre grass box. So, you will be cutting your garden more and spend less time emptying the mower. It is the best budget electric lawn mower for you.

At approx. 7 kg, the lawnmower weighs three kilograms less than Ryobi OLM1833B. It also has a nifty grass comb, that mows along the lawn edges for a neat appearance.

Juiced by a 1200W motor, Rotak 32R is powerful enough to cut thick grasses. It has sturdy steel metal blades that can be sharpened for repeated use. There are handles on its main body and grass box, which can be used for easy transportation.

Fixed wheels might result in painful movement, especially if you own a lawn or garden with many turns and twists. On the other hand, if you have a uniform lawn, it gives you smooth movement and easily steers over obstacles.

The lawnmower comes with a 10metre power cable, which is sufficient for a small or medium-sized lawn. Overall, this is an excellent inexpensive electric lawn mower that is available just under £90. If you want an additional one year of warranty on this mower, you have to register the product within 28 days' pf purchase.

Pros
Extended grass comb for neat edges.
Powerful motor.
Hardened steel blades.
Cons
5. WORX WG779E.2 36V Cordless Lawn Mower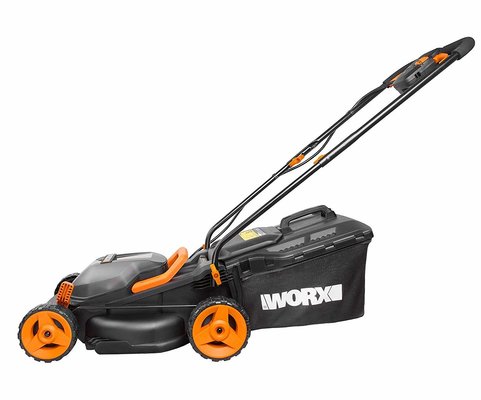 Product Specification
Cutting width. 34 cm
Coverage area. Up to 350 m²
Height adjustment. 20 to 70 mm.
WG779E.2 is one of the bestselling lawn mowers in the UK. You might think; why? Because it has 20V volts batteries, which covers an area similar to one and a half tennis courts. Its helped by a decent runtime of 35 minutes and a 30-litre gross box.

The grass mower is powered by an electric motor and two Lithium-Ion batteries. Both the cells are removable and can be charged within two hours. To extend the power, you can use its Eco mode, which is useful while cutting short grasses. The battery gauge is another excellent feature that Worx has added to this mower.

The Worx, best cordless lawn mower comes with a 34cm wheeled metal blade that works with Intellicut – technology and provides clean cuts. It leaves minimal grass along the edges — the reason behind is its deck, which is crafted to assist while mowing along a fence or wall.

As the power system of Workx mower is electric, there are zero emissions. Moreover, it works quietly without disturbing the neighbourhood or family members. All thanks to its Mute Technology, which decreases the sound level to a great extent.

Pros
Foldable handle for compact storage.
Includes dual-port charger that charges both batteries at the same time.
Powerful Lithium-Ion 2.0Ah batteries.
Cons
Only suitable for small lawns.
6. Einhell GE-EM 1233 Electric Rotary Lawnmower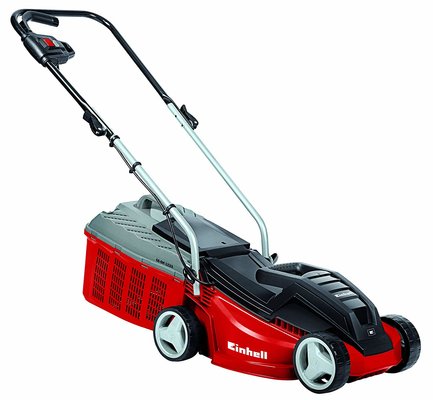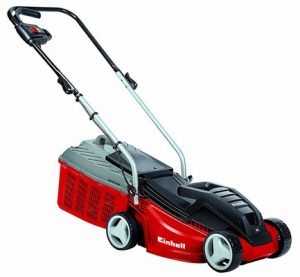 Product Specification
Cutting width. 33 cm
Coverage area. 300 m2
Height adjustment. 20 to 60 mm.
Known for quality and reliability, GE-EM 1233 comes from the house of Einhell. It's a cheap electric lawn mower, that has excellent features that are not available in other variants at such price.

Moreover, the lawnmower is powered by a 1250W motor that cuts even thick grasses with ease without getting stalled. Its 30-litre grass box and five cutting heights complement the engine power and give you desired results without spending much time or effort.

The lawnmower comes with wide base wheels that never leaves marks and makes sure that you achieve a uniform grass surface.

Also, these wheels make handling as well as movement very easy and convenient; even on tight to move terrains. There is an integrated handle on the primary unit, which assists while you need to transport the machine from one place to another.

If you own a small garden or an average-sized lawn and want a powerful lawnmower that can give you precise cutting results, then choose the GE-EM 1233 from Einhell. It's inexpensive, easy to use and gives you the desired results in no time.

Pros
High-quality construction.
Comparatively lightweight, still stable.
Easy height adjustment through one lever.
Close cutting along the edges.
Cons
Only suitable for small lawns.
7. Flymo Speedi-Mo 360C Electric Lawn Mower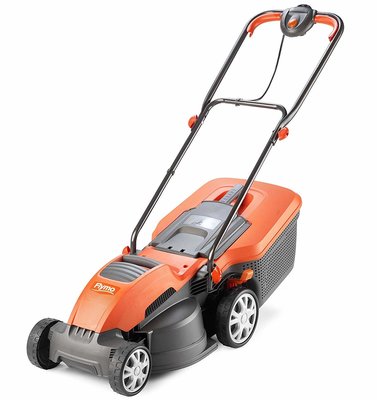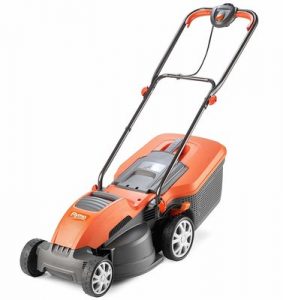 Product Specification
Cutting width. 36 mm
Coverage area. 400 m2
Height adjustment. 20 to 60 mm.
For anyone who is buying a lawn mower for the first time, Flymo has this wheeled mower with 1500W motor that has enough power to maintain both small or large-sized mowers.

This bright yellow machine has all the features that you can expect from a lawnmower. But, is it any worth when compared to a Workx or Bosch? We will find out now.

Speedi-Mo is a corded lawn mower that comes with a 10-meter power cable and a 40-litre grass box that is easy to attach and remove. It cutting width and deck size is suitable for small to medium-sized lawns and never takes much storage space.

The mower uses a metal blade as opposed to plastic ones. Metal blades are sturdy and can be sharpened repeatedly according to the requirements. Between 20 to 60mm, the mower has five different height settings.

Also, the power system of Speedi-Mo is entirely electric. Hence there are no carbon emissions or noise pollution.

As the lawnmower is corded, you might need an extension box to cover more significant ground. Moreover, you always have to make sure that its power cable is clear from the blades.

On the positive side, the mower will not be exhausted halfway through maintaining your garden or lawn.

Pros
Carry handle for easy transport and storage.
Powerful motor.
Better cutting width.
Cons
Difficult to keep the triggers pressed for a long time.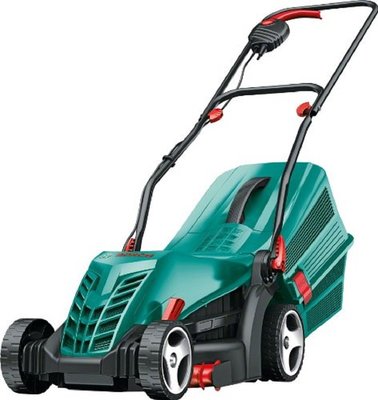 Product Specification
Cutting width. 34 cm
Coverage area. 350m²
Height adjustment. 20 to 70 mm.
Reliable and inexpensive, the 34R is easy to operate over a small or medium-sized garden and lawn. Rotak 34R is a corded lawn mower that comes with 10-meter power cable. If you are targeting a large area, you can use an extension box.

It has excellent built quality, and as the product is made in the UK, you will get all the parts at a reasonable price.

The lawnmower has a 34-inch metal blade, which can be sharpened whenever required. With a sturdy knife and powerful motor, 34R gives you desired cutting results in minimal time.

Between 20 to 70 mm of height adjustments, the mower gives you five cutting heights. There is a lever on its front that easily adjusts the cutting height.

If you have allowed the lawn grasses to grow a bit; start with a higher cutting setting and then go low. It's power system it electric, so you don't have to worry about carbon emission as well.

Bosch has designed 34R for a small and medium-sized lawn. So, its 40-litre grass box is an excellent addition. Even if you want to cover large areas, you can use the mower. However, there will repeated trips to empty the grass box.

Pros
Grass combs to cut grasses along edges.
Precise cutting results.
Lightweight and compact to store.
Cons
Power cable might be short for some areas.
9. Webb WEER33 Electric Lawnmower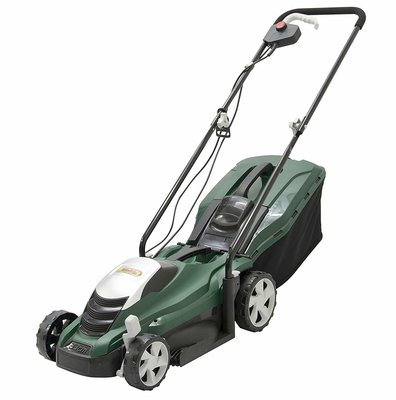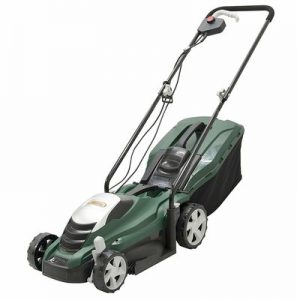 Product Specification
Cutting width. 33 cm
Coverage area. 250 m2
Height adjustment. 25 to 65 mm.
Suitable for small lawns, the WEER33 gives you the best value for money through its performance. The mower has a 1300W powerful motor, and that's why it can cut thick and difficult grasses as well. Due to a low weight of 8.8 kg, you can easily manoeuvre the mower around the corner as well as edges.

Height adjustment of this cheap electric lawn mower can be controlled from a simple lever, which is fitted at its front. For accessible storage, the lawnmower has a quick button that folds its handle. There is another handle on the primary unit that is helpful in the movement.

One of the cheapest electric lawn mowers, WEER33 comes with a 35-litre box to collect the grass trimmings. When it's full and needs to be emptied, you can use its handle to dislodge the grass box. Its power cable is 10-meter long that can cover a small lawn.

Overall, WEER33 is a dependable lawnmower that saves money and time. It's cutting width is comparatively less than Rotak 34R and many other cheap electric lawnmowers, and it's the reason why it's ideal only for small-sized lawns.

Pros
Five cutting height adjustments.
Lightweight and easy to handle.
Powerful 1300W motor.
One of the best affordable electric lawn mower.
Cons
The engine is ideal for medium-sized lawns, but its power cable cannot cover many areas.
10. Makita DLM380Z 36V Electric Lawnmower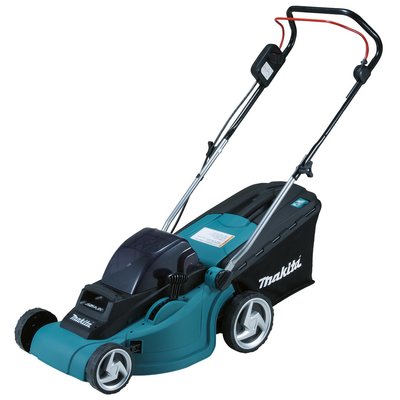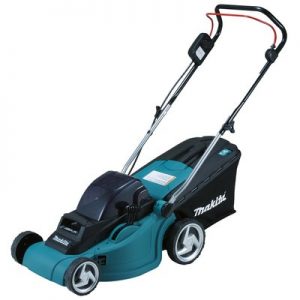 Product Specification
Cutting width. 38 cm
Coverage area. Up to 720 m2
Height adjustment. 25 to 75 mm.
Makita DLM380Z is one of the most reliable lawn mowers to purchase this season. Powered by two 18V batteries, the mower can quickly cover large areas without recharging.

Also, it has a sizeable 40-litre grass collection box that reduces the number of trips to a green pile. The grass box also has a level indicator that shows whether it's full or not.

At 15 kg, the lawn cutting machine is more massive than many other cheap electric lawnmowers. However, at a height of around 103 cm, DLM380Z has an ergonomically crafted carriage that reduces pressure on your wrists and arms.

According to our lab tests, the experts never faced any trouble while manoeuvring this lawnmower. Height adjustment is very straightforward and effortless; you only have to control its middle mounted lever.

One of the best low price lawn mowers is easy to push. But if suffering from arthritis, you will not like it thin pulling handle. Due to its high weight, you have to apply some extra force to pull the mower and guide it in the right direction.

The thin handle can also cause blisters after prolonged use. So, its recommended to wear gloves while you operate the lawnmower.

Pros
Cordless mower; can be used anywhere.
Easy level to change the cutting height.
Durable built.
Large grass collection box.
Cons
This handle is not suitable for users suffering from arthritis.
11. Yard Force 40V 32cm Cordless Lawnmower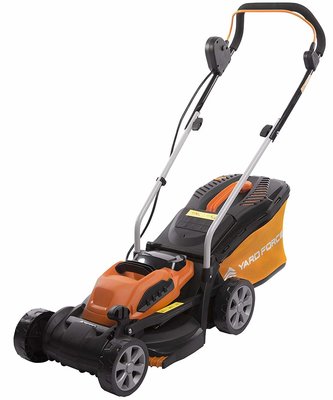 Product Specification
Cutting width. 32 cm
Coverage area. 300 m2
Height adjustment. 20 to 60 mm.
With fast charging 2.5 Ah 40V Samsung lithium-ion battery, Yard force offers a runtime of up to 35 minutes. Its 32 cm cutting width and 30-litre grass box are ideal for a lawn up to 300 m2.

The mower has five cutting heights between 20 and 60 mm. Due to its low weight of 9.5 kg and ergonomic soft grip on the handle, you can easily manoeuvre the grass cutting machine around the lawn.

Yard Force has a 32 cm blade that has accuracy as well as precision. As this mower has a metal blade, you can get it or sharpened or replaced whenever needed. Ideal for a garden that has many twists and turns, its deck size is also small; so the mower clears the grasses along the edges in an excellent way.

The battery of Yard Force charges within 90 minutes and remains active for thirty minutes. Whether it's the power, runtime, blade width, weight or the grass box; Yard Force is a perfect mower for small or medium-sized lawns. Due to explicit instructions, its assembly is also easy and does not takes much time.

The lawnmower gives you fair height adjustments of five levels between 20 to 60 mm. It's cutting height is centrally adjustable; hence, you can change it using a front-mounted lever. As the lever is fitted at the front, height adjustment is easy and very smooth.

Pros
Moderately weighted and easy to move.
High-quality Li-ion battery.
Batteries and charger are included.
Rear roller for perfect strips.
Cons
Not ideal for large lawns.
Buying Guide of  Best Cheap Electric Lawn Mower?
There are several things that you should keep in mind while looking for a cheap electric lawnmower. Check the reviews, decide a budget and read the following factors to make the right choice.

1. Cutting Width and Heights

The first two features that you should consider while buying an electric lawn mower is its cutting width and height. A lawnmower with a wide cutting blade will finish the cutting task within a few passes, and you will save time as well as power.

Example, an electric mower with 30 inches cutting blade can maintain your lawn in twenty minutes, but a mower with 35-inch blade can do the same within fifteen.

Next comes cutting height adjustment, which is essential to customize your lawn according to the mood, season or event. Also, you cannot cut grasses less than thirty per cent of their total height.

2. Cuttings Management

What kind of grass management is offered by an electric lawn mower? It's the next factor that you should consider. Mowers can shoot the cut grass to the sides, collect them into a grass catcher for disposal or they can mulch the cuttings back to your lawn.

So, which one you prefer? Depending upon the same; make your choice.

3. Ergonomics & Ease of Use

A lawnmower should have carriage adjustments so that you can adjust it according to your height. It's better if the handle is ergonomically designed with all the controls at the same place.

Electric lawn mowers like WORX WG927E comes with a battery level indicator that keeps you informed about recharging. Similarly, Makita DLM380Z has a grass level indicator.

So, choose a lawnmower that's easy to use, and does not cause much stress on your arms. If the mower has symbols about the battery or grass box, it's an additional benefit.

4. Storage

You will not be using a lawnmower daily. Investing in a big and bulky lawnmower will be hard to push, and there will be no space to store it. It's the reason why you should look for a mower with less weight and foldable handles.

5. Energy source

Corded, battery operated, and gas propelled; these are three lawnmower categories depending upon the fuel type. Electric lawnmowers need to be connected with an electrical outlet, and that's why they are suitable for small or medium-sized lawns.

Cordless options are great if you have a medium or small-sized property, and you don't have access to a power outlet. Gas propelled ones are for those users who own large lawns.

So, depending upon the power outlet availability and size of your land, you should get one out of these three categories.
Bottom Line
After reading the cheap electric lawn mowers reviews and buying guide, we hope that all your confusions about electric lawn mowers are solved. Out of many options, we have given you eleven most successful lawn mowers in today's list. Next step is to buy one of these, which is due at your end. Consider the power source, other factors that we mentioned in the buying guide to select one out of the eleven affordable electric lawn mowers.