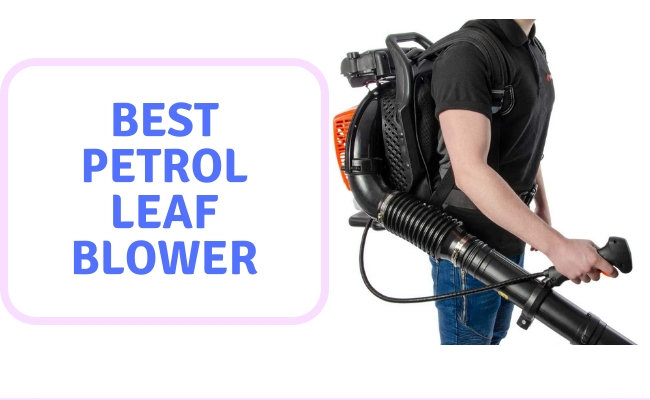 Best Petrol Leaf Blowers UK 2023 Reviews
Last Updated on May 4, 2023
---
When all the good looking multi-coloured leaves falls in your garden or lawn, they become a task. A leaf blower can help in such situations and if you have a significant area to maintain, then only a petrol-powered version can make this tough-looking job simple. You can try electric variants of leaf blowers, but they are restricted when you have to work on large areas. It's the reason we are here with some of the best petrol leaf blowers. Any of them can give you complete freedom of work irrelevant to the conditions.
Best Petrol Leaf Blower UK 2023
Best Petrol Leaf Blowers UK Reviews
Now, you will witness the best petrol leaf blower reviews that are available in the UK market. We prepared this list after comparing power, performance, weight and price range of hundreds of leaf blowers. Try any of them with a tank full of petrol and you will see that it can take care of large areas and remove all the fallen leaves as well as debris from your garden.
1. ParkerBrand 65cc- Beat Petrol Leaf Blower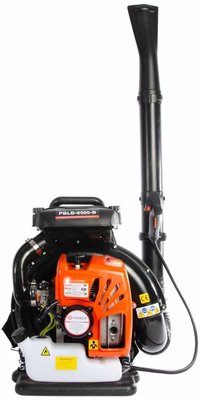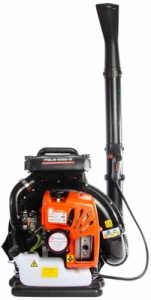 Specification
Power: 65 cc
Weight: 12 kg
Wind output: 210 MPH.
Reviews
Do you need a powerful backpack leaf blower that can remove all the stubborn debris from your garden? Meet our top recommendation that comes with an airflow of 210mph and hence it can easily clean thick and even wet leaves from your lawn. The ParkerBrand leaf blower has a comparatively high weight of 12 kg, but your body distributes the gravity due to its backpack design.
ParkerBrand builds this leaf blower with a 65cc engine, which is mighty enough to tackle all the stubborn leaves and debris. Due to a powerful engine, the blower removes a high amount of waste without much of your effort. Whether you need to remove unwanted leaves from the yard or thin snow from the patio, it makes no compromises and gives you the desired results without taking much time.
The backpack petrol garden blower produces minimal vibrations and also works at low noise levels. It is simple to use and starts well in all the seasons, even in the winters. Moreover, the machine comes with a large fuel tank, so that you can work for longer without any interruption.
Overall, ParkerBrand leaf blower is a suitable option for large areas. Comfort and power, you get everything at an inexpensive price tag. If you are in search of a robust piece of equipment that can take care of your lawn in the best possible way, try this one. Weight might be an issue, but you can manage that with its high-quality adjustable harness and convenient backpack structure.
Pros
Powerful
Low vibration and quiet operation
Comfortable backpack design
Suitable for large grounds
Cons
Mixing container has a very small opening
---
2. Garden Machinery Warehouse Petrol Leaf Blower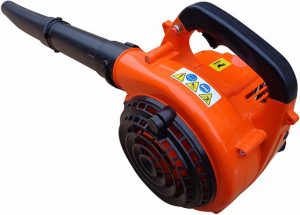 Specification
Power: 25.4 cc
Weight: 5 kg
Wind output: 141 MPH.
Reviews
Another powerful petrol leaf blower that's has a durable design and easy to use features. It feels solid in hand and starts very well without any fail. The handheld machine is lightweight, but you might not find it as comfortable as a backpack.
The Garden Machinery Warehouse petrol blower uses a 25.4cc engine that works without raising the voice. This two-stroke engine is powerful and makes the leaf removal process fast and easy. Due to low noise and minimal vibrations, you can easily use the handheld leaf blower for longer periods. The fuel mixing needs to stand at 25:1 and as it comes with a fuel mixer, the process becomes easy.
You will be happy to know that this powerful petrol leaf blower also works as a garden vacuum. You only have to change the tubes, attach the provided collection bag, shift the functionality and it will start drawing all the unwanted leaves and debris from our garden. Both the tubes are already included with the product.
In the end, we can state that this is one of the best petrol leaf vacuum available at a reasonable price. If you need a lightweight, powerful and reliable lawn maintenance tool, then you can try our second recommendation that comes from Garden Machinery.
Pros
Powerful two-stroke engine
Lightweight and makes low noise
Works at reduced vibrations
Cons
This leaf blower petrol does not have any negative aspects that we can mention here. More than ninety percent of satisfaction rate from the Amazon users is another proof of that
---
3. Makita BHX2501 Handheld Leaf Blower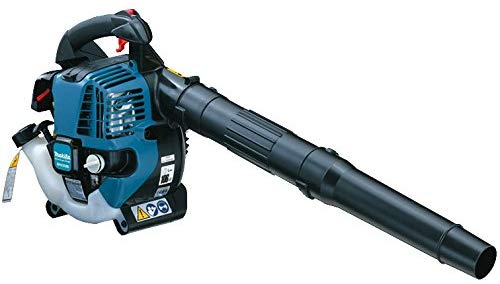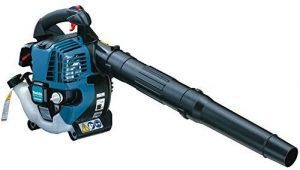 Specification
Power: 25.4 cc
Weight: 4.4 kg
Wind output: 145 MPH.
Reviews
Are you looking for a high-quality leaf blower petrol that can provide you with desired performance in all the seasons? Then, try the BHX2501 by Makita that's nothing less than a powerhouse. Its 24.5cc four-stroke engine is proof that the leaf blower can easily deal with stubborn or wet leaves. Makita uses a 4-stroke engine for your ease of use because such engines do not require any fuel mixing.
A wind output of 145 MPH is another factor that works in your favour and co-operates well in tough leaf removals. The machine is powerful but at the same time its lightweight as well as quiet, which makes it even more convenient to use.
Due to a high-end engine, BHX2501 handheld leaf blower is comparatively expensive. However, it compensates and justifies the price tag by consuming a lower amount of fuel and even lower carbon emissions. As the engine requires no fuel mixing, the machine is easy to start. Once you are done with the leaf blowing session, you can split the tube into two parts for secure storage.
Makita BHX2501 comes with an easily adjustable speed trigger that allows you to use the wind speed according to the requirements. At full power, it can also remove the wet and stubborn leaves. You can also use the blower to remove thin snow from your vehicle or other surfaces and areas.
So, BHX2501 might be a great purchase if you need a lightweight and powerful leaf blowing addition for your garden. It starts easily due to a mechanical decompression and does not take much effort to remove the leaves because of a powerful engine as well as high wind output.
Pros
Easy to start and operates quietly
Powerful engine
Lightweight design
Requires no fuel mixing
Cons
Cannot work as a garden vacuum
---
4. BU-KO 65CC Petrol Backpack Leaf Blower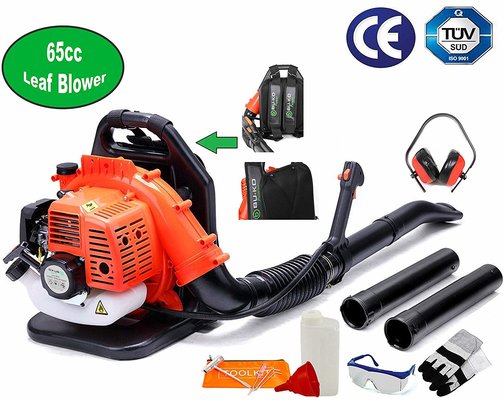 Specification
Power: 65 cc
Weight: 6.5 kg
Wind output: 210 MPH.
Reviews
Bu-Ko backpack leaf blower comes with a sturdy 65cc petrol engine that generates a power of 3 HP. This is a two-stroke air-cooled engine, hence never overheats because of proper temperature regulation. Also, due to a fast-starting process, the blower easily powers on and clears everything blocks your way.
The petrol garden blower needs a fuel mixture of 30:1. Once ready it works at an average RPM of 2800 and goes up to 8000. Due to its incredible output of 210 MPH, the leaf blower is one of the mightiest you can find. With a powerful engine and high airspeed, the machine must be complex to use. That's what you might think after knowing these specifications. However, the reality differs because the leaf blower is lightweight, easy to carry and you can use it without any difficulty.
All thanks to its wide shoulder straps and ergonomic design, the leaf blower is perfect for single-handed movement. Moreover, its blowing tube has three parts that you can adjust according to the usability. You can also split the tube into parts for compact and secure storage.
Anti-vibration mechanism is another factor that works well and absorbs all the jerks. The machine also has a quiet operation that's helpful, especially when you need to work early in the mornings. Then comes the free protective gears that are all included with the product. So, no need to purchase safety glasses, gloves, ear muffs, leg guards, and safety strap as separate items because you are already getting all of them with this leaf blower.
Pros
Powerful and robust engine
Works at a high airspeed
Comfortable and ergonomic design for convenient usage
Commercial grade safety gears come included with the leaf blower
Cons
Built quality is not up to the mark
---
5. Dealourus 65cc Petrol Backpack Leaf Blower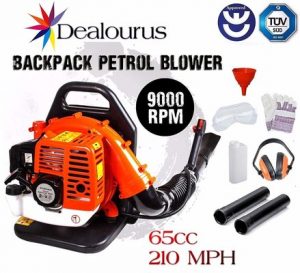 Specification
Power: 65 cc
Weight: 6.5 kg
Wind output: 210 MPH.
Reviews
Our fifth recommendation can be a suitable choice for users who own a yard with lots of trees. The 65 cc petrol backpack leaf blower utilizes a two-stroke engine to provide you with fast and efficient results. So, no extra hours of effort to clean your garden any more. You can try this powerful leaf blower that's available at a reasonable price and gather all the unwanted leaves in a corners without much effort.
The powerful blower generates a high air output of 210 mph. And why not? Its engine pushes the fan to work at a maximum of 9000 RPM. What we like more about the engine is its easy start. One pull and it roars to clear anything troubling your garden or mood.
As the machine works with an air-cooled engine, it never overheats and interrupts your leaf clearing session. That's why we are saying that the Dealourous blower is mighty and very useful for large gardens.
We told you about its high airspeed, right? At such a high speed of air, it's easy to guess that this leaf blower can do much more than just clearing your lawn from fallen leaves. Due to its low weight, ergonomic design, the machine has convenient usage and you never face any problem while changing the blowing direction.
As it has a comfortable backpack design, you can easily "wear" the blower on your upper body for a comfortable leaf blowing session. All thanks to its vibration-absorbing mechanism that works against all the jerks to keep your arms and shoulders stress-free.
Pros
Commercial-grade performance
Padded shoulders for additional comfort
Ergonomic design for ease of use
Robust engine and powerful airspeed
Cons
Consumes a little extra fuel when compared to other models
---
6. Kenley glb-30cc Garden Petrol Leaf Blower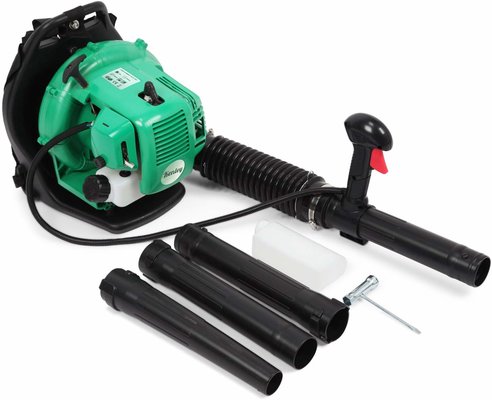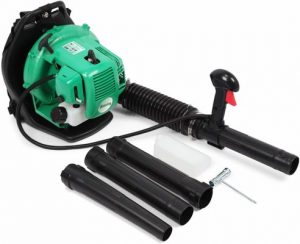 Specification
Power: 30 cc
Weight: 7.64 kg
Wind output: 280 MPH.
Reviews
Built according to the CE, GS, and EURO II standards, the GLB-30C by Kenley is one of the best petrol backpack leaf blowers that you can purchase for residential or commercial areas.  Very comfortable to wear and use, the garden blower makes a minimal impact on your upper body and hence you can use it for a prolonged period without much strain.
Let's talk about your comfort little more because it's one of the most important factors when you are dealing with significant areas. The GLB-30C here fit well in your hands as well as your shoulders.
Its padded shoulder straps are adjustable and hence they make minimal impact on your upper body. Its blowing tube keeps you in a natural position and does all the removals without causing much stress to your arms.
Due to its powerful air output of 280 mph (450 km/h) frees the area from unwanted leaves and debris without you bending even a little. Such a high blowing speed is even more useful when you need to tackle trapped leaves.
It's easy to use triggered handle makes leaf blowing simple while the low vibration mechanism keeps the machine stable in your hands. Noise production is also lower than usual, so your family members and neighbours are safe from sleep disturbances.
The petrol backpack leaf blower comes with a 500 ml fuel tank that remains useful for a prolonged leaf blowing period.  You need to fill its tank with 40:1 custom 2-cycle engine oil and it will smartly clear the debris from your path as you always wanted.
Pros
Powerful air output
Perfect for residential as well as commercial usage
Works with minimal vibration and noise levels
Cons
This petrol backpack leaf blower does not have any considerable disadvantage that we can mention here. Its comparatively heavy, but due to the high-quality backpacks design and padded straps, you don't feel its weight.
---
7. Ryobi RBV26B 26cc Petrol Blower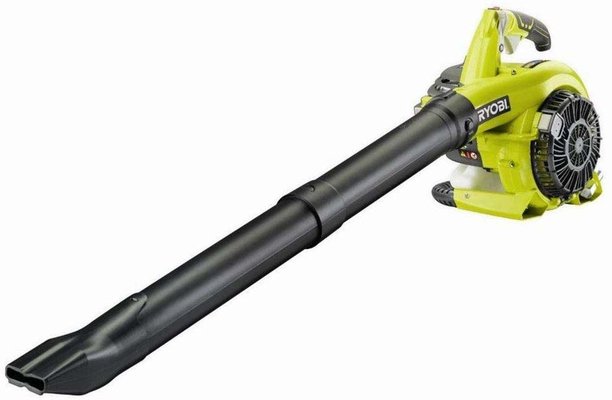 Specification
Power: 26 cc
Weight: 6.81 kg
Wind output: 198 MPH.
Reviews
Ryobi RBV26B is an expert in clearing unwanted leaves, dust or snow from any of the areas you want. The real thing is; it does the same without giving you any pain and remains effective in all the working conditions. That's, right; because the Ryobi leaf blower works with a sturdy 26 cc engine that provides you with triple functionality of blower, vacuum, and mulcher. Looks like it has the solution to all your garden troubles, especially with the fallen leaves.
The Ryobi petrol garden vacuum avoids the usage of rakes, which is cumbersome and time taking. All thanks to its high air output of 198 MPH (320 km/h) and an air displacement of 12m³/min, the RBV26B blasts all the debris away from your driveways, yard, patio or garden.
You can use the blowing function to gather all the leaves together and then switch to its vacuum mode for an easy collection. You can use its mulching facility to maximize the usage of an included 40-litre collection bag.
This petrol blower comes with a cruise control trigger that allows to you use it at desired airspeed. Apart from that, you can avail even more comfort using its shoulder straps that reduce the strain on your arms. If you care about our environment, then you will like the fact that the blower has low carbon emissions.
Pros
Powerful engine to provide excellent power to weight ratio
Clean engine technology for minimal carbon emissions
Powerful air blow
Cruise control lever
2:1 mulching ratio that also helps in making organic fertilizers
Cons
Difficult to start sometimes
---
8. COSTWAY 3-in-1 Garden Leaf Blower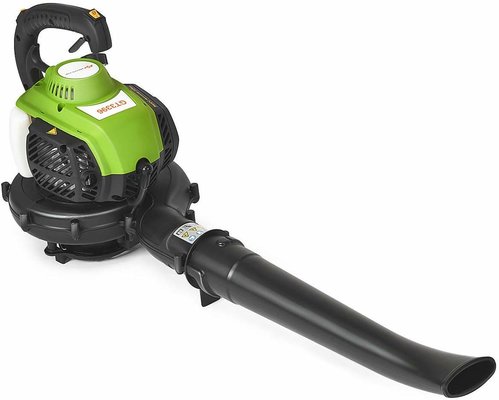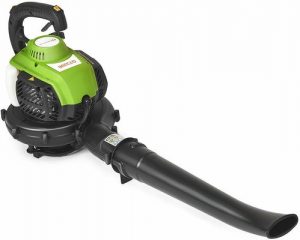 Specification
Power: 26 cc
Weight: 5.4 kg
Wind output: 156 MPH.
Reviews
If you want to enhance the maintenance level of your garden without using too many tools, then the 3-in-1 garden leaf blower from Costway can be your best bet. It can blow the leaves, collect them or mulch according to your will. You will like its lightweight design and easy to operate functions so that you can works for a long time without any irritation.
The 3-in-1 draws power from a 0.75 kW engine that works with a maximum of 9000 RPM. With such power, the engine produces an air output at 70m/s that quickly clears all the unwanted leaves and debris from your garden.
To bring the leaves together or mulch them, it comes with a washable and reusable collection bag worth 40 litres. During the mulching process, the leaves volume reduces and you can also use the resulting material as compost in your lawn or yard.
It's the reason why you don't have to invest in multiple tools or chemical fertilizers if you have this Costway petrol garden vacuum.
Costway multipurpose device has an ergonomic design that provides you with a comfortable usage and reduces strain on your upper body.
When you use it in the vacuum mode, there is an auxiliary handle to take care of the balance as well as your convenience. Also, the collection has a shoulder strap that adds to the support.
Pros
Multipurpose garden vacuum
Lightweight and efficient equipment
Works at low noise levels
Large collection bag
Ergonomic design for easy usage
Inexpensive
Cons
Few users reported that the machine emits white smoke and burning smell after some usage
---
9. Callow petrol Garden Leaf Blower & Vacuum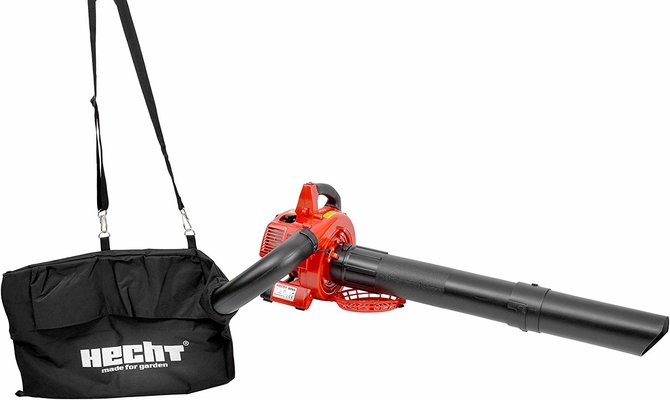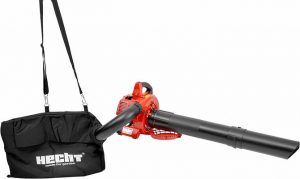 Specification
Power: 25 cc
Weight: 3 kg
Wind output: 160 MPH.
Reviews
Callow petrol garden leaf blower is one of the best gardening equipment that gives you satisfactory results every time. Its strong engine clears your garden from unwanted leaves and in vacuum mode, it collects all of them together.
Moreover, it can shred all the leaves and debris, so that you can use them as manure. So, this is a suitable tool if you want to maintain your lawn and keep it attractive as well as healthy.
The petrol leaf blower vacuum has an easy installation and you can use right out of the box, without wasting much time. It has a low weight, so you can use the machine for prolonged hours without taking much stress. Due to its low gravity, you can easily manipulate the machine and change its directions.
You will also like its collection bag that can accommodate up to 50 litres of leaves and debris. Its volume reduction ratio is 10:1, means the bag will not seek repeated emptying to interrupt your garden cleaning session. Its collection also has a shoulder strap that helps you to carry the added weight.
The Callow petrol leaf blower vacuum and vacuum work with a high air output that clears all the stubborn and sticky leaves from your garden. There is a variable speed control that allows you to work according to the conditions.
With its large fuel tank, you can be assured that the tool will never ask for refuelling until and unless it clears the area. These are the reasons why it's among the best petrol leaf vacuums available in the UK.
Pros
Three in one functions helpful for leaf blowing, collection or mulching
The collection bag is significant
Variable speed control for customized performance
Soft shoulder strap adds to your convenience
Cons
Take time to shift between modes
---
10. Bu-Ko 65cc Petrol Backpack Leaf Blower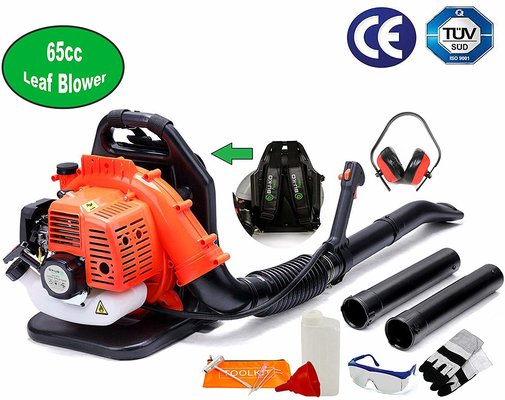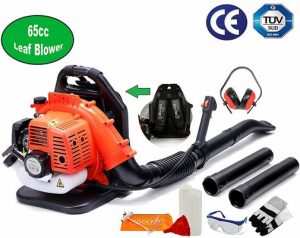 Specification
Power: 65 cc
Weight: 6.5 kg
Wind output: 210 MPH.
Reviews
Please welcome another robust petro leaf blower from Bu-Ko that happens to work with a 65cc two-stroke engine, which produces a power of 3.8 HP. It has a fast-starting mechanism, hence this engine initiates easily and you can start working without wasting any time at all. Moreover, it's an air-cooled driver that regulates the heat to give you an uninterrupted garden cleaning hour.
The leaf blower requires a fuel mixture of 30:1. Once ready and operational, it works with an average RPM of 2800 and goes up to 9000. It's the reason why the blower has a powerful air velocity of 210 MPH. To tackle such speed and power, it gives you an adjustable blowing tube that moves back and forth to adjust your arm's length. You can also split the tube into three parts for easy and secure storage.
Built with padded backpack straps, the machine sits comfortably on your shoulders. Due to its lightweight nature and wide straps, you can conveniently work for hours without feeling tired. Let us tell you the most exciting part; the blower comes with all the protective gear that you use with almost any power tools. The gift comprises protective shades, gloves, safety straps, ear muffs and leg guards.
Do you like spending extra hours in the garden only to get to rid of the leaves? If no, then you can try the Bu-Ko petrol backpack leaf blower that has an air jet that removes everything that's pinning your eye.
Pros
The ergonomic design makes easy to carry and use
Low noise levels
Minimal vibration
Easy to store
Variable speed control and throttle lock
Cons
You might not like the build quality
---
11. VidaXL 42.7 cc Petrol Power Backpack Leaf Blower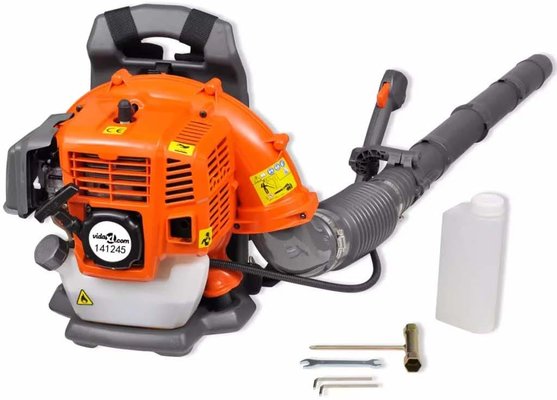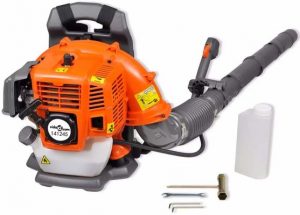 Specification
Power: 42.7 cc
Weight: 6.5 kg
Wind output: 105 MPH.
Reviews
If you need a powerful leaf blower that can instantly shift all the unwanted leaves from your patio, then you might like the vidaXL backpack version. It has a powerful two-stroke engine that generates a whirlwind to take all the unwanted debris away from your garden within minutes.
Some of the backpack leaf blowers overheat after prolonged usage, especially if you are cleaning a significant area. This is not the case with the vidaXL machine here. Due to an air-cooled engine, the heat never becomes a barrier between performance or control.
Its engine works at 1.25 kW that rotates the fans at 6800 RPM. At this speed, it generates an air velocity of 900 m³/h and speed of 105 MPH. The airspeed is comparatively lower than other variants but does a satisfactory job at removing dry leaves. The fuel tank has a capacity of 1.2 litres, which works well for large areas.
The vidaXL leaf blower has an ergonomic design and low weight that allows you to carry it for a long time. All the controls are smartly placed on its handle, which adds to your convenience. It also has high-quality shoulder straps that are wide and comfortable.
The machine disappoints when we talk about the sound level, which is relatively high at 108 dBA. So, make sure you don't use it during quiet hours, especially early in the morning or late at night.
Overall, the vidaXL backpack blower is a suitable solution when you have to move unwanted leaves from a garden, patio, driveways or any other places. Apart from a few misses, the machine gives you the best according to its price tag and features.
Pros
Lightweight
Ergonomic built and comfortable shoulder straps
Two-stroke powerful engine
Cons
Tubes might be difficult to put together sometimes
---
Conclusion
Whether you own a large garden, lawn or any other residential or commercial property that needs some maintenance in the fall, you can try any of the options that we were discussing today. These are some of the best petrol leaf blowers available in the UK market. So, choose one of them depending upon the land size, weight, air output and price range. If you need some heavy leaf cleaning, then you can go for the ParkerBrand 65cc option, otherwise, the blower from Garden Machinery Warehouse is also great for residential usage.