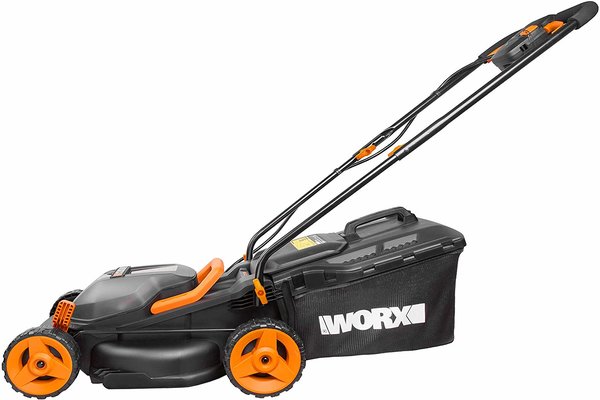 WORX WG779E.2 Review 2023 (A Cheap Cordless Lawnmower)
Last Updated on January 2, 2023
The WORX WG779E.2 cordless lawn mower is a machine that gives you the greater convenience of maintaining your garden without restrictions. It comes with two 20-volt batteries that you can charge within two hours for a guaranteed runtime of 35 minutes.
With a large grass collection box capacity of 30 litres, this is an ideal mower for small to medium-sized lawns. As one of the best selling battery-powered lawnmowers in the UK, the WORX WG779E.2 comes with amazing features that make it stand out in the market.
It has a cutting width of 34 centimetres, 6-position height adjuster, rear roller for a striped lawn, among others.
WORX WG779E.2 Cordless Lawnmower Review
Features of WORX WG779E.2
Intelligent technology keeps constant cutting power even in dense grass
Cut-to-edge design guarantees an optimum reduction of uncut grass around edges
The auto-feed allows constant feed of spool
Converts from trimmer to edger in seconds
Powered by two 20V 2.0Ah Li-ion batteries (included)
Covers areas reaching 350 m² in size
Blade length of 34cm
6 cutting heights between 20mm and 70mm
Grass box capacity of 30 litres
120 minutes charge time
35 minutes runtime.
WORX WG779E.2 – Power System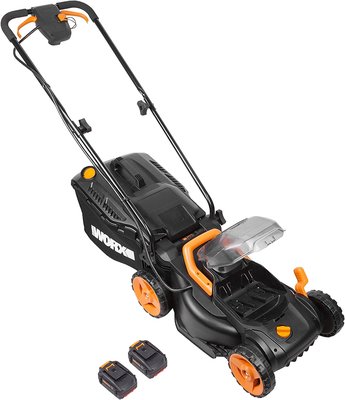 This machine is powered by two batteries and an electric motor. The WORX WG779E.2 cordless lawnmower 34cm dual 20v batteries will charge up within two hours. Also, they come with a guaranteed runtime of 35 minutes so that you cover enough ground before going low on battery.

You can charge the batteries at the same time, and there is an eco-mode feature that enables you to cut lighter grass without much hassle. That is why you can be sure of reduced power consumption, which ends up extending the cutting time of the machine.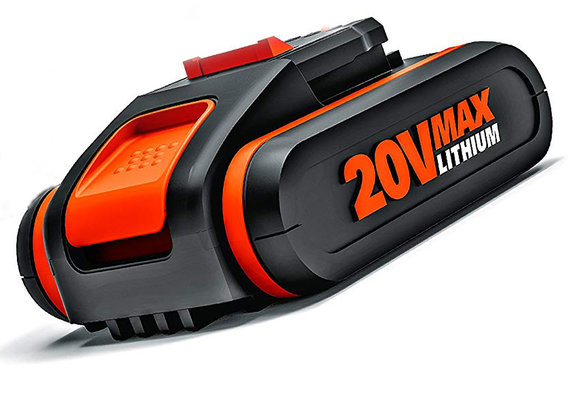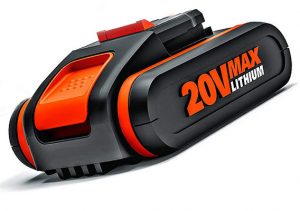 With an easy-to-see battery gauge on top of this machine, you won't have any issues achieving your desired mowing result. Since its power system is electric, you don't have to worry about emissions that can harm the environment. Also, it works quietly without disturbing your neighbours when you are out in the field mowing.
Blades
This machine comes with a 34cm wheeled metal mower blade, and that is why it performs beyond expectations. Metal blades don't wear quickly like plastic blades thereby preventing frequent blade replacement.

Also, metal blades are sharper with more cutting power for the most satisfactory result. You can sharpen the blade, unlike a plastic blade, so that you can cut effectively for a tidier finish.

Besides, you can replace the blade after serving you properly, and the installation process of a new blade is as easy as ABC.

 Close-to-edge Cutting

The deck of WORX WG779E.2 is designed in such a way to enable easy cutting close the edge so that you don't trim too much. That is why you can cut grass close to walls and fences so that the area left uncut will be very minimal.

 Height Adjustment

Since we experience a change of season, the rate at which grass grows is not the same throughout the year. This machine has a large lever situated on its front by the side for easy adjustment of cutting heights. With this lever, you can change the cutting heights to suit the level of growth of the grass you are cutting.

There are six height positions to choose from, with the minimum being 20 millimetres while the highest is 70 millimetres. You can start at a higher setting and go down as you progress so that small grass will not miss a piece of the action.
WORX WG779E.2 Cutting Diameter
This WORX WG779E.2 review is not complete if we don't mention its cutting diameter. The cutting diameter of this machine stands at 34 centimetres, making it ideal for lawns with medium size. That is why it is perfect for cutting narrow strips in your garden.
Grass Box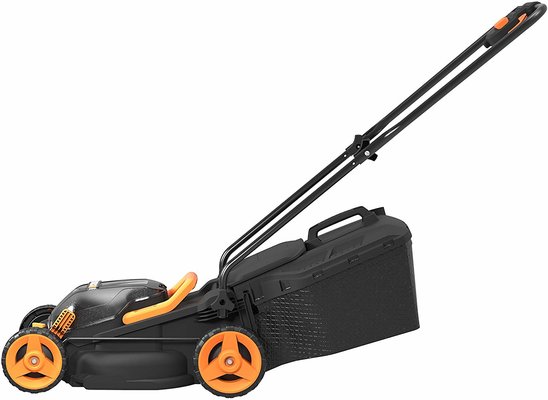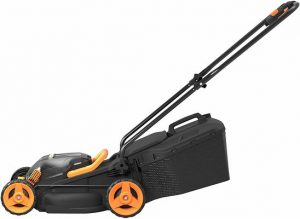 With a grass box capacity of 30 litres, you may not be able to get a better deal for a cordless mower. This means you won't have to experience frequent box evacuations when working for a longer period. The grass box had an indicator so that it will be easier for you to monitor its progress. It is easy to remove, you only need to lift the flap and unhook it.
Practicalities
You will like the lightweight of this machine, and that is why you can manoeuvre it on your lawn without much stress. It comes with foldable handles, which make its storage a piece of cake. You only need to fold it and keep it in that small storage space in your garden.

Also, there is absolute convenience working with this machine because you won't be struggling with a heavy mower. It is environmental-friendly, quieter, and safer with low maintenance costs. With a properly-positioned large central handle, you won't have issues carrying this 13kg lawnmower to the shed or garage.
Safety Features
You will like the removable safety key that comes with this cordless mower. This key helps in disabling the machine so that you can avert accidental starting. It is important to note that this feature is unique with this machine as you may not find it in machines in the same cadre. The key comes with a cord, which is fastened to the handle so that you don't misplace it.
Roller (stripes)
If you like to leave stripes after your mowing activity, this is the right lawnmower for you. There is a roller at its rear, which controls the stripping process so that you can have an alluring finish.

Pros
Rear roller for a striped lawn appearance
6 cutting heights between 20mm and 70mm
30-liter grass collection box
2 powerful batteries interchangeable with other WORX tools
Built with materials of high quality
.

Cons
Does not have the mulching capability.
Should You Buy This Model?
After reading this WORX WG779E.2 cordless lawnmower review, do you still wonder whether you should go for this product? You are certainly not alone. There are many factors that determine the eligibility of this exceptional machine for you. If your garden falls between 350 and 400 square meters, and you like a striped lawn, this is the perfect product for you. Also, you can consider it if you have limited storage, and desire a wide range of cutting heights.

Conclusion

The WORX WG779E.2 36v (40v max) cordless 34cm lawnmower is the right machine to invest in if you want to effectively maintain your garden. Its excellent build quality, lightweight, and portability, etc. are some of the reasons it remains one of the most popular mowers in the market right now.