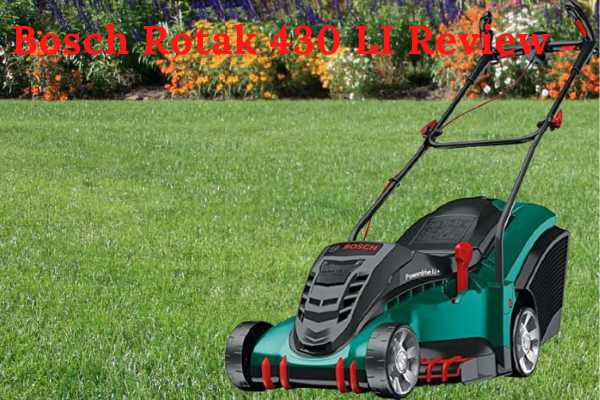 Bosch Rotak 430 Li Cordless Lawnmower Review (2023)
Last Updated on January 4, 2023
The Bosch Rotak 430 LI is a cordless mower with extra upgraded features when compared to the Bosch 37 LI. It has the capacity of covering up to 600 square metres in area. It boasts of two 36 V 2 Ah lithium-ion batteries, which guarantee a runtime of about 40 minutes. The battery charges in 2 hours, hence, you don't need to worry about too much downtime.
With a grass box of 50 litres in capacity and a cutting width of 43 centimetres, it is an ideal machine to get maximum effectiveness. It has ten cutting height positions from 20 to 70 millimetres and a grass box capacity of 50 litres. There is a roller at the back, which guarantees a striped finish at all times.
Bosch Rotak 430 Li Review
The Bosch cordless lawnmower Rotak 430 LI is solidly built so that you can get value for your money. That is why it is one of the most coveted mowers in the market right now.
Pros
Produced from materials of high quality.
Large grass box capacity of 50 litres.
Mulching option available.
Charges to 80% in 70 minutes.
Flexible cutting heights up to ten positions.
Cons
Price on the high side.
Assembly a bit complex.
Assembly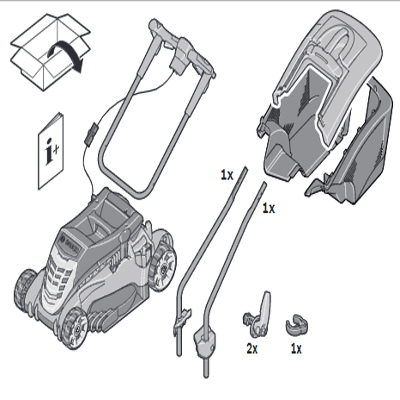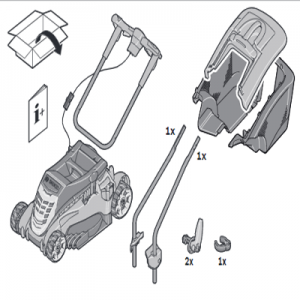 It is easy to assemble within just 10 minutes, and you don't require tools to carry this out. There is an accompanying instruction manual that provides a comprehensive guide on how to assemble it. The manual comes with pictures so that the whole process will be made easier for.
Motor
The Bosch Rotak 430 ergo power comes with an advanced 1800-Watt powerdrive motor for optimum performance. It has a sensor that increases torque when you are dealing with tough terrain. There is an automatic gearbox that drives the steel blade for a constant speed of 3600 rpm. This helps in preventing clogging, which may interfere with the efficiency of your work.
36V Lithium-ion Battery
This machine boasts of two 36 V 2 Ah lithium-ion batteries, which guarantee a runtime of about 40 minutes.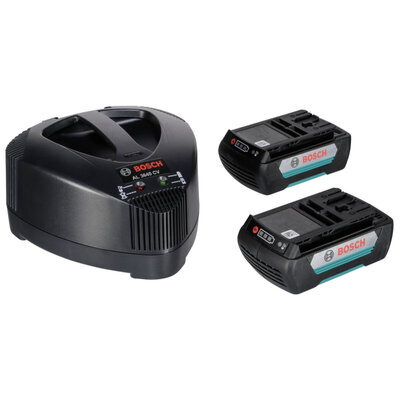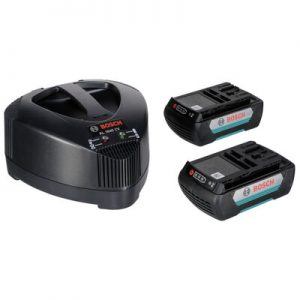 Charging the battery to full capacity takes 2 hours, hence, you don't need to worry about too much downtime. Also, within 70 minutes, the battery charges up to 80%. You need to note that you can purchase this mower with the option of one battery. You can also check the best cordless lawnmower here.
Ergoflex Handle
The Rotak 430 ergoflex comes with a handle, which is ergonomically designed to make you more comfortable during operations. It enhances good body posture and lowers muscle strain. The handle is foldable, compact and lightweight, hence, you won't get tired quickly when using it.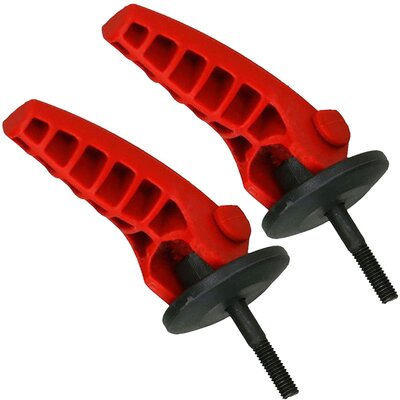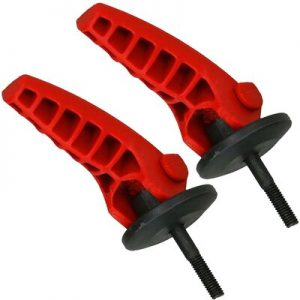 Its grip has four power buttons with a central safety release button. You only need to press one button to power the lawnmower, hence, you can operate it with one hand.  This is an advanced feature because using one hand to operate can boost the flexibility of operations.
Grass Comb Technology
With its cutting-edge grass comb technology, you can cut edges around your lawn with utmost efficiency. This will help in boosting service delivery to get the best result.
Cutting Heights
The Bosch Rotak 430 LI cordless lawnmower comes with adjustable heights so that you can alter from one season to another. Grass heights are not the same from one season to another, hence, you need a machine that can be easily adjusted per the height of the grass.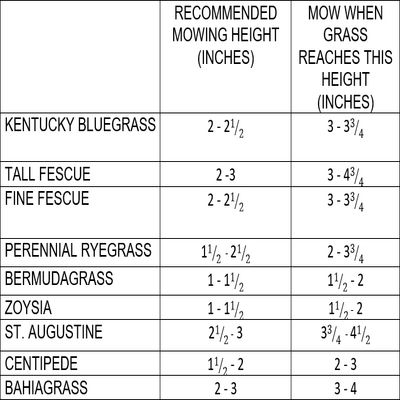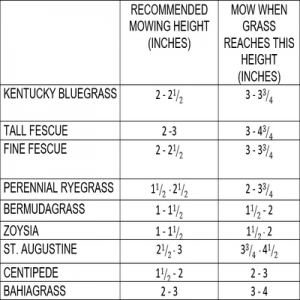 There is an in-built lever for cutting height adjustment, and there are ten levels of heights to choose from. With the minimum height standing at 20 millimetres, and a maximum at 70 millimetres, you can achieve even mowing without much hassle.
Rear Roller
The rear roller makes it possible for you to have a striped lawn that will look amazing at all times. You can take advantage of this feature to boost the aesthetics of your lawn to the admiration of your visitors.
Grass Box
This machine has a grass box capacity of 50 litres so that you won't have to go for frequent box evacuations. You can focus more on your work to get the most satisfactory outcome. The grass box is specially designed for convenient removal from the machine for easy evacuation.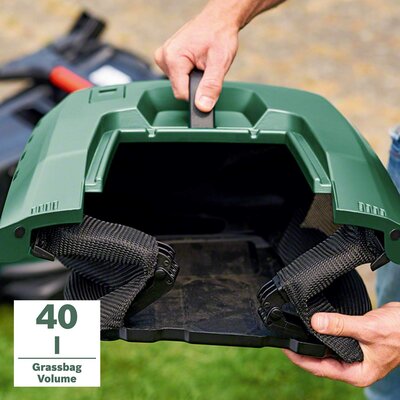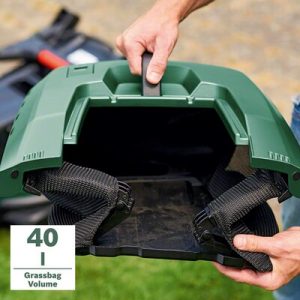 It comes with a fill level indicator that will let you know the right time to empty the box. This means that you will have more time for mowing and less time for emptying.
Cutting Width
It has a cutting width of 43 centimetres, which guarantees a few passes to complete your work. It will make it possible for you to cover every part of your lawn in good time. That is why it is recommended for medium-sized lawns for optimum effectiveness.
Ergonomics
This machine is designed with your comfort in mind. Its ergonomic handle makes your work more convenient while its noise level is very reasonable.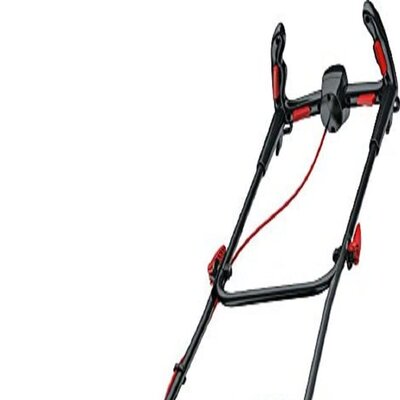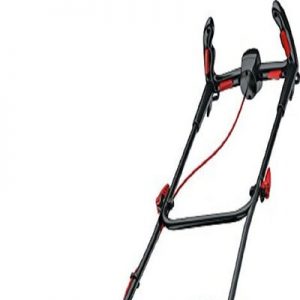 You can adjust its handle to suit your posture, hence, you don't need to bend during operations. 
Efficient Energy Management
This is another outstanding feature of this machine. It helps in extending the operational time by about 15% so that there can be maximum effectiveness. The efficient energy management system regulates power supply to the rotary blade so that there can be perfect conservation of power that is not needed.
This helps in prolonging its lifespan due to energy saving. It only operates at top energy level when necessary, and when there is a need to go low, you are sure of an automatic switch.
Reasonable Charge To Mow Ratio
With a guaranteed runtime of 40 minutes when the two batteries are fully charged, you can be confident of smooth operations at all times. The batteries require about 2 hours to become fully charged, and if you don't mind charging to 80% capacity, you only need to spend 70 minutes to charge them.
This translates to a mow ratio of 1.75:1, which is ideal for this type of machine. It means you won't experience unnecessary downtime when you are low on battery. If your lawn is not more than 600 square metres, this ratio will not be an issue for you.
Zero Emission and Low Noise
Since this machine is electric, it does not produce any emission that will pollute the environment. You will enjoy cordless freedom without causing any harm to the surrounding.
Also, you will like its noiseless operations, which ensures that you don't disturb your neighbours during operations. Hence, your neighbours will no longer curse when you are about to mow your garden.
Blades
The Bosch Rotak 430 LI comes with one 43cm metal mower blade, which is very effective. Metal blades are usually durable than plastic blades because they don't wear easily. Hence, you won't need to replace them frequently. Also, metal blades are sharper, and that is why they deliver the best cuts to give the most satisfactory outcome. They cut more effectively leaving your lawn tidier and neater.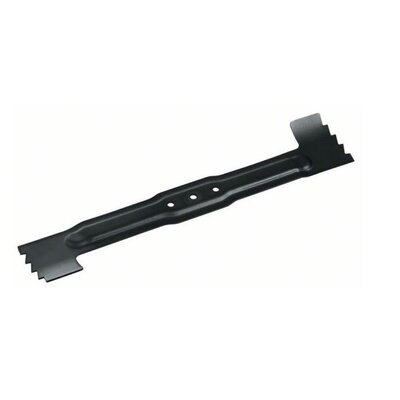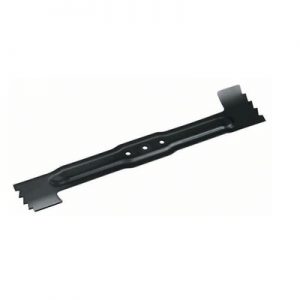 You can sharpen metal blades unlike plastic blades when the need arises. With the use of a metal blade in this machine, you will get access to a flawless cutting system that won't disappoint you when it matters most. It is easy to replace the blade if it is no longer meeting your expectations. With basic tools and DIY skills, you can change the blade without much hassle.
Storage
The 430 LI offers flexible storage options so that you can benefit from perfect space management. The quick-release red clips on the handle's side are foldable so that storage will not be a problem. You can fold them inside or out but you need to be careful so that you don't twitch the wire.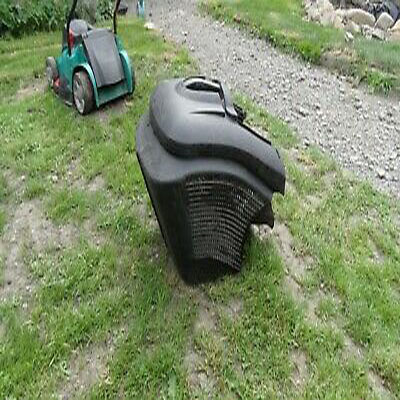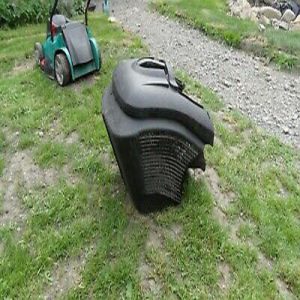 Its compactness at 78.5 x 49.7 x 48.8 centimetres makes it an ideal machine for easy storage. Besides, each arm comes with two quick-click buttons for easy removal of the complete handle frame making storage a piece of cake.
Safety Features
The Bosch Rotak 430 LI comes with safety features that get you secured during operations. There is the removable safety key that helps in preventing accidental start-up by disabling the machine.  That is why you don't need to fear if you have kids around when mowing your lawn.
Mulching
This machine does not have a mulching facility on board but you can add it. You can achieve this by buying the Multi-Mulch for Rotak Lawn Mowers, and you will be able to convert your clippings to manure.
Weight
It weighs 13.9 kilograms meaning that you can manoeuvre it on your lawn with so much ease. Also, it will make it easier for you to move it from one place to another.
Conclusion
The Bosch Rotak 430 Li is an ideal mower to get due to its portability, lightweight, high-quality construction, and so on. It works perfectly for clearing various thickness and lengths of grass to get the most satisfactory result. It comes with amazing functionality that will make grass cutting a piece of cake. If your lawn is not more than 600 m², you can go for this terrific mower.