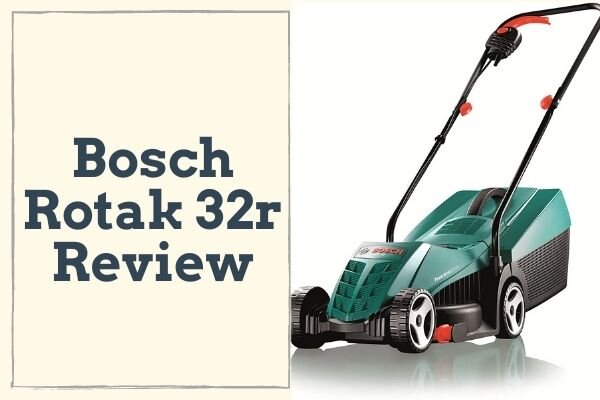 Bosch Rotak 32r Review 2022
Last Updated on January 3, 2023
Bosch Rotak 32R is one of the most compact and affordable lawn mowers for small gardens. Do not try to use it in a large area otherwise, you will feel frustrated. We will cover more about this lawn maintenance tool and try to discuss its weaknesses and strengths. So that you can have a better idea of whether the Rotak 32R could suit your requirements.
Review
The Rotak 32R is a corded lawn maintenance tool that comes with a 10-metre power cable. It has a 1200W motor that can easily deal with extended grass trimming sessions. The unit has a high quality built and its replacement parts are also very easy to find.
Bosch 32R has a metal blade instead of plastic, so you can sharpen it whenever required. Its cutting width is 32 cm, which is perfect to cover a small or medium-sized lawn. The unit has 3 cutting heights available between 20 to 60 mm, which customizes the appearance of your lawn.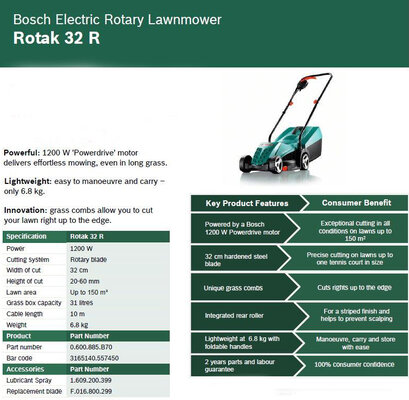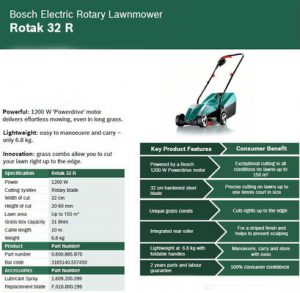 Bosch Rotak mower is a reliable lawn maintenance tool that offers the complete worth of your investment. If you need a durable, powerful and easy to use grass cutting machine for small to medium lawns, then this model deserves your attention.
You cannot doubt its built quality because Bosch is the manufacturer. The German brand started in 1886 is one of the most popular names in the UK and any other part of the world. So, let's find out more about the Bosch Rotak 32r and see whether it can be the right purchase for your lawn.
Specification
Suitable for: Small or medium-sized lawns. Works for larger areas as well, but needs more trips to the disposal ground.
Weight: 6.8 kg
Power: 1200W
Cutting width: 32 cm
Cutting height: 20 to 60 mm
Grass box capacity: 31 litres
Handles: Foldable for secure storage
Rollers: Available and are useful when you need strips on the lawn.
Difference Between The Bosch Rotak 32 and Rotak 32R
What is the difference between Rotak 32 and 32R? It's the primary question asked by multiple lawn owners. It's simple to understand. The Rotak 32R comes with a roller, but Rotak 32 lacks the ability to professional strips.
Bosch Rotak 32R Features and Performance
Motor
Bosch Rotak 32r lawn mower comes with a 1200WPowerDrive motor that generates incredible cutting power. The grass cutting unit is compact, but still, it can deal with long and thick grasses. It's a great quality because most of the small mowers struggle while cutting long grasses. So, it might be a great investment if you allow the grasses to grow a little longer before cutting them. This tool is also suitable if you don't have much time to maintain the garden every weekend.
Still, a 1200W motor cannot be suitable for huge lawns with overgrown grasses. So, try the Bosch Rotak 32 R only if you own a small or medium-sized garden. Its power system is completely eco-friendly because of zero carbon emission and minimal noise pollution.
Power Cable
Bosch 32R lawn mower comes with a 10-meter long power cable, which gives you plenty of mowing radius. With such length, the unit can easily cover an average-sized area.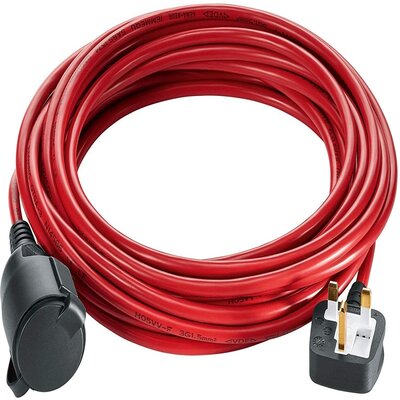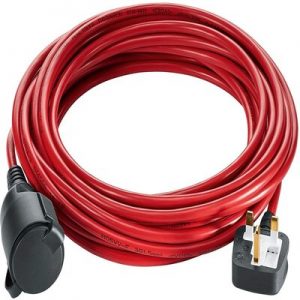 Cutting width: The Bosch electric rotary lawn mower uses a 32 cm blade and impresses you with smooth and clean cuts. Such cutting width is suitable for lawns up to 150 or 200 sqm. It might not be the best purchase if you own anything more than 250 sqm. Otherwise, you will end up in making unlimited trips to the disposal ground.
So, we recommend Bosch Rotak 32r electric rotary lawnmower with 32 cm cutting width only for average-sized lawns. At this mowing width, the unit is highly manoeuvrable that's helpful if your yard has some tight navigation angles.
The blade is built using hardened steel and it's the primary reason why this module will last for many more years to come. You can sharpen or replace the blade once it's blunt. But, it stays sharp for a long time.
Height Adjustment
Bosch Rotak 32r electric rotary lawnmower comes with three different cutting heights between 20 to 60 mm. The given height adjustments suit all the seasons so that you don't have to look for any other lawn maintenance tool. For instance, the maximum height is suitable for users who allows the grass to grow for a certain length before mowing them.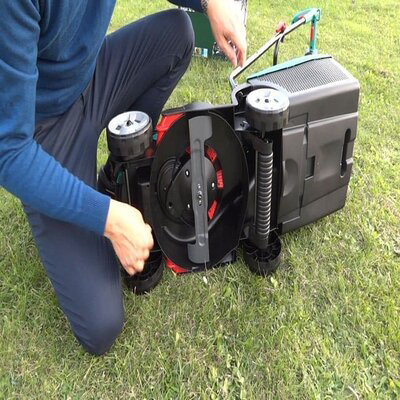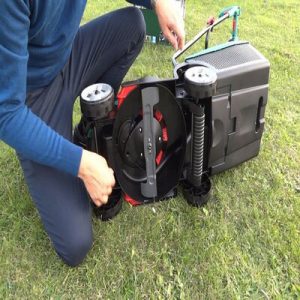 On the other hand, the small length is perfect for users who mow regularly. Regular grass cutting is anyway required in the months of summer and spring because the grass keeps growing in these seasons.
However, there is a small problem in adjusting the cutting height. First, you need to shut down the machine and flip it upside down to change the cutting height. It cannot be a deal-breaker for most of the users. But, make sure that the power cable is unplugged.
Grass Box
A spacious grass collection makes lawn maintenance easier. It's why Rotak 32R comes with a 31 litres grass box that is sufficient to carry all the clippings from an average-sized garden. You can also maintain larger lawns, but be ready to take more than a few trips to empty the grass collection.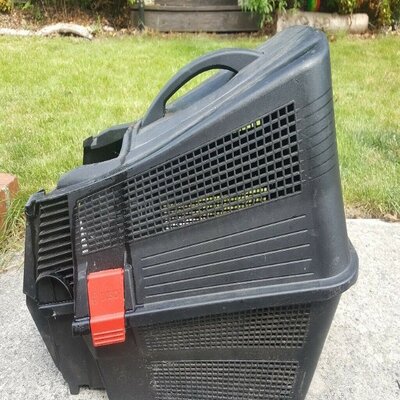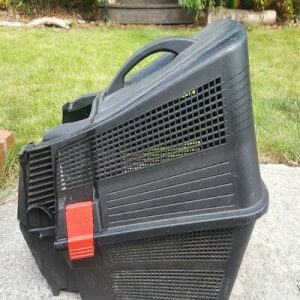 The grass box manages to collect all the grasses without many droppings. It compacts the grass cutting and makes maximum use of the available space. As the grass collection system is efficient, the mower glides on the lawn to offer you smooth cutting results.
Then, there is a grass comb that we find very appealing. These two combs extend the cutting reach so that you can get flat results against lawn borders, walls, fences etc. The combs are fixed behind the front wheels so that you can easily navigate the mower along the edges. In other words, Bosch 32R saves a lot of your time and effort.
Bosch Rotak 32R – Practicalities
Bosch is reputed to produce some easy to use, reliable and durable lawnmowers. Rotak 32R belongs to the same lot. It has a long-lasting construction and easy usage. As this is a corded machine, you might need an extension box to cover large lawns. Plus, you have to be careful of its power cable while cutting the grasses.
We prefer a central lever for height adjustment, but this model needs to be flipped if you need any change in its cutting height. It's not very difficult. Though, the process becomes lengthy when compared to the mowers available with central height adjustment level.
So, is Bosch Rotak 32r lawn mower is a practical option when compared to other similar models? Yes, it might be a perfect investment if you own a small or average-sized lawn. The mower is easy to carry because of the low weight of 6.8 kg. Plus, there is a convenient carry handle, which helps you to take it to the garage or shed without any hassle.
Pros
High quality and long-lasting construction
Comes with a rear roller for stripes
Spacious grass collection
Lightweight and hence, easy to move.
Cons
Grass level indicator is missing
Height adjustment is a length process.
Final Talk
If you need a durable and reliable lawn maintenance tool for a small or medium-sized lawn, then Bosch Rotak 32R is one of the best options to try. You can depend upon the brand because it has a reputation to manufacture high-quality lawnmowers. Above all, the mower offers the complete worth of your investment.
We agree that the grass box and cutting width is not the biggest here. But, Bosch Rotak 32R is very lightweight and easy to use. It moves over the lawn grasses without much effort and gives you smooth edges due to inbuilt grass combs.
Powerful motor and sharp steel blades ensure clean cuts. Plus, the mower also has a roller in case you want some strips. Available cutting heights are also decent and useful for all the seasons.
Overall, Bosch Rotak 32R is an excellent lawn tool for any of the users' who needs a simple to use option that can complete the cutting process without taking much time and effort. In other words, it's one of the best that you can buy at such a pocket-friendly price tag.
Should You Buy This Model?
To answer this question, you need to check your garden and see what is the space a lawnmower needs to cover. If you have a large lawn, then consider a mower with a high cutting width and big grass collection. On the contrary, Bosch Rotak 32R might be a brilliant purchase if you own a small or medium piece of land. Why? Let's summarize the reasons.
Offers complete worth of its initial investment
Comes from a reputed brand
Convenient to use
Has rear rollers that can make stripes
After-sales service is excellent.
Where To Purchase This Mower?
Well, Amazon offers the most competent prices nowadays. Plus, it has the most dependable delivery system in the entire world. A lawnmower is a useful purchase, so you should connect with the best to purchase it. So, we recommend that you try ordering from Amazon.