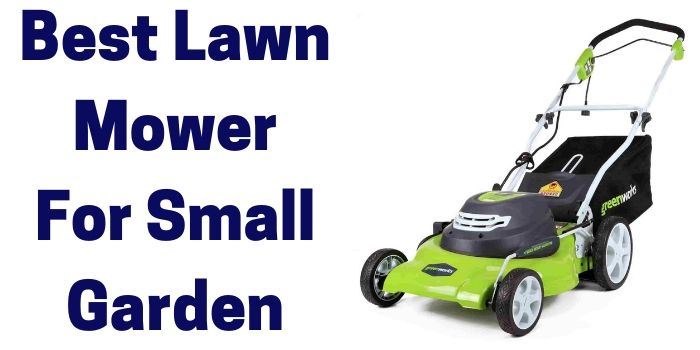 Best Lawn Mower For Small Garden UK Reviews [2022]
Last Updated on January 4, 2023
Maximum homeowners in the UK have a garden covering a small area, and it's the reason why we will talk about some of the best lawn mowers for small garden or lawns.
Having an enormous garden is a luxury. Most of the typical individuals here own a 10 X 10 m garden. You need specific tools to take care of the garden, and one of the essential components is a lawnmower.
However, to choose the best out of them, you should know about their features, advantages, and disadvantages. If you think the same, read on to know about eleven best lawn mower for small garden available in the UK market.
Best Lawn Mower For Small Garden UK 2023
Best Lawn Mower For Small Yard UK Reviews
---
1. Bosch 32R-
Best Lawnmower for  Small Garden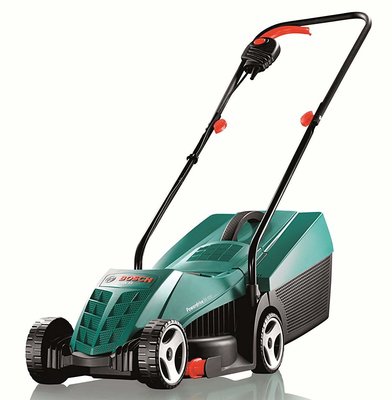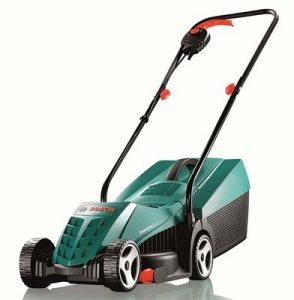 Product Specification
Blade length. 32 cm
Weight. 6.8 kg
Runtime. Corded..
Review

Another electric lawn mower from Bosch, the Rotak 32R is suitable for small and medium-sized gardens. It's one of the bestsellers, and we know why. Read on to know.

With a 32 cm cutting width and 30-litre grass carrying box, you will be cutting more and emptying less. At just under 7 kg, it is one of the lightest and has a height adjustment between 20 to 60 mm. It also has a comb feature that allows you to set the edges of your lawn correctly.

The grass comb can also be used to maintain flower beds. For all the hard work, the mower has a respectable 1200W motor that is powerful enough to give you a fresh looking lawn. Its hardened steel blade works perfectly on all the grasses, even the longest ones.

Combination of fixed wheels on the front and a rear-mounted grass box gives you some trouble while moving it uneven grounds.

However, Rotak 32R is an excellent purchase if you have a regular lawn or garden. Its handlebar gives you smooth movement without applying much force. Overall, this is one of the best small lawnmowers which is ideal for areas up to 150-meter square.

To avail the warranty, you have to register the mini lawn mower on the Bosch website within 28 days of purchase.
Pros
Cutting edge precision due to the grass comb and front heels inset.
Compact and lightweight.
Study metal blade for efficient lawn maintenance.
Cons
---
2. Flymo Mighti-Mo 300 Lawn Mower For Small Yard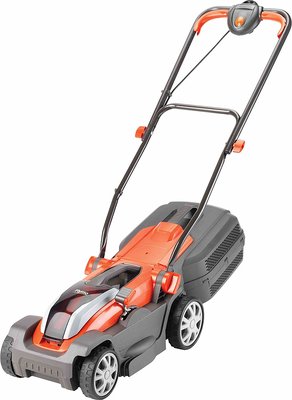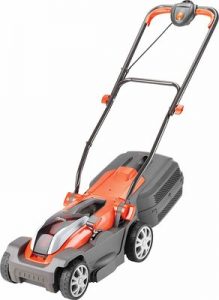 Product Specification
Blade length. 30 cm
Weight. 9.9 kg
Runtime. Up to 21 minutes.
Review

It is the best Flymo for small garden and one of the smallest, lightweight, and affordable lawnmowers, the Mighti-Mo sports a 30-litre grass box and a cutting width of 30 cm. With such features, it becomes an ideal contender for an area of a 250-meter square or one tennis court.

The grass box is comparatively smaller, and its built is also flimsy. So, do not expect it to give you perfect results on uneven grounds or harsh grasses. Even then it's an excellent tool for small and medium-sized lawns. The straightforward design adds to its value.

Might-Mo requires less assembly when you need it. On top of the central unit, you will see a carrying handle and a plastic cover containing the battery. The battery is removable using a plastic key.

The mower comes engineered with five height adjustments ranging between 25mm to 65mm. At just under 10kg, this small mower is so lightweight that you have to hold it while changing the lever sides.

The Flymo battery-operated mower comes with a dock charger with three LED lights. Red means standby, flashing green means the battery is getting charged and stable green means, you are ready to roll.

Its 2Ah battery operates at 40V and takes two hours for a full charge. Runtime depends upon the ground and type of grass you are targeting, however on normal conditions it can anywhere between 10 to 22 minutes.
Pros
Extra lightweight.
Decent runtime.
Easy to store due to foldable handle and detachable grass box.
Cons
Not ideal for long grasses; bogs down.
Small bin
---
3. Flymo 1200 R- Best Robot Lawnmower For Small Garden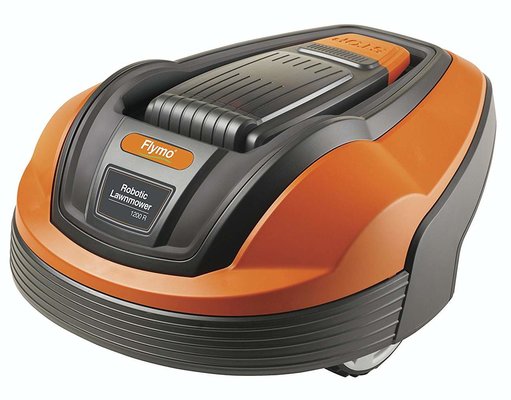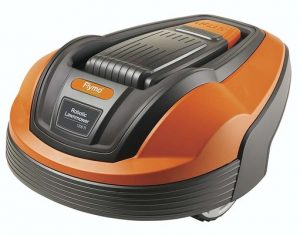 Product Specification
Blade length. 17 cm
Weight. 15 kg
Runtime. Depends upon the area.
Review

It is one of the best lawn mowers for small yards. It's a well-known fact that robotic lawn mowers are expensive, and it's the reason why they are unable to hit the mainstream audiences. Flymo breaks the trend and gives you 1200R, an automatic lawn mower well under £600.

Now, you will think, do you I need a robotic lawn mower? Because you can get similar lawn cutting results from a cost-effective lawn maintenance machine.

So, instead of answering this, we will ask you two questions; how much you value your free time and do you like to maintain the lawn on your own? Answer these two questions honestly, and you will know whether you have to invest this much of amount on a lawnmower or you will purchase one of the affordable machine mentioned above.

Flymo 1200R completes the task within a short period without any fuss so that you can spend most of your free time with family or on other important works. If you are more of a person who enjoys watching things instead of doing it, 1200R is for you.

The lawnmower works with an 18V/1.6Ah lithium-ion battery. Once its battery is discharged, the mower automatically comes back to its docking station. You can change the cutting heights through a knob fitted at its top.
Pros
Sensitive collision sensors.
Automatic charging
Covers all the areas, even the narrow ones.
Cons
No wireless connectivity.
---
4. Makita DLM380Z-Best Rotary Lawnmower For Small Garden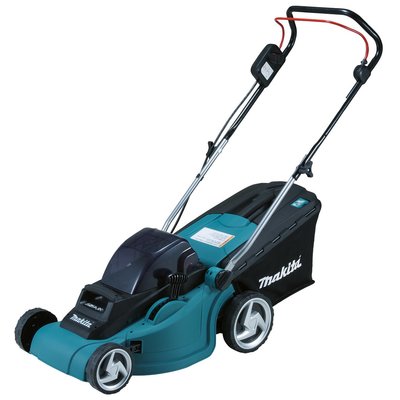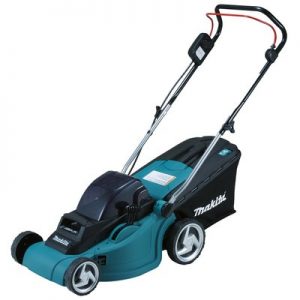 Product Specification
Blade length. 38 cm
Weight. 16.7 kg
Runtime. Depends upon the ground.
Review

A reliable battery operated contender DLM380Z that comes with dual 18V batteries to produce a total power of 36V. Long-lasting power allows you to clean your lawn without recharging the mower for numerous times. Also, it boasts an abundant grass carrying box keeps you on the cutting track without much emptying.

Able to cut at the heights varying from 25 to 75 mm, the lawnmower has six pre-built settings. Its ergonomic design places all the pressure on your arms, wrist and hands. In our tests, there were no problems while moving or operating the DLM380Z.

Makita lawnmower is comparatively heavy then other products on this list still gives you efficient results on the corners and around trees or decorative bushes. Straightforward design and a centrally located lever for height adjustments make it easy for you to complete the lawn maintenance task within a short period.

Overall, one of the best battery operated lawn mower you can find in the UK market. On the downsides, the cordless lawnmower is challenging to pull if it goes into the wrong direction. This thin handle is not convenient while pulling the machine hence we recommend you to wear gloves while you operate DLM380Z.
Pros
Cordless mower; can be used anywhere.
Long battery backup, even for large lawns.
Significant grass carrying capacity.
Cons
Thin handles induce pain in hands, especially if you have arthritis.
---
5. Flymo Speedi-Mo 360C-Best Electric Mower for Small Lawn

Product Specification
Blade length. 36 cm
Weight. 11.5 kg
Runtime. Corded.
Review

One of the most potent lawnmower by Flymo, the Speedi-Mo comes with speed-enhancing 1500W motor, which gives you fast and effortless cutting results. Due to its decent cutting width, you will be able to remove all the unwanted grass in one pass.

Speedi-Mo is an electrically powered mower that comes with a 12-meter power cable. This length should be enough for s small garden or lawn. If you need to cover a more significant area, prefer an extension box.

It comes with five different height adjustments for cutting the lawn grass, which ranges between 20 to 60 mm. Changing height is a matter of seconds; you only have to adjust the lever fitted near the rear wheel.

Another attractive feature of the lawnmower is its grass box that has a capacity of 40 litres. The box is easily detachable, and as it has a high carrying capacity, you do not have to visit it more often for emptying.

Due to its low weight and four wheels, Speedi-Mo is easy to move around. It also has a useful carrying handle for easy transport. So, it is an ideal lawnmower for small lawns or medium-sized gardens.
Pros
Foldable handles for easy storage.
Dual-sided controls on its stem; you can use it from left or right.
Carrying handle.
Cons
Grass box leaks if not fit properly.
---
6. Yard Force 32cm Cordless Rotary Lawnmower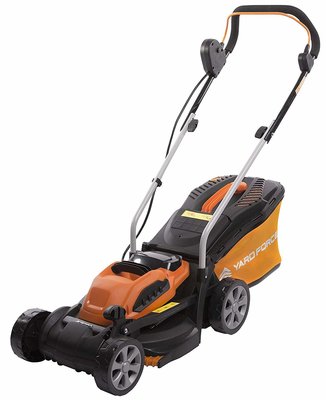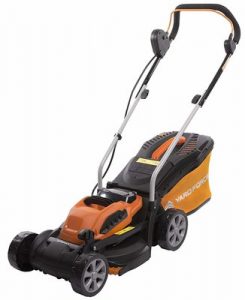 Product Specification
Blade length. 32 cm
Weight. 9.5 Kg
Runtime. 30 minutes.
Review

The Rotary Lawnmower comes with a fast-charging 2.5Ah 40v battery, which works for around 30 to 50 minutes depending upon the power settings. The power and battery backup is suitable for a lawn up to the 300metre square. Grassing height adjustments are available between 20 to 60 mm. The grass capacity of this mower is 30 litres.

Yard Force is not one of the well-known companies for lawn products. However, their new products are reliable, innovative and comfortable. The Rotary Lawnmower is no different. With a Samsung battery that charges within 90 minutes, the mower is suitable for small and medium-sized lawns.

Its assembly is more accessible, and you have the instructions manual for further assistance.
Blade size of the mower is decent, still less than the variants mentioned above. So, you might need a few more passes to remove new grasses, but the results will be according to your mood.

Due to the low blade width, the small Yard mower is suitable for gardens with more turns and narrow areas. To get constant efficiency, you should sharpen the blade after regular intervals.

One of the best small lawnmowers comes with five pre-built height adjustments. Changing the cutting height is easy; you have to set the lever fitted at the front wheel according to the required height.
Pros
Lightweight, hence easy to move.
High quality and reliable battery.
Easy to assemble.
Cons
Not ideal for large lawns.
Front fitted height adjustment lever.
---
7. Mountfield 297411048- Best Petrol lawnmower For Small Lawn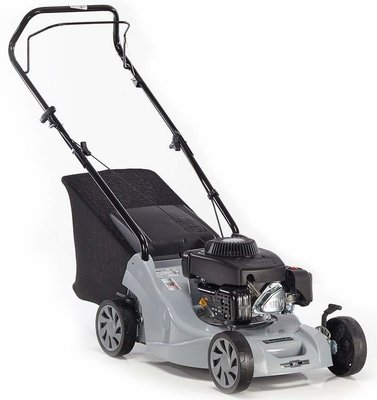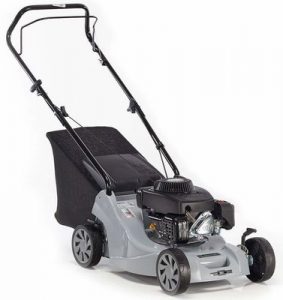 Product Specification
Blade length. 39 cm
Weight. 19.5 kg
Runtime. Depends upon the ground..
Review
The lawnmower comes with an RS100 OHV 4-stroke engine and sturdy polypropylene cutter deck, which is corrosion free and long-lasting. The easy to use, an affordable and economical lawnmower.
Coming from one of the oldest lawn mower manufacturers, the HP41 Petrol Rotary is preferred mostly by professionals due to its 39 cm cutting width and a powerful 100cc engine.

Another exciting addition is its 40-litre grass carrying capacity and five height adjustments varying from 25 to 70mm. The grass box is detachable if you want to leave the cuttings or while storing the machine.

Moreover, its handles are also retractable for added ease while storing the mower. Such features are perfect for a small or medium-sized lawn and garden.

HP41 gives you the entire value for money. Its engine initiates quickly, and with its first sound, you will understand that it is built to stay with you for a long time. Overall, you would certainly like to purchase this petrol lawn mower if your lawn is on a slope.
Pros
Decent cutting width.
High capacity grass collector.
Strong engine.
Cons
---
8. Bosch Rotak 34R – Best Mini Lawnmower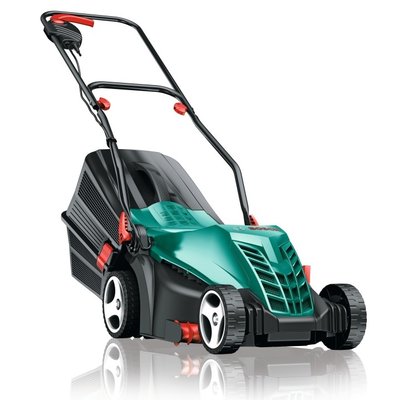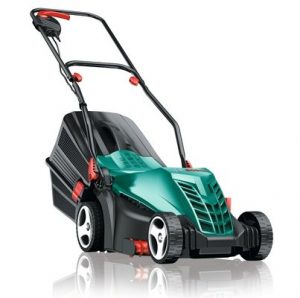 Product Specification
Blade length. 34 cm
Weight. 11.1 kg
Runtime. Corded.
Review

A reliable lawn mower that gives you full value for your investment. If you need an easy to operate and lightweight lawn maintenance tool, then Rotak 34R becomes a paramount consideration.

It's a corded mower that comes with a 10-meter power cable, which ultimately powers its mighty 1300 W motor. Rotak 34Rhas a decent build quality, same that you expect from a Bosch product.

All its parts are available at an affordable cost. The mower utilises metal blade instead of plastic, which is a good thing because you can sharpen the blade whenever required. Five different cutting heights between 20 to 70 mm allows you to customise the lawn grass according to the weather or party.

Another essential thing to consider in a lawnmower is its safety. Bosch knows that and gives a details safety guide and installation instructions with the product. Noise levels and vibrations are also kept at a minimum level so that you can enjoy a convenient lawn cutting session.

This one of the best mall mowers has a standard cutting length of 34 cm, which is ideal for small and medium-sized lawn or gardens. Rotak 34R has a grass carrying capacity of 40 litres. It will zip all the greens of a 300-meter square ground in no time, that also in a very efficient way.
Pros
Powerful motor.
Decent cutting width.
Foldable handles for easy storage.
Cons
No grass level indicator.
Grass box might fill early for some users.
---
9. BLACK And DECKER 36 V-Top Rated Small Lawn Mower

Product Specification
Blade length. 38 cm
Weight. 14.8 kg
Runtime. Depends upon the ground.
Review

The CLM3820L2 is an electrically operated lawn mower that comes with a cutting width of 38 cm and five height adjustments between 30 to 80 mm. To change the cutting height, there is a lever fitted in the centre.

Its grass carrying capacity is 35 litres and includes two batteries for extended runtime. CLM3820L2 cuts both long and short height kinds of grass with ease. It has a grass filling indicator so that you can empty the box accordingly.

Handles of the mower add to the portability and can be collapsed when you want to store the device. For desired results, you may have to pass it over for a few times, but once you are done, it gives you wanted cutting results and a fresh looking lawn.

The push lawn mower has two handles: one that expands and another on top of the central unit for added portability. Due to its two-handed operation, the mower is safe to use. It automatically shuts off once you remove hands from the switch. The maximum noise level it can reach is 96 decibels/ampere.

Due to low profile nose design, it quickly reaches narrow areas. Additionally, its sturdy rear wheels allow smooth movement even on uneven grounds and give you the lawn you want.
Pros
Foldable handles for easy storage.
The indicator in the grass collection box.
A spare battery can be purchased for bigger lawns.
Cons
Needs a few passes to cut precisely and accurately.
Blade clogs while cutting wet grass.
---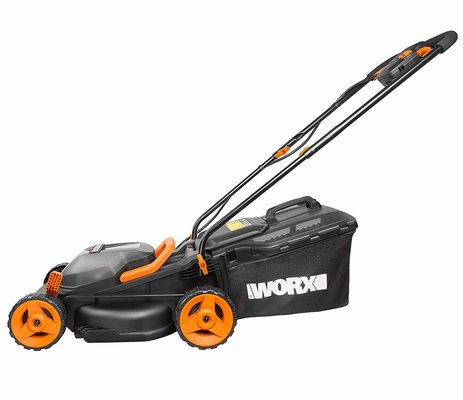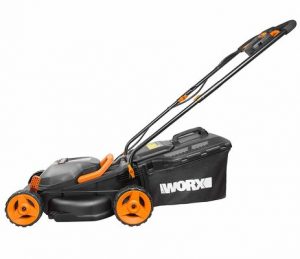 Product Specification
Blade length. 34 cm
Weight. 12 kg
Runtime. 35 minutes.
Review

Our first recommendation – WG779E.2 smallest lawnmower UK, comes from Worx, which is comparatively a new brand, but its products are receiving instant attention nowadays. The lawnmower comes with two 20V lithium-ion batteries that provide a runtime of up to 35 minutes after a charging time of 2 hours.

Both the cells stick to the central unit and can be charged simultaneously. The Worx-WG779E.2 is the best lawn mower for small lawns.

The mower comes with an Eco mode, which minimises the power and can be used when you need enhanced battery backup. Example, if you have recently cut the lawn grass and want to go over it again to encourage the fresh appearance, you can use the given mode.

Moreover, it has the battery level indicators that keep you informed about the power left. WG779E.2 is an entirely electric mowing device, means there are no carbon emissions at all. If you think about the environment, then it can be a good purchase of your garden.

The mower also has "mute" technology, which means that it will work as quietly as possible so that none of your family members or neighbours will be disturbed.

Worx gives you six different cutting heights with the mower. With a diameter of 34 cm, the blade is not very long. So, this can be the only reason why you will leave such a smart-looking and powerful garden maintenance machine.
Pros
Large coverage/cutting area
Comes with dual batteries that can be charged simultaneously
Lightweight and sleek.
Cons
 Lacks grass level indicator
Height adjustment is comparatively difficult.
---
11. TACKLIFE Lawnmower (1600w) Review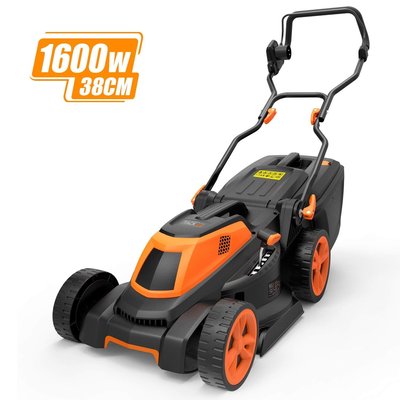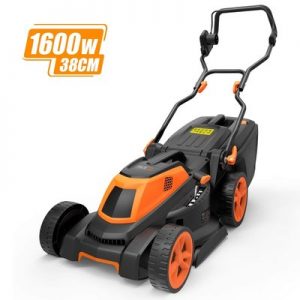 Product Specification
Blade length. 38 cm
Weight. 13.2 kg
Runtime. Corded product.
Review

The second recommendation is from one of the most famous names in the UK market for lawn tools and equipment, Tacklife. Its lawnmower is this year's second-best machine that can be at your assistance for overgrown grasses.

The high-quality mower comes with a 1600W motor so that you can cut all the lawn grasses with ease. It has innovative combs that give desired cutting results. Additionally, the lawnmower is a 3 in 1 tool; you have the functions of mulching, collection and release.

There are no tools required to change the modes. We like its exceptional mulching ability that helps in easy disposal of grasses.

With a simple lever adjustment, you can change the height of the grass being cut varying from 25 to 75 mm. It has six factory-built height adjustment, which makes it an ideal mower for the lawn where you need variable grass heights depending upon the situation or event.

Due to low weight and four wheels at the bottom, the mower is easy to transport. Its handle can be collapsed within the central unit for secure storage. Moreover, you can also remove its grass box for an even smaller footprint.
Pros
Powerful motor.
Adjustable cutting heights.
Suitable for heavy lawn mowing tasks.
Cons
Corded mower, so you need power outlets around your lawn.
---
Bottom line
Now you know some of the best lawn mowers for small garden. Read the descriptions, benefits and disadvantages, and you will see that finding an appropriate lawn mower is not that difficult.

To give you broad and diverse variants, we have collected models from different price categories and features. So, compare prices and the elements to choose the best and right product for yourself.

Still, you have the question that which small Lawn Mower should I buy? If you want to smell fresh grass from your lawn without wasting much time and energy, then WORX WG779E.2 is an efficient lawn mower you can consider. However, if you need a better cutting width, then opt for TACKLIFE Lawnmower, which can also give you an all-around cutting performance.

Enjoy the lawn cutting time with the best lawn mower for small garden.