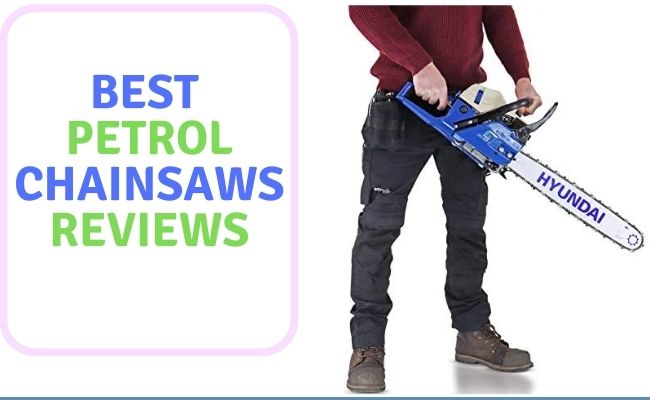 Best Petrol Chainsaws UK Reviews 2023
Last Updated on October 12, 2023
Are you looking for the best petrol chainsaw? Maybe you want to cut down the old trees in the corner of your garden. Or maybe you need a high-quality cutting device for logging. No matter what are the reasons, a petrol chainsaw offers the power and speed you need.
Hence, we are here with a guide that has some of the best petrol chainsaws UK reviews and factors to consider before making a choice. The reviews give you all the details, including the advantages and disadvantages. So, you can easily select the right sawing machine according to your requirements.
Best Petrol Chainsaws UK Reviews
1. Hyundai Hyc6200x 20 62cc Petrol Chainsaw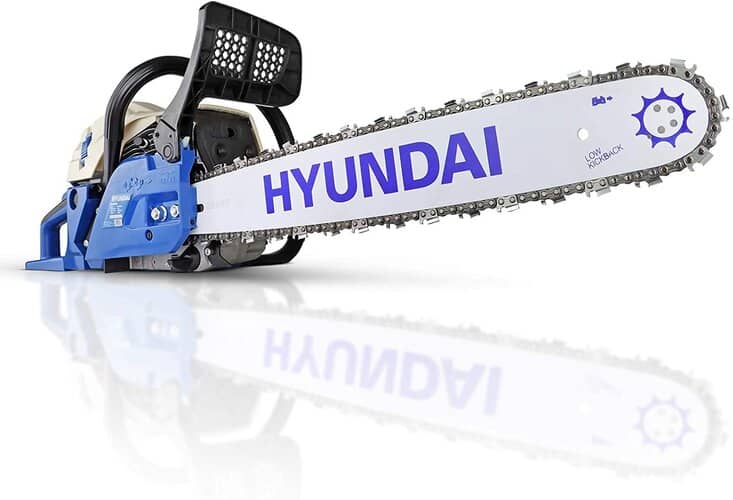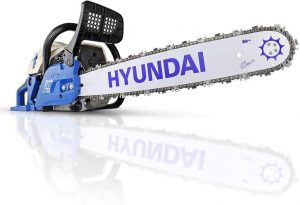 Engine: 62cc, 2-Stroke
Weight: 7 Kilograms
Cutting Bar: 20 Inches
Are you ready to be pleased? Hyundai HYC6200X is the best petrol chainsaw UK because of its powerful engine, decent cutting bar with two chains, included carry bag and a budget-friendly price tag. Oh, then there is a warranty of 3 years that's beneficial for the device and your mind.
The HYC6200X draws all its power from an air-cooled engine built with EURO5 technology. So, it maintains a powerful cutting speed but minimizes fuel consumption and carbon emissions. The 2-stroke engines anyway offer eminent power without adding too much weight.
Hyundai HYC6200X has a cutting capacity of 20-inch, which means it can tackle anything from firewood, large trees and garden clearance tasks. Moreover, this chainsaw has an easy pull-start. Hence, you can conveniently power on and use it with no struggle.
This cheap petrol chainsaw is lightweight that makes it easy to manoeuvre. Hence, the chainsaw helps you to achieve precise cuts with no mistakes. Furthermore, the cutting machine has anti-vibration technology to keep you comfortable even if you use it for prolonged durations. A meagre amount of vibrations also reduce the risk of pain or injuries.
Here comes the good news.
Hyundai HYC6200X has an automatic chain lubrication mechanism. So, you don't have to invest much time in this task. Apart from that, it's safe to use. This chainsaw has an anti-kickback safety brake and chain safety brake. These two features reduce the chances of injuries because of kickbacks.
Don't think that Hyundai is clearing the stocks only because HYC6200X is available at an attractive price tag. It's an incredible chainsaw that works under all the circumstances and provides you with the desired cutting results. It's suitable for light-duty and demanding cutting jobs including tress felling, forestry, agricultural, ground maintenance and much more. Hence, this cutting tool could be the right choice if you want to enjoy efficient, yet effortless wood cutting sessions.
Pros
Efficient air-cooled EURO 5 engine
Designed for heavy-duty domestic and professional cutting tasks
Has plenty of power, but is easy to use
The cutting bar can deal with most of the trees
Safety features for added protection
Ergonomic design for ease-of-use
Lightweight and anti-vibration technology for added comfort
Includes a bar cover and storage bag
Cons
Lots of users state this chainsaw is tough to start
2. P1PE p6220c 62cc 20″ Petrol Chainsaw review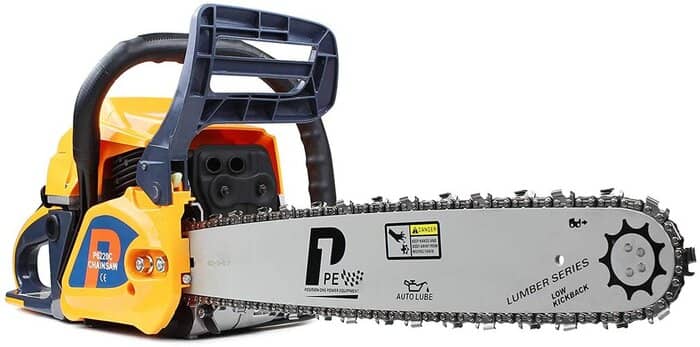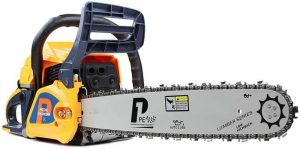 Engine: 62cc, 2-stroke
Weight: 5.4 Kilograms
Cutting Bar: 20 Inches
If you own a well-established garden with old and thick trees, then you need a heavy-duty chainsaw. It's where P1PE P6220C comes into the picture because this petrol chainsaw can help you in all the woodworking missions, even the major ones. And why not? It comes with a powerful 62cc engine and a guide bar worth 20-inch.
The air-cooled engine is built using Euro 2 technology. Hence, it's reliable and long-lasting. Moreover, the bar and chain can easily cut through large and small trees or logs. What's more? This chainsaw comprises two chains. So, you don't have to buy another chain in the middle of a project.
P1PE P6220C is designed to provide you with convenient and safe working experiences. It has an ergonomic design and anti-vibration technology that minimizes the jerks in your arms. Hence, you don't feel tired even after using this saw for extended durations.
This best value chainsaw features a soft pull recoil start that lets you start it easily. Moreover, this cutting tool is lightweight. So, you can comfortably carry and use it anywhere.
The chain adjustment is easy to access. Plus, P6220C has an automatic chain lubrication system to ensure the proper functioning of the chain. Furthermore, it's equipped with an anti-kickback brake that stops the engine in the event of a kickback. In addition, there is a chain catcher that never allows the chain to charge towards your body.
P1PE P6220C includes a bar cover and carry bag. These two accessories keep it safe from dirt and debris. They also keep the chain safe and protect it from blunting.
After seeing the specifications, you can understand that P1PE P6220C is built to deal with heavy-duty woodworking projects. It's versatile and delivers under all conditions. Hence, try this model if you want the best petrol chainsaw UK 2022 without investing a significant amount.
Pros
Reliable 2-stroke engine for efficient and effective performance
Perfect for heavy-duty cutting tasks, including tree felling and logging
20-inch cutting bar to deal with all the wood cutting tasks
Anti-kickback for your safety
Anti-vibration technology to maintain the comfort
Easy to access chain adjustment
Warranty of 2 years
Includes a bar cover and carry bag
Cons
We expected better chain quality
3. Husqvarna 120 mark ii Petrol Chainsaw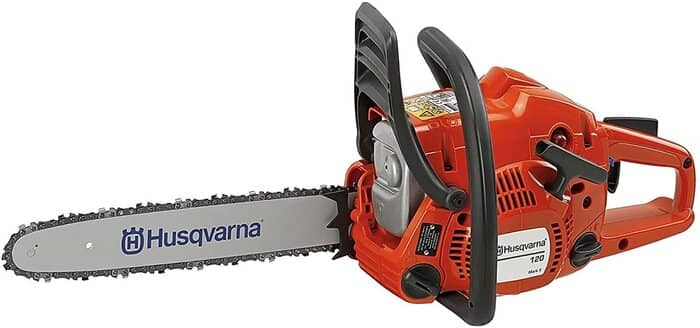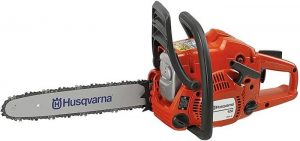 Engine: 38.2cc
Weight: 4.8 Kilograms
Cutting Bar: 14 Inches
Husqvarna is a reputed name in the world of petrol chainsaws. It manufactures some high-quality cutting tools within a reasonable price range. Hence, homeowners and professionals show confidence in this brand.
The HUSQ120-14 is another excellent petrol propelled chainsaw that overshadows most of its competitors because of useful features. For instance, the saw is lightweight at 4.8 kg. So, you can use it for longer durations without feeling tired.
Then, this Petrol chainsaw Husqvarna has low vibrations and it runs without making lots of noise. So, you can use this machine without disturbing your neighbours. In addition, it consumes less fuel when compared to other models available in this class.
Moreover, the saw has x-Torx engine technology, which ensures low carbon emissions. Plus, it has a combined choke/stop control to prevent engine flooding. Apart from that, this saw has air injection to keep its air filter clean.
Husqvarna HUSQ120-14 primarily serves home users. Hence, it has multiple safety features, including a low kickback mechanism and chain brake. Furthermore, this chainsaw is user-friendly. You can start it on the first or second pull, even during the winters.
This petrol chainsaw comes with a sharp chain that assists you for a long time without getting blunt. Its chain tensioning is also very convenient to access with the help of an included multi-tool. This tool also lets you access the oil and fuel chambers.
Husqvarna HUSQ120-14 could be a solid choice if you handle light to medium-duty woodworking projects. Because of a wide set of fantastic features, it is the best petrol chainsaw for the money. This tool is very easy to set up, use and seeks minimal maintenance. You cannot handle huge wood-cutting missions with the help of this cutting machine, but it can deal with almost all the residential tasks.
Pros
The latest carburettor for fast startup
Low fuel consumption and emission
Low kickback to ensure your safety
Features low-vibration system to keep you comfortable
Lightweight to save your arms from stress
Cons
Not suitable for commercial projects
4. Parker 62cc petrol chainsaw- PCS-5800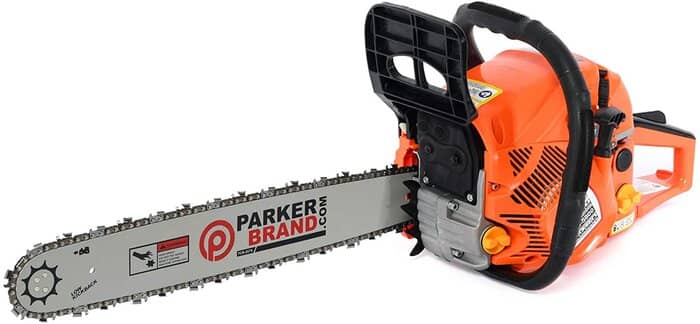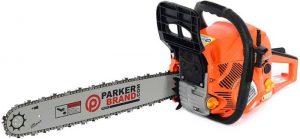 Engine: 58cc
Weight: 10.3 Kilograms
Cutting Bar: 20 Inches
Do you need a chainsaw for felling trees and cutting woods? Then, you need a powerful and easy to handle cutting tool that can finish all the cutting jobs within the deadline. These are the reasons why you should consider ParkerBrand PCS-5800. This model is lightweight, long-lasting and effortless to use.
ParkerBrand PCS-5800 is the best chain saw for the money because it's durable, powerful, compact and hence, easy to store. This petrol chainsaw boasts a wide range of fantastic features that help you generate high-quality cutting outputs. Moreover, it has an ergonomic design to ensure your comfort. In addition, there is an automatic chain lubrication mechanism to keep the blade in its top shape.
The PCS-5800 boasts a 58cc engine, which is an expert in handling challenging jobs and ensures top-notch performance. It's air-cooled and consumes a moderate amount of fuel when compared with other models available in the same class. Hence, you can cut all sizes of wooden logs without wasting a lot of petrol.
ParkerBrand PCS-5800 is the best budget chainsaw because of its power, efficiency and safety functions. It features an anti-vibration system that keeps you safe. There is also an anti-kickback function for additional protection. Apart from that, this chainsaw features automatic chain lubrication. All these features let you use this tool with no worries.
This small petrol chainsaw comes with a spare chain, toolkit, bar cover and carry bag. These accessories ensure smooth operation and add value to this product. Overall, ParkerBrand PCS-5800 is a performance-friendly chainsaw. Its efficient engine works continuously without looking for any breaks. Hence, you don't have to face any downtime.
In addition, the PCS-5800 includes a comprehensive user's manual that describes its usage. Hence, this could be the best Parker chainsaws for new users. It lets you work on all the log sizes and also keeps you safe from most of the potential dangers. Try this model if you are looking for a high-grade cutting tool for light and medium-duty wood cutting projects.
Pros
Easy to start
Reliable and robust engine
Automatic chain lubrication
Decent cutting bar to deal with thick logs
Anti-kickback and anti-vibration mechanisms
Easy to access side-mounted chain tensioning function
Includes a bar cover, carry bag and extra chain
Cons
Not good for professionals
5. ParkerBrand 45cc 16″ Petrol Chainsaw– PCS-4500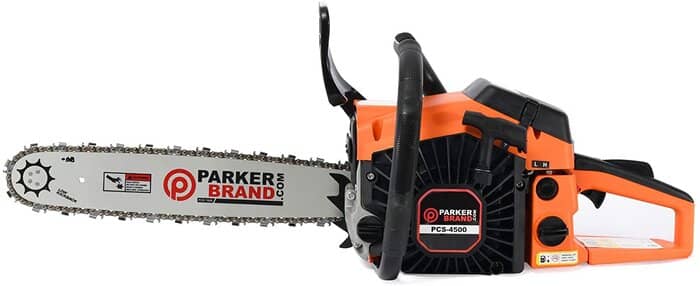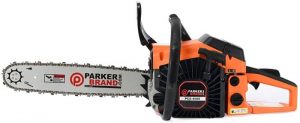 Engine: 45cc
Weight: 8.44 Kilograms
Cutting Bar: 16 Inches
You don't need a commercial-grade petrol chainsaw to handle a small or medium-sized garden. Professional cutting tools are anyway very heavy, expensive and could be a hindrance if you just intend to prune some branches or cut wooden logs in a confined space. But some of the small petrol chainsaws lack power and cannot deal with anything apart from some light cutting jobs.
ParkerBrand PCS-4500 takes a road in between, which means it can handle residential as well as medium-duty commercial wood cutting projects. This petrol chainsaw features a 16-inch cutting bar. So, it can deal with thick wooden logs. Still, this cutting tool is easy to handle.
The cheap petrol chainsaw packs a punch because of a 45cc engine that performs well and offers desired cutting results. This engine offers long-lasting services without asking for any repairs or replacements. Moreover, it has a durable construction. However, the machine is not very light at 8.44 kg.
Because of such power and features, the PCS-4500 offers incredible performance. You might have to adjust the chain tension more than a few times because it does not stay tight as long as you want to work. So, this cutting machine might take some extra minutes to finish a log cutting session.
Here comes the good news.
The noise levels are not very high when ParkerBrand PCS-4500 is at work. Still, we recommend you wear ear protection while using this tool. Furthermore, it does not produce cumbersome vibrations. So, you can work for a long with no irritation.
Overall, ParkerBrand PCS-4500 is one of the best petrol chain saws for beginners, especially if you tackle light to medium duty garden maintenance tasks. You need to keep a constant check on its chain tensioning. But, this drawback cannot be a deal-breaker because of other useful features.
Apart from that, this product includes a free fuel mixing bottle, tool kit, bar cover, and carry bag. Try the PCS-4500 because of its performance-friendly nature and value for money. In addition, this chainsaw is CE / GS AND EU-II approved, which means it's safe for all users.
Pros
Offers complete worth of your investment
Robust, reliable and long-lasting engine
Powerful enough to deal with all the residential cutting tasks
Includes 2 chains, tool kit, fuel mixing bottle, bar cover and carry bag with no extra cost
Cons
Some users state this chainsaw is tough to start sometimes
6. Husqvarna 236-14″ Chain Saw Petrol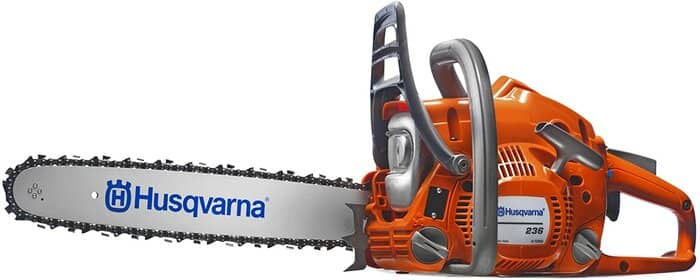 Engine: 38cc
Weight: 7.66 Kilograms
Cutting Bar: 14 Inches
Do you want to tidy up some small trees and shrubs? Or maybe there are some logs that you want to turn into firewood. No matter what your usage is, the Husqvarna 236-14 does the needful, creating no troubles.
The 236-14 is a part of the Husqvarna petrol chain saws range. It's designed for domestic usage and light-duty commercial projects. So, this chainsaw could be a solid investment if you own a nursery. It's also helpful if you prepare or sell firewood.
Husqvarna 236 is powered by a 38cc 2-stroke petrol engine, which uses X-Torque technology to improve fuel efficiency. So, it can save up to 20% on your fuel budget and is also beneficial for our environment. Less thirst for petrol also results in minimal refilling and reduced downtime.
What's more? The X-Torque technology reduces carbon emissions that are beneficial to our ecosystem. Apart from that, Husqvarna 236 is one of the best buy chainsaws for beginners. A new user can comfortably handle it. The chain tensioning is easy to adjust. So, you only need some basic skills and some petrol to use it.
Husqvarna 236 has a combined stop control and choke. So, it's easy to operate and also prevents the engine from flooding. Furthermore, this machine is easy to start. Still, some users struggle to power it on because of a lack of knowledge. Therefore, follow the user's manual to enjoy a seamless startup.
This mini petrol chainsaw features a 14-inch cutting bar that lets you deal with thick woods. Plus, it has plenty of power to produce fast cuts. Another impressive feature of this cutting tool is its automatic chain oiling that's not a standard feature on all petrol chainsaws.
Husqvarna 236 is the best buy petrol chainsaw if you cut firewood, fell small trees and prune thin branches. It's economical and emits up to 75% less carbon emission. Moreover, this tool is easy to maintain.
Pros
Perfect for domestic or light-duty commercial projects
Powerful, yet easy to operate
Fuel efficient
Easily deals with average-sized logs and trees
Safety features to prevent any injuries
No risk of engine flooding because the choke and stop control is combined
The chain brakes to stop the engine in case of kickbacks
Ergonomic design for comfortable usage
Centrifugal air cleaning system to prevent the entry of dust. Hence, the chances of clogging are minimal.
Cons
7. Einhell Petrol Chainsaw (GC-PC 2040 I 50 cc)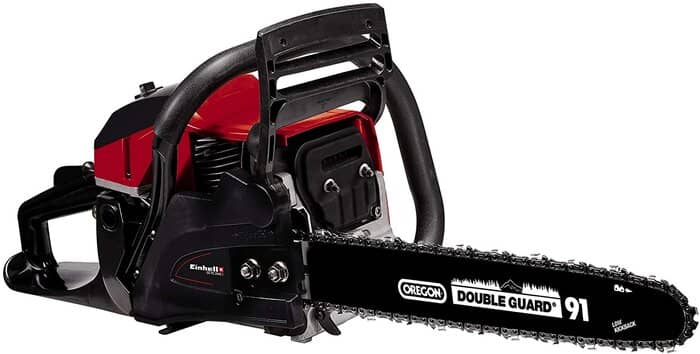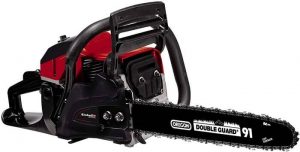 Engine: 50.4 cc
Weight: 6.5 Kilograms
Cutting Bar: 15 Inches
Einhell GC-PC 2040 is one of the best petrol chainsaws because it's a robust cutting machine that maintains maximum efficiency. It's a rare combination of comfort, power, reliability and ease of use. Still, this model is available at a budget-friendly price tag.
The GC-PC 2040 might be a solid choice if you want a chainsaw to maintain your garden and also use it for general wood cutting tasks. The high-grade cutting machine never comprises with its performance. And why not? This model has a powerful 50.4cc engine that generates a maximum of 2000W.
Thanks to an air-cooled engine, Einhell GC-PC 2040 easily deals with stubborn wooden materials. So, you can use it to cut branches, firewood and even construction timber. In other words, you can hardly find a wooden piece that this machine cannot cut.
Einhell best value chainsaw features an anti-vibration mechanism. Plus, it has a low weight. Hence, the GC-PC 2040 is easy to manage. Moreover, it's built with a comfortable handle grip for convenient cutting sessions. Apart from that, this cutting tool has a mechanism of automatic chain lubrication. Hence, you don't have to worry about the chain maintenance.
This chainsaw uses a high-quality Oregon saw chain and guide bar. Its 15 inches (400 mm) sword has a maximum cutting length of 39 cm. Moreover, the cutting speed is also excellent at 21 M/S. Hence, it's reliable, efficient and a perfect assistant for gardeners. Apart from that, the GC-PC 2040 has a self-choke and primer for easy startup. On top of that, it uses a digital ignition for a stable engine run.
Einhell petrol chainsaw is also equipped with a chain locking system that ensures the safety and prevents sudden chain engagement or disengagement. In addition, it has a metal-made stop claw to ensure your convenience and safety. So, GC-PC 2040 could be an excellent investment if you need the best petrol chainsaw UK that's user-friendly, powerful and safe to operate.
Pros
Primer and auto choke for smooth startups
Powerful air-cooled engine for uninterrupted performance
Digital ignition for zero downtime
Automatic chain lubrication
Safe and user-friendly
Suitable for residential and medium-duty professional cutting tasks
Includes cutter rain guard for easy storage
High-quality Oregon guide bat for long-lasting performance
Anti-vibration mechanism and kickback protection with instant brakes
Cons
Tough to start sometimes, even after the primer and auto choke
Petrol Chainsaw's Buyer's Guide
After going through our petrol chainsaw reviews, you can readily agree that these power tools are available in a variety of styles. It's where the given buying guide can help.
Size of the guide bar
Chainsaws are available in a variety of sizes. A long bar means that a saw can cut through thick wooden blogs. However, the price increases with the size because a long bar means a powerful engine. If you own a small or medium-sized garden, then you don't deal with heavy-duty cutting tasks. So, a 14 or 16-inch model could be appropriate. If you want to accomplish significant woodworking missions, then go for a 20-inch version.
Engine
As stated earlier, petrol chain saws with longer guide bars are packed with a powerful engine, so that they can deal with thick wooden logs. A saw over 50cc suffices to deal with all the wood sizes, but it might not be suitable if you want to prune a few trees. Hyundai HYC6200X could be the right choice if you need a powerful cutting machine.
However, chainsaws over 30cc can conveniently handle all your residential cutting tasks. Plus, they are lightweight, compact and easy to handle. You can also find a model with a 25cc engine. These versions are suitable for pruning or if you work on a ladder. It's easy to understand because a low-power machine is lightweight and easy to manoeuvre. However, these machines cannot deal with medium heavy-duty cutting missions.
Weight Directly affects Ease of Use
Are you physically strong? Can you do 30 pushups with no breaks? Even then, you will come to know that a heavy chainsaw can lead to pains and aches if you use it continuously for over 30 minutes. Hence, weight is another crucial factor to consider before investing in a petrol chain saw.
The weight of some kilograms might not feel significant by looking at it or using the machine for a few minutes. But, think about lifting the same for 30 minutes, 60 minutes or even more. Imagine the same with a full tank. So, it's better to try a low weight model.
Handle Comfort and Ergonomics
Pick the best petrol chainsaw UK with a comfortable handle and anti-vibration technology. Exposure to continuous and long-term vibrations can harm your hands. Anti-vibration technology minimises these jerks, reduces their effects and hence keeps you comfortable while working. Some of the petrol chain saws feature automatic chain lubrication, which means you don't have to perform this step manually. So, consider all these features while investing.
Safety features
A lot can go wrong while using a petrol chainsaw. You won't even want to use this machine if we discuss those points. But, keep in mind that it's not a dangerous tool. A saw can injuries only if you are using it incorrectly and inappropriately.
Some of the petrol chainsaws are equipped with safety features to minimise the risk. So, check for these functions before choosing an option. All the models recommended by us in the chainsaw reviews UK are completely safe if operated properly.
Anti-kickback mechanism is an important safety feature. It minimises the chances of kickbacks, wherein the guide bar suddenly charges you back at 96 km/h. The next is a chain brake that stops a moving chain instantly. It can even stop a chain revolving at full speed. An emergency stop button is also helpful.
The chainsaws use many other safety features to eliminate unfortunate incidents. For instance, a chain catcher stops a broken chain to flip towards the user. Apart from the manufacturer, you are also responsible for your well-being. So, don't wear loose clothes while using a power tool. Go for a helmet, trousers and boot that can keep you safe even if something goes wrong.
Included Accessories
Another important factor that's ignored by some buyers is the extra products included with a petrol chainsaw. All the best petrol chainsaws come with a bar cover and carry bag. Some of them also include an extra chain, tool kit and fuel measurement bottle. The last one is very an important addition because 2-stroke engines can seize if you mix incorrect proportion of fuel to oil ratio.
Summary – which Petrol chainsaw should I buy?
Your choice depends upon your requirements. For instance, Hyundai HYC6200X is the best petrol chainsaw UK 2022 because it can deal with heavy-duty home usage and professional wood cutting projects. However, it might not be a suitable choice if you want to prune thin branches.
Similarly, Husqvarna HUSQ120-14 is perfect for residential tasks, but cannot tackle demanding tasks. In other words, you should buy one of the best petrol chain saws as per your needs. Check the buying guide and invest in something that can do all your garden-related cutting jobs.
FAQs
Are petrol chainsaws better than electric ones?
A petrol chainsaw cannot go wrong when it comes to power and longevity. It's the best cutting tool if you deal with commercial projects. Electric chainsaws are also valuable because they are noiseless and easy to use. In addition, these chainsaws need less maintenance when compared to their petrol-propelled variants. Moreover, they do not produce carbon emissions to pollute our environment.
Why buy a Petrol chainsaw?
Petrol chainsaws are built to last. Plus, they have the power to cut through thick and stubborn wooden pieces. Hence, you can use such a powerful tool in unfavourable conditions and it will never fail.
The added power also allows petrol chainsaws to handle longer bars. A longer guide bar means the tool can tackle a huge amount of thick wooden logs without taking much of your time. Apart from that, you don't have to think about a source of electricity or battery recharges because these variants are powered by fossil fuel. You only have to refill the tank using the right mixture with 2-stroke models.
Bottom line
Petrol chainsaws are exciting and powerful tools. Our best petrol chainsaws UK reviews give you multiple models to try for pruning branches, cutting wooden logs, felling trees and other similar tasks, so that you can keep your garden in a top shape. And after reading the buying guide, you can easily pick the right model.
If you are going for a petrol chainsaw, then it's crucial to wear the correct clothes and protection. Not only an ear safety and googles, but you should also wear gloves, safety boots and chainsaw trousers. They can act as lifesavers. Keep in mind that a petrol chain saw could be very dangerous if you're not using it carefully or you are not wearing safety gear.