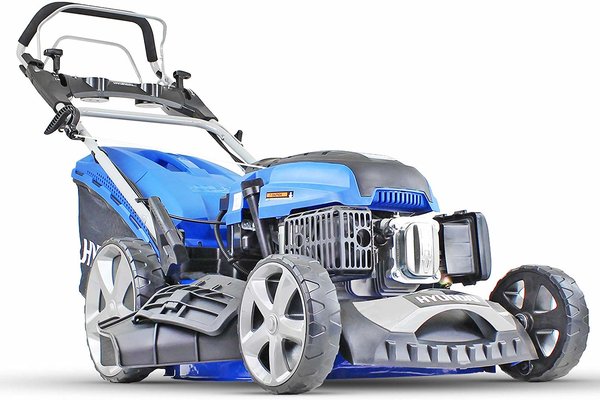 Hyundai HYM510SPE Review (A High Quality Petrol Lawnmower)
Last Updated on January 22, 2023
The Hyundai HYM510SPE 51cm electric start petrol lawnmower is a dynamic lawnmower with rich features that will take your garden maintenance to the next level. It is a self-propelled petrol machine powered by the 2019 Hyundai 139cc 4 stroke engine. It comes with two starting options – electric and backup recoil – and that is why you can experience a high level of flexibility with its use.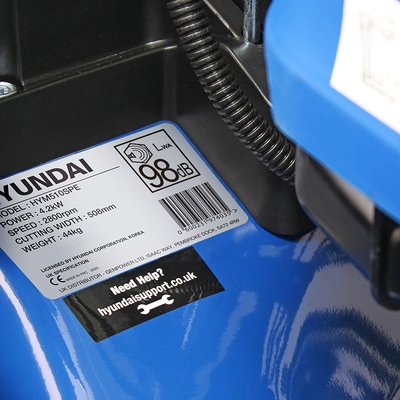 This machine comes with a deck size of 51 centimetres and a large blade size for optimum performance on medium to large lawns. With a large grass box capacity of 70 litres, you should expect less frequent evacuations during operations. You can use a central lever to adjust its height to 6 positions between 25 millimetres and 75 millimetres.
Hyundai Hym510spe Review
Hyundai HYM510SPE Features
2 starting options – electric push button and recoil starter backup
Strong 173 cc engine for optimum performance
Self-propelled with 4-speed settings
4-in-1 cutting features
Low fuel consumption
Low emission
Solid motor
Large 70-liter grass box capacity
Built with quality components
OPC safety lever
Easy height adjustment.
1. 4-in-1 Cutting Features
Hyundai HYM510SPE 51cm self-propelled electric-start lawnmower comes with four cutting options – cut/mulch, cut/collect, side discharge and rear discharge. With the cut/mulch feature, you should expect your machine to shred grass into threadlike pieces, which will be scattered below it.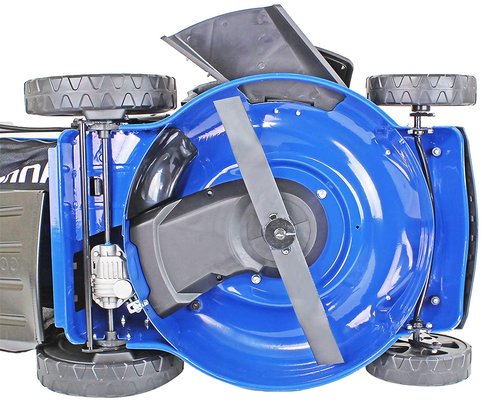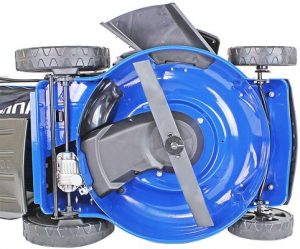 This will serve as a manure for the purpose of enriching the soil quality of your garden. To make the mulching function work effectively, there is a mulching plug that is supplied with this machine.
The cut/collect feature ensures perfect cutting and collection of grass in the collection box located at the back of the machine. This will make it easier for you to evacuate the box when you are ready to do so.
The side discharge feature cuts your grass while discharging the cuttings through the side of the lawnmower for a natural breakdown. If you want the machine to cut and discharge grass from the back, you need to enable the rear discharge function.
It is very important for you to note that if you want to use the rear and side discharge functions, you must ensure that the grass you are cutting is not too long. This will prevent the accumulation of bales of grass on your soil, which is not ideal for your garden. These two functions are perfect for cutting shorter grass.
2. Cutting Width
The cutting width of this machine is 51 centimetres, meaning that you will not go for too many passes before covering a wider area. This will make your job to be less stressful, and you won't spend too much time mowing your lawn.
3. Height Adjustment
This Hyundai HYM510SPE review is not complete if we don't mention the height adjustment capability of this machine. You can easily adjust its height with a simple central lever, which adjusts the four wheels simultaneously without much hassle.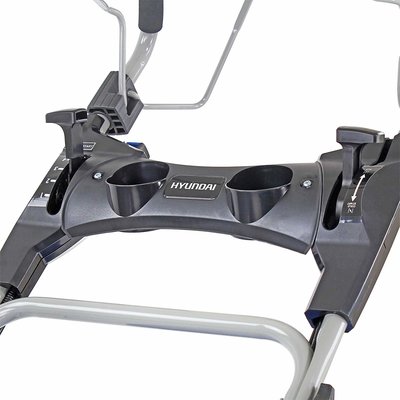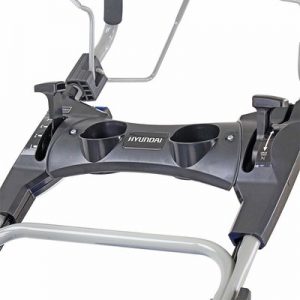 With six height positions between 25 millimetres and 75 millimetres, you can conveniently handle the grasses the way they presented themselves.  No matter the season of operation, you don't need to fear both stubborn and yielding kinds of grass.
4. Self Propelled Drive
This machine is self-propelled, meaning that you don't need to exert too much force to push it. It comes with four variable speeds, which propel the larger back wheels so that you can get the most satisfactory result.
You only need to walk behind and guide it in the direction of your choice. No matter the type of surface you are working on – even, uneven or steep inclines – you can work lightly to achieve the best outcome.
5. Grass Box Capacity
With a grass collector capacity of 70 litres, this lawnmower offers enough convenience for effective mowing. The grass collector is made of a plastic top with aerified fabric sides so as to enhance perfect ventilation. There is a level indicator that makes it possible for you to know when it is about to full for prompt evacuation.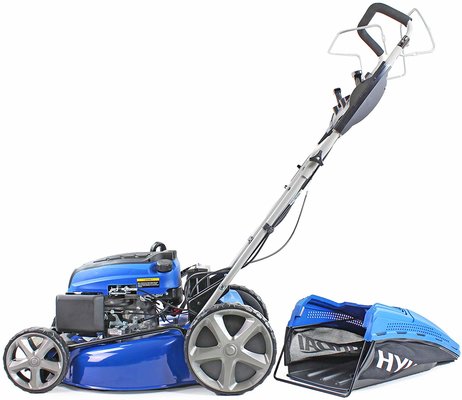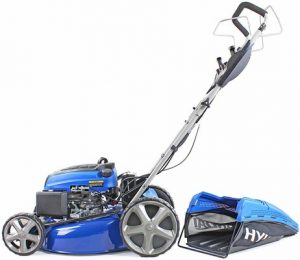 The advantage of this large grass box capacity is that you won't experience frequent evacuations of grass. However, when you are dealing with damp grass,  you may not need to wait for the box to fill up before evacuation. Damp grass can weigh so much, and with a collection capacity of 70 litres, the collection box can become too heavy on the machine.
6. Practicalities
This machine comes with great features that make it easy to operate. With four cutting options to choose from, you can be more flexible with your work so that you can achieve your desired result. It is easy to start, and you don't need to break the bank to maintain it.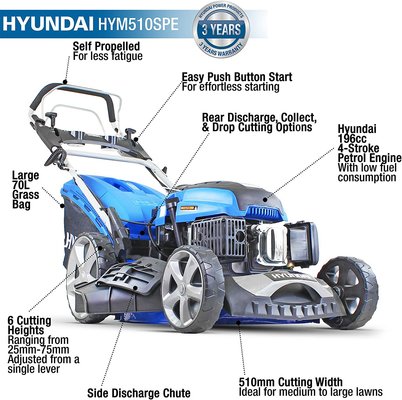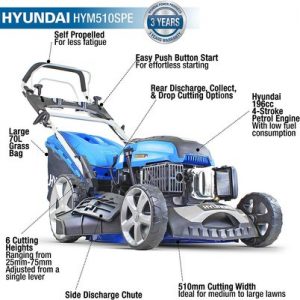 Also, the handles are foldable so that you won't have issues storing and transporting this lawnmower. The handles are soft-grip, which makes its handling a piece of cake. A garden hose connector is included, which will help you to clean it with ease. You can run the machine with a garden hose to easily clean the blade as well as the underside of the deck.
Besides, this is the SPE version with an electric push start button for added convenience. Unlike the SP version that comes with only a recoil start, you won't mind paying extra to enjoy additional features that this great machine is offering you. 
7. Power System/Engine
This Hyundai HYM510SPE is powered by the well-known Hyundai 173cc IC175VE engine. This engine boasts of the Smart Cut and Hyundai OHV 4-stroke 173cc Euro II so that you can witness optimum effectiveness at all times.
You can start the engine with the aid of an electric push-start button, and there is a recoil start backup that prevents disappointing issues that can arise from engine start-up.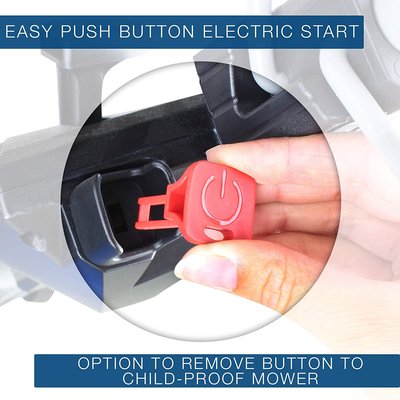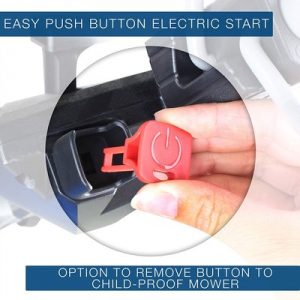 You will love the low emission capability of this engine, and that is why you cannot dispute its weather-friendliness. The engine does not require too much money for maintenance, even though it is a petrol engine.
Its manufacturer ensured that materials of high quality are used to reduce the cost of maintenance. Due to its low emission capability, it does not consume too much fuel, and that is why it is one of the most sought-after products in the market right now. Above all, you will like its quiet operation.
8. Mulching
This amazing product comes with a mulching plug, which makes it stand out among the rest. The plug enables the machine to carry out mulching functions without stress. A mower with a mulching capability is an advantage because your grass cutting will be converted to clippings for soil nourishment.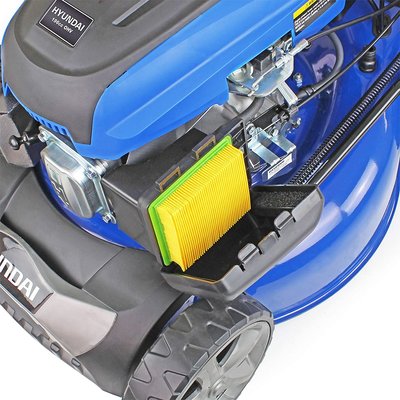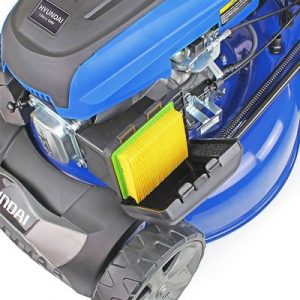 Due to the popularity of mulching among garden managers in today's world, you can't just ignore this feature in a machine. Apart from adding nourishment to your soil, mulching protects your soil from unnecessary exposure after mowing, especially when the weather is very harsh on the soil.
9. Safety Features
There are safety features accompanying the Hyundai HYM510SPE, making it a user-friendly product. You can remove the starter button from the machine so that kids will not be able to start it.
That is why it is one of the most versatile child-proof mowers you will find in the market right now. What's more, there is an Operator Presence Control System, which stops the engine when you release the handle suddenly.
This OPC safety system provides additional safety for you when using this machine, and it is very common with petrol mowers.
10. Easy To Assemble
This machine does not require rocket science for installation. You don't need any tool to set it up, and the installation process takes a few minutes. It weighs 45 kilograms, and that is why you won't have issues with its manipulation.
11. 3-year Platinum Hyundai Warranty
The peace of mind you will enjoy when you get this machine is another reason you may need to consider it. It comes with a 3-year warranty, which guarantees your optimum protection as a consumer.
Pros
It is easy to start with two starting options
You can choose among 4 self-propulsion speeds
6-position cutting height adjustment from 25mm to 75mm
Rear/side discharge and mulching
Large 70-litre easy-release grass box
.
Cons
A bit pricey to cover for the great features.
Should You Buy This Model
We recommend this Hyundai HYM510SPE if it meets your expectations in accordance with the review above. As one of the most popular brands in the world, Hyundai has not disappointed its teaming consumers with the manufacturing of products of high quality. The Hyundai HYM510SPE is no exception.
Conclusion
The Hyundai HYM510SPE is a unique machine with wonderful features that will certainly enhance the quality of your gardening tasks. With a cutting width of 51 centimetres, you can use it to cut medium and large gardens. With a few passes, you can cover more ground without using up all your energy.
You will like other exceptional attributes like the electric start function, 4 variable speeds, self-propeller, adjustable heights, 4-in-1 cutting options and so on. If you are looking for a lawnmower that won't disappoint you when it matters most, this machine is highly recommended. You may not be able to get a better deal elsewhere.