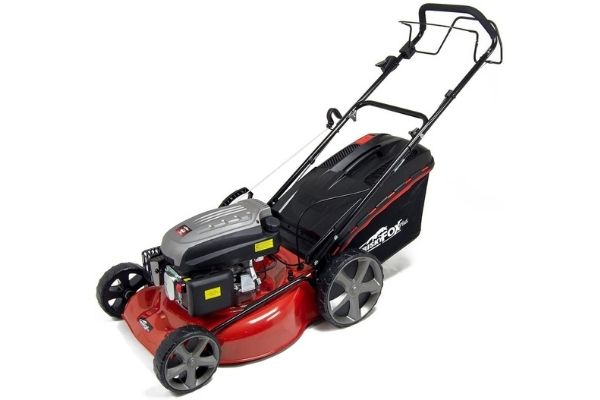 Frisky Fox PLUS 20 Petrol Lawn Mower Review
Last Updated on October 14, 2023
Frisky Fox PLUS 20 is a rare combination of power and practicality. The powerful lawn maintenance machine can deal with high-end tasks, but never creates much noise about it. So, the mower is equally suitable for residential lawn tasks as well. Then, it has multiple useful features that deserve attention if you are looking for complete worth of your investment.
Frisky Fox PLUS 20 Review
Frisky Fox PLUS is a self-driven mower that comes with a Wolf Dynamic petrol engine and a cutting width of 51 cm. The height adjustment is available between 25 to 75 mm and you can change the cutting levels using a single lever. Besides collect and cut, this model also has side discharge as well as a mulching plug.
Specification
Engine: 4-stroke 173cc (5.5 HP)
Blade size: 51 cm
Cutting heights: 7 (25 to 75 mm)
Starting system: Recoil
Grass collection: 50 litres
Variable speed control: Yes
Weight:35 kg
Deck material: Steel.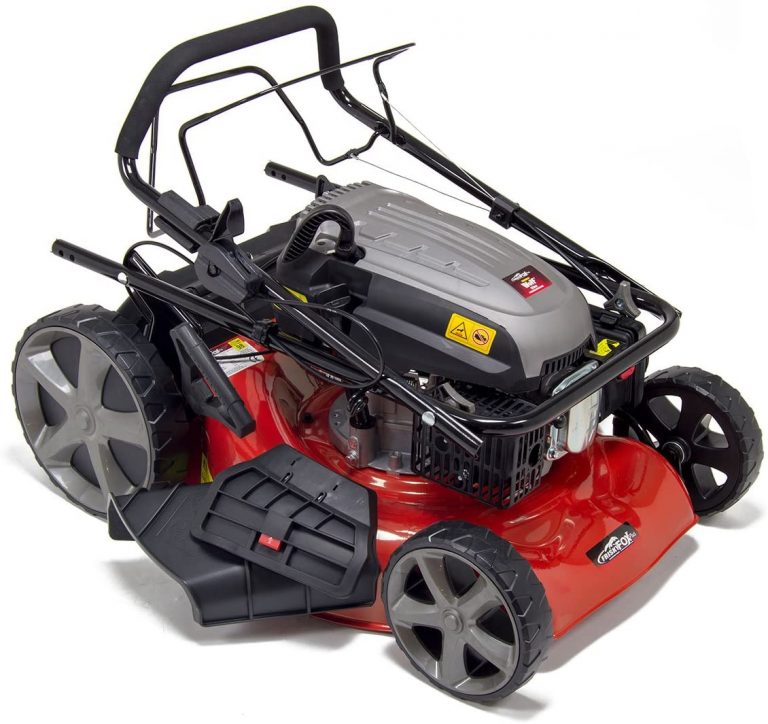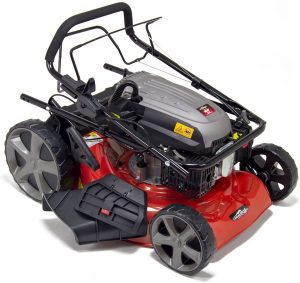 Power and Transmission
The Frisky Fox mower features a 5.5 HP 4-stroke petrol engine with a displacement of 173cc. With such power, the engine supplies constant supply and keeps the cutting process smooth. It has a recoil start, wherein the cord is smartly fitted so that you can use it conveniently without putting much stress on your knees.
As this is a self-propelled lawn tool, you don't have to push it. Simply guide the mower, and it will do the needful. You can control the speed via a throttle bar. So, you can set a comfortable speed as per your convenience. This self-propelled mower has large rear wheels so that it can move with complete stability and balance.
Cutting Options
The lawn maintenance tool comes with a cutting width of 51 cm. It has metal blades that can tackle long, and thick grasses. The machine can also deal with wet grasses, but you should wait until and unless the lawn is dry. Mowing under wet conditions is not recommended.
This petrol lawn mower can collect the grasses or cut them into fine pieces and send the greens back to the lawn when its mulching plug is connected. The tool can rear discharge the grasses, once you remove the collection bag. Apart from these three options, the machine also has a side discharge that can throw all the grasses from its right flap.
Height Adjustment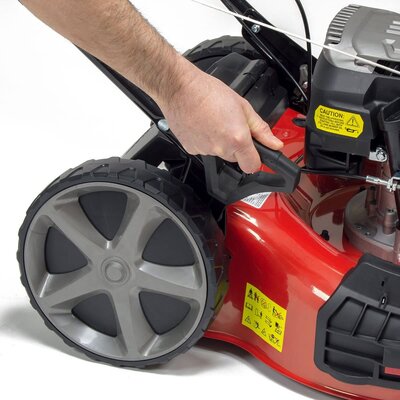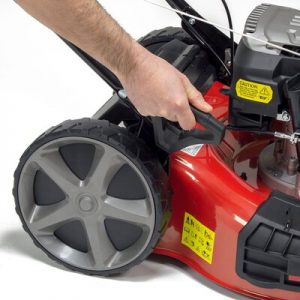 Seven height adjustments make this Frisky Fox lawn mower suitable for all seasons and conditions. The height variations are available between 25 to 75mm. You can easily change the levels using a single lever.
Grass Box Capacity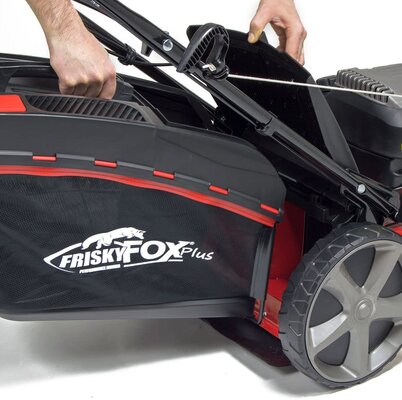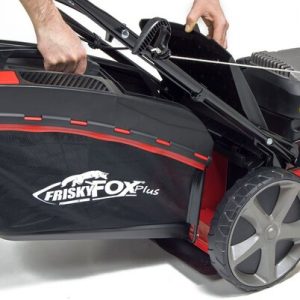 The Frisky Fox lawn mowing unit comes with a grass storage bag worth 50 litres. The bag has a solid plastic top and its lower part is made of mesh that promotes airflow and maintain proper grass collection. With such a significant grass collection, this model is suitable for medium to large-sized gardens up to 500m2.
Safety features
Frisky Fox PLUS has dual blades fitted on a centrifugal hub. So, if the edges will hit any solid object, they will recoil instead of trying to cut further. This function will keep you safe and also protects the blades.
The unit has a central height adjustment. This means you don't have to take out its blades to change the cutting heights.
A variable speed throttle is another helpful features because it allows you to set the mower at the most preferred speed. Hence, the chances of tripping or slipping are minimal.
Additional feature – Stripe mat
If you like classic British stripes on your lawn, then Frisky Fox plus 20 quad-cut best price might help. It features a mat attached to the underside that does the striping. The mat does a satisfactory job, but it's not effective like a roller.



FAQ of Frisky Fox PLUS 20 Lawn Mower
Are Frisky Fox Mowers any Good?
Frisky Fox mowers have a high-quality build, stylish design, and useful features in general. Most of its lawn tools are available with metal blades that strong and remains sharp for a long time. Some of the best self propelled mowers are manufactured by this brand. So, you can invest in one of the Frisky Fox mowers, especially if you need a reliable tool without investing a high amount.
Who Makes Frisky Fox Lawn Mowers?
Frisky Fox mowers are built by WOLF-Garten, a German brand that manufactures a wide range of petrol and electric lawnmowers. It's one of the most reputable brands in Europe.
Should You Buy this Frisky Fox Plus 20" Model?
Frisky Fox Plus overshadows all its counterparts in terms of power and grass management. Its height adjustment suits all the seasons and your mood. The rear wheels are large and hence, the mower remains stable all the times.
Large cutting diameter is suitable to cover a significant area without spending much time. Plus, the machine is self propelled. So, you don't have to apply any efforts either. Its handles are foldable, which is a great addition to small garden sheds. Overall, if you own a large garden and you need a reliable machine for its maintenance, then the Frisky fox mower might be the best option to try.
Conclusion
Frisky Fox PLUS 20 is a mighty lawn maintenance machine suitable for large gardens. Its ability to self-propel is useful if there are hilly terrains on your lawn. Then, there is a cutting width of 51 cm. This means the blades will cover more area per rotation.
The Frisky Fox Plus 20 quad-cut comes with a striper, which gives a classy appearance to your lawn. Its handles are foldable, which is a great benefit if you are running low on storage space. The machine is not lightweight at 35 kg and you don't have to worry about it because of its automated nature. However, the added heft might make a negative impact on the lawn striper's fuel efficiency.
Overall, Frisky Fox PLUS 20 has all the features to be your gardening assistance in case you don't mind some additional fuel refilling. One small factor should not determine your mind because you will not find such a high quality and performance-oriented mower at this price tag.