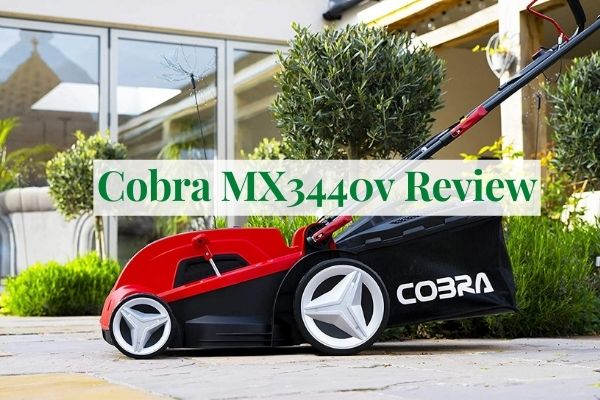 Cobra Mx3440v Cordless Lawn Mower Review
Last Updated on January 4, 2023
Cobra mx3440v is an award-winning lawnmower crowned 'Best lawnmower of 2019' by the T3 magazine. It is an exceptionally performing cordless mower suitable for levelling grass on your lawn for a neat and beautiful look.
The 13"/34 cm Cobra mx3440v cordless lawn mower comes with a 40V 2.5 AH Samsung powered battery and charger. Most cordless mowers do not have a battery and charger, forcing the users to buy them separately. You will not need to spend some extra pounds on this cordless lawn mower to buy the battery and charger.
The mower is designed with five adjustable heights that are easy to switch using the single height cut adjusting lever placed near the rear wheels. This feature allows you to cut grass to your desired size.
Finding the best cordless lawn mower is not easy. You must ensure you get a tool that cuts to your desired length, the perfect size, and weight. It would be best if you also balanced between cost and battery durability. Here is our Cobra mx3440v review that also outlines its pros and cons.
Features of Cobra MX3440 40v Lawnmower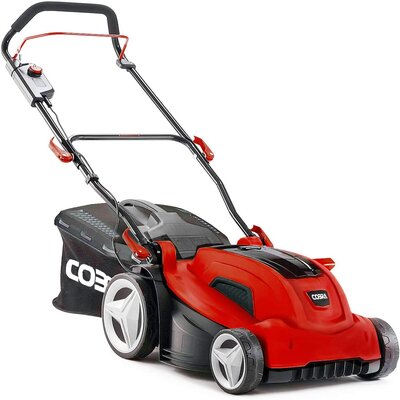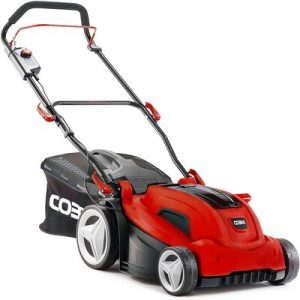 Grass Collecting Box 
The grass box has a capacity of 35ltr, making it perfect for holding big amounts of clippings before filling up. It is made of strong and top quality fabric (mesh and polyurethane) that allows free airflow. That means that collecting clippings on this machine is compact.
There is a fill indicator on top of the grass box that you will see when the need for emptying arises. That ensures no spillage of cut grass in your lawn.
Charger 
It charges the 2 AH battery in less than one hour in a safe and very efficient way. The overheating issue of batteries has been tacked. A fan switches on during the charging session to keep the temperatures cool. That ensures that the battery lasts for a longer duration.
Adjustment of Height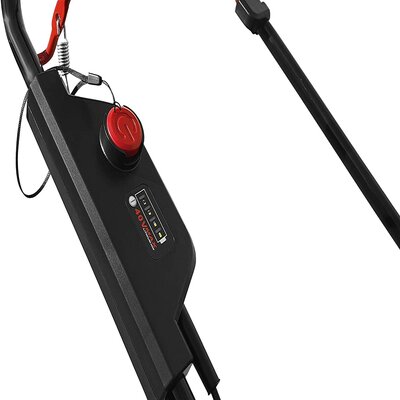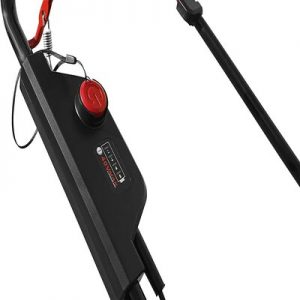 You must avoid trimming your lawn grass below 30 per cent of its original height. That only causes it to weaken and exposes it to damages and diseases. You can now see why height adjustment is a crucial feature to pay close attention to about your mower. Many lawn mowing equipment has 3-4  height settings, while some have 7- 8 stages. The range needs to be from 1.5" to 4".
The Mx344Ov comes with levers that allow you to adjust the handle height to your comfortable size. To achieve this, pull the levers forward, but it has to be a frontward pull for a very tall person. Adjusting height makes it possible for anyone to use the equipment without strains related to height.
It is possible to change the deck's cutting height. The height lever found between the rear and front wheel changes all four wheels at a go. That lever offers you the option of 5 measurements of between 25mm –  75mm.
Deck size 
Deck size refers to the width a mower cuts. A mower with a large deck size can cover the garden you are working on in lesser trips, saving battery life and time.
In each rotation, the cobra's 34cm cutting blade covers a 0.36m area. Compared with other mower blades, this one happens to be smaller.
Its motor, however, turns at a faster speed than competitor brands. Note that small cut width makes it very easy for you to cut grass along small spaces and easy movement around obstacles.
Blades 
The pressed steel blade makes neat cuts on the lawn and lifts the grass into the grass box. The clippings come out small in size and easily compacts in the collection box.
Adjustable Cutting Height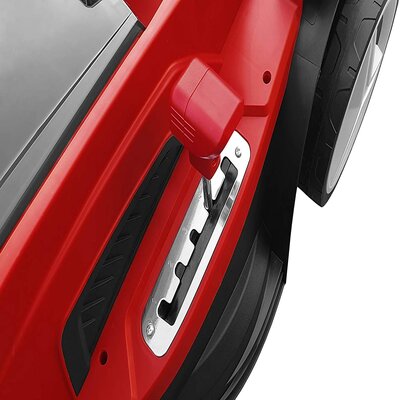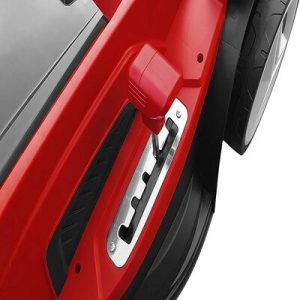 It is easy to adjust the cutting height depending on the size of the grass you want to trim. That is made possible due to the five cutting measurements that range from 25mm best for low finishes and 75mm for that longer grass on your lawn. To achieve this, make use of the adjustment lever.
Batteries and Power System 
A battery is a critical factor in the cordless mower. Without it, the mowing tool is useless.
The Cobra mower is powered by a 40 volts Lithium-ion battery that provides a quiet yet very robust and lightweight combination. The battery charges quickly in less than one hour and also easy to change with a new one.
That allows you to continue mowing with little or no interruptions. Look out for the LEDs located on the control handle to show you when the equipment is active and the battery's available power percentage. There is also a button on the battery that shows the charge level when pressed. Note also that the mower has a brush motor, which is not very efficient but not an issue of concern, only to make you aware.
Foldable Handle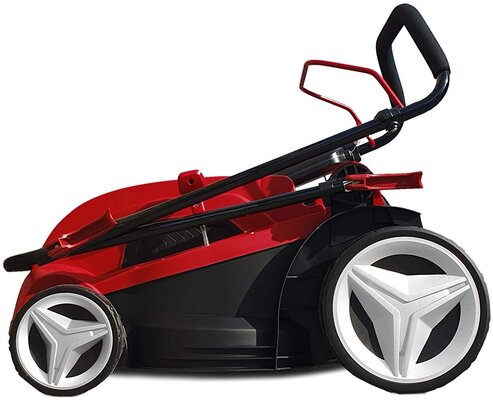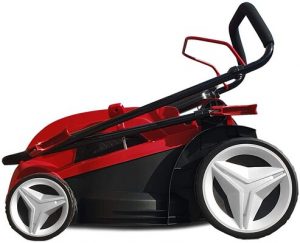 Its foldable handle is an added advantage of the cobra mower as it reduces its size, allowing you to store it in areas with limited space.
What you need to know about Cobra mx3440v 34cm 40v lithium-ion cordless lawnmower.
A big lithium battery that provides you considerable run time and recharges quickly.
The level of the battery is visible from the handlebar control panel.
A grass comb located on the front part of the machine directs grass in the blade's direction for a good cut
Adjustable and foldable handlebars for easy storage
Foam grip on the handlebar absorbs noise and vibrations
Both right and left-handed users can comfortably use the tool since its throttle runs the handlebar's width.
The grass box is half meshed to allow easy storage of clippings.
Safety Features of Cobra Mx3440v

 

The mower has safety features to avoid mishaps and health hazards. It would help if you familiarize yourself with them, as discussed below.
You must insert the key into the mower, positioned near the battery, to put on power. Look out for the start key, which you need to press before activating the throttle.
The height adjustment lever found at the centre allows easy change of the decks' height. That means you can stay at the back of the mower to switch to another size safely.
In an instance where the blade is wrestling with cutting through thick, damp, and quite lengthy grass, you will notice a thermal cut-off switch activating if it overheats. It switches off the power to the motor until the temperatures return to safe.
Pros
Good sized lithium battery with a long run time
Foldable and easy to store
Quick charging system and a fan to maintain safe temperatures
Big rear wheels
Light in weight and easy to manoeuvre
Easy to adjust height and handlebar angle
The start key ignition is safe
Big sized grass box for easy storage
Form grip on the handlebar
Battery level indicators on mover and battery
Environmentally friendly.
Cons
It is costly to buy extra batteries and hard to find affordable third-party cells.
A little weightier compared to other mowers.
Is MX3440V Worth Buying? 
This lawnmower stands out among other brands in terms of features and uses. The big-sized rear wheels allow it to move quickly on rough terrain without much pushing, especially when full. The width of the front and rear wheels reduces the effects of wheel marks on your lawn.

The large lithium battery allows you to work for longer in one charge. The extra batteries are a good substitute as the battery ages.

The Cobra Mower is a Perfect Choice if you:
Own cobra cordless tools; you can interchange the batteries
Do not like the appearance of a striped lawn
Your lawn is 300 m2
Want a variety of cut heights between 25mm – 75mm
Want to extend run time by purchasing extra batteries
Do not have a source of power in the lawn
Comfortable with 34cm cutting width cordless mower and is easy to move around in the lawn.
Even if you do not fall in this category, the mower still offers superb features to help you, even if it wasn't your first choice.

Final Thoughts

As we have seen earlier in this article, Cobra MX3440V is not wide and helps cut grass along the narrow areas of your lawn. However, that means that you will have to make more movements to and from the garden to finish the work. The equipment does not have grass combs at the back of front wheels, and cutting close to edges will not be achievable as it would have been if it did have them.

The idea of buying another battery at an affordable cost is splendid. That goes without saying for people using cordless equipment. The big 2.5 AH battery can mow your small garden at a go without having to recharge again if you have regularly been maintaining grass in the lawn short.

The MX3440V is not a noisy machine, and you will not have to pull around a cord or be concerned about filling a gas tank. The mower doesn't emit harmful exhaust. It is easy to maintain it, and you can get the value of your money. You can never go wrong by buying this machine!