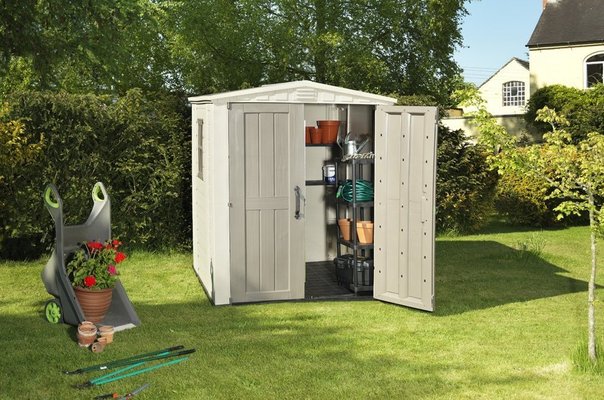 Best Plastic Garden Sheds 2022 UK Reviews
Last Updated on September 26, 2022
Plastic garden sheds come in various shapes and size, so there is something for everyone. However, with so many choices available in the market, it is a daunting task to choose one out of them. It's the reason why we are creating this handy guide for you, wherein you can find some of the best plastic garden sheds you can purchase from the UK market.
Garden sheds can be a sturdy, durable, and waterproof that can keep your tools, bikes, mower etc. safe as well as secure. Once installed, a plastic shed will not ask for maintenance. So, it one of the most efficient garden buildings you can have.
We have tested these shads based on their usage, weather resistance, ease of assembly and other features that can be useful for you. We have included variants from different price ranges and some of the top manufacturers, including Keter and Duramax.
Top 11 Best Plastic Garden Sheds 2022 UK
Best Plastic Garden Sheds 2022 UK Reviews
---
1. Keter Factor Plastic Garden Storage Shed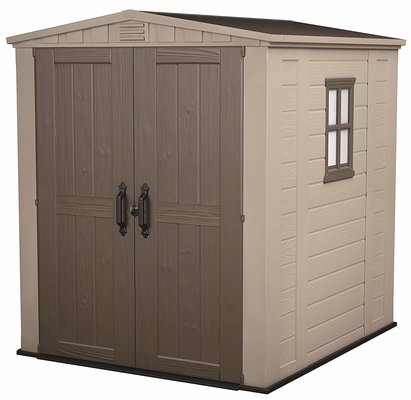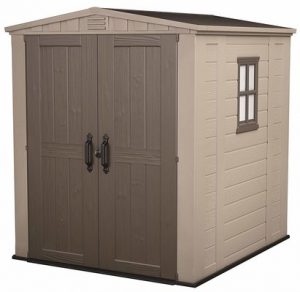 Our second contender is also from Keter, one of the largest manufacturers of plastic garden sheds. Made of sturdy steel frame and fade-free plastic, the maintenance-free outdoor plastic garden storage shed has a capacity of 6100 litres.
As its construction is not affected by water or UV rays, you will not see any discolouration or spoiled appearance even after a long period.
Integrated floor and interlocking system of the shed keeps moisture and pests out. Double door entry gives you easy access to the storage area while there is a window for ventilation.
Then, there is also an integral skylight to allow sun rays. With such a structure, the storage shed is an ideal place to store bicycles, ladders, garden-related tool. Moreover, the shed adds elegance to your garden.
If you have already levelled the base for this shed, then the storage shed can be installed within two hours. However, you will need another helping person to set it up within the given time.
To slide the interlocking joints securely, you can apply some lubricants like WD40. Once set, the shed can comfortably accommodate two standing individuals.
To keep the shelter clean, you only have to light wash it occasionally. Check for warping after regular intervals, because the shed will not be able to stand correctly on walls that are not straight.
Pros
Door lock added for added security
Ventilation for natural light and air circulation
High-quality floor panel that keeps moisture away.
Cons
---
2. Keter Manor Outdoor Plastic Garden Shed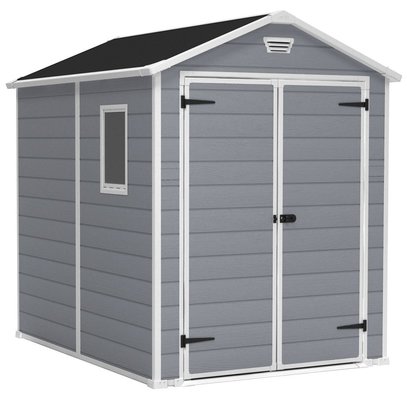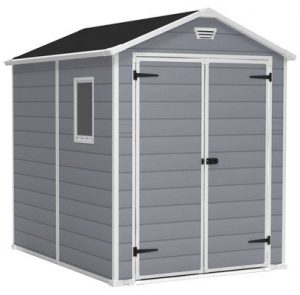 Keter plastic sheds are known for their maintenance-free, affordable and useful nature. Well, our first entry is no exception. Made of weatherproof materials, Manor outdoor storage shed is durable and keeps all the items safe.
The Manor comes with dual doors to provide you with a wide area while accessing the stored items. Doors are lockable. However, you will not find any lock included. You have to purchase it as a separate item.
There is a fixed window that facilitates sunshine. Moreover, the ventilation makes sure that there are no condensation or excess temperature inside.
As the storage shed is well built, it will never require any extra maintenance. All you have to do is; wash it occasionally and spent the free time with your family or doing some other works.
It's also effortless to assemble without any special tools. Overall, one of the best heavy-duty plastic garden sheds.
Pros
Lockable doors
High quality built
Weatherproof.
Cons
Instructions are not clear enough.
---
3. Keter Plastic Garden Shed- Good Quality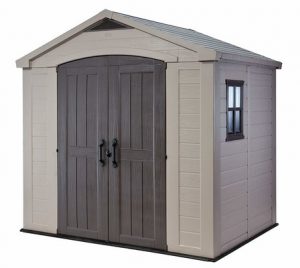 Suitable for storing garden furniture, household equipment, bicycles and other related accessories, the outdoor garden storage is constructed with a reinforced steel frame and fade-free plastic.
On the exterior, it has a wood-like appearance, which adds some grace to your garden. It has double doors for easy access and grills on the top for proper air circulation.
Skylight and windows on both sides allow sunshine for a fresh storage house. The Keter shed 8×6 is weather-resistant and has a heavy-duty floor, which keeps all the stored items dry and safe from pests.
For added security, the dual doors are lockable. Inside, you will find two shelves off the ground wherein you can store the garden tool, pots, gardening manuals etc.
Looking at its construction and features, the plastic garden shed is a useful and stylish addition to your garden.
The assembling will take some time; however, if you can get some help from one of your family members, neighbours or friends, then the set up will be completed conveniently.
Pros
Double lockable doors
Ventilation grills
Windows for natural sunrays.
Cons
Cannot withstand heavy winds.
---
4. Keter Scala Plastic Garden Storage Shed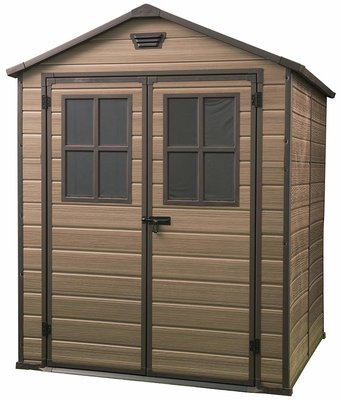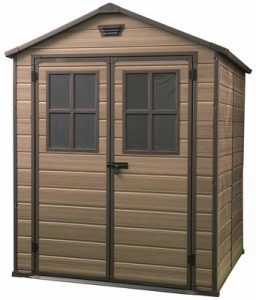 With a rustic appearance, the plastic garden storage shed from Keter has a unique charm. Its unpolished worn outlook makes it a character that has been standing on your garden from years.
Lightweight, yet durable panels make it a sturdy storage unit. Due to its long-lasting nature, it has garnered mostly positive reviews from the buyers across the UK.
The shed provides complete protection from shower and heat. As it's not susceptible to weather, you do not have to think about its revival.
The six feet wide and eight feed long storage shelter is made of modular polypropylene integrated with UV inhibitors. Due to such construction, the shed is resistant from colour distortion that can occur due to sunburns.
Moreover, the polypropylene is immune from rot depreciation as well. Twin doors of Scale give you a substantial space to enter.
Both the doors have square-style fixed windows that illuminate the private area. Doors are lockable, and there is a ventilation grill on the front top.
Overall, if you need a durable storage shed that can free your maintenance time as well, choose Keter Scala. You have to light wash it occasionally to maintain the shine.
Pros
Stylish appearance
Large lockable doors
Lightweight and sturdy panels
Easy assembling process.
Cons
Hinges and door lock can be removed from outside; not secure enough.
---
5. Keter Manor Outdoor Plastic Garden Shed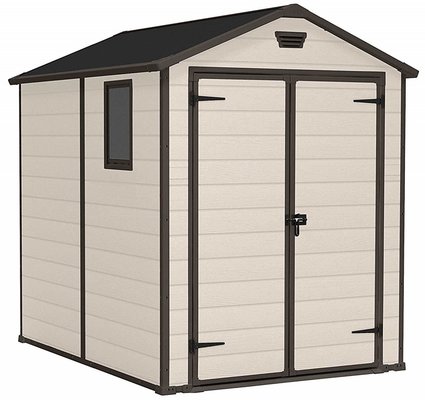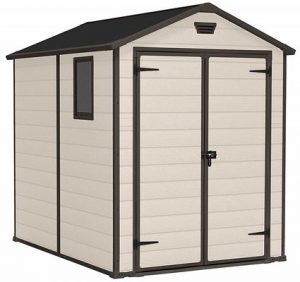 Attractive and durable outdoor plastic garden storage shed has a wooden appearance that easily mixes up with the garden.
Double doors, built-in ventilation and high-quality floor panel, complete the storage shed, which keeps all your belongings protected from mud and water. So, whenever you are willing to work with the plants, you can find all the tools clean and dry.
Made of durable plastic, Manor will last for many more years to come. Moreover, it will never need any maintenance. Due to its weather-resistant nature, you will not see watermarks or nay discolouration due to extra temperature. A simple wash occasionally will keep it new forever.
Metal hinges on the lockable doors offer added stability. You can use a padlock to secure all the belongings for complete peace of mind.
The storage shed is easy to assemble, and you will not require any unique tool for the same. Place the shed on a hard surface like concrete, tarmac or paving slabs.
You cannot set it up directly on grass or sand. Otherwise, the movement caused by natural elements will discourage stability as well as durability resulting in warped panels.
Keter Manor is an ideal storage solution for garden equipment, outdoor furniture, bicycles, power tools and other household items.
Pros
Lockable doors
The glazed window for sunshine
Weatherproof.
Cons
Challenging to assemble due to poor instructions.
---
6. Duramax StoreAll 8′ x 6′ Plastic Garden Shed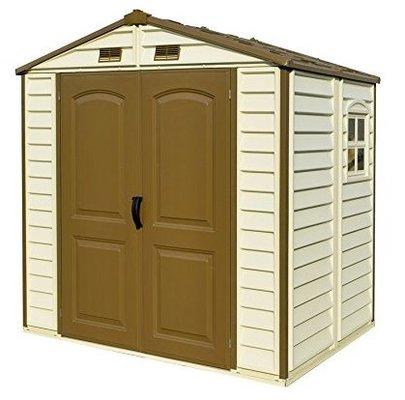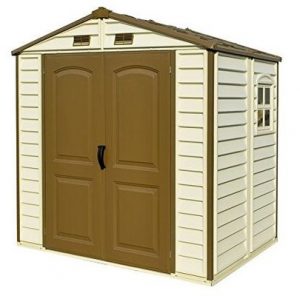 Made of vinyl wall columns, the attractive StoreAll is suitable for patios, backyards and gardens. Its steel reinforcement allows you to mount shelves or any other equipment.
StoreAll has wide and tall doors that give you easy access to the storage area. Then, there is a window that allows the sunshine to enter and a ventilation grill for regular air circulation.
Its construction material is rust, rot, dent and fade-free. Its brown coloured shingle top keeps both water and snow at bay to keep your tools and related things dry as well as safe.
Overall, the garden shed is weather resistant. You will be surprised to know that it is fire retardant as well. So, you will spend less time on the maintenance of StoreAll and still, it will stay the same way for a long time.
Assembling the garden shed is secure and will not take much time if you a helping hand. You will have the instructions, but you can also check the installation video on the website of Duramax.
To install the garden shed, you will need Phillips branded drill, screwdriver, ladder, gloves, measurement tape, waterproof silicon and hammer. These are some of the standard tools that will find in your house apart from silicon.
Duramax is active since 1983. So the brand has a vast experience of manufacturing garden sheds and other household products.
Their products can make your home look and feel better. StoreAll is not different as it gives you a maintenance-free and affordable storage solution for your garden tools, furniture, bicycles, and related accessories.
Pros
Long-lasting and weatherproof
Fire retardant
Maintenance-free.
Cons
Needs water-sealed silicon to remain waterproof, otherwise the shed leaks.
---
7. Keter Manor Pent Plastic Garden Shed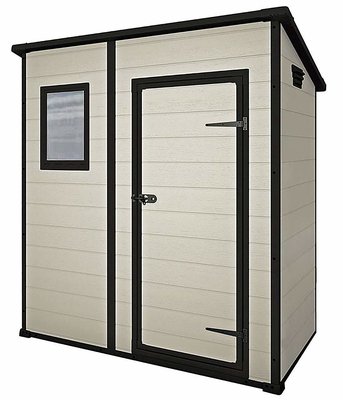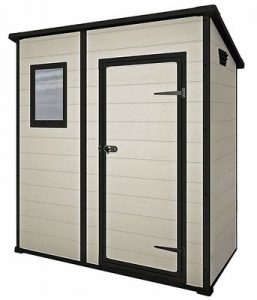 If you own a small garden, then the Manor is an ideal choice. Made of durable and fade-free plastic, the storage shed only needs an occasional wash to be as new forever.
To facilitate daylight and ventilation, the shed has an inbuilt window. It has a single door entry, which is lockable for added security. Add a padlock to store the garden equipment safely.
The floor where you are placing Manor plays a vital role in its stability. So, you should choose a hard ground like concrete floor, tarmac or paving slabs. Placing Manor directly on the grass or sand will warp the doors to make a negative impact on its lifespan.
Construction materials of the storage shed have attractive wooden texture. It's weatherproof and does not need much maintenance. You will need some extra help while installation, so makes sure you call a friend or family member.
Pros
Lockable doors
Weatherproof
Elegant appearance.
Cons
---
8. Keter Store-It Out Ultra Outdoor Shed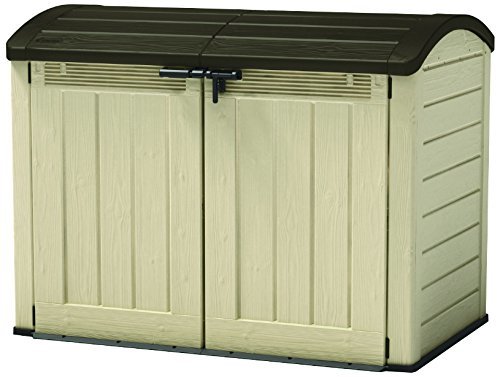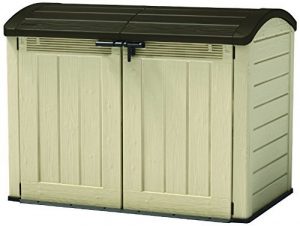 Want the BBQ clean for next weekend party? The Sore-It Out ultra-outdoor bike shed can make it possible for you. It keeps all the stored objects dust, dirt and moisture-free.
So if you need a storage shed that can save more than just a gardening tool, you can choose the Sore-IT Ultra outdoor. You can store up to 4 bicycles in the shed. If you don't want to use it for bike storage, use the shed for garden equipment and household items.
Made of thick plastic that is hard as wood, the storage shed is going to last for many more years to come. The bike shed has a mimicking wood exterior that readily mixes with the garden. Also, the brown and beige colour of the bike shed blends well with the green leaves.
Its weatherproof and rustproof nature saves you from spending long hours on maintaining the shed. For easy access to the stored items, it has a lid as well as doors.
So, be assured that none of the things will receive any scratches or damage while storing them. It looks like a wooden storage shelter and your family members will love it.
The storage shed does not have any holes that can allow water. Moreover, it has a high-quality construction to avoid leakage. So, the shed is waterproof, and your belongings – safe.
Pros
Easy to open the lid as well as front doors
Easy to assemble
Weatherproof.
Cons
---
9. Keter Manor Outdoor Plastic Garden Storage Shed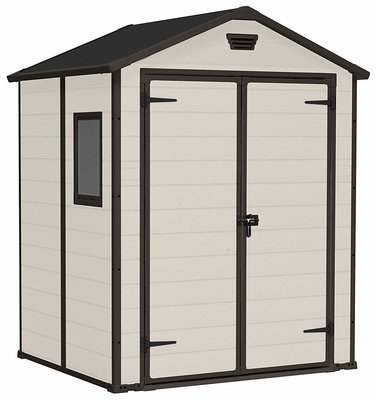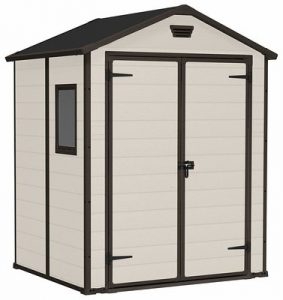 Elegant and durable, this is the second version of Keter Manor, which is double-doored for easy access. Not only dual doors, but the storage shed has a double-wall construction as well, which keeps it weatherproof.
Its high-quality floor panel stands between the moisture as well as pests and your belongings. Ideal storage for garden equipment and household items, the storage shed comes with a ventilation duct at the front top.
There is also a side window for natural sun rays and an optional padlock for added security. Moreover, its beige color mixes easily with the garden or patio and adds to the style.
If you need a durable, rot and decay proof storage shelter that can keep your items safe for a long time, then choose the Manor outdoor storage shed. It's easy to assemble without any special tools.
In addition, the shed has all the instructions that are easy to follow. However, you will need some extra help from one of your friends.
Pros
Elegant wooden appearance
Weather-resistant
Lockable doors
Ventilation.
Cons
Difficult to assemble single-handedly.
---
10. Lifetime Heavy Duty Plastic Shed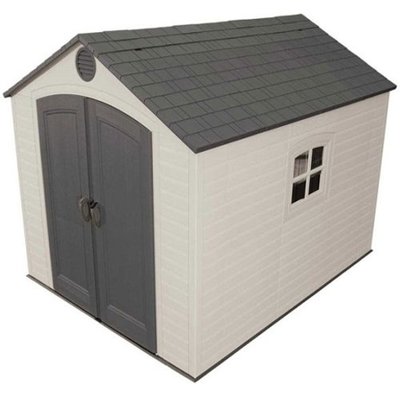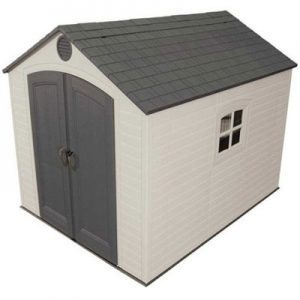 Eight feet wide and ten feet high, Lifetime heavy-duty shed offers a unique garden storage solution. Apart from gardening tool and furniture, it gives you an extra space to store household items that you rarely use.
Lifetime plastic sheds are known to be robust. This one is no different as well; made of High-density Polyethylene Plastic (HDPE), the shed offers unmatched durability.
A reinforced steel frame keeps the structure together. Lightweight roof and side panel makes assembling easy while the added UV protection makes sure there will be no colour fading in the future. The shed can tackle variable heat, so you will never notice cracks as well.
Skylight is included in the Lifetime 8×10 shed to allow sun rays, and you will also find a side window. There are dual doors and full-width shelves for added storage.
To eliminate condensation, there are two air vents, and its large duty floor panel keeps the pests away. Looks like the model as everything that you can expect from a storage shed.
You should always choose a low level to set it up — patio, concrete floor, slabbed area some of the best spaces where you can assemble this shed.
You will notice slight indentation on each corner of its level that allows you to drill through and secure the shed to the designated foundation. Two individuals will be able to install the storage shed within five hours.
Pros
Sturdy powder-coated steel frame
High-density plastic construction
Rust free
No maintenance required.
Cons
According to our experts and their test results, there are no negative aspects of the storage shed that we can mention.
---
11. Keter High Store Garden Shed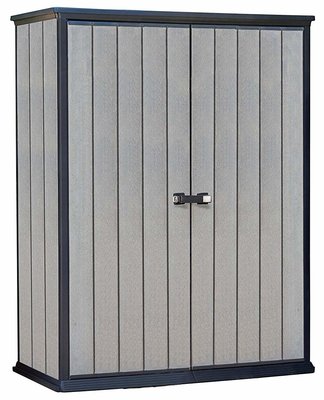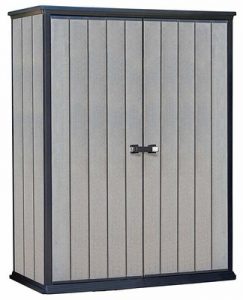 Sturdy as well as spacious, that's the Store Outdoor plastic garden storage for you. It is a complete storage solution for your garden, which is constructed with DUOTECH™ walls and other water-resistant materials.
It's the construction why this storage shelter is long-lasting and needs minimal maintenance. Moreover, it can easily hold heavy equipment because of the massive duty floors.
DUOTECH walls are durable, customizable, and easy to clean. Because of the pre-built tongue and groove sheets, you can assemble it quickly.
Inside the shed, you will find adjustable brackets that can be used for shelves. As the building material is weatherproof, the shed will never fade.
Wide double doors give you easy access to the storage area. To customize the product, you can use any colour of your interest, because its walls are paintable.
However, the rusted grey colour will be suitable for the garden or patio. Doors are lockable, which adds to the security as well as peace of your mind. Both the doors rely on sturdy nickel hinges that will last for long.
The sloped threshold is a unique feature of the High Store. It makes an easy path for heavy equipment with wheels.
Overall, High Store is the safest place for your garden accessories, patio games, tools, brooms and other household items.
Pros
Durable and maintenance-free product
Heavy-duty floor panels
Sloped threshold
Easy to assemble without any unique tool
Customizable DUOTECH walls.
Cons
Takes a long time to join, you will need some helping hands.
---
Bottom Line
Today, we discussed some of the best plastic garden sheds. Any of the mentioned entries can be a great addition to your garden.
Still confused? Then go for the Keter Manor storage shed that we have referred to as our top contender. This plastic garden shelter has impressed our experts.
Made of polypropylene, it's a long-lasting product, even if it has to face harsh weathers. The shed has a decent height that allows you to store maximum components inside.
Moreover, double doors give you ample space to access your belongings. So, even if you have some large tools to store, Keter Manor will be able to accommodate it.