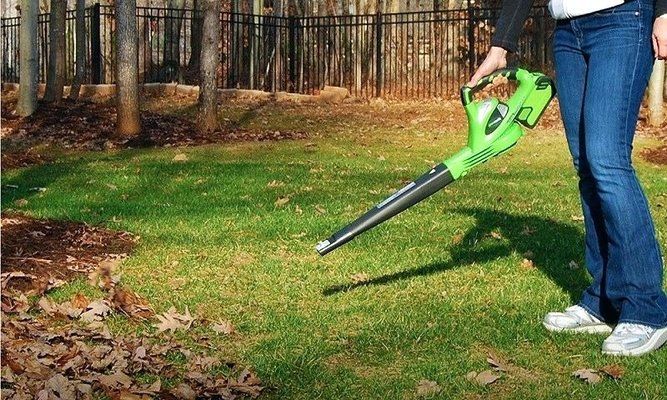 Best Garden Vacuums UK Reviews 2023 [Top Garden Vac]
Last Updated on January 3, 2023
---
Today we will know about some of the best garden vacuums available in the UK market. We will talk about their design, features, and power. We have also prepared a buying guide, which will answer all your questions related to garden vacuum.
Cleaning up autumn leaves is necessary if you need a tidy and attractive garden. Leaves and debris can be removed from the various manual tools, but that that takes a lot of time and physical effort.
However, garden vacuums and blowers make this task much easier and faster. It's the reason why such tools are gaining popularity every year.
A garden vacuum picks up all the unwanted leaves from your garden. Some of the variants also work as a blower and mulcher. In the past, garden vacuums were a luxury for garden owners.
Now, the scenario is changed, and there are many garden vacuums available from different price ranges and features.
It's the reason why we have reviewed eleven best garden vacuums available in the UK market. Highly rated by buyers and our experts, each one of the following frees your garden from autumn leaves and provides the full value of money.
Best Garden Vacuums 2023 UK
---
Best Garden Vacuum & Leaf Blower Buying Guide
If you are afraid of manually clearing your garden from leaves and debris, then any of the options mentioned above are excellent. However, if you want more information about how to choose one, here is an overview of factors you should check and consider.
What are you cleaning up?
The task of clearing your garden from unwanted leaves is a monstrous one. Garden blowers can be of great help in such situations. Many leaf blower combines the function of vacuum and mulcher that can be helpful if you are planning to make compost. Clearing leaves is anyways vital because they block sunlight, effects the lawn negatively and even harbour diseases inside.
Leaf blowers or vacuums are not designed to clear or draw small stones and pebbles. Nor most of them can blow wet leaves. So, if you have leaves on and around a decorative rock or pebble driveways, we recommend you to sweep them on the grass and then use the vacuum function. If you have a vacuum or blower with variable speed feature, use the lowest airspeed on pebbles.
How large is the area that you'll clean?
If you own a small garden, then always browse for compact and lightweight leaf blowers. If you are choosing an electric garden vacuum, then consider the cable length. The power cable should be long enough to cover the area, and there should be an electrical outlet nearby. On the other hand, if you are interested in cordless garden vacuums, then you must know the runtime. Make sure that the runtime is sufficient to cover the entire area.
Talking about significant areas, a petrol blower will be the right choice because it will provide more power as compared to cordless and electrically powered variants. In petrol blowers, you have backpacks, handhelds and wheeled options. Backpack blower will distribute the weight on your upper body. Hence you will be able to cover the area without any backache or wrist stress. Example.
Dealourus 65cc Petrol Backpack Leaf Blower. A wheeled leaf blower or vacuum is the most powerful and cover almost any ground. So, it's usually used by professionals or individuals who own a gold course. Overall, you have to choose the form factor, and fuel type of a leaf blower depends upon the area you want to clear.
How much power do you need?
Power is one of the most important things, but how much do you need. Apart from the engine power, there are two factors that you need to check: MPH (Miles per hour) and CFM (Cubic feet per minute). MPH is the speed, and CFM is the volume of air coming out of blowing tube. We will discuss more these two units later. However, the power of a blower depends upon these two. You have to choose a leaf blower depending upon the area you have to cover and types of leaves or debris you need to clear.
How much can you afford?
Depending upon your requirements and size of the garden, you have to choose between corded, cordless and petrol-powered engines. You can buy an excellent corded leaf blower anywhere between £30 t0 £60: example, VonHaus 3 in 1 Leaf Blower or Q Garden QGBV2500.
Cordless garden vacuums are comparatively expensive because of the convenience they offer: for example, Ryobi OBL1820S ONE+. As you see, it's a decent blower with great airspeed and power. So, you can get a cordless blower in between £60 to £120. If you want a more powerful petrol version of leaf blowers, you need to spend more than £120. You can get a powerful machine like AOSOME BV3405 in this price range.
Is it easy to use?
Corded, battery-powered or petrol leaf blower – selecting the right leaf blowers depends upon how comfortable you will be while using it. Convenience and ease of use cover many areas. For example, if you have a garden more than once acre, then you would not want to invest in an electric garden vacuum or leaf blower. So, that you don't have to look for power outlets, recharge the battery in case of cordless blowers. Apart from the fuel type, there are several other factors that you need to remember.
Choose a mower that needs less maintenance. Invest in a petrol blower, only if you own a large garden.
Lightweight mowers are easy to use. So, try to find a blower that has less heft. Try BLACK+DECKER GW2500-GB or VonHaus 3 in 1 Leaf Blower.
Compact blowers will take less storage space. If you are running low on storage area, choose a blower with less footprint. It will be better if you can take the tubes apart for even more secure storage.
What Should You Know About Leaf Blower?
---
Type
Garden blower and vacuum are two different products, but in all the above-mentioned products, both the functions are combined. The next category depends on the fuel type: battery, electrical or petrol. All three models have their benefits and negative points. We will discuss more this later.
Airspeed and volume
Speed and volume of the air coming out a leaf blower decide its efficiency. Denoted as MPH (Miles per hour), airspeed is the rate of air that a leaf blower can generate. Generally, it varies anywhere between 110 to 180 mph.
Some of the high-end blowers have an airspeed up to 250 mph. Several others also come with variable speed control know or trigger. Flymo 9676581-01 PowerVac and Stihl SHE71 are some of the best leaf blowers we discussed today.
Volume is the amount of air moved from the blowing tube in one minute. It determines how easy or difficult will be for the blower to clear the leaves from your garden or lawn. Denote by CFM; it's the actual power of a leaf blowing machine. Generally, the CFM of leaf blowers ranges between 150 to 600. For a medium-sized area, we recommend CFM of 400.
Runtime
If you are looking for a cordless leaf blower, it's essential to check the battery backup before you purchase one. Some of the low-end models run only for ten minutes, which might be not enough to clear the complete area, be it a garden, lawn or backyard.
Noise level
Leaf blowers can be loud. So, check the sound level of the blowers while you browse them. It will always be mentioned as Decibels(dB). According to the noise regulation of your area and community or locality, choose a leaf blower that should not be a disturbance to anyone.
Ergonomic design
Whether it's a handheld or backpack leaf blower, the unit or blowing has to be comfortable in your hands. Being lightweight is different, but a leaf blower should have ergonomically designed handle, especially if you have a significant area to cover. Handle with a soft grip, nearby power button and easy controls are must-have features for a comfortable leaf clearing experience.
A leaf blower should automatically point the nozzle towards the ground once you hold it in your hands. If the blowing is indicated straight ahead, then it will be harder to use. After some time, you will have to switch it off because of excess wrist stress. One of the best ergonomically designed is Stihl SHE71.
Speed control
Whether you purchase an electric blower or petrol powered, it's always beneficial to have control of the airflow. So that you can reduce the blowing speed on fragile targets like flower beds. And when you have a flat area, use the maximum power to finish the path clearing task fast.
Fuel tank
If you are interested in a petrol blower, then you should know how much fuel it can carry. Depending upon the same, you can guess the area that you will be able to cover without refuelling. The capacity varies anywhere between 300 ml to 900 ml. Example, the AOSOME BV3405 has a 500 ml fuel tank. So, choose a mower depending upon the size of the park you have to cover.
Vibration
Whether it's a petrol leaf blower, cordless or battery-powered; the wave is standard among all. However, various models come with vibration reduction features that degrade the engine effect on your wrists and shoulders. So, look for a leaf blower with anti-vibration mechanism, especially if you own a large garden. We have already mentioned some of the best multifunctional leaf blowers that reduce the vibrations, like McCulloch GBV345 and AOSOME BV3405. Both are petrol-powered blowers because these are the ones producing maximum wave because of a healthy engine.
Warranty
After-sales warranty or trial period depends upon make and model. It varies between two to five years. Once you have all the other features in mind, make sure you also take a look at the warranty. So, you can use any of the product with complete peace of mind.
Top 11 Best Garden Vacuum UK Reviews 2023
---
1. Flymo 9676581-01 PowerVac-
Best Garden Vacuum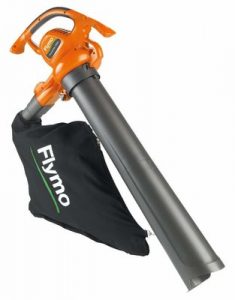 Key Features
3000W
5.2 kg
Power cable. 10 m
Collection capacity. 45 litres.
Specialty
PowerVac comes with variable speed control that makes you the boss of your garden.
Review
FlymoPowerVac is an easy to use and powerful garden vacuum that can also work as a blower. A great tool to remove leaves and debris from your garden, the vacuum is equipped with an advanced mode change mechanism that quickly does the trick.
Moreover, it also has a variable speed function to give you complete control over the leaves. Yellow unit and black tubes look good together, and it has an ergonomic handle that makes both blowing as well as vacuuming convenient.
Maximum blowing speed of the PowerVac is 310 km/h while the suction strength is 168 l/s. With such suction power ad blowing speed, clearing your garden from unwanted leaves will be a breeze.
The vacuum shreds the leaves in a 45-litre collection bag. As it has a high shred ratio of 16:1, you will spend less time emptying the leaf bag. Also, you will have a low amount of waste to dispose of.
The vacuum has two tubes wherein you have to use different ones for vacuuming and blowing the leaves. It has a long power cable; means you can roam around freely in your garden.
FlymoPowerVac is an efficient and powerful garden vacuum cleaner that also works as a blower and mulcher. The machine comes from a dependable manufacturer that is known to provide quality products for more than 50 years.
So, you can be assured that this vacuum will be the front line machine to clear leaves and debris from your garden.
Pros
Powerful motor
Variable speed control
High mulching ration
Sizeable collection bag.
Cons
Needs to change the tubes for blowing function.
2. Stihl SHE71 Best Leaf  Vacuum UK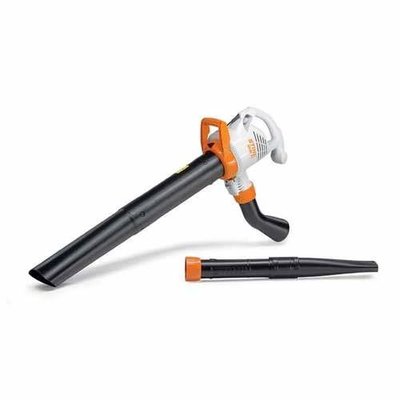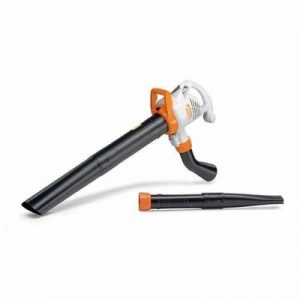 Key Features
1100 W
998 grams
Power cable. 10 meters
Collection capacity. 45 litres.
Specialty
With a 580 m3/h air throughput it clears the area fast and in a more efficient way.
Review
SHE71 is a multifunctional device that works as a vacuum, blower and mulcher with an aim that it can be a suitable tool for any garden or lawn. Its price tag does not have the lowest numbers and at 1100W, it does not have a powerful engine as well. Even then, whatever it does gives you the required results.
Following the same league as FlymoPowerVac, Stihl SHE71 also works on changeable tubes. So, the latter comes with a range of accessories that can be used in different modes.
This garden hoover has a slim blowing tube that can be dissected into two parts for secure storage. Same is the vacuum tube, which is comparatively large and full.
It also includes a collection bag that can be attached at the bottom. Plus, a shoulder strap that helps distribute its weight on your upper body.
The central unit is compact, and due to its surprisingly low weight, you can easily carry and use it. Its handle also looks different from other garden vacuums but gives you a good grip over the machine while being comfortable.
On the handle, you will see an integrated power switch, that slides back on forth. Unfortunately, there is no variable speed control. So, you can always expect a full airflow in the blowing mode. However, the power switch is smooth and can be operated even while the gloves on.
Pros
Easy to handle due to excellent ergonomics
Robust intake and output, even after a weak engine
Generates comparatively low sound levels
e.
Cons
Multiple tubes are pain while using and storing the vacuum
Looking at the power and features; it's expensive.
3. Fox Leaf Blower and 4 in 1 Electric Garden Vacuum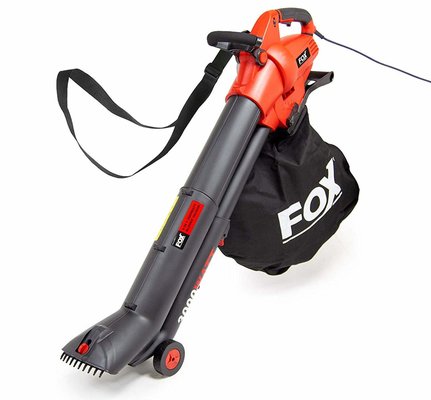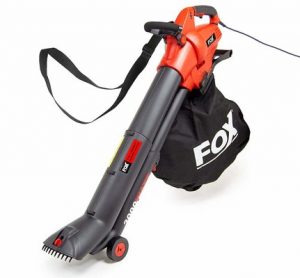 Key Features
3000W
7 kg
Power cable. 10 metre
Collection capacity. 45 litre.
Specialty
The inbuilt rake on the tube for wet leaves.
Review
The 4 in 1 garden vacuum and blower from Fox comes with a 3000W motor with variable speed control. It has an adjustable telescopic tube, which is a useful feature if you need height adjustments while vacuuming or blowing your garden.
You can change its length according to your height, up to 300 mm. Also, it has a shoulder strap to distribute the weight. So, no more backache due to a heavy vacuum machine.
Fox leaf vacuum and blower have the option to select from two airspeeds in the blower mode. Gentle airspeed at 100Km/h and high force at 300km/h. The multipurpose machine is populated with individual steel blades that mulch leaves at a ratio of 15:1.
Most of the times, it does not go wrong while collecting or mulching the leaves. However, there is side access to resolve any blockage.
The vacuum cum blowers also feature a leaf rake, using which you can rake damp leaves while the vacuum draws it inside. There is a pair of wheels as well, which assists you while you move around the garden.
Control switch of the vacuum is the most convenient feature. You only have to slide the switch to select wither vacuum or blower mode.
With its decent-sized collection bag, you will store plenty of leaves before emptying. Fitting the collection is quick and straightforward.
Pros
Powerful engine working between 11,500-15,500rpm
Soft grip with anti-vibration mechanism
Fan inspection area to remove the blockage (if any).
Cons
Wheels block the way sometimes, especially in the narrow regions.
4. WORX WG505E 3000W-
Best Seller Garden Vacuum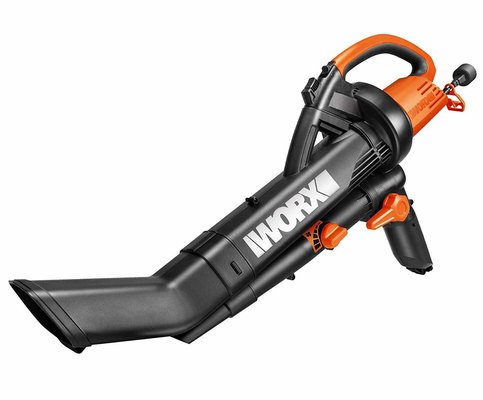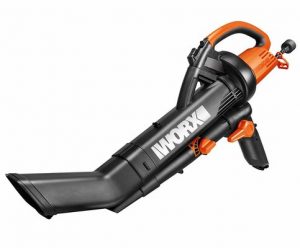 Key Features
3000W
4.4 kg
Power cable. 12 meters
Collection capacity. 54 litres.
Specialty
Higher mulching ratio
Powerful engine.
Review
If you are after an ultimate power and running time that also without many installations, then Worx WG505E can do whatever you need in a garden or lawn.
Whether you want to collect the leave, blow them away or mulch them back to the ground; it's your choice because the WorxTrivac device has all the three functions. As it has a 12-meter power cable, you will not face any trouble following any of those.
Workx WG505E looks stylish and can be operated with one hand. It's not heavy at 4.4 kg, even after a 3000W powerful motor. In working condition, the Trivac makes a noise of 70 dB, which can be accommodated in a residential area without disturbing anyone.
In blower mode, the device manages an airspeed of 210km/h. You can change the airspeed with an air regulator. There are seven-speed settings that you can use depending upon the cleaning area.
It's mulching ability is 16:1, means the vacuum can reduce the leaf capacity by sixteen times. Moreover, a large grass collector makes sure that this vacuum works well for a medium-sized garden or lawn.
The Worx garden blower and vacuum comes with a safety switch that won't allow this device to engage until and unless a collection bag is connected, which stops you from spreading the grass clippings everywhere.
WG505E is a multifunctional vacuum that also works as blower and mulcher. It's a sturdy machine but has a low weight if compared to other garden vacuums. The garden vacuum is also easy to store because of its compact body.
Pros
Powerful vacuum
Reasonably priced
High mulching ratio.
Cons
No airflow in the collection bag.
5. Bosch Universal Garden Tidy- Bosch Garden Vac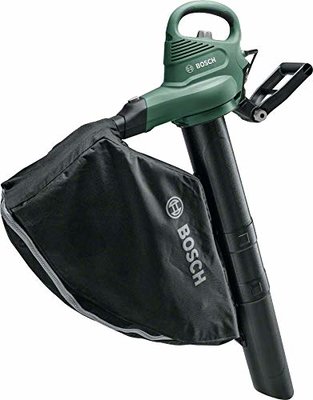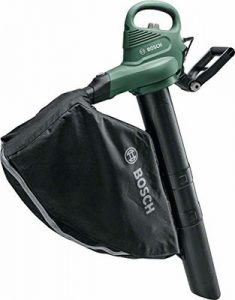 Key Features
1800 W
4.7 kg
Power cable.
Collection capacity. 45 litre.
Specialty
Quick-release grass collector
Low noise level
Review
Bosch does it again with the UniversalGardenTidy; a flexible gardening machine that works as a vacuum, blower and shredder.
It's compact, lightweight, and hence offers excellent manoeuvrability in a lawn or garden. Changes quickly between the modes using a simple switch and its collected bag also has a quick-release system.
UniversalGardenTidy has a maximum airspeed of 285 km/h, and the lowest is 162 km/h. As you can guess, it gives you the variable speed control so that you can use the airspeed according to the requirements.
The maximum speed is good, but still, there are fewer vibrations recorded on the machine, which is 2.5 m/s². In the vacuum mode, the engines weigh 4.7 kg, but in blower mode, it weighs even lower: 3.4 kg.
While all the factors on the machine work in your favour, there is also an additional shoulder bag that adds to the convenience. The mulching ratio of the machine is 12:1. It also has spacious access to the fan that makes unclogging an easy task.
The vacuum works at an exceptionally minimal noise level of 96 dB. Its ProSilemce technology reduces the sound level up to seventy per cent.
Then there is a dirt deflector that keeps you dust-free for long. It comes with two tubes, one for vacuuming the leaves and another for blowing them off your driveway. It has a zippered grass catcher, which is very easy to empty.
Pros
Variable blowing speed for added versatility
Adjustable handle and padded shoulder straps for maximum comfort
Low noise level.
Cons
Comparatively heavy in the vacuum mode.
6. Ryobi Electric Blower Vac – RBV3000CSV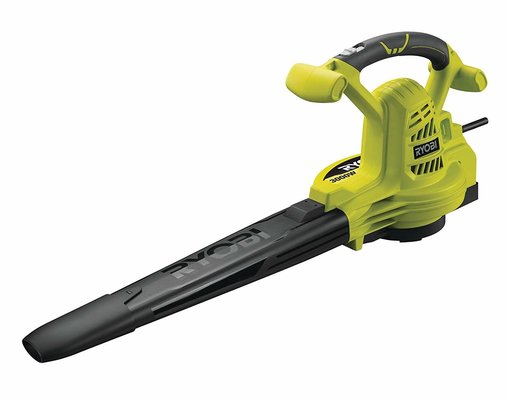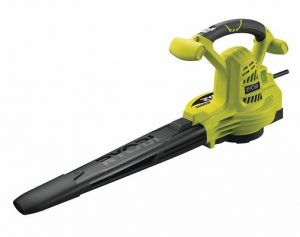 Key Features
3000W
5.5 kg
Power cable. 10 metres
Collection capacity. 45 litre.
Specialty
High airspeed up to 375 km/h.
Review
The vacuum from Ryobi has a 3000W engine that clears 14 meters of garden leaves in one minute. All thanks to its 14 m³/min air volume. Covering more ground in less time means the garden cleaning will be completed fast.
This multipurpose garden tool generates an airspeed of 375km/h, which is sufficient to remove even the wet leaves from a driveway. You have to change the modes and tubes according to the requirement. It's mulching ratio is 6:1, so you will get some excellent components for compost.
Ryobi RBV3000CSV shines in the performance, but its ergonomic design is also an achievement. Lightweight body and padded shoulder straps reduce strain on your arm and back.
Due to such an arrangement, you will not be forced to take frequent breaks because of a tired hand or backache.
With a mighty 3000W motor, the garden vacuum cleaner clears the leaves and debris fast. However, the engine might fail if the machine is overused, and it's the reason why we don't recommend this Ryobi vacuum for professionals.
A clogged blowing tube also degrades its performance. You will enjoy the ergonomic structure of the vacuum, but looking at the price; you are not getting what you deserve.
Pros
Powerful motor
Multiple modes
Lightweight and compact to fit various body types
Padded shoulder straps to reduce pressure on your upper body
A robust metal impeller is less likely to break.
Cons
Several users stated that the motor blows after a while.
Not suitable for professional lawn maintaining services.
Blowing tube does not have the air volume (CFM) to remove accumulated wet leaves.
7. AOSOME BV3405 3 in 1 [Best Garden Vac-
Top Rated]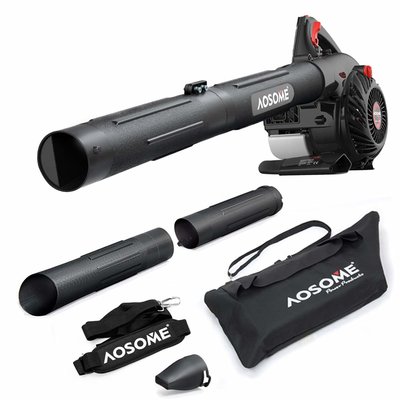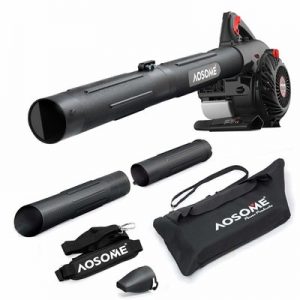 Key Features
0.75 kW (25.4CC)
7 kg
Blowing speed. 225 km/h
Collection capacity. 60 litre.
Specialty
Speed control trigger and a large grass collection bag.
Review
A lightweight and high-quality multifunctional device from Aosome, the BV3405 comes with a petrol engine that generates enough power to take care of your garden or lawn.
The versatile vacuum can be an appropriate tool if you need an all in one machine to maintain an area. Buying multipurpose gardening equipment will save not only your money but also some storage space.
The engine of the BV3405 has a soft start. Moreover, the vacuum has an Anti-Vibration System that reduces the harm on your hands.
Talking about the numbers, the maximum vibration you can feel on the handle is 2.194m/s². Vacuum airspeed is 47.5 m/s, and the airflow rate is 14.5 m³/min.
Blowing airspeed is 62.7 m/s (225km/h), and the airflow rate is 10.6 m³/min. Its Air duct separation system protects the engine from small gravels. The metal shredder blade is connected to a plastic impeller.
This blade mulches at a ratio of 10:1, hence virtually increasing the grass collection ability to a large extent.
Its handle is designed to give you complete control in either left or right hand. The lightweight garden vac includes a shoulder strap that adds to the convenience.
The AOSOME BV3405 consists of a flat blowing nozzle that results in concentrated airflow means it will clear the leaves faster. There is a self-locking trigger near the handle that controls the airflow rate.
Safety power off the system in this petrol-powered vacuum shuts down the machine to prevent chances of an injury while changing modes.
Also, if the tubes are not correctly aligned, the vacuum will not power on. As you can read, BV3405 is not only convenient to use, but also safe and powerful to take care of a large area without making errors.
Pros
Powerful two-stroke air-cooled engine
Adjustable sit flow rate
A large grass collection bag.
Cons
Difficult to fit the tubes.
8. McCulloch GBV345-
Best Petrol Leaf Blower/Vacuum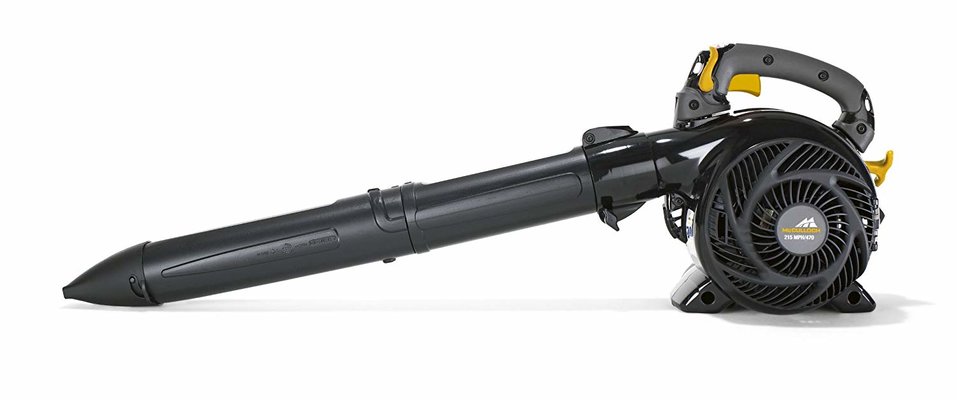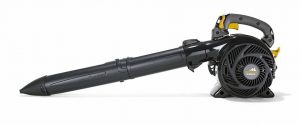 Key Features
0.75 kW (25 CC)
4.4 kg
Blow speed. 345 km/h
Collection capacity. 45 litre.
Specialty
Cruise control to set the desired fan speed.
Review
Once you receive the GBV345, it needs a little setup that is very easy and takes a few minutes if you will follow the included instructions. After the garden vacuum is ready, you will notice its high quality built.
With proper care and maintenance, the vacuum will be in a working condition for many more years to come. The strong vacuum is also lightweight, so there will not be any difficulty while using it for extended hours.
When we tested the vacuum, it felt mighty. This best leaf vacuum uk has a soft start and a soft grip, which is again helpful in prolonged usage.
This versatile piece of machinery can be used in three different ways: vacuum, blower and mulcher. In the blowing mode, you will be able to move both wet and dry leaves.
Switching from fan to vacuum mode is not easy as compared to electric variants. However, by following the included guidelines, you will be able to change the patterns quickly.
A mulching ratio of the vacuum is 16:1, which is helpful when you have to collect and dispose of a large number of leaves.
Other considerable feature includes cruise control and anti-vibration mechanism. With cruise control, you don't have to keep the blowing button pressed for long.
Vibration-free vacuuming or blowing experience is equally vital if you want a comfortable gardening experience.
The overall performance of GBV345 is excellent, and it will never let you down. However, if you like a quiet garden vacuum, then this petrol version is not for you.
Pros
Easy to setup
High mulching ratio
Powerful
Well-built and durable.
Cons
Switching from vacuum to blower can be annoying
High noise level.
9. Vonhaus 3 in 1 (Leaf blower, Garden vacuum & Mulcher)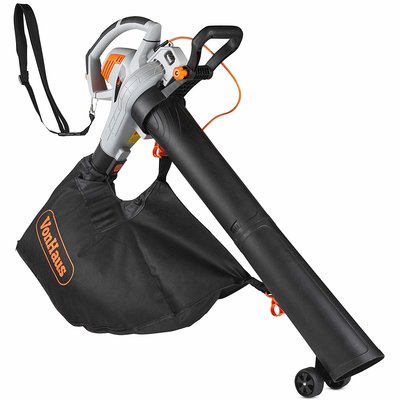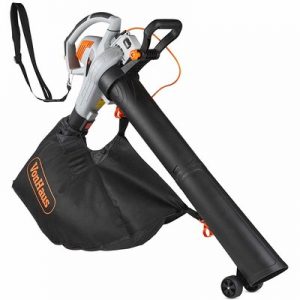 Key Features
3000W
3.5 kg
Power cable. 10 metre
Collection capacity. 45 litre.
Specialty
Wheels on the vacuum tube for added portability.
Review
Want a neat and clean garden that can attract everyone in and around the house? If yes, then we recommend the 3 in 1 vacuum from VonHaus that also works as a blower and mulcher. So, whether it's a backyard, lawn, garden or driveway, it can be of irresistible help.
Well-balanced design and its ergonomics are the first few attractions of the VonHaus vacuum cum blower. It's a lightweight leaf vacuum UK and also has a pair of wheels on the tube, which allows you to move freely around your garden.
There is a convenient soft grip and a knob to change the settings for vacuum and leaf blower. It also has a shoulder strap that keeps you comfortable, even after long leaf clearing sessions.
Due to the belt, you can also lift it and move smoothly even when the grass collection bag is full.
Apart from an excellent design, VonHaus vacuum provides excellent performance. It's 3000W powerful motor works at 8000-14000 RPM and makes garden clearing task less cumbersome.
Long power cable adds to the manoeuvrability that you can pick all the unwanted leaves from your yard without changing the power outlet. Then, it's a mulching ratio of 16:1 makes sure that you don't have spent a lot of time on emptying the grass bag.
For all the individuals who seek portability, exceptional performance, and convenience of usage; find all these traits in this VonHaus 3 in 1.
Pros
Inexpensive
Easy to use the device
Helpful wheels.
Cons
Larger wheels could have been better
Picking up damp leaves can clog the vacuum.
10. BLACK+DECKER GW2500-
Best Corded Blower Vacuum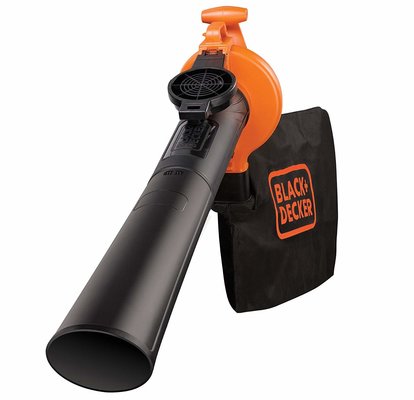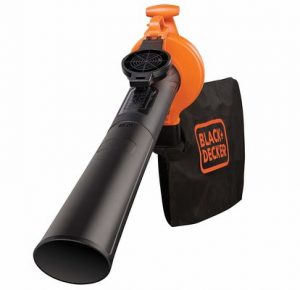 Key Features
3000W
3.2 kg
Power cable. 10 meters
Collection capacity. 45 litres.
Specialty
High mulching ratio
Parallel vacuum and blowing mechanism, you don't have to change the tube.
Review
Next contender is GW2500-GB from Black + Decker. Backed by a trustworthy brand, this garden vacuum has a power of 2500W. It also has blower and mulching feature, so either you can quickly pile up the leaves or store them for later disposal.
GW2500 weighs 3.2 kg, which is not the lowest among garden vacuums, nor its high. Despite some extra weight, the vacuum is easy to use and is well-reputed among users who don't want to invest additional time or effort on lawn mowing. Why?
Because there is an easy mode conversion mechanism between two internal tubes, one is responsible for blowing and second collects the leaves. Means, the device has parallel vacuuming and mowing modes, you don't have to change the nozzles.
The Black + Decker mower comes with an angled nozzle, which provides better control and is suitable for cleaning under the garden furniture. Due to the angled blowing tube and vacuuming feature, the GW2500-GB keeps your garden clean and tidy.
It has a large collection bag, which reduces the number of times you will empty it. Shoulder straps, ten meters' power cable and seven-speed controls are other critical features.
And due to moderate weight, you can easily use this vacuum with one hand. Whether its dry leaves or the damp ones, the garden vacuum blower has enough power to draw both of them.
According to our experts, the Black + Decker vacuum offers excellent value for money and has a variety of power settings. Its 16:1 mulching ratio shows that you can use in on a ground wherein dense grasses are in abundant.
Pros
Powerful blowing function
16:1 shredding capacity
Large grass collection
Great vacuum for wet leaves.
Cons
Not a long-lasting product.
11.
Q Garden QGBV2500-

Best Garden Vacuum

UK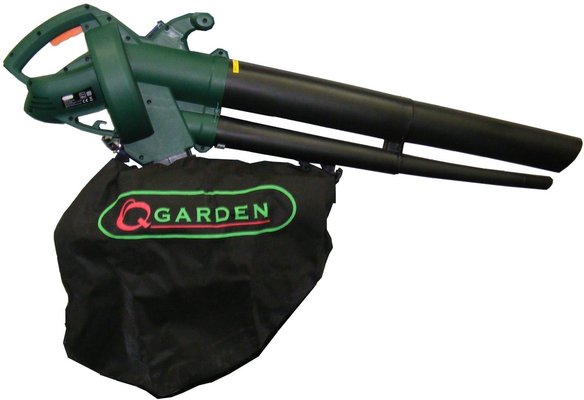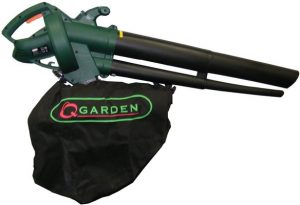 Key Features
2500W
4.2 kg
Power cable. 10 meters
Collection capacity. 45 litre.
Specialty
QGBV2500 vacuums, mulches and then store them for later disposal.
Review
Winner of the first position, Q Garden QGBV2500 is an inexpensive garden vacuum that quickly picks up all the leaves from your garden.
Q Garden might not be a well-known garden vacuum maker, but they compensate this unawareness by offering products that offer unmatched quality, performance, and hence; value for money.
If you need a powerful, but a lightweight garden vacuum, then try QGBV2500. The garden vacuum gets full marks for 2500W motor fitted inside a low weight body.
It's the lightest garden vacuum cum blower we have reviewed. Moreover, it's also provided with a shoulder strap and a smartly designed handle that gives you complete control.
Due to its low weight, straps, and the handle, you will not have to change hands frequently while clearing leaves.
The garden vacuum blower is a multi-functional garden vacuum. It mulches the collected leaves as it draws them and also works as a blower.
The mulching ratio of the device is 10:1. It means the 45-litre grass collection is sufficient for a medium-sized garden or lawn.
Dry leaves will make some dust while they go through the mulching process, so it is advised to wear a face mask and eye protection.
None of the garden vacuums is better than QGBV2500. You will never feel unhappy with its price, features or performance.
This piece of gardening equipment is specially made for DIY projects, so it's easy to use and can be operated by individuals from all age groups.
Pros
Efficient in collecting shreds and leaves
Affordable
Easy to operate
Long power cable.
Cons
Power cable restricts the usage, especially around obstacles.
Measurements of A Garden Vacuum or Leaf Blower
---
CFM
Might seems unfamiliar but is easy to understand. It's the volume of air expelled from blower's tube in one minute. Example, if a leaf blower says that it can work at 110 CFM, means the machine will throw 110 cubic feet of air every minute.
MPH
An easy to understand unit, which measures speed. Whether it's a vehicle, animal or human, speed will be measured in miles per hour. To be exact, it tells us how much distance an object can travel if its rate remains constant for sixty minutes.
In the case of a leaf blower, it tells us the speed of air when it comes out from the tube. If the airspeed remains the same, how far it can travel in one hour? Example, if we say that a leaf blower has an airspeed of 210 km/h (WORX WG505E Trivac), we mean that the air would travel 210 kilometres in one hour if the speed remains unchanged.
CC
Power of a petrol-powered leaf blower is measured in CC or cubic centimetres of displacement. It's the volume covered by the piston inside a cylinder engine, as it moves from top to bottom. In a real-time scenario, high CC means the blower will be more powerful. We talked about the McCulloch GBV345 that has an engine worth 25 CC, which is sufficient for a medium or large size garden. Petrol blowers using two-stroke engine ranges between 20 to 50 CC. However, handhelds never cross the 35 CC mark.
What Decides the Efficiency of a Leaf Blower: CFM or MPH?
As we already stated, CFM and MPH are the two most important factors that you need to consider before purchasing a new garden vacuum. These two units will decide whether you will enjoy the leaf clearing session, or you want to give up as soon as possible because of a lack of efficiency. However, CFM overshadows MPH if we talk about efficiency. So, if you want to cover a large area in less time, look for better air volume (CFM).
What is The Preferred CFM for a Leaf Blower?
The motor or engine inside a leaf blower powers an impeller that is a series of blades, which expels air out of the tube. CFM is the volume of air displaced, as we have already discussed. High CFM, means a leaf blower will cover a more significant area while clearing the leaves. CFM is the essential factor to consider if you want an efficient leaf blower. And the right CFM depends upon several factors:
Size of the property
To purchase a leaf blower with right CFM, you should consider the property size. For a small garden, lawn or patio, you should get a blower with CFM ranging between 200 to 600. If you own land that is equal to or greater than one acre, then you should find a blower with CFM between 400 to 700. For such significant areas, you should consider battery-powered or gas blowers, especially if you don't want to fiddle with power cables.
Leaf blowers with more than 3000 CFM are the most powerful and are required for golf courses, extensive lawns and playgrounds. Always remember, better the CFM of a leaf blower, higher noise it will make.
Nature of debris
Another factor that helps you to decide the right CFM is the type of leaves and debris you are trying to clear. Suppose you always need to tackle damp or wet leaves or debris that are difficult to shift, then you need a blower with at least a CRM of 600.
Types of Garden Vacuum or Leaf Blower
---
Corded
The purest form of a leaf blower, corded devices consume electrical power to produce a fast jet of air. Most of the corded leaf blowers are lightweight and are designed for one-handed operation. Easy to start and powerful, such blowers works without any carbon emission. Example: Q Garden QGBV2500
Cordless
Modern leaf blowers use a battery to generate the airpower. Cordless leaf blowers are also lightweight, quiet, powerful and easy to start. Batteries can be recharged anywhere between 45 minutes to 4 hours, depending upon the brand and model. Single battery runtime goes up to 2 hours. However, if you choose a cordless option with a removable battery, you can enjoy virtually unlimited runtime by purchasing a spare cell. Example: VonHaus Cordless Leaf Blower.
Petrol-powered
Petrol leaf blowers produce impressive power and airflow, which is better when compared to corded or cordless variants. Ability to clear large areas like golf course makes a petrol-powered blower famous among professionals and individuals who own a large garden or lawn. Similar to cordless models, a petrol blower can be used anywhere.
Backpack
Backpack blowers are mostly petrol-powered, and hence suitable for clearing significant areas. All the weight and power sits on your back, so it's easy to use a backpack blower for long durations.
Wheeled
For those who want to clear a vast area, a wheeled leaf blower is a right solution. You will find multifunctional blowers in this category. Means, a wheeled blower can only remove the leaves from your lawn or ground, there will not be any vacuum or shredding functionality.
Tips to Blow Wet Leaves
---
A leaf blower is the most appropriate tool to remove any leaf build up in your lawn or garden. As the colder season passes way, the leaves gain moisture. It's a topic of discussion that whether you should blow wet leaves, or wait for the leaves to become dry or maybe simply use a rake to remove them. It's tricky to blow wet leaves, but if you follow the given tips, you will enjoy a garden free from unwanted leaves and debris.
Identify The Moisture Level
You will find four types of leaves in your garden depending upon the moisture level; dry, damp, wet and soaked. As we know, there is a vast difference between the weight of these leaves. If the leaves are damp, they will not create much of a problem.
If you are clearing wet leaves, you can tackle them with a high airspeed. However, if the leaves are completely soaked in water, its recommended to let them dry before you use a blower on them. In case you don't have time for that, use a rake to collect wet leaves manually. It's necessary because wet leaves are very slippery and can be a health hazard to anyone.
Vacuuming Wet Leaves
Wet leaves are generally challenging to draw inside a garden vacuum because of the extra weight they acquire due to water. So, high power is required to shift them. Moreover, you also have to make sure that you don't damage the lawn underneath these unwanted leaves.
There is a reliable and robust vacuuming machine available that can collect wet leaves. You only have to find the right one. Example, BLACK+DECKER GW2500-GB and Fox leaf blower.
Using the vacuum on wet leaves has an advantage that it will minimize the amount of dust you have to face in case of dry leaves. If you own a vacuum-like GW2500-GB with a mulching ratio of 16:1, there will not be any trouble disposing of a bag full of wet leaves.
FAQ
---
Can You Use a Leaf Vacuum On Gravel?
Dry leaves are lighter than gravel, so it's possible to use a leaf vacuum to draw them. However, you should use the lowest airspeed and check if the gravel stays at its place and then continue the leaf vacuuming process.
Mains, Battery or Petrol- Which is Best?
The leaf vacuum fuel type depends upon your garden size, terrain, and budget. If you choose an excellent leaf vacuum or blower, then it will give you blistering performance, irrelevant of the fuel type.
Can You Use a Leaf Vacuum on Wet Leaves?
Yes, but not all of the leaf vacuums can work on wet leaves. If a garden vacuum clearly states in the description that I can draw wet leaves, then only you should use it: example, BLACK+DECKER GW2500-GB, which has the power to collect damp or wet leaves.
 Can You Bag Wet Leaves?
Wet leaves are dense and take more space in a collection bag. It's the reason why we always recommend to let them dry before using a vacuum or blower. Even if you rake wet leaves manually, you have to extra careful because they are slippery can cause injuries.
---
Final verdict
We have created this list of best garden vacuums after extensive research and user's feedback. Q Garden QGBV2500 stands tall among all the machines we tested. This affordable, powerful and easy to use machinery gives you the desired results without wasting much time of yours.
Other options are also fast and efficient; that's why they are selected in this list. We have got eleven garden vacuum reviews here, and all of them offer excellent value for money. But, before you buy any one of them, consider the factors we discussed in the buying guide.