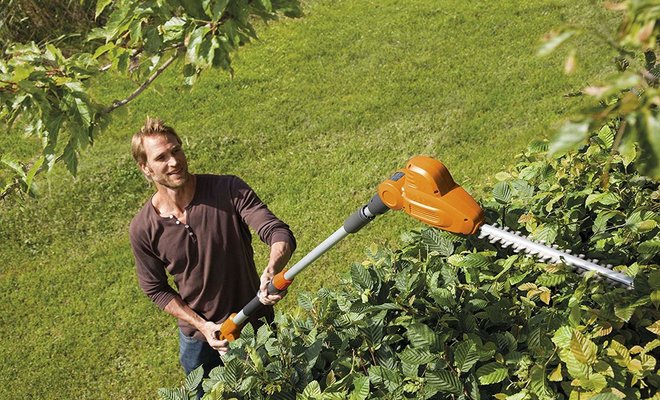 Best Telescopic Hedge Trimmers UK 2023 Reviews
Last Updated on January 3, 2023
---
If you need one of the best Telescopic hedge trimmers that can cover an extended telescopic radius, you are reading the right post. You can learn about the options listed here and choose one of them depending upon the requirements.
Telescopic hedge, also known as the long reach or extendable trimmer, is designed to cut tall hedges without adding a ladder or any other platform. Such devices can easily reach up to 3 meters of height.
So, it's beneficial and safe to buy a Telescopic hedge trimmer, then trying to balance a regular cutting tool that also on a ladder. These tools are available different fuel types including cordless, mains operated and petrol powered.
Best Telescopic Hedge Trimmers UK 2023
Best Telescopic Hedge Trimmer UK Reviews
1. Bosch Cordless- Best Telescopic Hedge Trimmer


Specification
Power: 18V
Weight: 4 kg
Knife length: 16 inches
Telescopic reach: 102 inches (2.6 metres).
Review

Well known for making well designed and balanced outdoor equipment, Bosch offers another exceptional hedge trimmer that's a part of 18V series. Means, you can use its battery with all other Bosch 18V tools.

With the help of a Syneon chip, the gardening tool optimizes its battery usage and covers 200 meters after one full charge that takes one hour. Due to its intelligent energy management, you feel no resistance whatsoever while taking on the branches.

UniversalHedgePole 18 has an anti-blocking mechanism that prevents any clogging or jams because of leaves or small branches. Hence, making your trimming session easy and convenient.

Its telescoping handle extends up to 102 inches (2.6 meters) so that you can trim all the bushes and high hedges without using a ladder. So whether you are a professional or home user, you can try this Bosch tool that's perfect for both small and big gardens.

It's cordless and hence becomes even more convenient to use. But yes, you would like to keep some spare batteries if you are working far away from a charging point. Even after being a cordless machine, it never compromises with power and gives you perfect result every time.

The telescopic electric hedge trimmer has a blade length of 16 cm. Its blades have a protection mechanism that keeps them safe from obstacles and ensures that you get reliable services from the equipment.

If you are looking for a trimmer that can cut extremely high hedges and inaccessible bushes, then you will not be disappointed with the Universal Hedge Pole.

Pros
Versatile and sturdy for large telescopic projects
Suitable for high hedges because of excellent reach
Includes and battery as well as charger
Included battery works with other 18V Bosch tools as well.
Cons
Average users might not be able to balance it at after full expansion.
---
2. eSkde Electric Telescopic Hedge Trimmer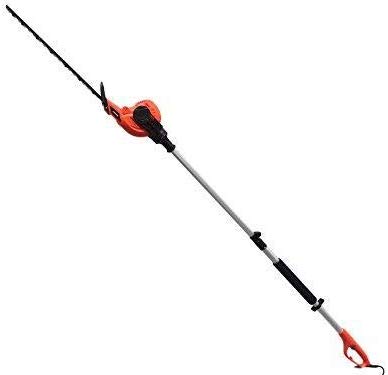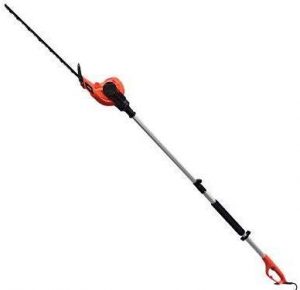 Specification
Power: 450W
Weight: 3.8 kg
Knife length: 18 inches (460 mm)
Telescopic reach: 98 inches (2.5 meters).
Review

If you need high-quality garden equipment that can give you perfect results every time you use it, then try the eSkde electric hedge trimmer. The very first thing that you will notice about this tool is it's tough built that ensure long-lasting assistance.

Driven by a powerful 450W motor, the device has a cutting head that you can adjust between 60 to 80 degrees. The engine works at 1600 RPM of no-load speed to drive an extremely sharp dual-sided metal blade.

So, it allows you to work at different angles, and as the tool has a heft of 3.8 kg, you can painlessly carry and use it at awkward places. Another exciting feature of the gardening tool is its automatic chain lubrication.

So, you will never experience unwanted friction or any kind of resistance while telescopic the hedges and bushes. The corded trimmer comes with a power cable of 10 meters and makes sure that you get broad telescopic coverage.

It also included a shoulder strap that minimizes the stress and keeps you comfortable while working. Thanks to its long reach and powerful motor, you can remove all the spoil sport from your garden hedges.

No matter whether it's a medium-sized lawn or a significant garden, you will get what you need. Above all, it's comparatively cost effective. So you can enjoy the long reach without paying a considerable amount for a garden trimmer.

Pros
High quality built
Offers optimum performance
Powerful motor
Sharp dual blades
Adjustable telescopic head.
Cons
Unable to balance sometimes
---
3. Flymo SabreCut XT Corded Telescopic Hedge Trimmer

Specification
Power: 500W
Weight: 4.1 kg
Knife length: 48 cm
Telescopic reach: 118 inches (3 metres).
Review

The cordless trimmer from Flymo is simple to use and supplies immense power to get things done. It has a tilting head that gives an extra boost to your convenience.

Trying to make all the long stems and high hedges accessible, Flymo equips the tool with a maximum expandable length of 3 metres. So, you will never have to look for a ladder or any other devices when you have the SabreCut.

Flymo fans will be happy to know that it's a lightweight trimmer with last cut blades worth 48 cm with 25 mm gaps. Unfortunately, the power cables connected with this tool has a length of 4 meters.

So, you need an extension cable to reach more significant areas. However, if you have a small or medium-sized property, the given length should be sufficient for the hedges.

If you own a lawn or garden that has hedges all over the perimeter, then you need to make sure that the shrubs and leaves are not too long. Otherwise, they will spoil the appearance.

Therefore, it essential to bring equipment that can maintain the pristine condition of the area. Flymo SabreCut stands as one of the best lightweight telescopic hedge trimmers in such situations because it's not only powerful but also convenient while using.

Its high quality built makes it an ideal outdoor tool useful while cutting long hedges and stems. Also, its twin cutting blades moves fast and gives you smooth cutting results without consuming much time. Overall, a great product to keep high hedges and low bushes maintained.

Pros
Smooth expansion and contraction of the pole
User-friendly gardening equipment
Cons
Might be cumbersome for some users
Limited trimming coverage because of the short power cable
---
4. Terratek 2.75m 550W Telescopic Corded Long Reach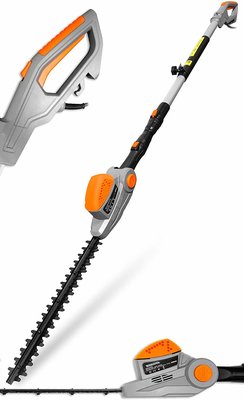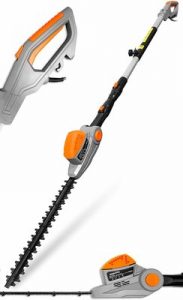 Specification
Power: 550W
Weight: 3.5 kg
Knife length: 45 cm
Telescopic reach: 98 inches (2.5 metres).
Review

Our next recommendation from Terratek has a powerful 550W motor and a 10-meter power cable. However, the most interesting feature is a telescopic pole that you can extend up to 2.7 meters.

So, the tool assures that you can easily cut awkwardly grown branches and leaves without any trouble. Due to its extensive reach, you can also cut low bushes without bending your back.

Also, it has a 120-degree adjustable cutting head that has four trimming positions to make maintenance hour look even easier.

Associated with dual action blades worth 45cm, the Terratek gardening tool has a maximum cutting length of 41 cm through any green materials up to 16 mm in diameter. The machine has steel blades that are supported by aluminium ones.

It comes with a mighty engine, so you can keep using the device for prolonged hours, and it never overheats or halt. Soft and ergonomic handle keeps you comfortable so that you can work for long without any wrist stress.

If the item is not sufficient for you to balance the tool, it also has a shoulder strap that you can use trimming tall hedges. Moreover, it has a lightweight built. So, an ideal choice for average-sized users and individuals with back problems.

With such power, features and ease of use, this one is useful for garden owners as well as professionals and service providers. Overall, the lightweight telescopic hedge trimmer from Terratek is easy and straightforward to use a tool that has a one-handed trigger and a safety switch to stop accidental startup.

Pros
Easy and safe to use
Decent trimming reach
Powerful motor
Multi angled trimming head
Cons
Users cannot balance it without the shoulder strap
---
5. Einhell 3403492 GC-HH 9048 Electric Pole Hedge Trimmer

Specification
Power: 240V/900W
Weight: 5.1 kg
Knife length: 41 cm
Telescopic reach.
Review

Einhell 3403492 is a well-made hedge trimmer that packs plenty of power to go through all types of branches and stems to keep your garden maintained. Searching for the right tools that can keep your yard or lawn in the best possible shape is difficult.

But, if you have something like 3403492 GC-HH 9048 in access, you can always enjoy a clutter-free hedge. Laser-cut and diamond-ground steel blades of the Einhell trimmer always deliver smooth cuts.

You can adjust the tool in terms of its length as well as cutting positions. Its pole extends up to 50 cm, and you can also rotate its rear handle to adjust between vertical and horizontal cuts. There is also an additional handle that provides better balance and convenience.

This secondary handle is also adjustable; hence you can use the tool in a variety of cutting areas. The quick-release shoulder strap and blade cover are the included accessories. Its strap is useful while trimming ground bushes and the cutter guard comes handy during storage and transportation.

Einhell designed the 3403492 GC-HH 9048 keeping user's comfort and convenience in mind. It packs plenty of power that gives you smooth and fast cutting results. Due to its robust built, you can enjoy high-quality trimming services for many more years to come.

Whether you are a professional or lawn owners, you can own this efficient garden tool and its sure that you will get the worth of your investment without any disappointment.

Pros
Durable and high quality built
Easy to assemble and use
Adjustable handle for ease of use
Cons
---
6. Terratek Long Reach Cordless Electric Hedge Trimmer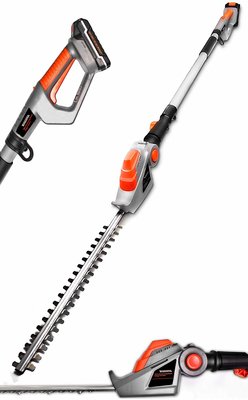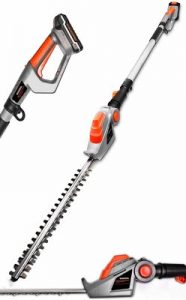 Specification
Power: 18V
Weight: 3.5 kg
Knife length: 45 cm
Telescopic reach: 94 inches (2.4 metres).
Review

Cordless gardening tools like Terratek trimmer gives you a great level of manoeuvrability. To be more useful, it works continuously for 45 minutes after a full recharge. And it should be doing the same, because of an 18V Lithium-ion battery.

The tool includes a battery and its charger, so it will not be a problem for budget buyers. Moreover, the same battery works for all the other Terratek power tools, including the blowers and strimmers.

The hedge cutter comes with a high-quality motor that cuts any of the hedges with ease, without any struggle.  Dual-action 45 cm hardened steel blades consume all the motor power to cut through stubborn bushes smoothly.

Aluminium blade support to the existing steel line adds to the cutting ability as well as strength. To handle thick stems, it has a tooth gap of 14 mm. Terratek long reaches cordless cutter has a maximum pole length of 2.4 meters.

Using the tool, you can cut even the longest of hedges without using any ladder or any other helping device. Weighing only 3.5 kg, the Terratek cutting tool is an ideal solution for awkward hedges.

For more cutting convenience, it has a 120-degree rotating head that you can set at five different positions. No matter what is the cutting angle, you will find the tool steady and convenient to use.

Overall, the Terratek is an easy to use and safe device because of one-handed trigger and safety switch that prevents accidental startup. Lightweight and cordless nature add to the convenience so that you can easily use it anywhere around a garden.

Pros
Cordless nature adds to the convenience and manoeuvrability
Adjustable cutting head
Decent cutting reach
Cons
No shoulder strap included
---
7. Trueshopping Telescopic Hedge Trimmer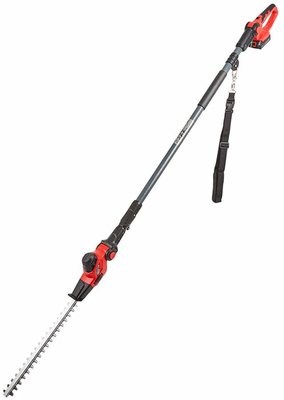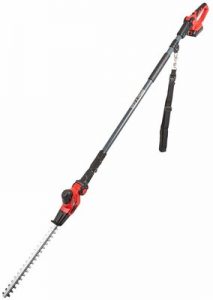 Specification
Power: 20V
Weight: 4 kg
Knife length: 18 inches (45 cm)
Telescopic reach: 95 inch (2.4 meter/240 cm).
Review

The hedge trimmer from Trueshopping comes with a 20V Lithium-ion cell and a Telescopic pole that can reach a height up to 2.4 meters. The battery has 1.5Ah so that you can expect fast and efficient cutting.

So, it has the power as well as reach to be a useful shrub cutter. It's a cordless tool, so you do not have to stop anywhere without finishing the telescopic task, no need to look for a power outlet or manage any cable.

Trueshopping hedge cutter has a low weight. Hence you get complete control and comfort to maintain the hedges as well as shrubs. Put the tool in charge for sixty minutes, and you will get up to twenty minutes of runtime, depending upon the telescopic conditions.

You don't have to worry about the battery backup anyways, because it has a cutting width of 45 cm. Means, it will get the work done without taking much of your time.

As we stated earlier, one of the primary advantages of the Trueshopping gardening tool is its cordless nature. You don't have to deal with regular maintenance, cables or limited telescopic reach.

Moreover, there are no carbon emissions involves harming the environment. Overall, this gardening equipment allows you to reach impenetrable hedges, and due to its lithium-ion battery, you will get constant power.

If you want to reduce the garden maintenance hours drastically, then choose the Trueshopping hedge cutter with extended reach and save time for other household tasks. The battery and its charger come with the tool, so you will not have to invest in any other items.

Pros
Long telescopic reach
High-quality 20V motor for contact performance
The included battery can be used with other 20V Trueshopping power tools.
Cons
Average after-sales service.
---
8. VonHaus Pole Hedge Trimmer 600W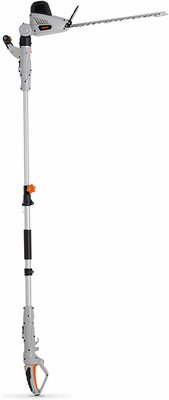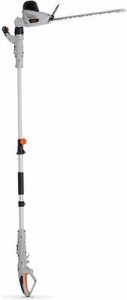 Specification
Power: 600W
Weight: 5.1 kg
Knife length: 18 inches (45 cm)
Telescopic reach: 106 inches (2.7 metres).
Review

A conventional hedge trimmer will be unable to reach tall hedges and trees. But, with the added height of tools like VonHaus Pole Hedge trimmer, you can reach all types of green fences as well as high plantations to get smooth cuts.

This Telescopic trimmer allows you to cut at a height of 2.7 metres. Its 45 cm dual-action steel blades easily cut through twigs and branches up to 20 mm (0.7 inches). So, no matter you are trying to cut high or low, it makes sure that you reach the required lengths.

VonHaus outdoor equipment comes with a powerful 600W motor and a 10-metre power cord to make use of all that power. It comes with a two-speed trigger to prevent accidental usage.

Once this trigger kick in, the tool will never get the ability to start accidentally. For better convenience, the machine includes a shoulder strap. The strap or the harness gives you a balanced control, and you will less never face much trouble while handling the tool at full expansion.

This pole hedge trimmer comes with a telescopic head that you can adjust into six different positions. So, even if you want to customize the hedges, you can successfully do that with this stylish gardening assistant.

Overall, the VonHaus outdoor tool is excellent and has all the useful features. However, we will appreciate if VonHaus comes with a cordless version with similar functions.

Pros
Provides easy reach to tall hedges
Last cut steel blades for smooth cutting
Decent cutting width
Cons
---
9. Garden Gear Telescopic Hedge Trimmer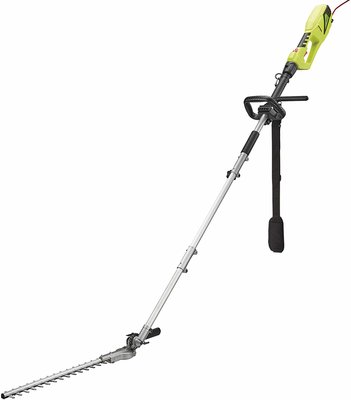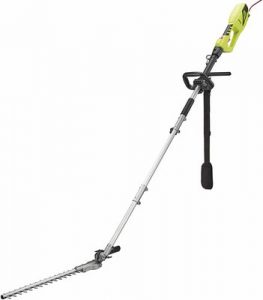 Specification
Power: 240 W/900W
Weight: 5.94 kg
Knife length: 41 cm (14 inches)
Telescopic reach: 98 inch (2.5 metre).
Review

You might feel overwhelmed while looking for one of the best electric telescopic hedge trimmers. But, the outdoor equipment from Garden Gear is versatile and has some useful traits to draw your attention.

One of the most important features of this hedge trimmer is its powerful 900W motor that generates a speed of 10, 000 RPM. And 10metre of red power cable, which is easily visible amount greenery and hedges.

You can rotate its head to cut up to 180 degrees. The maximum cutting width of the tool is 41 cm able to cut stems up to 22m of diameter. The blade is super sharp and easily cuts through all types of leaves, shrubs and trees as it comes with a shoulder harness, which distributes the weight and makes the telescopic session convenient.

You can extend its pole for an extended reach of 2.5 meters, which is helping you have to maintain tall fences. Talking about safety, it has a blade cover, front handle locking knob and position lock that also prevents the head will remain steady in the same posture until and unless you deactivate it.

Overall, Garden Gear gives you a suitable tool to take on large branches, stems and bushes with ease. Due to its extended reach, you do not have to struggle with ladders or any other awkward tool to cut at a better height.

Because of a power cable, you don't have to get into battery recharging to replacement. However, to extend its trimming area, you would need an extension box.

Pros
Shoulder strap and safety position lock
Powerful motor
Red power cable
Powerful motor
Cons
Comparatively on the heavier side
---
10. Bergman Long Reach Telescopic Hedge Trimmer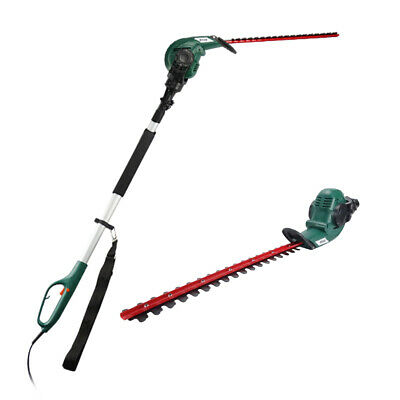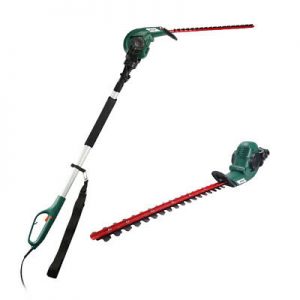 Specification
Power: 460W
Weight: 3.7 kg
Knife length: 45 cm (17 inches)
Telescopic reach: 118 inches (3 meters).
Review

The Bergman Telescopic hedge trimmer cuts even the tallest hedges and remains perfectly balanced in your hands. And why not? True to its name, the tool has an extended reach of 3 meters.

So, you can cut all the branches and stems without laying your hands on a stepladder. Exclusively developed for dense bushes, the gardening equipment has 45 cm long sharp dual-sided cutting blades that give you precise finish after every usage.

Bergman tries to make its tool easy to use by adding a grip that offers improved comfort as well as stability and an adjustable shoulder strap that distributes its weight for better balance.

Its 10-meter power cable is also fitted along with the handle so that you can stand and use the pole without any disturbance or diversion. As the blade is reciprocal and its rotating head pivots 100 degrees, you can trim at any angles effectively without much turns and twists.

A dominant 460W motor powers this gardening tool and generates a no lead speed of 1500 RPM. At such force and pace, it can go through stems up to a diameter of 1.6 cm. Aluminium made handle is durable and can reach all the green corners you want to trim. Weight of the device is also comparatively low, and due to sharp reciprocal blades, you get professional-grade results.

Pros
Comparatively better telescopic reach
Soft grip and included shoulder harness for added balance
Professional-grade laser cut blades
Decent cutting length
100 degree rotating head for easy telescopic on all the sides
Cons
Might be substantial to use for elderlies or individuals dealing with back pain, especially at full expansion
---
11. DEWALT DCHT895B 40V MAX Telescoping Pole Hedge Trimmer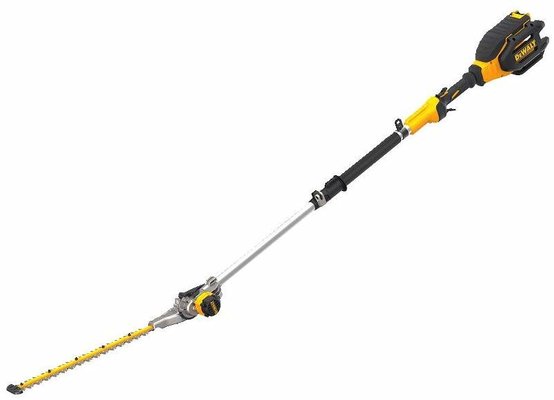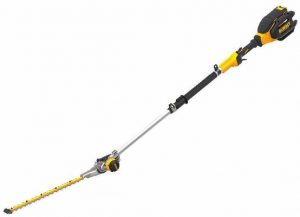 Specification
Power:40V
Weight: 3.99 kg
Knife length: 22 inch
Telescoping Reach: 70 inches (1.7 metres).
Review

Dewalt launched DCHT895B in 2016, and since then it has been one of the best telescopic cordless hedge trimmers to maintain overgrown bushes and tall hedges. It has 22-inch dual reciprocal laser-cut blades that can cut up to a thickness of one inch.

Featuring a brushless motor and telescoping shaft, the trimmer is not only efficient but also convenient to use. All thanks to its articulating head that you can adjust in eight different positions at fifteen-degree increments. It comes with a blade cover, but the battery and charger are absent.

There are several points where Dewalt DCHT895B excels and offers full worth of its price tag. First happens to be its runtime; the equipment can run for 90 minutes using a 4 Ah battery.

If you want a better backup, then try a 7.5-amp cell pack, and you can enjoy a runtime of more than three hours.

The Telescopic handle gives you a reach of up to 70 inches, which is plenty, and you will find a shoulder strap that keeps the device stable. The length of this tool is fifteen per cent higher when compared to other outdoor trimmers.

Its brushless motor generates 3700 strokes per minute to complete the telescopic jobs fast. Also, hardened steel blade ensures that none of the branches can spoil the smoothness of a hedge.

Overall, DEWALT DCHT895B is a useful tool that has improved ergonomics and provides optimum performance utilizing its brushless motor, dual reciprocal blades and articulating head.

If you are a commercial lawn service provider or own a privet hedge, it deserves your attention.

Pros
Brushless motor for efficient performance
Powerful battery
Hardened steel durable blades
Cons
Weight distribution is not accurate
---
Buying Guide of Best Telescopic Hedge Trimmer
In the above given best telescopic hedge trimmers reviews, we talked about corded and cordless options. Choosing a mains powered or battery dependent tool depends upon your requirements.

If you want the convenience of using a trimmer anywhere in the lawn, go for a cordless one. For small areas or low height hedges, try a corded version to avoid repeated battery recharge and replacement. Apart from the fuel types, there are few other reasons that you should consider while choosing a hedge cutter.

Weight: Buy a long reach trimmer that you can handle. Electric and petrol telescopic hedge trimmers are comparatively substantial but are more powerful. Cordless tools provide better manoeuvrability and are also relatively lightweight. Extra weight is the only reason we have not recommended an of the gas propelled devices today.

Trimming head: It's better to choose a telescopic brush cutter with a pivoted head so that you can cut the stems and branches at multiple angles.

Telescopic reach: All the options we discussed comes with a pole that you can extend according to the cutting length required. However, the range differs depending upon the make and model. If you have a lawn and hedges with varying heights, then make sure that a trimmer can reach all of them. We would suggest that you should survey your yard or garden. Apart from checking the hedge heights, you should also know the thickness of those. Depending upon the same you should choose the telescopic reach and blades.

Power: While surveying your property, you will know the area you have to cover while hedge trimming. Depending upon the same, you should choose the required cutting power. If you own a large lawn that has full fences, then you should look for a powerful trimmer that can give you fast results. On the other hand, if it's a small area, then it not beneficial to purchase a beast in terms of maintenance tool.

Cutting length: It not only the length of a trimming pole you have to think. You also need to consider the blade's length. Long and wide blade means a trimmer will be able to cover more bushes in less time.

Ease of use: Telescopic hedge cutters has to be comfortable because there will be angle changes when you have to use it for prolonged hours. Especially, if someone has not taken care of the hedges for a long time. So, it's a bright idea to pick something that has a comfortable grip. The shoulder strap is another useful addition that adds to the balance as well as control.

Blade material: You would like to have deep steel made blades on a hedge cutter. At the time you simply have to cut blind, because you cannot see the top areas. In such situations, the sharpness can only make sure that you got what you need; smooth and attractive cuts all along. Hardened steel blades are the most prominent ones because of the long-lasting sharpness and durability they have to offer.
Bottom Line
Here we are, at the end of the telescopic hedge trimmers reviews. As you read, we have included eleven top-rated hedge cutters today, so that you can choose one of them depending upon your usage and requirements. We have not compared or reviewed any of the petrol or gas propelled options because they are incomparable with electric variants in terms of power as well as weight.

Compare the features, power as well as price and choose the best options without taking a big hit on your bank account. We will leave you the top telescopic hedge trimmer reviews and buying guide so that you can choose one of the best telescopic hedge trimmers for your garden.