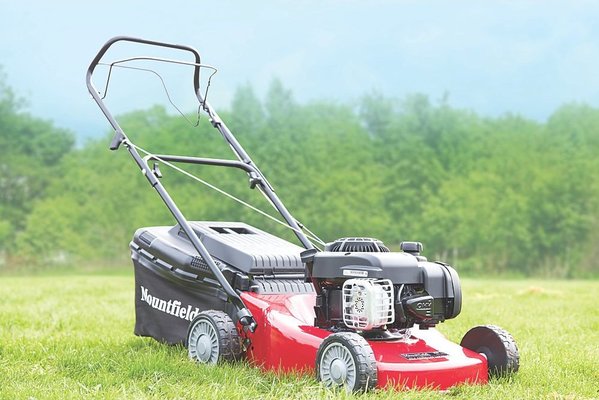 Mountfield SP185 Review (Petrol Lawnmower)
Last Updated on January 22, 2023
---
Do you want to read the Mountfield SP185 Review? Then Yes, this post is for you.
Mountfield is a reputed and well-established brand, which focuses on reliable and durable lawnmowers. The organization is primarily associated with lawnmowers. However, it also manufactures other garden tools like grass trimmers, cultivators, chainsaws etc.
We have reviewed a variety of lawnmowers from different brands so that we can find out the level of reliability and efficiency. Based on the same, we recommended the products here.
Today, we will talk about one of the best-selling Mountfield lawn petrol lawnmowers "Mountfield SP185".
In the review, we have highlighted the pros and cons of this model, to help you decide whether it's a right mower for you or not.
Mountfield SP185 Review
Specifications
Engine size: 125cc
Grass box capacity: 55 litres
Drive Type: Self-propelled
Cutting width: 45 cm
Cutting height. 20 to 70 mm
Weight: 25 kg
High quality.
Highlighted Features
Briggs & Stratton E Series Engine
Five cutting heights
Considerable large grass box
Steel built, including the blades
Includes mulching plug
---
Best Mountfield Petrol Lawn Mower 2021
---
Mountfield SP185 Self-Propelled Petrol Lawnmower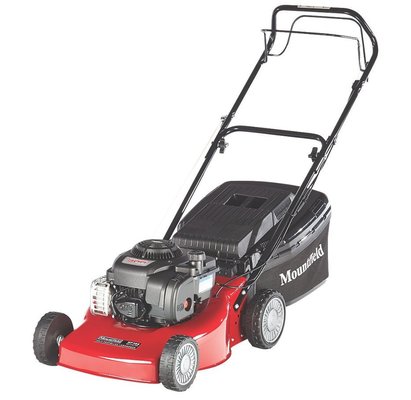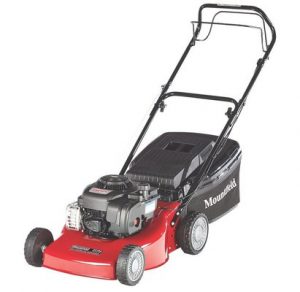 If you have a large lawn and you want the freedom from cables as well as physical effort, then the Mountfield SP185 lawn mower is a considerable trial.

Powered by a Briggs and Stratton 4 stroke engine, the mower has a displacement of 125cc.

The petrol self-propelled mower has a cutting width of 45 cm within a height range of between 20 to 70mm.

It has five stops between the given length, which helps customize a lawn or garden. You can change the cutting length with a manual lever located on the main engine.

With all its metal and provided fuel, the mower is suitable for a lawn up to 1600 m2. Talking about fuel, it has a petrol tank of 0.75 litres. While cutting the grasses, it makes a noise of 96 dB. As we can notice, the sound is shallow if compared to other petrol lawnmowers.

The mower is built with steel, so you cannot doubt its durability. Its blade is also steel made and hence gives precise and fast results. The edge is durable and can be sharpened once required. Even after a metal construction, this mower weighs 25 kg. The unit is completed with a hard top grass collector, which assists easy disposal of grass clippings.

Moreover, it has the mulching function that allows you to give some nutrients back to the mother soil. Due to stable wheels, it quickly moves over any terrain. Its handles are foldable so that you can collapse them for secure storage.

Pros
Low noise level
Self-propelled
Powerful engine
Significant coverage area
It has a Mulching Facility
Mulching Plug Included
Steel Blade
Steel Deck
Easy to use.
Cons
Some users faced minor issues with the height adjustment. To avoid any small usage trouble.
What To Look For When Selecting Mountfield SP185
---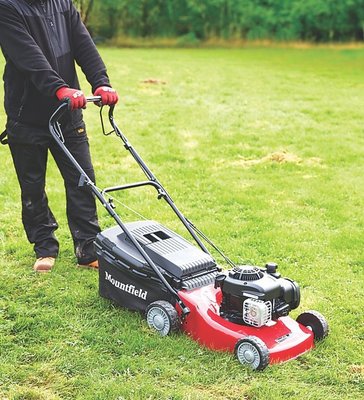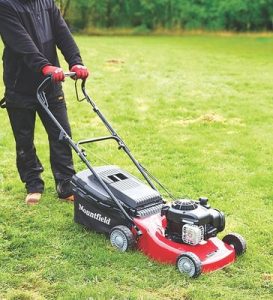 There are several factors that you need to check before investing in SP185. Because if you are spending more than £450, then it should be worth every penny.

1. Size of The Lawn Area: As we know that this Mountfield lawnmower is only suitable for lawns up to 1600 m2. If you own a more significant domain, then look for some other options like Mountfield HW531.

2. Power: What kind of grasses you have in the lawn or garden? And what type of terrain you have to cover? You should choose a lawnmower depending upon these two factors because power will be required to cover difficult terrains as well as cutting thick and dense grasses.

148cc engine and steel blades are good enough for any grass type. However, if your green property is in a hilly area and you want more power, then you can have a look at Mountfield HW531.

3. Self-Propulsion: Self-propelled lawn mowers are incredibly comfortable to use. However, you need to pay some extra cost for the feature. We earlier stated that SP185 could move forward without your help. So, if you like this function, you can go ahead with the purchase.

Otherwise, if you think you can manually push a mower over a lawn, then you can try a cost-effective option like Mountfield S481. It has a cutting width of 48 cm and six height adjustments, but S481 is a manual push mower, and hence it's comparatively inexpensive.

4. Cutting Width: Bigger cutting width means a mower has bigger blades, and it will finish the task in less time as compared to a mower with a narrow cutting width. 46 cm is the cutting width of SP185, which is suitable for large lawnmowers.

It's okay if you have a uniform lawn but can create a problem if there are many turns and corners. A full lawnmower is tricky to move around flower beds, bushes and trees. You can try a 41 cm petrol lawnmower from Mountfield if you think 46 cm will be more extensive than the lawn's capacity to accommodate.

5. Grass box size: Mountfield lawnmowers manage grass clipping in several ways; collection, side throw and mulching back to the garden. SP185 has two methods to make the same; selection of mulching.

There is a grass catcher as well as a mulching plug, but no option to side throw. The grass box is sufficient for a medium or large-sized lawn, but if you need something bigger, take a look at Mountfield SP535HW, which has a 70-litre grass catcher.

6. Noise: At 96 dB, SP185 has a low sound level. None of the petrol lawnmowers with a strong engine can work at less than 100 dB. So, the Mountfield mower excels in these departments and can be a good option if you don't want to disturb anyone around.

7. Mulching: Variety of Mountfield lawnmowers does not have the mulching feature, and some of them do. SP185 belongs to the second category.

If you think, you want to maintain the protein level of your lawn soil for better and greener grass next year; you would like the mulching plug provided with SP185.

8. Recoil or electric starter? : Petrol lawnmowers have two starts up types; pull or electric start. In the first type, you have to pick a rope-like a lever to start a mower, but in electric startups, you have to push a button, and the engine will start. SP185 belong to the second class of mowers. Hence it's easy to start.
Verdict on Mountfield lawnmowers
Mountfield is one of the best brands for gardening tools in the UK region. Their products are known for their efficiency and reliability.

Mountfield SP185 is not an exception because it has the power, cutting features and collection to maintain your lawn in the best possible way.
Why Petrol Lawn Mower?
A petrol lawnmower does not need a power outlet around. So, it offers unrestricted usage. At the same time, it provides better power than a battery-powered or corded lawnmower. Due to the ability, it gives you precise cutting results.

Internal components of a petrol lawnmower are durable and stronger than other variants. You only have to keep it maintained; in return, you will get a beautiful looking lawn within a short period.
---
Final Verdict
Robust and lightweight, SP185 is a self-propelled mower with included grass collector as well as mulching ability. Due to a powerful unleaded petrol-powered engine, the mower can cover a significant area.

Moreover, it's a self-propelled the machine, so you only have to guide the way to get a fresh lawn. Try this for a lawn mowing experience, which is entirely automatic.