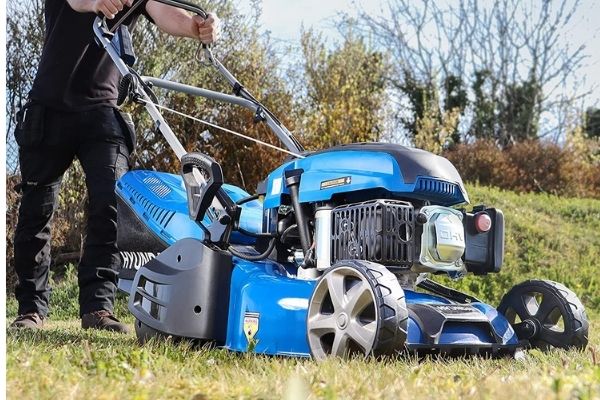 Hyundai HYM430SPER Self Propelled Lawnmower Review
Last Updated on October 14, 2023
Hyundai is well known for manufacturing reliable lawnmowers and HYM430SPER belongs to the same lot. It comes with a powerful 139cc engine that's economical and powerful but seeks minimal maintenance. In addition, the eco-friendly engine emits a low amount of carbon. We will talk more in this Hyundai HYM430SPER review. But let's know some of its features first.
Hyundai HYM430SPER Review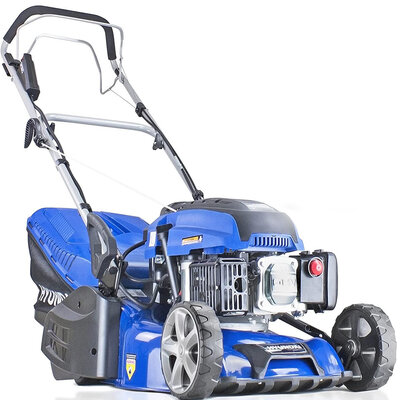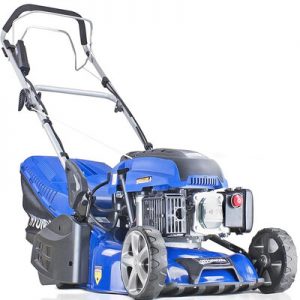 Specification
Self-propelled machine
139cc 3.7HP OHV 4-stroke low-emission petrol engine
Cutting width of 43cm
OPC (Operator Presence Control) technology
Foldable handles for compact storage
Electric push-button start
Six cutting height adjustments between 25 to 75 mm
45 litres' grass box with high airflow
A build-in roller for classic British lawn.
Pros
Strong and long-lasting construction
Effortless to use due to self-propulsion
Grass box suitable for mid to large-sized garden
Electric push button that facilitates easy start
Multiple cutting heights
Safe to use
Rear roller for stripes
Warranty of 3 years.
Cons
Hyundai support and replacement might not be satisfactory.
Engine: HYM430SPER has a 3.7 HP OHV 4-stroke engine with a displacement of 139cc. Its fuel capacity is 1 litre and the maximum RPM is 2800. There are two options to start the engine. Electric start is the primary and recoil start as a backup option.
The mower includes a charger to refill the battery that's responsible for its electric push-button. You don't have to worry even If the battery is discharged and you cannot find the charger. It's better to use the recoil start to complete the mowing process, then you can charge the battery later.
Hyundai HYM430SPER has an economical and low emission engine, so you don't have to worry much about fuel consumption and air pollution. Still, this engine has the power to deal with medium to large-sized lawns. Due to less fuel usage, the operational cost is also lower with this model.
Deck: The 4-stroke petrol lawn mower has a strong steel made deck. It also has a hose connector to make the cleaning process easy. The electric push start button is placed on the handles. So, you can start the power without any cord pulling, which is a relief.
Blade: Hyundai rear roller petrol lawnmower has a cutting width of 43 cm, which is perfect for most small to medium-sized gardens.
Cutting styles: Hyundai HYM530SPER has two cutting styles – rear discharge and cut to collect. As you can understand, rear discharge is where the mower cut the grasses and discharges them from its rear. Cut to collect is when the grasses are cut and stored inside the collection box.
You can select rear discharge if the grasses are short. All these greens clippings will then decompose to work as a natural fertilizer for your lawn. But, this feature is not suitable if the grasses are long.
Always follow the 1/3rd rule to cut the lawn grasses. Never cut them more than 1/3rd of their total height. Following this process will keep your lawn attractive, green and healthy.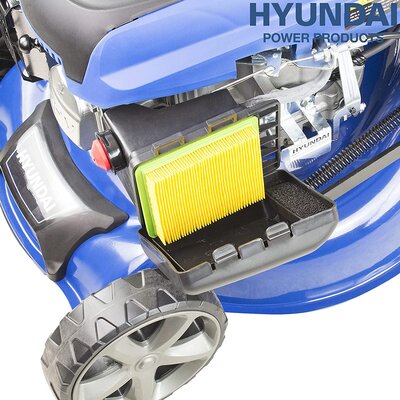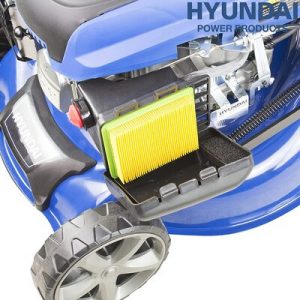 Self-Propelled Drive: HYM430SPER uses a rear roller for its self-propulsion.
Here is the good news.
This is a full-width split roller. This means you can easily manoeuvre the mower. Plus, there will no rear wheels stuck in the flower beds or scalp the soil bed.
The self-propulsion moves at a constant speed, which means you can easily cover uneven terrains. OPC (Operator Presence Control) makes sure that the mower will not run away automatically if you release its handle. These are the reasons why this 139cc petrol roller lawn mower overshadows all its competitions available in the same price range.
Roller: As we discussed, this electric start petrol mower has a full-width roller. So, you can easily mow along the borders without any fear of tipping over. The roller is split, which helps you a lot while taking turns. It also helps you to get the traditional British striped lawn.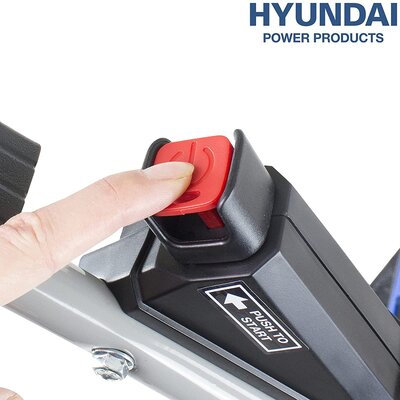 Height Adjustment: This petrol lawnmower with roller has a single lever for height adjustment. You can easily switch among the 6 levels available between 25mm to 75 mm. The given settings allow you to change the grass height according to the conditions.
Grass box capacity: Hyundai HYM430SPER self propelled mower comes with a decent grass carrying capacity of 45 litres. It has a high airflow plastic top for maximum pick up. Plus, the box is very easy to remove. So, you will spend more time mowing and less on emptying the grasses.
Practicalities
When we talk about practicalities, there are many features that we can mention. Let's start with the 2-in1 cutting functionality, which allows you to choose between cut and collect or cut and rear discharge. Then, the split rear roller is perfect when you want some stripes on the lawn. It uses a high-quality ball bearing to maintain stability and balance.
Plus, the large-sized wheels help you to easily manoeuvre the mower on the lawn. Both of its front wheels works on twin sealed bearings for durable life and effortless movement. Apart from that, the mower has a tool-free assembly. So, you can initiate the mowing process within a few minutes without using any special tool.
Speed: As we stated earlier, the mower moves at a constant speed. So, you cannot control the speed. Walk with the mower and guide the machine, so that it can do the needful.
Safety Features: Hyundai petrol mowers are generally safe and HYM430SPER is not an exception. As we discussed earlier, it has an Operator Presence Control mechanism that stops the engine immediately if you leave the handles. Moreover, the rear roller adds to the stability and makes the mower safer than other variants.
No matter how safe is a mower, it's better to use it with proper clothing. So, put on gloves, safety glasses, hearing aid and eye protection before you start the lawn maintenance session. Plus, read the included instructions to avoid any mistakes.
Maintenance: Cleaning a mower is not an easy task generally, but things are different when you have a Hyundai HYM430SPER self propelled mower. It has a garden connection hose that makes the cleaning process very easy. Regular cleaning of the deck and its blade will prolong the life of your mower and keep it functional without early repairs or replacements.
The mower has a maintenance cover that you can take out to access the drive belt and other parts. Apart from cleaning, regular inspection of the spark plug, filter, and engine oil is also required because it's a petrol machine. Also, keep its battery charged so that you can enjoy the electric start.
Storage: The mower has a deck size of 43 cm. So, you can easily place it inside your garage or garden shed. It has foldable handles that facilitate compact and secure storage.
What's Included in the Box?
HYM430SPER Lawn Mower
Grass collector worth 45 litres
Engine oil
User guide
Assembly tools.
Warranty
The Hyundai electric start petrol mower comes with a warranty of 3 years, which adds some peace to your mind. Plus, it allows you to contact the manufacturer in case of any quality issues or defects.
Should I Buy this Model?
We described all the features of this model. So, if the petrol lawnmower with roller suits your requirements then absolutely you can try it.  This is an excellent mowing machine with high-quality construction and a rear roller. However, keep in mind that this Hyundai tool is only suitable for small to medium-sized lawns.
The only point where you might try another petrol mower is the mulching plug. Hyundai HYM430SPER does not have the ability to mulch. We don't believe it could be a deal-breaker because this mower is for users who enjoy short grasses and cut them frequently.
Keep in mind that this model has a rear roller that can design traditional strips for you. So, we don't think mulching fits it anyway.
Final Talk
Hyundai HYM430SPER might be the perfect purchase if you need power, freedom and features that can make the mowing sessions convenient and enjoyable. Electric start, single lever height adjustment, efficient engine, and foldable handles are some of its impressive traits that change you used to mow. Oh, how can we forget the rear roller? It expert in creating traditional British stripes.
Overall, HYM430SPER is an excellent mower for small to medium-sized gardens. Its 43 cm blade makes sure you don't have to spend the whole weekend cutting the grasses. In other words, Hyundai HYM430SPER could be a fantastic investment if you want to try a rear roller petrol lawnmower.