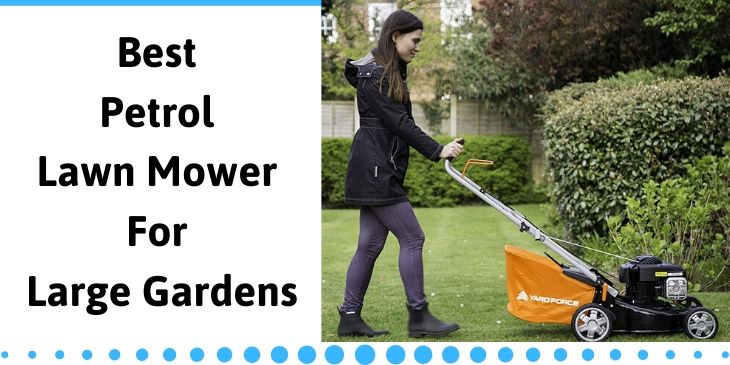 Best Petrol Lawn Mower For Large Gardens 2023 UK
Last Updated on January 3, 2023
Today, we will discuss some of the best petrol lawn mowers for large gardens. This list is created after comparing the power, performance, and features of all the petrol lawnmowers available to purchase in the UK so that you can choose one out of them depending upon your budget, ease of use, and storage space.
Petrol lawnmowers work in the same way as your car. Battery-powered and corded variants also available to maintain your lawn. However, for large yards or gardens, you should always choose a petrol variant. A machine powered by fossil fuel works for extended hours and gives you desired mowing results even in harsh conditions.
Best Petrol Lawn Mower For Large Gardens 2023 UK
---
Buying Guide of  The Best Petrol Lawnmower For Large Gardens
Choosing a petrol lawnmower depends on your requirements. Here are some of the factors that you should consider to purchase the best value petrol lawn mower for your garden.
Engine
Petrol lawnmowers generally come with 2 or 4 stroke engine. The two-stroke engine is suitable for residential areas. On the other hand, four strokes are comparatively more powerful, cumbersome, expensive and are suitable for commercial purpose.
Next comes the displacement. If you have a small or medium-sized garden, then an engine with 100 or 125cc power will be suitable. For bigger lawn or gardens, you will need some real power and efficiency. So, anything above 125cc will be okay.
Manual push or self-propelled
A self-propelled lawnmower uses the power of the engine to move, so you don't have to push it forward. Such mowers are great for large uneven gardens with tough terrains. Self-propelled lawn mowers are generally robust, and expensive. Moreover, they require a big storage space because of significant size.
Manual push mowers are suitable if you have a flat garden or you don't have to deal with overgrown grasses regularly. A manual mower powers its blades with its engine, but the unit has to be pushed to move. These mowers are suitable for small gardens and are comparatively lightweight, compact and offer excellent manoeuvrability.
Recoil or electric start options
Depending upon the make and model, there are three startup types available in petrol lawnmowers.
Electric key start to initiate the engine. Such mowers come with a battery that assists in the startup process. If you want to enjoy an electric start petrol lawn mower, remember to charge the battery. These mowers also have a rope start option as a backup. In case you forgot to recharge the battery or the electric start is not working. Example, Hyundai HYM510SPE.
Priming and pulling start. In this category of lawn mowers, you have to press the priming button thrice and then pull the starter rope to power the engine. We have mentioned Murray EQ500 above, it has the same startup of priming and pulling.
Automatic choke. Some of the mowers have auto priming, and you have to start the engine only by pulling the rope. Mcculloch M53-150AP is one of the best value petrol lawnmowers the UK that can be started simply by pulling its starter rope. No prime button required.
Cutting width
One of the essential features to check before investing in a petrol mower is its cutting width. Usually measured in centimetres, the cutting path decides the time you will spend on the lawn. Example, a mower with a cutting width of 53 cm will cut an area faster than a variant with 42 cm blade. So, you choose the blade width according to the size of your garden.
Grass collection
The grass bag is equally proportional to your convenience while using a lawnmower. A large grass catcher means you will spend less time on repeatedly evacuating it. You will be concentrated more towards your primary task to achieve the required results. On the other hand, if you invest in a lawnmower with small grass collection, you will have to frequently empty it, which might result in extra time and physical work.
Variety of cutting heights
Lawnmowers come with different cutting heights, which is measured in millimetres. The cutting height vary according to the brand and model; hence, you have to be careful while choosing a lawnmower. All the mowers we discussed above comes with an easy to adjust the manual lever to change the heights.
Drive control
You should be able to walk comfortably with a lawnmower. Some of these machines come with a fixed speed while others can change the movement according to yours. Example, Mountfield S421R PD6 moves at its pace and hence offers no drive control to the user. On the favourable hand, Hyundai HYM510SPE moves according to your preferences, because it has variable speed control.
You should also check the handle and grip of a petrol lawnmower. There should be a soft grip on the handle that should be adjustable according to your height. If there is a variable speed control included with the mower, then its triggers should be on the handle itself; not at far places on the unit.
Functionality
A lawnmower can also work as a mulcher if it has the mulching plug available. If you want the grass clipping to be crunched into pieces before sending them back to your lawn, then choose a lawnmower with mulching plug. Something like Hyundai HYM510SPE that has the mulching port as well as side discharge. Then comes the mowers that have rear rollers that can customize the lawn for you. Rear roller lawn mowers for large lawns are beneficial when you want strips. So, if you want to change the appearance of your lawn, then choose a lawn mower with the roller.
Storage
Always purchase a lawn mowing machine that can be easily stored, mainly if you have limited storage space. Look for a footprint that can be adjusted inside your garage or garden shed. Also, make sure that you can deal with the heft of a lawnmower while transporting it to the garden, especially if it's not self-propelled. Mowers with foldable handles take less storage space as compared to other models. HYM510SPE is one of the petrol lawn mowers that has a soft grip and folding handles.
Sound level
Petrol lawnmowers were known to work at a high noise level. Due to recent development in the technology and related hardware, these mowers have reduced the sound level up to a large extent. To make sure you don't feel any discomfort while working, you should check the sound level mentioned in dB. Low measurements mean s you will hear fewer engine screams.
Price range
Budget is another decision-maker. No matter what are your expectations, you should set a specific price range while purchasing a lawnmower. Price of a petrol lawnmower depends upon various things including build quality, engine power, efficiency and features. A mowing machine with a potent engine and endless features will be expensive, but ask yourself; do you need all those features at a high price? So, choose a budget petrol lawnmower that has the required functionalities that also in your preferred price range.
---
Best Petrol Lawnmowers For Large Garden Reviews
1. Hyundai HYM510SPE-Best Petrol Mower for Large Garden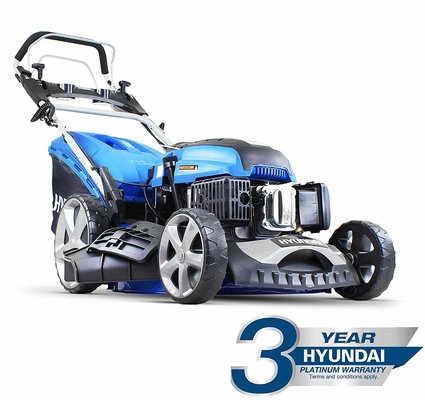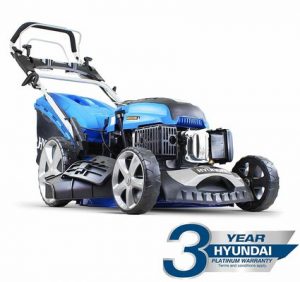 Specification
173cc
Cutting width. 51 cm
Grass collector. 70 litre
Cutting height. 25 to 75mm.
Review
Fantastic value for investment and effortless cutting are the two features why Hyundai HYM510SPE wins the first place here. This petrol lawnmower features an electric push-button start and rear wheels self-propelled drive.
It has four variable speeds that you can choose according to the requirements. Due to these two useful features, you can start and finish the lawn mowing task without any hassle. It is one of the best lawnmowers for large gardens in UK.
The petrol lawnmower is powered by an OHV 4-stroke Euro 2 engine, which is economical, requires minimal maintenance and emits less carbon. As a backup, it also has a recoil startup. HYM510SPE has six cutting heights between 25 mm to 75 mm that can be changed using a single lever.
There are several dispose options for the grass clippings; store in the collector, rear discharge, side discharge, and mulch that is facilitated by an included mulching plug. It has a side discharge suit that is useful when you want to throw the grasses from its side.
With a mowing width of 51 cm, the heavy-duty petrol lawn mower is suitable for medium and large-sized lawns. It has a big grass catcher and an onboard grass level indicator that lets you know when to empty it; which is not very often. In terms of safety, HYM510SPE has Operator Presence Control.
The mechanism never allows the machine to run even if you leave its handle. Soft grip handles of the machine are foldable to reduce the space occupied during storage and transport. Its assembly requires no unique tool.
Hence, once you receive the product, it will be up and running in minutes. These are the features why Hyundai HYM510SPE is the best lawn mower for a large garden.
Pros
High-quality build
Easy electric start
Large grass collector
Easy wheel height adjustment
Cons
Large lawnmower with extra heft 43.8 kg) with a large footprint
Requires user's control and strength because of mighty engines
---
2. Hayter Harrier 41 -Petrol Lawn Mower For Large Garden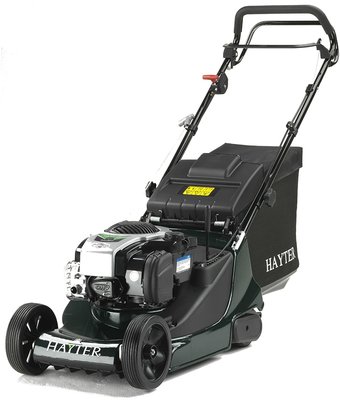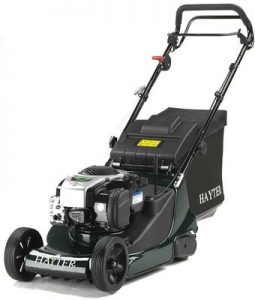 Specification
Displacement: 190 cc
No of Speed Position: 6
Cutting width: 41 cm
Weight: 37kg.
Review
Manufactured with aerospace technology, the Hayter Harrier 41 is certainly the best petrol lawnmower for large gardens. It comes with a Briggs & Stratton 625E-Series engine so that you can experience high performance.  Its large-displacement 190cc four-stroke motor has an OHV-type cylinder-configuration, and that is why it is cost-effective to use. You will like its low-fuel consumption, which reduces your cost of maintenance.
With a performance muffler, you should expect reduced noise during operations. A flat paper air filter and Splash Lubrication reduces wear for perfect durability. There is a variable-speed auto-drive system, which helps in proper tackling of tough terrains. Its heavy-duty wheels, as well as handlebar support, are all you need for effective operations.
This machine is one of the cheap commercial lawnmowers you will find in the market right now. Its front bumper is well-designed so as to handle daily commercial applications. The cast-aluminium cutter-deck is lightweight, making it easier for you to manipulate on both rough and good terrains. It comes with a fortified 2-piece polymer roller so that you can get a striped effect on your lawn.
What's more, the Hayter's patent-pending Vari-Pitch technology is a plus, which generates enhanced airflow under the deck. This will make it easier for you to cut long grass without too much effort. You can mow fence lines and walls with ease, thanks to its innovative Trim Side.
Pros
Powerful 4-stroke motor for optimum performance.
Low fuel consumption guarantees economical usage.
Performance muffler for reduction of noise during operations.
Splash lubrication reduces wear of vital components.
Aerospace technology guarantees effective mowing.
Cons
Does not come with an electric start button.
---
3. Einhell GC-PM 46 S-Great Petrol Lawnmower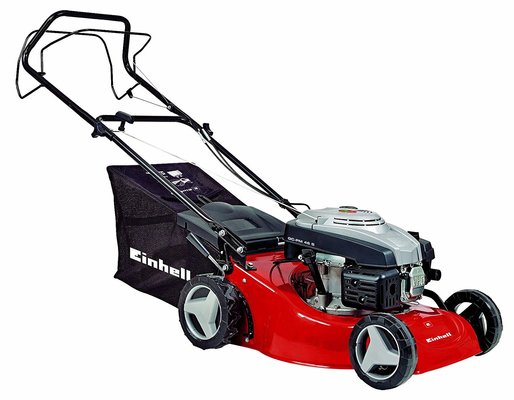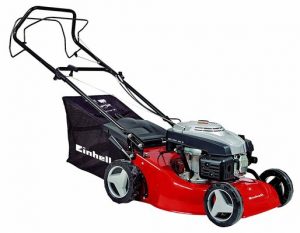 Specification
139cc
Cutting width. 46 cm
Grass collection. 50 litre
Cutting height. 30 to 80mm.
Review
If you have a budget of more than 300 euros, then the Einhell GC-PM 46S is a way better machine than any other petrol mower in this price range. Powered by a 139cc 4-stroke Briggs & Stratton engine, the mower tackles anything that comes in front of it including wet and thick grasses. Its engine generates all the power from a single cylinder.
Primarily, the Einhell petrol mower is self-propelled, but you can disengage the feature if there is a requirement to use it like a push mower. It's a full cutting width and nine height adjustments between 30mm to 80mm.
You can change the cutting height with a centrally mounted lever, which is beneficial while customizing the garden. Its fifty-litre grass collector has a level indicator that lets you know when to empty it.
Made of steel, the machine is mostly red with some black plastic made parts. Due to metal construction, the mower weights 34 kg. However, with a comfortable grip and self-propulsion facility, the mower reassures trouble-free mowing experience. Its handles are also foldable that saves some storage space. Two screws need to be loosened to fold the handles. So, you might require an extra tool.
Due to a full cutting width and self-propulsion, the mowing machine is difficult to move in tight areas. Apart from that, you will never face any trouble with the build quality, power and performance.
Pros
High capacity fuel tank (1.3 litres)
Suitable for areas up to 1400 m2
Ergonomic handle for comfortable grip and usage
Cons
Difficult to find the spare parts
---
4. Mountfield 297411028-Best For Large garden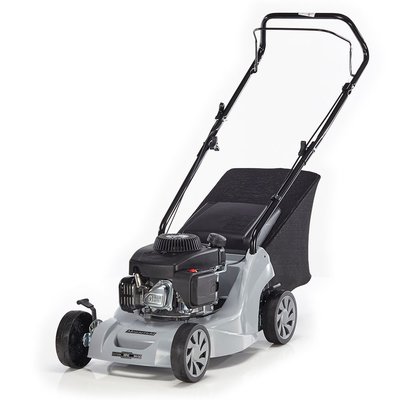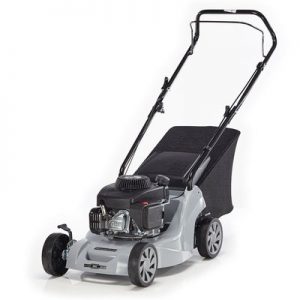 Specification
125cc
Cutting width. 39 cm
Grass collection. 40 litres
Cutting height. 25-70 mm.
Review
Mountfield gives you an easy to start petrol lawnmower that has a Briggs & Stratton 300 series OHV engine with 125cc displacement. Due to its push-button start, you don't have to deal with priming or pulling.
Once started, the mower can cover an area of up to 800 m2. So, it's another option from Mountfield that is suitable for large lawns. You can trust the machine because its engine that comes from a brand that has been serving the same industry from the last 100 years.
The mower has a durable polypropylene chassis that will never rust. Hence, you will be seeing this mower in and around your garden for a long time. It's cutting width of 39 cm and considerable grass collector worth 40 litres are perfect for a medium or large-sized lawn.
To change the cutting height, there is a manual lever mounted in its centre. There are five height positions between 25-70 mm. 394 p-B has an ergonomically designed handle that keeps you comfortable throughout the mowing process.
It has wheels on the handle that can adjust its height according to yours. This is not a self-propelled machine. However, due to its low weight of 18 kg and customizable handle, it's easy to manoeuvre. But, you will not find any mulching plug, nor there is an option of side discharge.
Essential maintenance of the mower like replacing an air filter can be done manually without any unique tool. An easy to access fuel neck and fuel cap does the rest to make refilling an easy task. It also has a Lo-Tone muffler that reduces the noise and keeps you irritation-free.
Pros
Easy to start without priming
Needs minimal maintenance
Powerful and reliable
Cons
Wheels slip-on sloped ground
---
5. Murray EQ500 Walk Behind Petrol Mower for Large Yard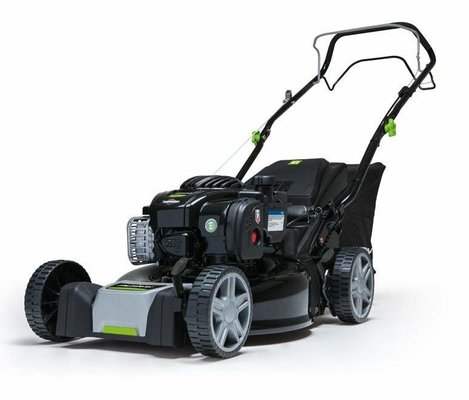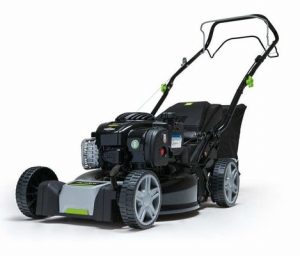 Specification
140cc
Cutting width. 46 cm
Grass collector. 60 litre
Cutting height. 29 to 92 mm.
Review
Featuring a Briggs & Stratton 500E Series engine, Murray EQ500 is an easy to start, robust and reliable lawnmower. The machine is self-propelled, so it's best for large lawns and gardens. Murray has included six height settings in this mower, which varies between 29 mm to 92 mm.
This easy start Murray mower lacks the electric start. You have to press the primer button thrice and then pull the recoil to start the engine. Once it powers on; you will notice a faithful sound of its 140cc engine.
Its steel made deck has a cutting width of 46 cm, and all the clippings are collected in a 60-litre catcher. Due to steel construction, the mower stands against corrosion and rust. Made of soft mesh, its grass collector works well and is easy to attach and remove. For a rear discharge of grass clippings, you can use the mower without the grass collector.
At 29 kg, the machine is comparatively lightweight, but that doesn't stop it to move freely on uneven terrains. It is valid on any grass types, including the wet ones. So, whatever comes in front of the mower, it takes it away to give you smooth and parallel cuts.
The mower has ergonomic handles that can be adjusted in three heights for convenient mowing experience. Overall, an ideal grass cutting solution if you have a large or medium-sized garden or lawn.
EQ500 is an affordable and efficient machine. So, if you need and robust and reliable petrol lawnmower, then this could be the right machine for you. It is another best petrol lawn mower for large gardens in UK.
Pros
Powerful engine
Easy to start
Ergonomically designed handle
Cons
No drain plug in the oil tank
---
6. Mountfield S421R PD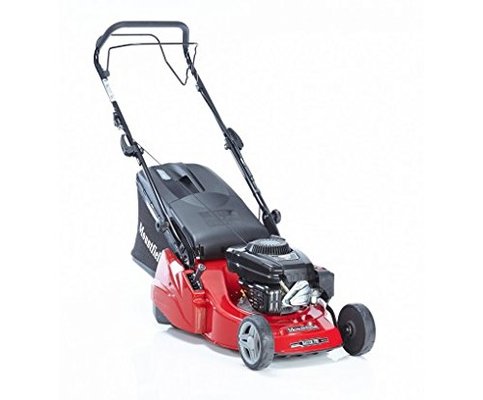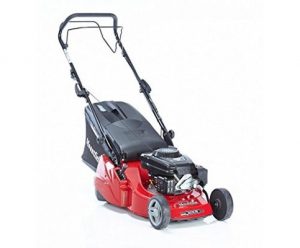 Specification
100 cc
Cutting width. 41 cm
Grass collection. 55 litres
Cutting height. 20 to 70 mm.
Review
With high quality and durable lawnmower sold as S421R PD, Mountfield guarantees excellent performance for many years to come. A cutting width of 41 cm shortens the time to cover a medium-sized garden, and if you are fond of strips in the lawn, then this is the right machine for the job.
Featuring a 4-stroke 100cc RS 100 OHV engine, the lawnmower is mostly built with steel. So, it remains in the same condition in all the seasons. Cutting height extended from 20 mm to 70 mm and you have a lever to choose between five stops.
As the mower is self-propelled, you don't have to take the strain of pushing it; especially on uphill lawns. Moreover, it has a 55-litre grass collector that reduces the time spent to reach the dispose area.
After knowing about such great features, you might get disappointed to know that this lawnmower does not have a speed control throttle. So, you will have any control over the speed. Rear rollers are there to ease the transport from garage to lawn. But, its 31 kg somewhat feels heavy to pull out from the garden shed or garage.
If you have a medium-sized garden, then you can't go wrong with Mountfield S421R PD. It has the necessary power and cutting width that not only efficient but also saves your time. No one can doubt the durability because of steel construction. If you are fine with a fixed speed mower, you will not face any other trouble.
Pros
A powerful engine that can withstand regular use
Decent sizes grass collector
Easy to move the lever for cutting height adjustment
Self-propelled drive
Cons
Fixed speed
The instructions are not in English
---
7. Hyundai HYM430SP Petrol Lawn Mower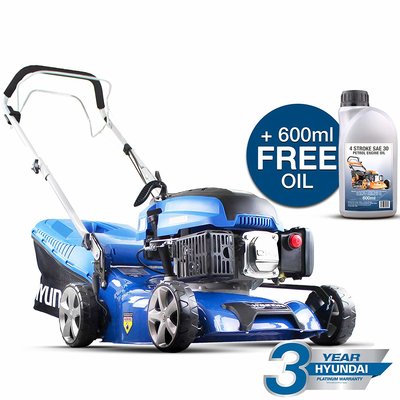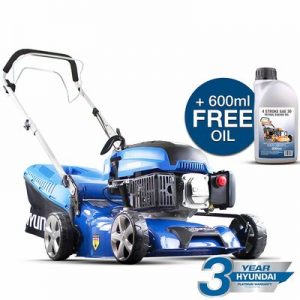 Specification
139cc
Cutting width. 42 cm
Grass collection. 45 litres
Cutting height. 25 to 70 mm.
Review
An easy to use the lawnmower that becomes even more convenient with the self-propelled function. Engage the HYM430SP once, and it will automatically move over the grasses to give you magnificent results.
You only have guided the machine when needed, which is a straightforward task because of its soft-grip handles.
Powered by a four-stroke petrol engine, the lawnmower has a recoil start. Due to a robust motor, this mower deals effectively with long and dense grasses. Even after spinning the blades at high speeds, the engine is efficient and consume less fuel.
It has a centralized cutting height lever, which has six spots between 25 to 70 mm. With a cutting width of 42 cm, the mower is suitable for medium and small-sized gardens. It does a lot of grass cutting in less time so that you can have some extra hours to spend with your family.
To collect the grass clippings, it has a rear-mounted polyester grass bag. If you want the grass cutting back to the lawn, the grass bag can be removed. This high-quality, mowing machine also has a mulching plug.
HYM430SP has embedded a technology called OPC, which makes sue that the mower will run away even if you leave its handles. Weighing only 28 kg, this mulching mower is powerful and easy to use. Its handles are foldable, which is very helpful for secure storage.
Pros
Self-propelled
Six height adjustments
Soft handle for comfortable mowing experience
Foldable handles
Cons
---
8. Hyundai P1PE P5100SPE-Petrol Lawnmower For Large Yard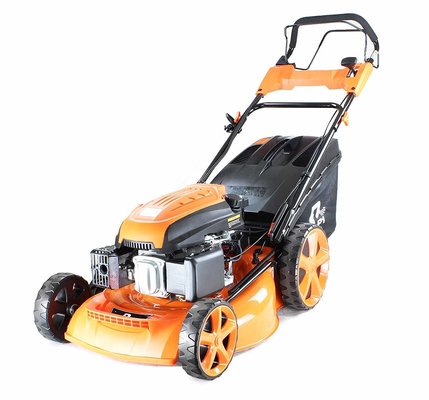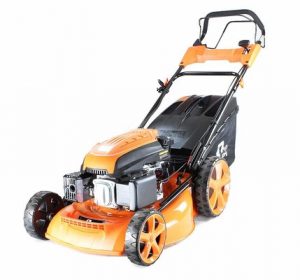 Specification
173cc
Cutting width. 51 cm
Grass collection. 60 litre
Cutting height. 25 to 85mm.
Review
We are glad to present you another well-built lawnmower from Hyundai. Equipped with a powerful 6 hp 173 cc petrol engine, P1PE P5100SPE has an electric key start. This startup is not only convenient but also secure.
It also has a recoil start as a backup, in case the battery or the electric starter is not working. Moreover, this is an air-cooled 4-stroke engine. So, you will not face overheating troubles.
With a 51 cm cutting width, the electric start petrol lawn mower is suitable for medium and large-sized gardens. It has a rear-wheel drive, and hence the mower quickly moves on tough terrains. While mowing, the mower gives you four options to manage the grass clippings; collect in a grass box, side discharge, rear discharge and mulch.
As it has a large polyester made grass catcher, you will not spend much time emptying it. The lawnmower has a manual lever that allows you to change the cutting heights between 25 to 85 mm. Apart from that, it gives you quality handling due to soft handles that are also foldable during storage.
Hyundai P1PE P5100SPE has a fuel tank worth 1.1 litres, which is sufficient to take care of medium and large-sized gardens. It operates at a low sound level, so no one in the house or locality will be disturbed.
As the mower is made of high-quality internal components protected with a steel casing, it needs less maintenance. Also, it also has an advanced paper filter that lasts for long and hence requires fewer replacements.
Pros
Quality built
Powerful engine
Self-propelled
OPC Safety control
Large grass collector
Cons
Heavier at 42 kg. Might be challenging to transport from shed or garage to the lawn
---
9. Webb WERR17SP-Petrol Lawnmower for Big Garden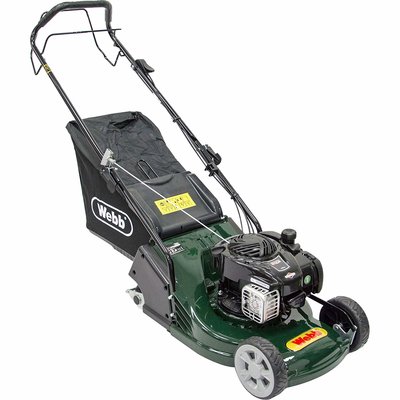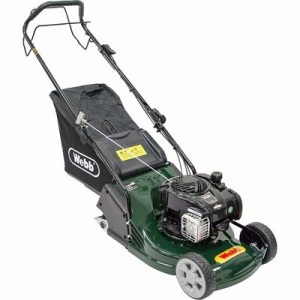 Specification
140 cc
Cutting width. 43 cm
Grass collection. 55 litre
Cutting height. 23 to 77mm.
Review
The WERR17SP' Supreme' is a self-propelled rotary mower powered by a reliable Briggs & Stratton 500e series. This recoil engine is easy to start and gives you the required results.
It's cutting width is wide enough to cover more significant areas in less time, and there are six cutting heights between 23 mm to 77 mm. You can change the grass cutting length using a rear-mounted lever.
Talking about the grass collection of this mower, the capacity is 55 litres. Due to its excellent grass-catching ability, the mower is a lot better option than using tools garden trimmer or lawn vacuum.
Apart from grass collector, this mower gives you two more opportunities to dispose of the clippings. First, you can remove the grass catcher and let this machine discharge all the grasses back to the ground. Second, you can use its mulching feature to send some nutrients back to the mother earth.
The wide cut lawnmower weighs 35.7 kg, and it moves very quickly on types of terrains. Also, the comfortable grip and two additional metal bars are beneficial while mowing your garden. Change the posture or walking style while using it, the mower will do its best to please you and best lawn mower for big garden.
WERR17SP' Supreme' comes with a power-driven split roller that can give you customized strips on the lawn. It's cutting deck is full than the wheelbase, which means you roll over this machine along the edges of your garden, without any scalping.
The only problem you that might face is with its instructions manual. Apart from that, this Webb lawn mower is an excellent device that meets your expectations on a large-sized garden or lawn.
Pros
High quality built
Powerful engine
Offers size height adjustments
Perfect for stripe finish
Cons
The instructions manual is only for patient users
---
10. Yard Force Push Petrol Lawnmower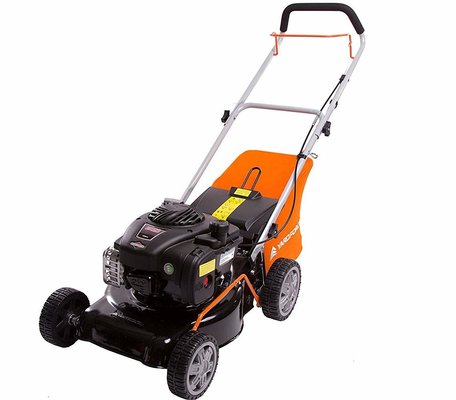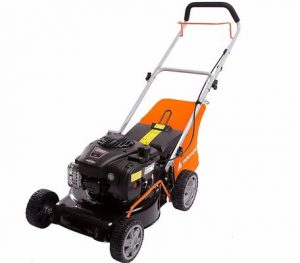 Specification
125cc
Cutting width. 41 cm
Grass collection. 45 litre
Cutting height. 25 to 75 mm.
Review
The rotary petrol lawnmower from Yard Force also comes with a Briggs & Stratton 300E Series Engine. Made of high-quality steel, its deck has a cutting width of 41 cm. The machine is hand push, instead of self-propelled, but its movement is effortless.
Cutting height of the mower can be changed to give different settings between 25 to 75 mm via a manual lever. This mowing unit also has a collector for clippings worth 45 litres. This grass catches also have a level indicator that lets you know when to empty it. If you own a garden up to 400 m2, then Yard Force gives you a considerable option to choose.
Yard force mower has a Prime's Pull E-Z Starting System. Means, you have to press primer button thrice to supply the right amount of fuel to the engine and then pull its starting cord. The machine can tackle damp or wet grasses and gives you even cuts on long plantations as well.
So, it's efficient, makes less noise and has the power to tackle a medium or large-sized garden. Moreover, the mower releases a low amount of fumes while in operation. The best lawnmower for large lawn.
The petrol lawnmower has a long-lasting built. With a mix of orange and black, it also looks stylish as well as attractive. With sharp and robust steel blades, it gives you desired cutting results.
As a safety feature, the edges stop movie once you leave the handle. Due to the low weight of 23.5 kg, soft-grip handle and large wheels, the machine is easy to manoeuvre around the garden
Pros
Robust steel construction
High-quality long-lasting design
Powerful and efficient engine
Cons
Warranty does not cover all the faults
---
11. Mountfield 299274628 Petrol lawnmower for Big lawn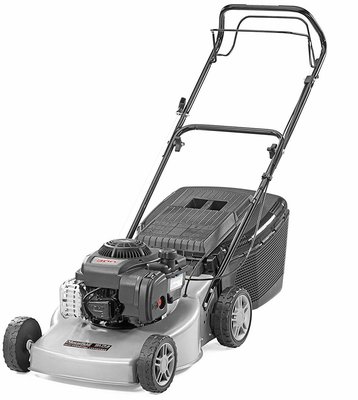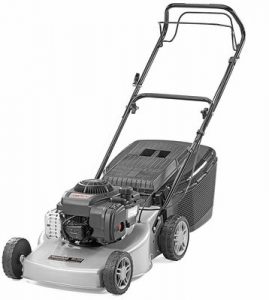 Specification
125cc
Cutting width. 44 cm
Grass collector. 55 litre
Cutting height. 20 to 70 mm.
Review
Our third contender also has a Briggs & Stratton engine, but this time with an OHV 4-stroke engine from 300 series. The TR-B is easy to start and reliable petrol lawnmower. Its self-propulsion makes mowing a monotonous task and the 44 cm wide cutting width covers a more significant distance in less time.
With such power and useful features, the Mountfield TR-B is an idle mowing solution for medium and large yards, lawns or gardens.
Mountfield 464 TR-B comes with an In Start system that combines Lithium-ion battery and a petrol engine to give you a smarter way to start up. So, no pulling, priming or choking, you only have to use the integrated push start button on its handle.
The wide cut lawnmower has a high quality built and balanced body that makes its movement easy as well as productive. There are five cutting positions to adjust between 20 to 70 mm. You can change the heights manually with a lever located centrally on the unit. This unit has a 55-litre grass catcher and an ergonomic handle that can be adjusted to three different positions according to your preference.
Maintenance is easy with this heavy-duty petrol lawn mower because small tasks like air filter replacement are tool-less. Also, its fuel cap makes refilling simple. Mountfield TR-B is a well-built easy start petrol lawnmower that has sufficient power to make any lawn maintenance task look easy.
The machine gives you excellent results under any conditions that also at a comparatively low price tag. You can choose this the best petrol lawn mower for a large garden.
Pros
Sturdy design
Powerful engine
Easy to maintain
Self-propelled, hence easy to use
Cons
Assembly instructions are not easy to follow
---
12. Mcculloch M53-150AP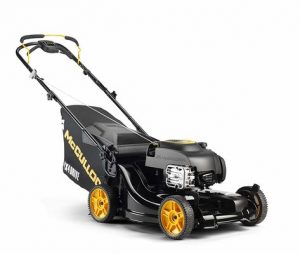 Specification
163cc
Cutting width. 53 cm
Grass collection. 65 litre
Cutting height. 25 to 102 mm.
Review
Ideal for large uneven gardens, the M53-150AP is a four-wheel-drive self-propelled lawnmower. It comes with a Briggs and Stratton engine, which is robust and reliable to get you through any of garden maintenance chores.
The machine has a durable deck made of steel that has a cutting width of 53 cm. Due to a very generous cutting path, the mower takes fewer passes to cover more areas, and hence you will complete the task earlier than expected. The cutting adjustments are available between 25 to 102 mm.
The petrol lawnmower has an Auto Prime feature, which means you can power it on by pulling the starter rope. No priming required by pressing any button repeatedly. At 38.3 kg, the machine is not lightweight.
But that should not bother you because its seamless Flexispeed function allows you to control the speed according to your preference. You can use either the left or right hand to change its pace. Due to 4X4 drive, the machine quickly moves on slops and gives you desired mowing results anywhere in a garden or lawn.
The Mcculloch lawn mower tackled all types of grasses. No matter how thick, dense, wet, or long the greens are, this lawnmower gives you what you want without wasting much time. The grass bag is quite big and collects a lot before you empty it. It also has a mulching function; in case you want to fertilize the lawn.
Mcculloch M53 has the power to complete any mowing task. Internal control is matched by its exterior design as well. Black body and wheels with yellow hints give a fierce look to the machine. A mulching mower that can be tried for the power, 4X4 drive and extended cutting variations. It is one of the best self propelled lawn mower for large lawns.
Pros
4×4 drive for trouble-free movement on all the terrains
Simple start-up without priming
Flexispeed triggers
Powerful engine
Cons
---
Petrol Lawnmower Maintenance
What are the maintenance requirements for petrol lawnmower?  Its another question you have to keep in mind while looking for aa garden maintenance equipment. Being a patrol lawn mower, it's going to be long-lasting. However, the machine will need repair at times. So, you have to make sure that the replacements parts are readily available on Amazon or the company's website.
Apart from the repair or replacement of faulty parts, a petrol lawnmower will also need regular maintenance. Experts can perform the same without any help wile beginners can consult a local technician depending upon the knowledge and understanding level. If you are planning to maintain the machine, look for a mower built of high-quality components and needs minimal maintenance. Warranty plays a vital role as well. Product coverage depends upon the brand and its model. So, choose a warranty that goes a long way to help you.
Before we talk about any steps to maintain a petrol lawnmower, your first job is to read the instructions manual. Every petrol mower is different and hence needs different care and maintenance. The manual will help you to know the internal components of a lawnmower and what will be the best maintenance steps to follow for them. You will also be able to see the replacement part numbers.
Routine servicing
Check the spark plug. It's an important component that ignites an engine to start the mowing process. So, the spark plug is an integral part of a petrol lawnmower. It is essential to check and clean the spark plug. If exhausted or faulty, replace it.
Replace air filters. The filter keeps dust and debris away from the engine and other essential parts of a lawnmower. So, it needs to be replaced after every three months or according to the instructions manual.
Cleaning and checking the mower
Tighten the wheels and any loose bolts
Clean the debris from underneath the mower; from its cutting deck and blades
Sharpen the blades you notice degraded cutting results
Clean the grass collection bag
In case of a self-propelled lawnmower, make sure that there are no grasses and debris in the driving belt.
Winter storage
Drain all the fuel. Once you decide to store a lawnmower for the next season, you should run the machine dry to absorb all the petrol left inside the fuel tank.
Store the lawnmower at a parallel surface. Never store it vertically or inclined on a wall. Storing a lawnmower in an inappropriate manner for an extended period might lead to oil leakage from its engine.
Features to look out for:
We read about some of the best petrol lawn mowers for extensive gardens, and we also discussed the factors that you should consider while purchasing one of them. But, here are some of the essential points that you cannot miss at all; especially if you want to enjoy and be proud of your investment.
Size of mower. The cutting width is an essential factor as we discussed before. If you have a small garden, you can go for a mower with narrow blades. But in case of a significant area; choose a mower with a bigger deck.
Size of clipping bag. Get a mower that has a large collection bag for grass clippings. Emptying the collection bag repeatedly is a very tiring and uninteresting job to do.
Variety of cutting settings. Choose the cutting height and its positions according to your preferences.
Cleaning and mulching abilities. If you want to fertilize a lawn regularly, then choose a lawnmower with mulching function.
---
Final talk
Careful research and appropriate product selection are the two things that lead to a perfect garden job. Your lawn, yard, terrace, park or any other green land will only look good when you are maintaining it with the right equipment.
So, choose one of the best lawn mowers listed above to avoid any regrets. It's recommended keeping a petrol lawnmower according to the given instructions. Once you follow all the guidelines provided in today's discussion, you will create a win-win situation for yourself. You will purchase the right best petrol lawn mower for large gardens and your green property will shine with the required ambience.