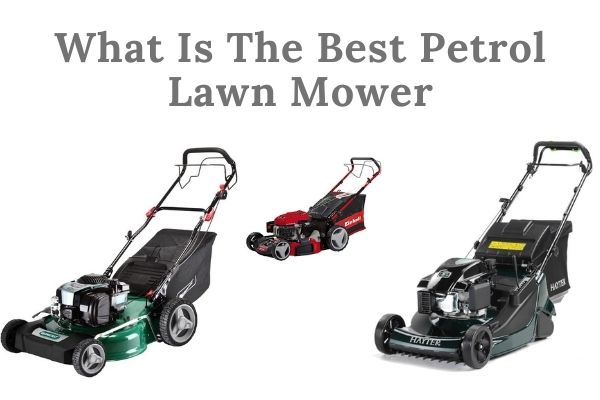 What Are The Best Types of Petrol Lawn Mower
Last Updated on October 14, 2023
A mower's life is tough. People use them a lot but skip their maintenance. They work since the starting of spring, then growth season, summers, humidity, and finally the fall. As you can see, it's a long and hard year for lawnmowers.
It's the reason you should select such an unit very carefully. Here we will discuss some of the best petrol lawnmowers available in the US market. Apart from that, we will also talk about the factors you should consider while purchasing such an outdoor tool.
What are The Best Types of Petrol Lawn Mower
Types of lawnmower
A mower should offer smooth and even cutting results. Most of the high-quality models can provide you the desired cutting results. But, not all the variants are suitable for your garden. Primarily, lawn mowing tools are available in two categories walk-behind and riding mower.
Walk-behind: You will find three types of walk-behind mowers in the US market; manual, push, and self-propelled. Manual models work using your physical strength, while a push lawn version depends upon a motor to rotate the blades, but you need to move it. Automate variants are the most convenient because their engine powers both blades and wheels.
If you own anything less than 1/2 acres, then try a walk-behind mower. Manual models are best for compact yards. Push mowers work well only if you have a small to medium-sized garden. Self-propelled variants are perfect for users who don't enjoy putting a lot of effort into lawn maintenance.
Riding mowers: Available with automatic transmission similar to your car, riding mowers are best for large gardens. Another version of the riding mower is a ZTP (zero-turn tractor), which offers better handling and accuracy.
Fuel dependency
Lawnmowers are available in petrol propelled and electric versions, wherein the former is powerful and can handle thick or tall grasses. Electric mowers work without making disturbing noises but are less powerful than petrol versions. Corded models are restricted due to the connecting power cable, while cordless ones can only for a limited period.
You can try a petrol variant if you own a large garden. On the contrary, you could invest on an electric version for small to medium-sized lawns.
Cutting options
Mowers store the grass clippings, discharge the greens from the side or rear, or mulch them. Some of the mowing machines come with all three options, while others offer two or even one. So, you should choose one of the varieties according to your requirements.
Drive type
Front-wheel drive mowers are maneuverable but struggle over slopes and terrains comprising multiple uphill paths. On the contrary, rear-wheel-drive models perform well on flat as well as uneven surfaces. But, RWD variants are comparatively less maneuverable when compared to FWD units.
Warranty
A petrol mower that comes with a robust warranty is the best for your garden. Coverage from the manufacturer adds peace to your mind because you will have a backup if something goes wrong.
Budget
You need to choose the best petrol lawnmower 2021 that's available in your budget. Select something that has all the functions and can fulfill your requirements. You can find a high-quality petrol mower for $400. Make sure you invest in a long-lasting model that can last for many more years to come.
Power: 139cc
Cutting width: 43 cm inches
Using a strong Briggs & Stratton engine, Hyundai HYM430SP is a lightweight mower that's easy to handle. It has all three cutting options including rear/side discharge, collection, and mulch. If you own a small or medium-sized garden, then you might like this model.
Best petrol lawn mower for a large garden – Hayter Harrier 41 Autodrive Lawn Mower
Power: 190cc
Cutting width: 41cm
If you are looking to maintain a large garden, then Hayter Harrier 41 Autodrive 375A has a feature-packed model that you might not find at this price tag. This push mower comes with better-duty wheels for optimum maneuverability. Plus, the machine has 3 cutting height levels that allow you to choose the grass height according to the requirements.
Summary
If you want to find the best lawn mower, then find a suitable model according to the points we mentioned above. We gave you insights about the mower types, power sources, and all other factors that you need to check while purchasing a lawn machine. So, choose what suits your requirements and keep it maintained to enjoy long-lasting services.