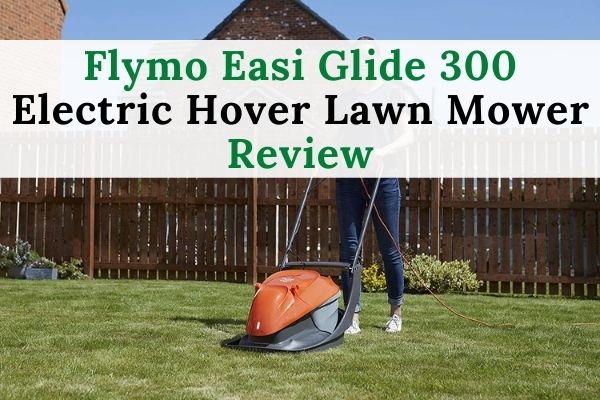 Flymo Easi Glide 300 Electric Hover Lawn Mower Review
Last Updated on January 4, 2023
Flymo Easi Glide 300 is an affordable lawnmower that comes with a 20 litres grass box and adjustable cutting length between 10 to 30 mm. Its 1300W motor performs well and a 12-meter power cable can easily cover an average-sized yard. The lawn maintenance unit has foldable handles that facilitate convenient storage.
Specifications
Rating: 4.5
Suitable for: Small and medium-sized lawns
Power: 1400W
Power cable: 12 meters
Cutting width: 30 cm
Available grass cutting heights: 4 (Between 10 to 30 mm)
Grass box: 20 litres
Weight: 8.5 kg.
Flymo Easi Glide 300 Review and Key Features
Motor: As we stated earlier, Flymo hover vac 300 has a decent motor that's perfect as per its weight and size. The 1300 W motor helps the motor to move and cut easily so that you don't have to spend a lot of time out in the field. The lawn maintenance unit is corded, which means you don't have to think about refuelling or recharging. Plus, there will not be any carbon emissions or noise pollution that are common in petrol engines.
Blade: Flymo Easiglide 300 features metal blades that are resistant to daily wear and tear, especially from dirt, moisture and small stones. Its flat blades don't go blunt easily. Plus, you can easily find and replace them without spending a high amount.
Metal blades are comparatively better because small objects and regular cutting cannot damage them. Hence, these edges are long-lasting and also finishes the cutting sessions quickly.
Power cable: The Flymo 300 lawnmower gives you 12-meter power cable, which is comparatively longer than the average length of 10 meters. We are sure that the extra 2 meters will be very useful for buyers with some additional space to cover. In case of a large lawn, you will need an extension box.
Height Adjustment: Flymo Easi Glide 300v corded hover lawnmower comes with spacers that are useful when you want to change the grass cutting height. To change the blade height, you need to flip the mower. Then, take out its blades and attach the spacers according to your preference. Reattach the blade carefully. Make sure that you unplug the unit before you start.
Flymo grass cutter has 4 height adjustments available in 5 mm increments between 10 to 30 mm. It has three spacer combinations to facilitate these cutting levels.
Cutting width: Flymo easi glide's blade's coverage is 30 cm in diameter. So, it covers 0.09 square meter in one rotation. The lawn tool uses an electric motor, which generates a 4, 300 RPM to finish the maintenance earlier than you expect.
Grass Box: Well, in this model you are getting a grass box that's integrated into the main unit. Such a design makes Flymo Easi glide 300v compact and easy to store because nothing is hanging out of its rear. The grass box has a decent capacity of 20 litres, which is great for a small yard. It also works for a medium sized garden if you are ready to make some trips to the dispose ground.
The Easi Glide 300 does not have any vision window, so you cannot see when the grass box is going to be full. However, you need to promptly empty it because the mower tends to scatter the greens if the grass box is full.
Flymo Easi Glide 300 Performance
Cutting power: Looking at the cutting height adjustment that goes only up to 30 mm, it's easy to understand that the Flymo 33cm Easi Glide hover lawnmower cannot combat overgrown grasses and thick weeds that have not been trimmed for weeks. Instead, it's built for regular usage on grasses that are already under control. Stick to this and you will get what you desire. However, do not expect stripes because this mower does not have a roller.
Grass management: We will be very truthful here, the Easi Glide 300 tends to blow approx. 15 per cent of the grass clippings. But, tell us which of the hover mower don't do that. It's a fact that hovers are not capable of excellent grass management. Still, the Flymo 300 lawnmower does a better job by dropping the lowest number of grass cuttings. Empty the grass box once it's full to minimize the droppings.
Manoeuvrability: All thanks to a powerful motor and lightweight body, the Flymo Easiglide 300 floats across the lawn. Plus, there are no restrictions over its range of motion. So, you can push this mower in any of the directions.
Why it Deserves Your Attention?
Ease usage: Flymo Easiglide 300v is an entry-level lawnmower that's very easy to use without any external help. You simply need to plug the unit, push its start button, and squeeze any of the triggers available on the handlebar. Push where you notice long grasses and leave the trigger once you are done. These are the only steps you need to know. Nothing much technical.
Lightweight: The Flymo electric mower weighs 8.5 kg, which anyone can handle. So, if don't want to use heavy machines, then it's one of the best lawnmowers for small gardens. Due to a low weight, the grass cutting device is easy to move as well. Plus, there are transportation rollers on the front that makes its relocation and storage easy.
Comparatively quiet: You might be surprised to know that hovers work at higher sound levels when compared to regular electric lawnmowers. However, this Flymo hover mower is not a nuisance at all. We will not call it near silent, but the noise level is lower than other models with similar design and features. The unit works at 78.8 dB and hence, never disturbs any of your family members or neighbours.
Convenient to store: A compact design and foldable handles lets you know that Flymo Easi Glide 300v needs a small storage space. If you are running low on the open space in the garden shed or garage, then trying this mower might be a bright idea.
Affordable: The cheapest Flymo Easi Glide 300 gives you the full worth of your investment. Even you can use it for 3 to 4 seasons, the maintenance cost will be very low. Hire someone to cut your lawn and you might pay to double its price after every two months.
Flymo Easi Glide 300 Practicalities
If your motive is to purchase an affordable and lightweight, then Flymo Easiglide 300v might be the best option. At 8.5 kg, it's one of the lightest hovers you will find in the market. There are no wheels, but that does not mean you will face difficulties while pushing the unit. Instead, it needs small efforts to move over the grasses.
The power cable can be a trouble for some of the users, especially if there are
too many trees in the lawn. Plus, you need to use a tool for height adjustment because the changes are not automatic. Apart from that, the unit might not be a suitable purchase if you own a large lawn.
The rollers on the front is an impressive addition because it allows you to move this unit anywhere. Please do not think that the rollers can make strips. These are only helpful when the mower is not under operations.
Who Should Buy Flymo Easi Glide 300?
If you own a lawn equals to or less than 200 m2, then it's one of the best hover mowers to try.
Users who need a lightweight, compact, and easy to use lawn maintenance tool.
It's a functional, durable, affordable and reliable device. So, it's a perfect purchase for someone who doesn't want to invest a high amount on lawn maintenance but still needs a high-quality solution.
A decent cutting width makes it suitable for users who want to finish outdoors tasks faster.
Buyers who need a powerful hover.
Gardeners who want to purchase from a reputable brand.
Homeowners who don't want to spend high on replacements.
Final talk
Flymo Easi glide 300 is a perfect purchase if you own a small garden or lawn. Most of the gardeners can sacrifice extra features or accessories for such a hover that cuts the grasses per desire. And if you have a small yard, then grass box will not be a problem as well. The small capacity is also helpful when you are not in a condition to life heavy stuff.
The metal blade remains sharp for long and is easy to sharpen. However, the replacement is very inexpensive and hence, the process is not worthy of your time and effort. Yes, the height adjustment process might be a trouble for uneven lawns. There is no central lever. So, you need to remove its blade to change the cutting height. But, once at the right height, you will not feel the need to adjust again.
Due to a minimalistic design, Flymo Easi Glide 300 is not only light-weight but it's affordable as well. It has a clear vision; to provide efficient, fast and easy cutting results to you without many efforts. Keep in mind that it's an entry-level hover mover and does not have any mulching option or rollers for strips.