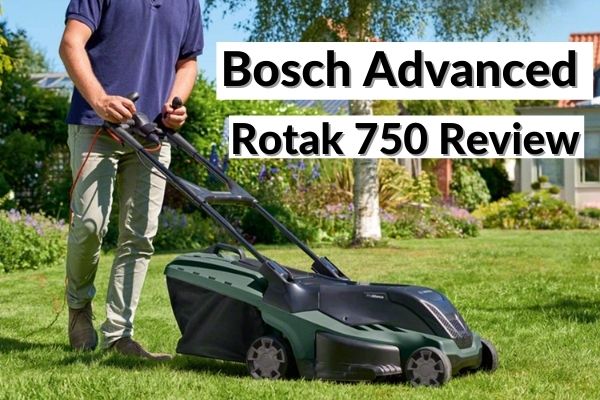 Bosch Advanced Rotak 750 Review
Last Updated on January 3, 2023
Are you looking for a lawnmower that can cut through that thick grass at your compound? Look no more. Bosch advanced Rotak 750 does that pretty well. Rotak 750 is made to a model that cuts that grass without any hindrance. It has the biggest cutting width of 45cm and a powerful motor with 1700 watts, enabling it to drive through thick lawns.
Advanced Rotak 750 is also the bigger brother to the Bosch Advanced Rotak 650. The difference between them is that advanced Rotak 650 has a smaller deck size than Advanced Rotak 750. Their features are almost the same. For reliability and affordability, Bosch brands are always the best. Their products have a very excellent reputation in the market. It is one of the new Bosch lawnmowers UK.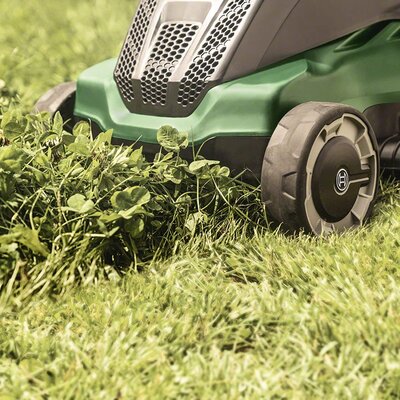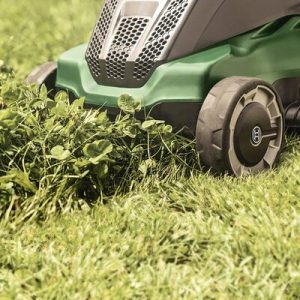 Talk of quietness when talking about this mower. Working in a very quiet environment is a dream of every person. The lawnmower is very quiet when in action.
Handling large lawns has never been difficult when you use this powerful machine. Moving it around is very easy. With the presence of a 45cm blade, your work becomes very easy. Below are the details of the Bosch Advanced Rotak features that enable it to outperform other lawnmowers.
Pros
Mowing using this machine is very easy because of the features such as ProSilence, Ergoslide, and the Integrated Height Adjustment.
The powerful motor makes it very strong.
A large grass box ensures fewer empty trips during trimmings.
Smooth and silent operation makes it very efficient.
It is very simple to assemble out of the box.
Wider cutting width makes it faster.
The guarantee of 3 years is very favourable.
Height adjustments are very easy.
Cons
The 10-metre cable is too short for larger lawns.
The folding mechanism is quite stiff.
The collapsible grass collector spits out grass instead of collecting them.
The handle grips can cause blisters when cutting.
Think of The Silence
Think of working in your garden with a quiet machine. There is no noise at all. Your neighbours can't get bothered whenever they see you carrying your powerful machine. You cannot disrupt them in any way.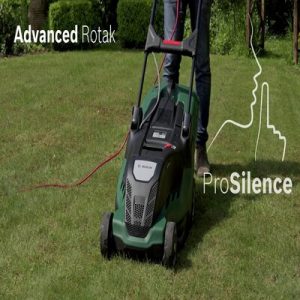 This machine has a wide range of 7 height cutting options, ranging from 20mm to 80mm. These height cutting options ensure quick and easy changing of height as you go through your lawn.
Think of the Blades
This lawnmower machine has a ground steel blade that is strongly hardened to 45cm. These blades are very durable if taken care of properly. You've to sharpen them most of the time so that they remain clean all the time.
Another good feature of the blade is that you can replace it. In case you need to replace, the blades are easily available in the market at a very reasonable price.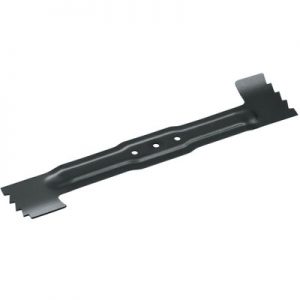 For large to medium lawn size, 45cm size is the perfect match since it gives your lawn a good combination of speed and efficiency while you manoeuvre on your property with a lot of ease. In terms of wear, metal blades are the most suitable because you won't frequently replace them compared to plastic blades, which need to be replaced more often.
In terms of efficiency, metal blades are very sharp, and their cuts are clean, thus making your garden look cleaner. Plastic blades can result in shoddy work because it is impossible to sharpen them like metal blades. Don't gamble with your blades even if you bought your machine with plastic blades; consider replacing them with metal ones to take good care of your lawn.
The capacity of The Grass Box
A large grass box can be hectic at times. But the positive side is that with a large box, you can make fewer trips to empty your grass after collecting large amounts of trims. But all will be well and good if you have a small or no grass box. Without the box, your lawnmower will be more light and easy to move around when tidying your mower.
This electric rotary lawnmower has a large box of 50-litre capacity, which is generally designed for larger lawns. Emptying trips made by the Bosch rotak 750 are usually less because of the compact cuttings in the large grass box. The Rotak 750 becomes heavy after you have filled it with grass but being heavy doesn't make it difficult to manoeuvre around your lawn.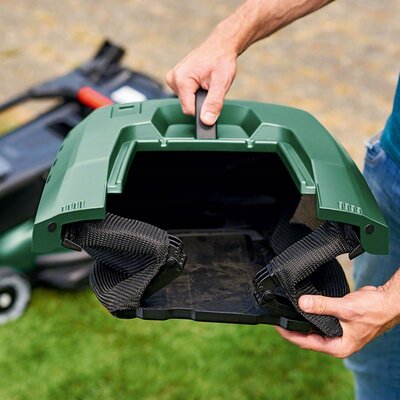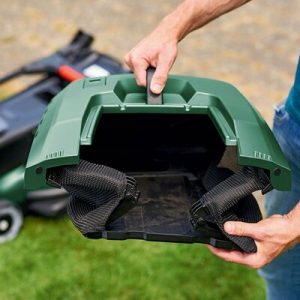 You have all the options with you meaning you can decide to empty your grass box if not fully-filled to avoid the heaviness of operating in steep inclines. The grass box also has a very nice touch feature, which is a handy gauge. This gauge indicates when the grass box is getting full. Bosch Advanced Rotak collecting bag has a solid top and bottom plus a woven material on the side.
The woven material on the side, the solid top and bottom, reduces storage space since the grass collection box is foldable. Collecting grass using this grass box can be a headache if you don't take care of it. You can incur damages if you don't look after your grass box since it is likely to tear despite the good quality.
A minor issue you should be concerned about this folding grass box is restrictions and obstruction when emptying your cuttings. That can make some cuttings to be left in your machine. Nevertheless, you can get rid of all the cuttings by shaking the collection box since your device has compact cuttings.
Bosch Advanced Rotak 750 Specifications
Motor power
1700 W
Lawn area
750 m²
Grass box capacity
50 l
Width of cut
45 cm
Height of Cut
25 – 80 mm
HOC settings
7
Handles
ErgoSlide
Price
Great Safety Features
Bosch products are widely known for their safety record, which looks very great. Incorrect use of any lawnmower can be very dangerous, but Rotak 750 has been made safe without interfering with its performance. It is very effective.
This lawnmower comes with a safety guide that is very clear and in detail. You cannot have any safety problems with your machine if you follow and practice these instructions. Vibrations and any form of noise are also kept low with the provision of the ProSilence feature. This machine comes with all the local and international safety and quality standards. What a lovely machine!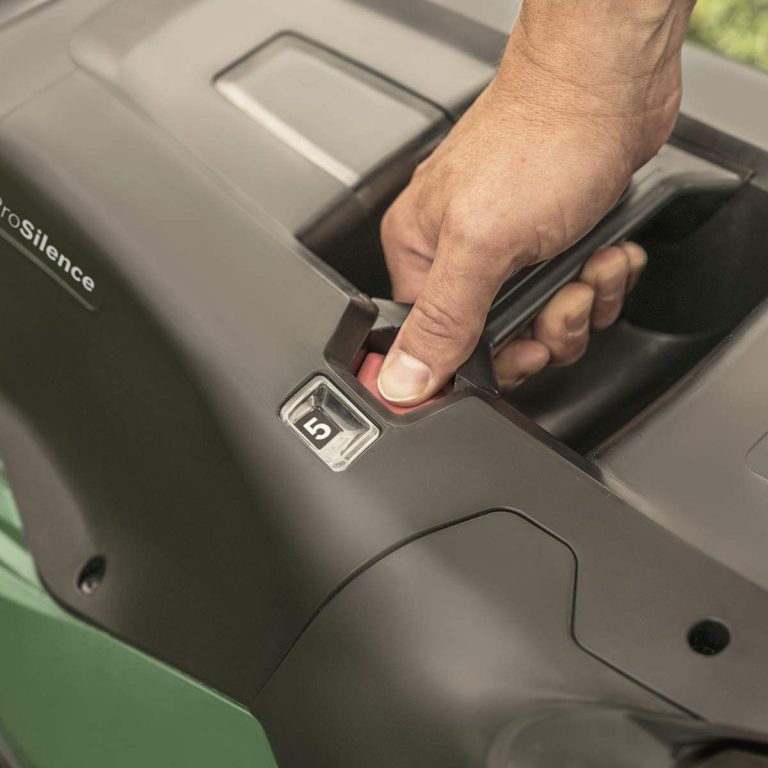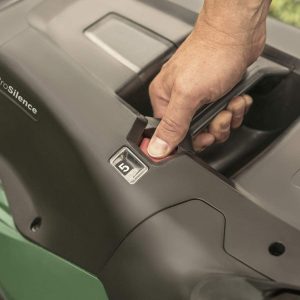 When used under normal conditions, any risk of electrical shock is taken care of by the built-in double insulation. Any sign of motor overheating is prevented by a protector, making the motor shut off when it reaches a certain temperature. Make sure it cools down before you start using it again.
Adjustable Heights
Adjusting the heights is also very easy as compared to other mowers. The handle and the perfectly placed button's central location makes it easy to raise or lower the mower.
There is Power System Feature
As mentioned earlier, this machine has a 1700 watt powerful motor feature which cuts large and more mowers as it provides a more professional cut. You require less effort in moving this Bosch self-propelled electrical lawnmower. The decent-sized motor is capable of cutting both thick and long-grown reductions of your garden.
Ergonomic Cutting Diameter
The cutting diameter of this machine is ideal for both large to medium sizes. You will probably take very minimal time moving around your garden with a lot of ease. This easy movement is a result of its ergonomic design and smooth-running wheels.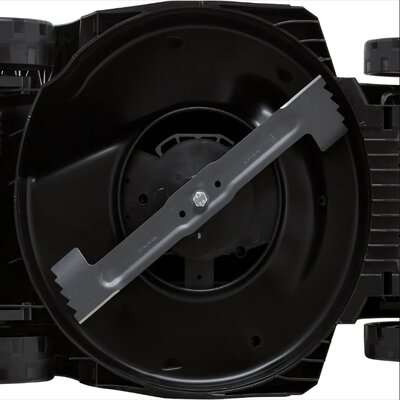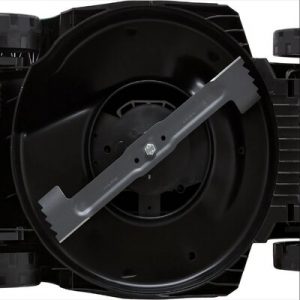 It has one of the largest deck sizes in the lawnmower market. It is generally designed for lawns up to 750m square. For a smaller deck size, you can use AdvancedRotak 650, which is quite identical to the Rotak 750 though the deck size is a bit smaller at 41cm.
Leaf Collect Feature
The leaf collect blade that comes with this machine doesn't only cut grass; it can collect leaves for disposal. As it cuts your grass, it also ensures no leaves are left behind after the chopping. Mowing is made easy and quicker with this kind of feature. It is the perfect lawn mower that you can never miss.
Replacing the Blades
Apart from sharpening the blades, you can also purchase a replacement blade for your mower. Replacing the edges is not that difficult if you learn the basics provided in the instruction manual.
Check the Warranty
This machine comes with a manufacturer warranty of 3 full years, which covers both faulty materials and quality. Other materials that are not covered in the warranty are the blades and the general wear and tear.
Some of the Rotak 750 box inclusion includes a 50-litre grass box, the mower, 10-metre cable, and an instruction manual. Make sure you check if everything is in contact before taking it at home.
Last Thoughts
Bosch AdvancedRotak 750 is the perfect lawn mower that can never let go of medium and large mowers. All the features mentioned before, starting from great quality and the solid feel all over the body parts, make this machine so perfect.
The lawnmower also outshines other others due to its adjustable heights, which are very easy to handle. If you are indeed looking for a mower that will give you a nice touch in your garden, then try out these lovely machines. All the features that come with this cutting machine make it more easy and enjoyable to operate.