Compact Garden Furniture: Space Saving Garden Furniture
Last Updated on January 22, 2023
Do you own a small garden or patio? If yes, then you have to be more thoughtful while redesigning it. After spending some time and energy, you will see that your small plot is transformed into a stylish outdoor escape. Look at some of our recommended tips to create a private space in your garden.
 Compact Garden Styling Tips
Adding a Dining Set: Most of the small garden comprises a lawn with a decked or paved area. You might think that it's too small for a dining area. However, the reality differs because there are multiple furniture pieces that you can use to get the best out of your space.
Foldable dining table: Any of the foldable structures are great for compact spaces.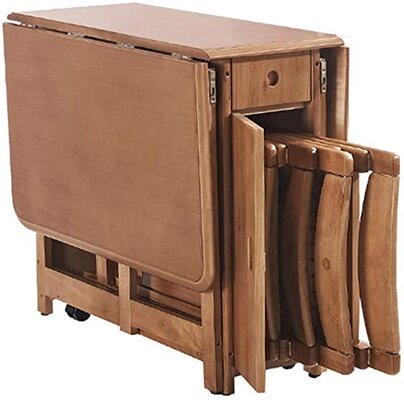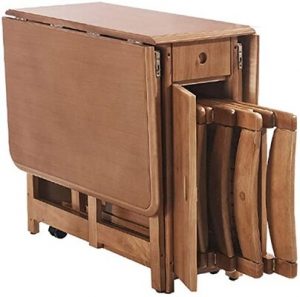 Round dining table: There are no corners or legs to occupy the space. So, a round dining table consumes marginally less space than square or rectangular shaped dining tables.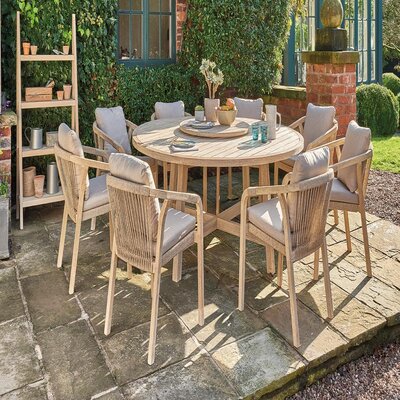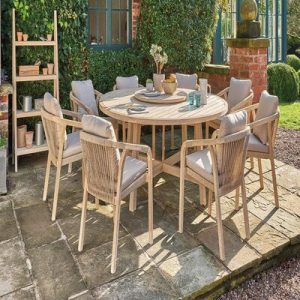 Stackable or foldable chairs: Simple to use and store, foldable or stackable chairs are great for compact areas. Such items are versatile and you can easily store them when not in use.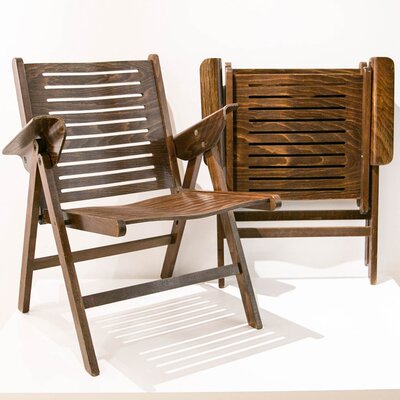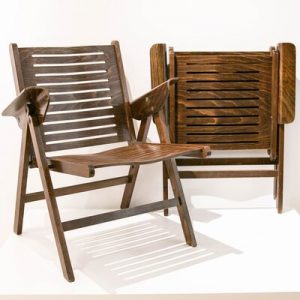 You can easily store foldable chairs and tables anywhere whenever required. Moreover, you can always change the sitting arrangement without any struggle. In case of a garden party, you can put the dining table into a corner and use it to showcase all the food and beverages. Place all the chairs around the garden or patio, so that the family members or guests can socialize and enjoy the evening.
For weekend BBQs, you should pair the chairs and table together. So that your guests can relax and refresh with a glass of cocktail. You can also use a long garden table like Home Source.
Designing A Home Patio
If you own a small garden with a tiny patio, even then a personal area for dinner or evening coffee is feasible that also without occupying all the open space. Take a look at the 2-seater garden table set by vidaXL. It gives you a perfect place to relax and dine without consuming all the available open space.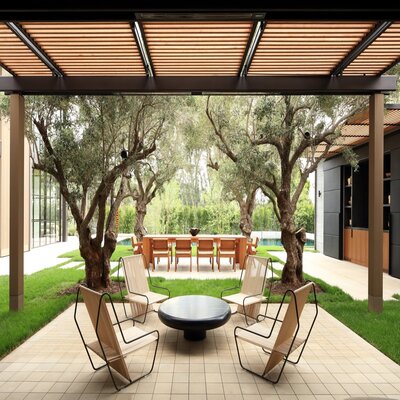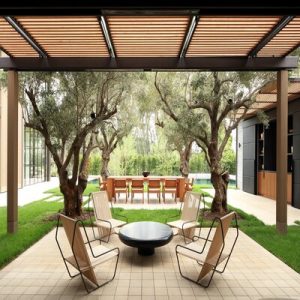 Enjoying a cup of coffee or glass of wine in the garden feel luxurious. You can use a garden sofa by Blumfeldt Heartland, which allows you to transform the casual sitting arrangement into a lounge. The garden sofa is built around a tubular steel frame, which is corrosion resistant and long-lasting. It has a storage compartment below the table, wherein you can secure the pillows, blankets and any other related item.
Make sure you keep all the outdoor furniture covered. It's better if they are foldable so that you can put them in a garden shed.
Style The Garden
Now you some ideas about how to arrange garden furniture for small gardens. There are so many options when we talk about styling a garden. You can try to create a design according to your colour and plantation preferences. However, we can suggest a couple of ideas to get a modern and modest garden.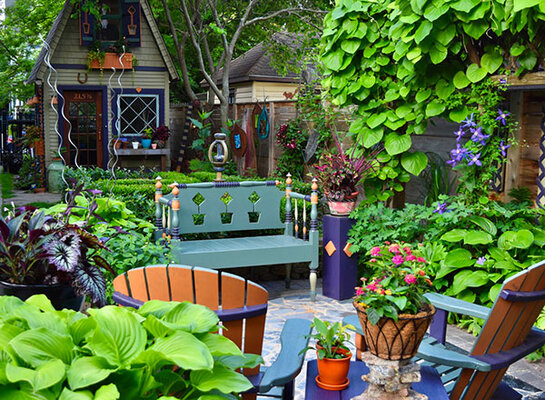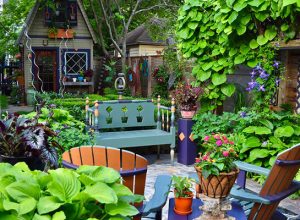 Vertical planting: Try garden selves. Hooks and shelves are not only useful indoors, but such items can also clear up a lot of space in your garden. Use a wall or fence to attach a shelf. Try the Wall Plant Stand Garden Ladder Trellis by cuckoouk.
You can use the wall space for vertical plantation as well. Try some of the hanging pots that you can use over an existing fence. For instance, you can go for the metal iron flow pot vases by Ogima. Hang on some festoon lights to create a cosy surrounding, which will also look great on the weekend evenings.
Vertical shelving: You can utilize flower shelves to make the most out of a small garden. Try the option from Nisorpa, which is a wooden shelf to take care of all your small plants and make some added space for your gardening tools.
Add some colours: If you want to make your garden trendy, then the easiest way is to add some colourful chairs. In case you are feeling creative, then you can also paint the walls pink or pink. Look for some colourful flowers and plants with leaves other than green.
Apart from adding colourful chairs and cushions, you can also paint the backdrop. Use a dark colour and paint the backdrop cleverly to create an illusion of extra height and space.
Use the garden shed: Garden shed is used to store compact garden furniture in the winters. However, you can use it in the summers as an open stall or bar for weekend house parties.
Designing A Small Balcony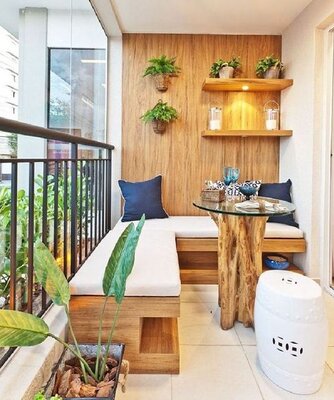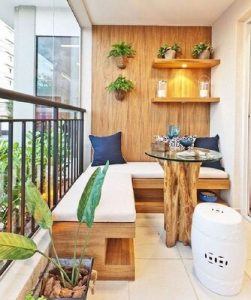 If you are living in an apartment or flat with a tiny balcony, then try a couple of foldable or stackable chairs. You can choose the dining chairs because of their comfortable built. Try the option from Amzdeal comfortable and weather-resistant nature. In case you need more comfort, then go for the egg chair by Dawsons.
Takeaways
Try clever and space saving garden furniture pieces that offer complete comfort, but you can easily store them. Stackable or foldable chairs, foldable dining table, and a versatile coffee table that can also work as foot support; these are some of the common structures that you can utilize within a compact garden.
We hope you got some ideas you revive your small private space, be it a patio or garden. Comment below with the ideas that worked for you before.