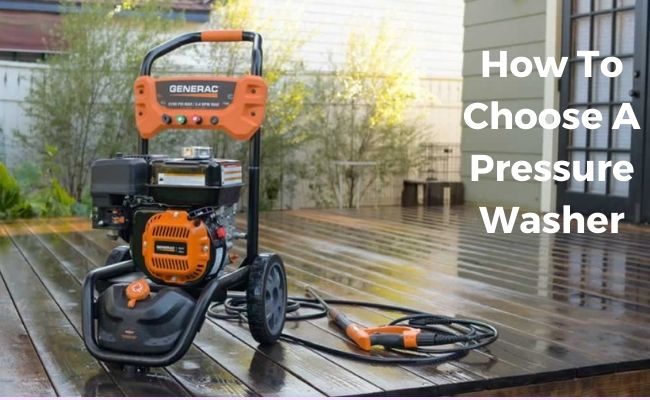 Buying Guide Of Pressure Washer
Last Updated on December 11, 2023
Plenty of hard work is required to clean tough stains, which can be oil marks, mildew, or carbon accumulation. We know you want to get rid of these gunk, but spending hours of backbreaking hard work might not be the right solution. Its where a pressure washer can be useful. You only need a water supply and brush to transform your deck, driveway or garden.
If you want to harness the benefits of a pressure cleaner, then it's important to know your requirements. How will you use the cleaning artillery? It should be the first point you should consider before investing in a cleaning solution.
Buying Guide Of Pressure Washer
Knowing what to clean is not enough when you are looking for the best jet wash for patio, deck or vehicles. You need to consider several other factors before investing in one of the washers available in the market.
Cleaning frequency: The cleaning requirements differ for all of us. Some of the buyers use power washers very frequently, while others take it out occasionally or only for some narrow set of jobs. If you are going to use a washer every other day, then try to find a heavy-duty model that can withstand daily wear and tear. In case, you need a cleaner to maintain your car and bikes, then you might go for an entry-level model.
Experience level: Keep in mind that a patio pressure washer can damage some surfaces if you do not know how to use it. So, if you are buying your first pressure cleaner than its recommended that you try an entry-level model.
Fuel type: Another important decision is to choose one between electric pressure washers and gas-powered variants. Don't forget that heavy-duty models will be gas propelled. Well, most of the times. But, electric models are convenient to use and less noisy. However, the former is more powerful. So, you might need to spend some extra minutes while using a battery-dependent or corded pressure washer. On the other hand, if you need fast cleaning results then try for a gas-powered variant.
Budget: You should also remember that gas propelled washers are expensive when compared to their electric versions. Plus, a gas-dependent model is suitable for users who will use it regularly. If you are going to use the washer only a few times every month, then it's better to invest in a less expensive electric model that seeks minimal maintenance.
Accessories: Included attachments with a pressure washer can do wonders when you want to extend its boundaries. Even an entry-level pressure washer can perform in a better way when it has some effective and efficient accessories. So, check what is the included content of the model you are selecting. Make sure a pressure cleaner has multiple wands or some cleaning nozzles; especially if you are planning to use it on multiple surfaces or objects.
Pressure: As we discussed already, more pressure yields easy removal of dirt. However, you need to know what you want to clean. The pressure in bar ranges between 100 to 180 and sometimes even more. So, choose according to your requirements to avoid any hassles later.
Portability: You can choose a heavy washer for residential or industrial usage, but what if you want to take it along on outdoor trips? A compact and lightweight pressure cleaner are easy to carry around in a caravan or car. Such a portable piece could be very helpful when you are out on your motorhome.
Uses Of A Pressure Washer
What are the objects you will clean using a pressure cleaner? You can get one of these units to clean your car, but what if you want to clean the driveway too? So, check the specifications carefully to check the bar pressure of a jet wash patio cleaner.
Light usage: If you are looking for a portable pressure washer to clean outdoor furniture, garden tools, bikes, and motorcycles then choose a model with a force of 100 bar.
Medium usage: In case you want to maintain your boat, lawnmowers, and cars then go for a jet washer with pressure anywhere between 110 to 130 bar.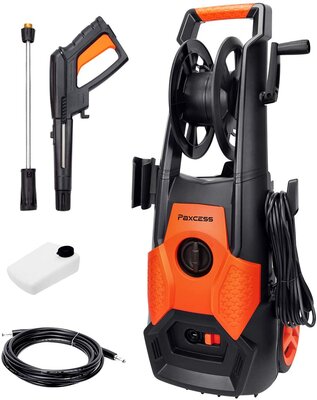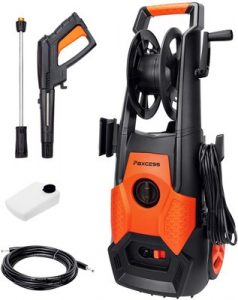 Such a unit will be also useful to clean hot tubs, swimming pools, and gutters.
Heavy usage: You cannot clean the deck or patio using a washer with low-pressure output. So, if you want to clean driveways, deck, patio or any other large concrete or brick surface, then go for a corded pressure washer than offers more than 130 bar of water force.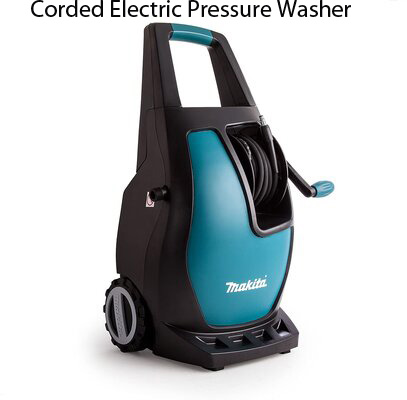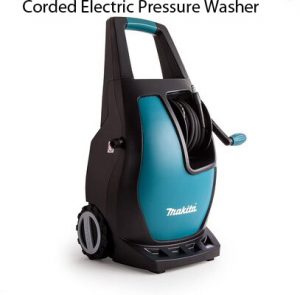 An entry-level cordless power washer is good enough to clean a car. You cannot use high power on car's paintwork otherwise the results will not be favourable. On the contrary, you need a powerful corded pressure washer to get rid of stubborn dirt and grime accumulation on the deck or patio.
FAQs of Pressure Washer
What is the flow rate or water flow?
Flow rate is the amount of water that comes out of a pressure washer's lance or nozzle. Higher flow means a large amount of water is forced out to clean the targeted object or surface. You will find the flow rate mentioned in litres per hour. It varies between 300litres/h on entry-level models to 600 on powerful and high-end variants. Check the water flow rate before you invest in a garden jet wash because it will determine your cleaning experience with the unit.
What is a bar?
The power or force that a pressure washer uses to push out the water is denoted as the bar. High bar or pressure means the cleaner can easily deal with accumulated dirt. Washing your car or cleaning the garden furniture doesn't require high pressure. On the contrary, you need powerful pressure while cleaning driveways because the extra water force will give you easy and quick results.
Which is more important; water flow rate or pressure?
Both factors are equally important. Water flow rate and its pressure work together to give you the desired cleaning results. If you want to clean an oil-stained driveway, then a high flow rate will make the work easier and more pressure will get it done faster. All the pressure cleaners are available with standard pressure and flow rate ratio. So, you only need to know what you will be cleaning.
What is a lance?
Lance connects with the trigger gun, which you press to start releasing water. Some of the pressure washers come with multiple lances, but several other models only include one that you can adjust according to the requirements.
Which place is suitable to store a pressure washer?
You should store the washing unit inside a dry and well-ventilated area. Keeping the washer outdoors in a garden shed is fine, but bring it inside when the season changes. In the cold months, it's recommended that you keep the device indoors to avoid any damage.
Should I buy a pressure washer?
To answer this question, you need to think about a few points. Do you clean your car regularly? Or is it a boat, car, bike, car or truck you want to maintain? If not, then how about cleaning your garden furniture, garage, deck, patio, gutters, or any other concrete area. There are so many similar uses of a pressure washer. So, it's an ideal investment if you are involved in any of these cleaning activities.
What detergent should I use?
Well, it depends upon what you are cleaning. You will find a variety of detergents to clean cars and motorcycles. Apart from that, some of the brands have their range of detergents. For instance, Kärcher 5 L canister pressure washer detergent is specially formulated to use with Kärcher high-pressure cleaners.
How Long Should Be The Power Cable In Case Of Electric Pressure Washers?
The power cable's length differs according to the make and model of a pressure washer. However, 5 meters of cable is sufficient to deal with a medium sized patio or deck.
Pressure washing safety
Read and follow the manufacturer's manual.
Never try to spray your body using a pressure washer. It might damage your skin.
Wear long lowers and shoes. Do not use flip flops while using a pressure cleaner.
Wash your car carefully using pressurized cleaning unit. Otherwise, it can downgrade the appearance of your vehicle.
Takeaways
The first point is to consider what you will be cleaning. Then, you need to start filtering options depending upon your requirements. For instance, if you want to revive your patio, then go for a pressure washer that offers high water flow rate and pressure. Plus, it should also include an attachment for patio cleaning. Kärcher K5 is a high quality corded pressure washer, which includes an accessory to clean patio, deck and other large areas.
On the other hand, if you want to take care of your car, SUV, caravan, or bike, then look for an entry-level pressure cleaner. Something like WORX WG620E.2 Hydroshot, which is lightweight and portable. So, that you can take it along on the outdoor trips as well.