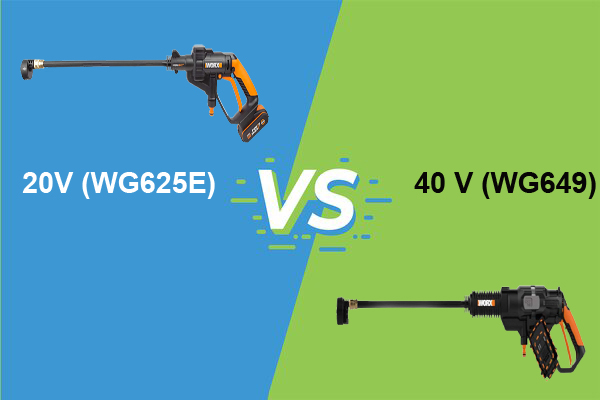 What is The Difference Between Hydroshot 20V And 40V
Last Updated on December 11, 2023
Worx Hydroshot is an exciting series of pressure washers. Hydroshot 20 V and 40V are the two famous versions. If you are not sure which one is right according to your needs, then you are in the right place. Today, we will compare Hydrosohot 20V (WG625E) and 40 V (WG649), so that you can know their features and make the decision accordingly.
Hydroshot 20 V vs 40V pressure washer
| Features | | |
| --- | --- | --- |
| Batteries | 1 x 20 V cell | 2 x 20 V cell |
| Build quality | Plastic | Plastic |
| Pressure | 320 PSI | 725 PSI |
| Draw hose | 20-inch draw hose | 236.22-inch draw hose |
| Price | Check Price | Check Price |
First Impression
Both Hydroshot 20 and 40V cordless pressure washer models include the charger and batteries. The only difference is between the number because the former has 1 x 20 V cell while the latter comes with 2 x 20 V cells. The 20V has a 5 in 1 nozzle and the 40V model gives you a 4 in 1 cleaning nozzle.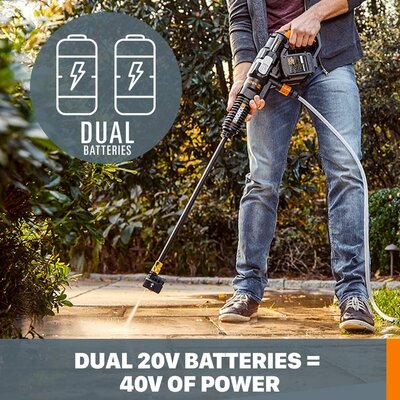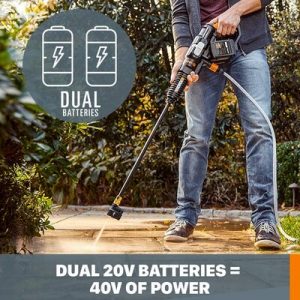 So, you can deal with a wide range of objects simply by rotating the nozzle and select the right spray pattern.
Build Quality
Worx Hydroshot 20 and 40V, both models have a plastic construction that feels solid. However, plastic built is good and at the same time, it's bad as well. Metal can corrode or rust due to regular water exposure. However, plastic can easily deal with humidity and moisture. But, metal is best in terms of durability.
Battery
The Hydroshot 20V comes with a 2.0 Ah battery that takes up to 5 hours for a 100 percent recharge. On the other hand, the 40V model comes with 2 x 4.0 Ah batteries. It has a dual-port charger that can refill both the batteries within 2 hours. As you can see, the 40V model wins this department.
Pressure
With a maximum pressure of 320 PSI, Hydroshot 20V is one of the best cleaners for cars, motorbikes, lawn tools, and garden furniture. It can even impress you on the concrete surfaces. However, you might not be able to cover an entire area because its runtime will not be sufficient.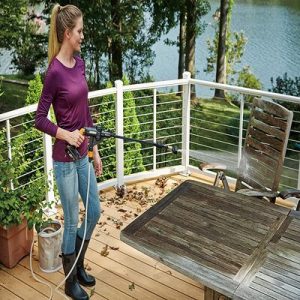 The maximum rate pressure of Hydroshot 40V is 725 PSI, which is 11 times more power than the garden hose and nozzle. With this strength, the cleaner can easily deal with dirt accumulations on your motorbikes, windows, garden tools, and surfaces made of brick. You can also use it to clean the driveway and deck.
Draw hose
Washing your car using the Hydroshot 20V is fun because of its included 20-inch draw hose. This cleaning hose is stiff and hence, it comes out of the bucket when you try to cover long lengths. So, the hose has a quick connector and clips to keep it stable.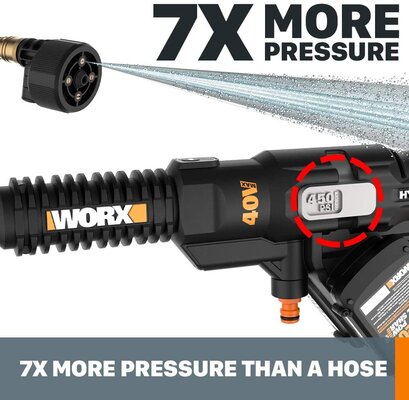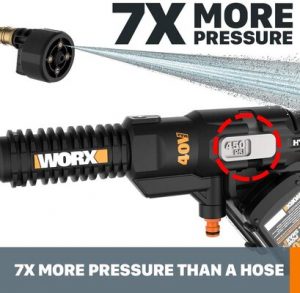 On the other hand, Hydroshot 40V comes with a 6-meter hose, which gives you a decent cleaning radius. Similar to the 20V models, 40V can also draw water from tap water, bucket, lake, and any other water resource.
Ease of use
The controls on Hydroshot 20V and 40V are similar. Both the cleaning machines are easy to use because of their lightweight nature and ergonomic grip. As we already discussed, they are portable and can draw water from any of the resources. So, simply fill up a bucket of water and use the cleaner virtually anywhere. If you are outdoors, then drop its hose into a lake.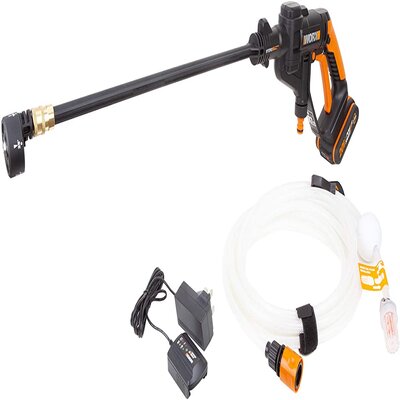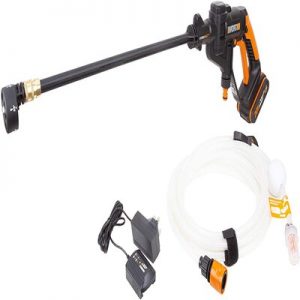 Apart from that, both models have compact dimensions. This means you can take any of them on road trips, also without sacrificing much open space in the caravan or motorhome.
Bottom line
Worx Hydroshot 20V is an excellent purchase if you have to perform regular cleaning in and around the house. You will like its versatility to draw water from a hose, bucket, or any other water source. Plus, it's 5 in one nozzle is brilliant and very convenient to use, especially when you have a wide range of objects to clean.
Hydroshot 40V is also a perfect purchase for residential usage, but it's comparatively powerful. This model can also draw water from any source. However, it is expensive due to powerful batteries and high pressure.
Both units are good for residential cleaning tasks. If you need to deal with tough jobs, then go with the Hydroshot 40V. If you want to do better than a garden hose, but you only need to clean the car or motorbike, then the entry-level Hydroshot 20V is an ideal choice.