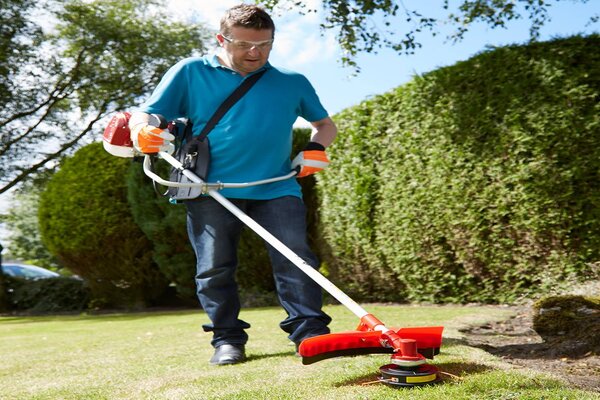 How To Use A Petrol Strimmer?
Last Updated on October 14, 2023
Read here "how to use a petrol strimmer", it is very important for those who want to use a petrol strimmer. Start gardening and soon you will realize that wild shrubs are something that you need to deal with regularly. You can consider using a grass sickle, but it takes a lot of hard work to use manual tools. So, you can try an electric grass cutter for fast and efficient results.
But, what if there is no electricity in your cottage? Or you cannot find an outdoor electrical outlet. Or maybe you need to cover a significant area that could be "too big to handle" for a mains powered trimmer. The only option left is to go for a petrol strimmer that can cover a large area without looking for an electrical outlet.
Should You Buy a Petrol Grass Trimmer?
Is a petrol propelled trimmer suitable for your garden? It's the question that might haunt you for some days. We suggest that you try a mid-priced model, which is also very easy to use; especially if you are a beginner.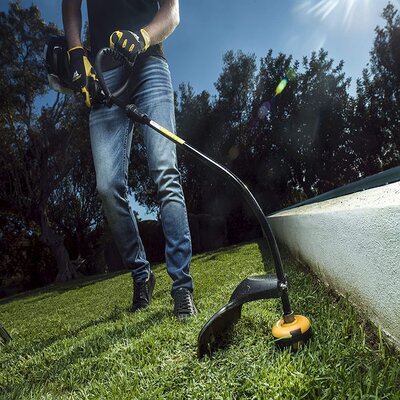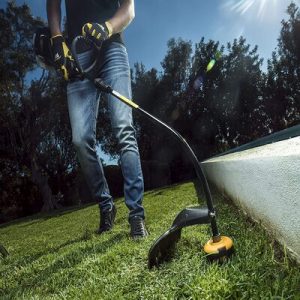 You might not like a petrol dependent model because of its high sound levels, difficult usage (as a newcomer) and regular maintenance. Still, you can try a variant with wide handles. With such a handle, you can cover a large area without any fatigue. 
How to Use a Petrol Strimmer?
Spend some time to read the user's manual that came with your petrol propelled strimmer. Check all the features, functions and maintenance steps. Follow the given points to enjoy safe usage of a petrol dependent grass cutter.
Use Safety Gears: A petrol strimmer is powerful and its string or blade generally revolves at around 3, 000 RPM. So, you should take such equipment very seriously and use it with utmost care. The primary step is to protect your eyes, ears and face. So, use safety goggles and earplugs. Plus, we suggest that you should wear sturdy shoes and leather gloves. Apart from that, avoid wearing loose clothes.
Clear the Surroundings: A petrol strimmer can cut your beautiful flowerbeds just like it deals with weeds. No matter what is the plantation, this tool can shred or severely damage it. Apart from other plants in the garden, you have to be careful around the fences, pots, walls, furniture and sculptures. Hit a solid object with a strimmer and the machine will damage it. So, clear your garden of furniture and ornaments before you start the cleaning process.
Cable Management: This is one of the biggest hazards if you are using an electric strimmer. You can trip over the long power cable, or you might cut it. So, try to keep the power cable away from the grass cutting head. Be careful while you work. Above all, do not work in wet and slippery conditions.
Keep Distance from the Cutting head: It's easy to understand that a trimming line or blade is dangerous when under operation. The risks are minimal if you are wearing appropriate clothing and using a harness. Still, maintain some distance from the trimming head. If you want to clean or service the lawn tool, then make sure it's turned off and cooled down before you start.
Stay Safe from Exhaust Emissions: Fossil fuels results in carbon emissions, which is very harmful to the human body. So, do not use a petrol strimmer inside enclosed areas. If you notice excess emissions from the trimmer, then check its carburettor and follow other maintenance steps mentioned in the user's manual. Apart from that, we suggest that you store the fuel in a spark-free area. Allow the engine to cool down before you refill your strimmer.
Take some Breaks: Outdoor tools work at high sound levels and cause a lot of vibrations. Both the factors can take a toll on your body if you are working for prolonged periods. So, listen to your body and it's better to leave the strimmer if you are feeling tired. Stay hydrated while using the strimmer and do not use it if you are not feeling well.
Final talk
A petrol strimmer is incredibly useful to accomplish garden maintenance. However, you should know how to start and use it. We hope that now you know how to use a petrol strimmer. Apart from these guidelines, read the user's manual that came with your trimmer to know all the instructions. Don't forget to wear safety gears including eye and ear protection before you start the tool. Happy gardening.