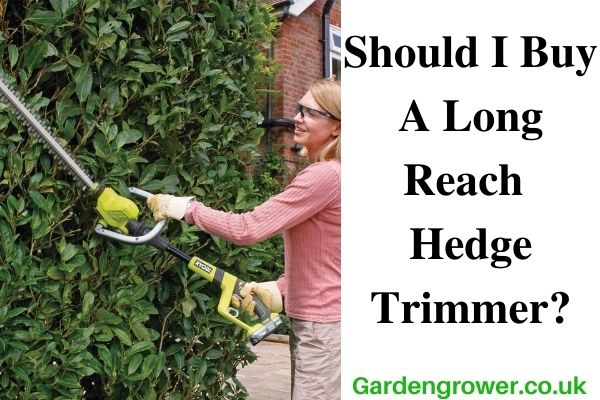 Should I Buy The Best Long Reach Hedge Trimmer?
Last Updated on January 22, 2023
A long-reach hedge trimmer makes it possible for you to safely trim the top of tall hedges from the ground. Some hedges can be very tall that trimming them with a typical hedge trimmer on a ladder can be very dangerous.
Long-reach trimmers, also known as telescopic trimmers, come with fixed or stretchable shafts so that you won't have issues trimming above head height. Also, you can set the blade at different angles to the shaft up to 90 degrees so that you can conveniently trim the top of the hedges as you stand on the ground.
Do You Need A Best Long Reach Hedge Trimmer?
The best Long-reach hedge trimmers are not the preferred alternative at all times. This is due to the fact that they can be difficult to control when used to cut high hedges because their blades are far from the body.
Also, the blades can be so short that they won't be fit for cutting a wide hedge. In a situation like this, you should use a traditional hedge trimmer, but it is important for you to use a ladder or platform designated for the job.
You should not use a step ladder on uneven ground so that you don't fall thereby injuring yourself. It is advisable to use Hi-step platform ladders, and there are many brands as well as models available in the market.
Hi-step platform ladders come with a large platform at the top with a guard rail so that you will be able to stand securely during the trimming process. They come in various heights with a wheeled base, hence, you won't have issues moving them from one place to another.
If you desire something larger, you can go for wheeled garden platforms. They feature a large platform making it possible for you to cover more ground before moving it to another location. That is why you can easily level every part of a long hedge's top. You can assemble the platforms to your desired height meaning that you can use them for hedges of different heights.
They are easy to assemble, within ten minutes, you are good to go. They come with wheels that make it possible for you to move them around with ease. Their versatility is a plus, and that is why you can use them for various tasks in your garden.
Another option available is the tripod ladder. It comes with a single leg at the back so that you can have a stable, steady position to cut from. It has a wide base with tapers near the top.
You can adjust the length to be compatible with uneven ground, and it is possible for you to position the supporting leg into thick hedges for support. This gets you closer to the hedge you want to work on, hence, you don't need to stretch your hand.
These types of ladders are available in different sizes with a lightweight aluminium frame, which makes their movement from one place to another a child's play. However, if your hedge is taller than 2.5 metres, it is advisable to consult with a professional.
Long-Reach Hedge Trimmers for Tall Hedges
Majority of electric pole hedge trimmers come with a blade length of between 40 and 50 centimetres. This means that you will not be able to trim the middle of the top effectively if your edge is one metre tall or more.
Electric and petrol hedgers are very effective for side trimming but balancing and manoeuvring them could be hard. Cordless machines offer ease of use but can be very without giving you the perfect finish you desire.
Petrol, Electric or Cordless Hedge Trimmer?
You can select among cordless, corded or petrol hedge trimmers. The cordless models are very light (lightweight hedge trimmer) meaning that you won't have issues with their manoeuvre. They come with telescopic shafts, which you can stretch for optimum reach.
Corded models can be heavy and difficult to use, especially when you stretch them. Petrol models are heavier but many models come with carrying straps to serve as weight support.
Conclusion
If you have taken the decision to get the best long-reach hedge trimmer, you should go through our reviews to discover top products. We have carefully analysed top, popular products so that you won't make the wrong choice.