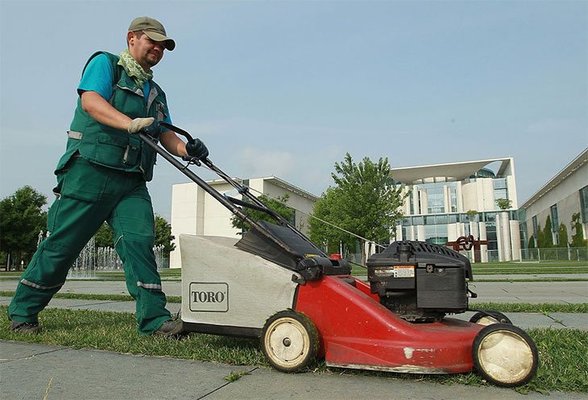 How To Choose The Right Lawnmower
Last Updated on January 10, 2023
A wrong mower kills the joy of maintaining your lawn, but a right one can make lawn cutting pleasant. If you need a new mower, but don't know where to start, then don't worry. Read today's post and you will know how to select the right option.
How To Choose The Right Lawnmower?
Lawn size
If you own a small area that is up to ½ acre, then a push lawn mower will be useful. For a medium-sized lawn, you can try an electric mower, which can be corded or cordless. For a bigger lawn, you can consider a petrol mower. You can also try an electric or petrol self-propelled mower for a significant area.
Mowing Width
While browsing lawnmowers, you will notice that they are available with different cutting widths. Wide cutting width or blade length, means a mower will cover more area in less time. So, determine the blade width on account of your lawn size. If you own a small yard, any mower with a cutting width between 11 to 15 inches will be suitable. For medium-sized areas, select 16 to 20 inches and for large areas, look for a cutting width of more than 20 inches.
Adjustable Cutting Height
Most of the lawnmower gives you an option to adjust the grass cutting height. In this process, a mower changes the distance between the ground and its blades, so that you can get the selected height of grasses. Look for maximum levels of height adjustments for versatile cutting results depending upon the season or any event.
Power
A lawnmower comes with different power supplies according to the make and model. You can decide the required power after measuring the area you need to cover. Small lawns require a less powerful mower, so you can try a corded or cordless option. Petrol versions are generally more powerful than others, which makes them suitable for significant areas.
Keep in mind that a petrol mower seeks regular maintenance and replacement for certain parts like spark plug and filter. Starting a petrol variant is also tough sometimes because you have to prime it and then pull a cord. On the other hand, electrical options are easy to use and need less maintenance.
Mulching Feature:
A lawnmower with mulching ability cuts the grass clippings into tiny pieces and sends them back to the grass bed. This process supplies moisture and other nutrients to the soil, which results in green as well as a healthy lawn. So, try to choose a lawnmower that comes with a much plug.
Types Of Lawn Mower
1. Push Lawnmower (Available between $65 to 85)
The lawn maintenance tools that require manual push for movement, instead of battery, electricity or petrol is sold as push lawnmowers. Their blades are fitted in a cylinder that revolves when you push the mower. Such a lawn maintenance tool provides you with even cutting results and is easy to maneuver as well as store due to its compact footprint.
2. Electric Lawnmower (Available between $90 to $550)
Electric mower runs on a power source that can be electrical energy or battery. So, it's very easy to maneuver an electric mower around the flower beds and other objects on your lawn. Almost all such mower comes with a storage bag to collect the grass clippings and makes minimal noise while cutting the lawn.
3. Petrol Mower (Available between $229 to $570)
Often useful for larger areas, a petrol mower is a great lawn maintenance solution if you are moving far away from an electric socket. Such tools are big, heavy and hence more powerful than the other two variants that we were discussing. However, a petrol mower is not eco-friendly because of the carbon exhaust and high noise levels.
4. Riding Mower (Starts from $1, 800)
If you own an area more than 5000 square feet, then you can invest in a petrol ride-on mower. Such a mower is similar to your car, wherein you need to drive it using a steering wheel or lap bar. These tools are powerful and make the mowing process very easy. However, due to their large footprint, you need a significant space to store one of the riding mowers.
5. Self-Propelled (Starts from $200)
Similar to a regular electric or petrol lawnmower, but a self-propelled machine minimal physical effort to operate. You only have to guide one of these tools and it will do the needful. If you an elderly, or you don't want to push a mower, then you can choose one of the self-propelled mowers.