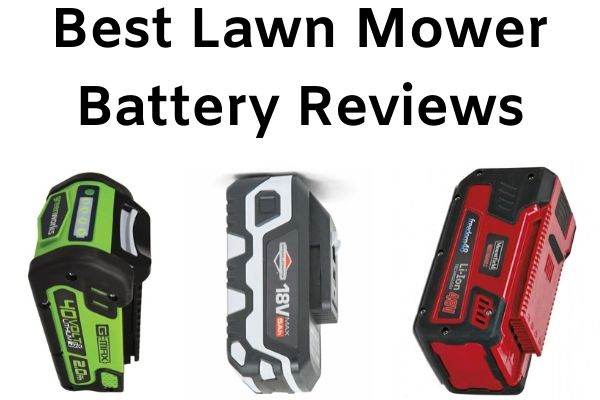 Best Lawn Mower Battery Reviews 2023 UK
Last Updated on May 4, 2023
---
Need a lawnmower battery? You are on the right page. Here, we have listed a range of batteries that supports most of the major brands and models. Some of them are budget options while there are few high-quality products with a higher price tag.
When a lawnmower repeatedly fails due to an exhausted cell, you need an efficient replacement as soon as possible. We understand the same, and hence we have tested all the batteries to give you the right information. Supported models are also mentioned, so you can easily match and find the compatible power for your lawn maintenance machine.
Best Lawn Mower Battery UK 2023
Best Lawn Mower Battery Reviews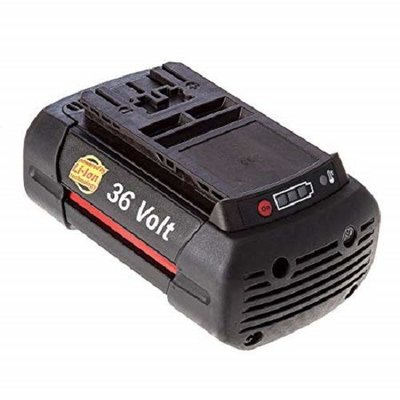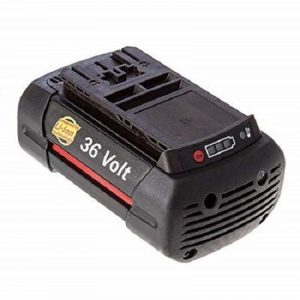 Features
2.6 Ah
Charging time. 60 minutes
Compatible with: Bosch Rotak lawnmowers and AKE 30 LI chainsaw.
Review

The powerful Lithium-ion battery from Bosch has a slide-in mechanism. It offers up to five times more charging cycles than regular batteries. This professional-grade cell has a charging time of one hour, and it charges 80 per cent within 30 minutes.

Easy to read battery level gauge keeps you informed about the charge left. There is also a temperature sensor for added convenience. Due to electronic cell protection, the Bosch battery has a long life. It's lightweight and ready to use; you only have to charge it once received.

Compatible with Rotak 34, 37 and 43LI, the F016800301 battery retains up to 85 per cent of charge even after four months of standby. As it works with Li-ion technology, the battery is robust and provides fade-free power for uninterrupted mowing sessions.

It also works with AKE 30 LI chainsaw. So, if you want to purchase another power tool in the future, it's the best option to invest.

To activate the warranty, you have to register the product here. Bosch is known to provide excellent after-sales service. In case of any problem, you can contact them via email and hotline.
---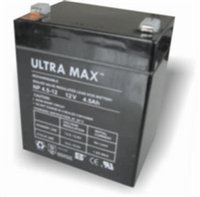 Features
4.5 Ah
Charging time. 4 hours
Compatible with. Mountfield, Hayter and Stiga mowers.
Review

If you have a Mountfield mower with a 4Ah, 4.2Ah or 5Ah battery and you need a replacement, choose our next recommendation from Ultramax. Technically, it replaces NP4-12 & NP5-12 batteries but can be used with other mowers from the three brands we mentioned above.

This lead-acid battery has fast-on connectors that are 4.75 mm wide. It is secure from any electrolyte leakage and hence can be used in any orientation.

NP4.5 12 retains 82 per cent of charge even after six months of ideal storage. This Ultramax cell is compatible with many other machines like rechargeable torches, UPS, and electric scooters. So, if you have any of these devices apart from a Hayter or Stoga lawnmower, you can invest in the NP 4.5-12.

Keep in mind that it's a lead-acid battery and will not work any of the devices that require Li-ion or any other technology to work. Its recommended not to touch a lead-acid battery with bare hands while storing or to attach it to equipment
---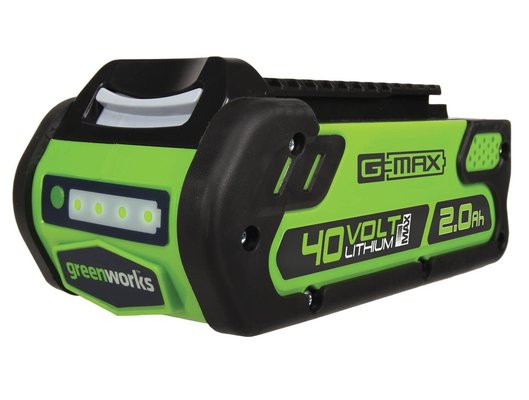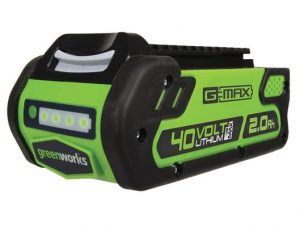 Features
2.0 Ah
Charging time. 60 minutes
Compatible with. Greenworks G-MAX 40V Tools.
Review

Greenworks gives you a great power solution that's compatible with all G-MAX 40V Tools. Built on Lithium-ion technology the 29462 battery provides fade-free mowing power for an area up to ½ acre. Moreover, it offers extended runtime when compared to NiCad cells.

It has a snap-in mechanism, so you can easily attach and take the battery out from a mower. The onboard battery indicator is the most exciting feature, wherein you can check the charge left.

The Greenworks battery has a quick charging time of 60 minutes. So, it will be all juiced up without extending the downtime. Take a break, come back and it's ready. At 800 grams, the battery is very lightweight as well.

So, you can ask any of your kids to bring it out from the storage area. Also, you will not face any trouble changing it between the power tools.

The battery is compatible with many other Greenworks 40V power tools. Whether it's a Greenworks 40V mower, trimmer or blower, it got them all. So, for future lawn maintenance tools, you can look for a body only product. It's again a benefit that adds value to your investment.
---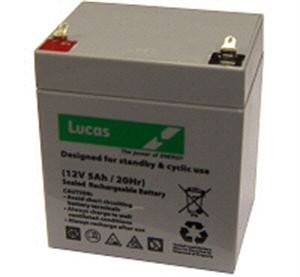 Features
5Ah
Charging time. hours
Compatible with. Lawnmowers and strimmers.
Review

Replacement of Y4-12, Y5-12, NP4-12 and NPS-12, the Lucas LSLA5-12 comes with a 4.8 mm full spade connection. With a life of 3 to 5 years, this battery can be used with mowers, UPS, alarm systems, ride-on toys, and torches. Designed to perform, it has high quality and durable cell that either meets or exceeds the original manufacturer's expectation.

Lucas LSLA5-12 is a perfect choice for lawnmowers because it has sealed valves regulation (AGM and VRLA) and hence the battery will never leak. It can be mounted on any of the compatible mowers, and the cell will offer non-hazardous performance. Moreover, this battery is suitable for travelling by road and even flying.

Due to its sealed nature, LSLA5-12 asks for minimal maintenance or cleaning. You only have to connect it with a compatible device, charge, and its ready to go. However, it's recommended to match the dimensions and polarity (positive and negative terminals) before you invest in one of these.

Lucas is a 150 years old brand that is trusted for its high quality and reliable products. LSLA5-12 is no exception and never lets you down in terms of power, backup, and charging time. So, you can try it once without any fear.
---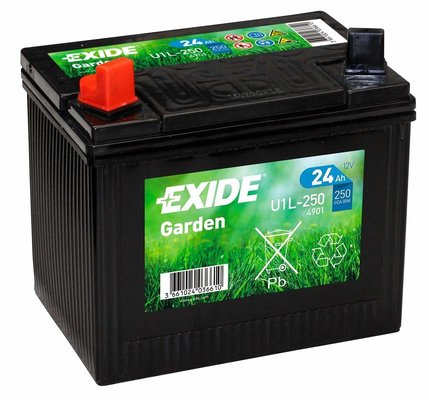 Features
24 Ah
Charging time. 5 hours
Compatible with. Lawnmower and mini tractors.
Review

Excide batteries are known for quality, performance, durability and reliability. Coming from the same lot, the U1L-250 uses calcium technology to generate a power of 12V. Its working technology is excellent for urban conditions and extreme weather.

This rechargeable battery lives a maintenance-free life, and due to the long stand by period, you can use it even after four months of storage.

This Excide lead-acid battery replaces 12N24-4 / 12N24-4A, Y60N24. A and U19. As its fully sealed, there are no chances of leakage and you don't have to top it up with water. Moreover, it recharges faster and has high starting power.

Means, the battery will start the mower on the very first attempt. It is ready to charge and use, but you only have to remove the red plugs from its breathing hole.

Overall, Excide gives you powerful yet affordable power option to choose for your lawnmower. Apart from manual mowers, this cell works with ride-on mowers and mini tractors as well. Due to such power, LSLA5-12 is comparatively heavy at 6kg but can be managed easily.
---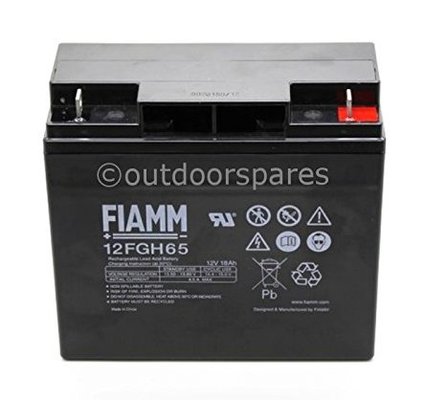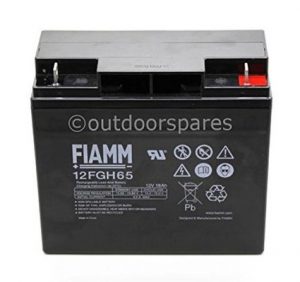 Features
18Ah
Charging time. 5 hours
Compatible with. Stiga mowers.
Review

A genuine replacement part for Stiga lawnmowers, the 12V lead-acid battery is made with high standards. It can easily support electric start mowers because the battery has high starting power, yet seeks minimal maintenance.

Even if you keep it on stand by for four months that battery remains around 80 per cent. The 12V battery is sealed, and there are no chances of leakage. Being a seal proof power cell, you can use it in any direction.

Once charged, you only have to connect the battery with a compatible lawn maintenance machine. However, you have to make sure that its dimensions are similar to the battery slot of a Stiga lawnmower. If it's a perfect match, then no matter whatsoever the conditions or weather is, the battery will provide uninterrupted power supply to keep your lawn maintained.

Overall, the battery is sturdy, holds the charge for long durations and provide fade-free mowing power. Due to high capacity, the runtime is sufficient to cover a medium-sized garden or lawn.
---
7. Briggs & Stratton Lithium-Ion 18V Battery – 883253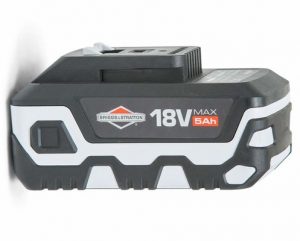 Features
5Ah
Charging time. 110 minutes
Compatible with. Murray 18V cordless mowers.
Review

The latest high-end 18V battery from Briggs & Stratton uses Lithium-ion technology to provide smart power that keeps your yard well maintained. Its lightweight design features high-quality cells that work together to offer extended runtime and durable power without any inconvenience or interruption.

You can check the charge percentage left by pressing an onboard button. Moreover, the unit comes with a USB cable. So, while working in the lawn, you can also charge your smartphone and other portable devices with a USB port. Even if you are travelling, the battery can be used as a portable power bank in urgent situations.

Made of durable plastic, the battery has a tough outer casing that keeps it's protected. At 748 grams, the battery will not be trouble while moving from the garage to the lawn. Also, it has a slide-in mechanism, so you can connect the battery with a mower without any wires or terminals.

Once inserted, it facilitates the quick start and provides fade-free power to a cordless mower. All thanks to its Li-ion technology, the Briggs & Stratton battery is sturdy and retains more than 80 per cent charge after four months of standby.
---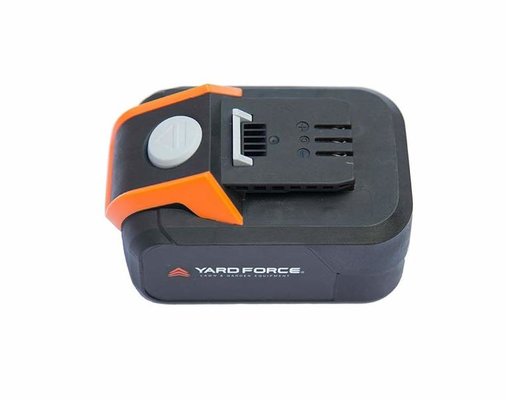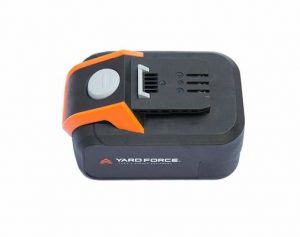 Features
2.5 Ah
Charging time. 75 minutes
Compatible with. Yard Force 32cm Cordless Lawnmower LM G32 and Grass Trimmer LT G30.
Review

Manufactured by Samsung, but sold by Yard force; the 40V 2.5 Ah battery pack is built upon Lithium-ion technology. It takes 75 minutes for a full charge and after that works continuously for 25 minutes.

This high-quality battery has a slide-in mechanism and a low weight of 649g. So, you can easily carry the cell from one place to another and attach it to the required mower or trimmer. It's durable and ready to use. Hence you can directly charge and take it to the field.

The battery provides fade-free power to power tools. It also has excellent charge retention. Even after four to six month of idle storage, the battery retains about 80 per cent of charge. All thanks to its Lithium-ion technology, the cell is not only powerful but efficient as well.

At this price, we were expecting battery and temperature gauge, but the Yard Force battery lacks both of these. It does not have the USB port as well. So, the only place where you can use the battery is with the mower or trimmer; your dying smartphone will have to wait.
---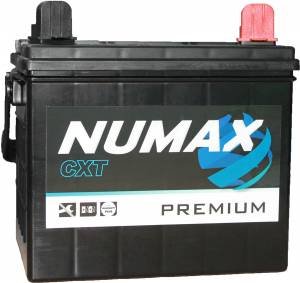 Features
32 Ah
Charging time. Four hours
Compatible with. Husqvarna mowers.
Review

Numax is famous for manufacturing high quality and reliable batteries. The 12V cell is no different as it offers supreme performance, and durability combined with an integrated charge status indicator.

This 32 Ah battery is perfect for lawnmowers as it is rechargeable, offers fade-free power and is maintenance-free. So, you only have to take care of the mower because this battery will not seek any guidance apart from a charging power outlet.

Replacing 12N24-3, 12N24-3A, Y60N24LA, and U1R9, the Lumax battery has minimal self-discharge. Hence, you can expect it to work even after months of idle storage. At 12 kg this battery is massive, so you have to be careful while moving it from one tool to another.

However, due to natural plug-in terminals, the battery is easy to connect with compatible lawnmowers.

Overall, the Lumax battery is affordable, powerful and efficient. We recommend you to measure and match its dimensions with your existing products so that you don't have to face any unwanted after-sales hassle.
---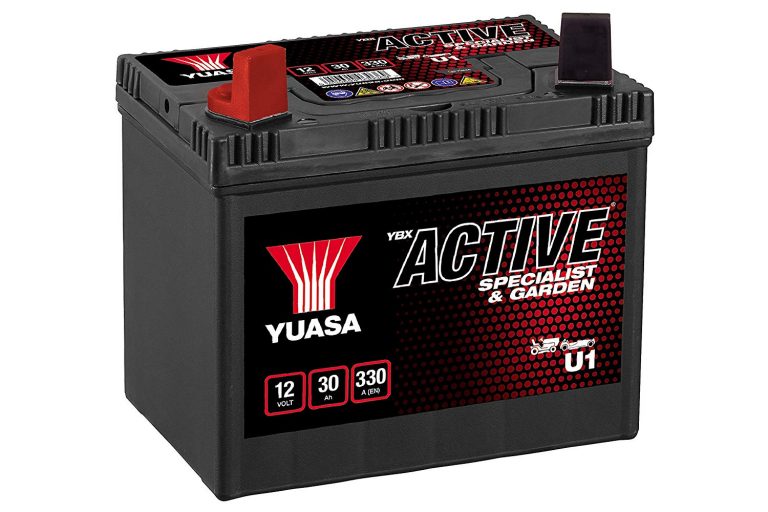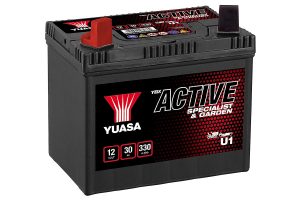 Features
30 Ah
Charging time. Up to 4 hours
Compatible with. Mowers and other garden maintenance tools.
Review

Crafted for the ride on mowers and garden tractors, the Yuasa U1 comes with rugged construction that resists vibration. Its L type terminal facilitates fast and easy installation. As the U1 is shipped with a full charge, you can start using it immediately after delivery. However, we recommend to charge it to complete before the first use.

U1 is a lead-acid battery. But, due to a sealed structure, it is completely leaking free and safe to use. If you have an electric start mower, then it can be one of the best replacements. This one has a startup power of 330 amps, which is sufficient enough to support almost all the mowers that depend upon lead-acid batteries.

The battery is massive at 7.8 kg, but we have seen more extensive, so it's okay. What matters is the dimensions; that you should always match it with the mower you have.

Constructed for industrial use, the U1 is suitable for all the weather and conditions. You can use it all year round with different tools according to the compatibility and requirements. Overall, it's a significant investment if your lawnmower needs a new power source.
---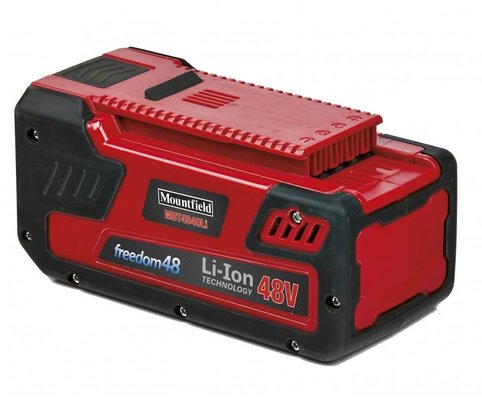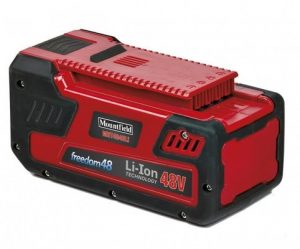 Features
4 Ah
Charging time. 120 minutes
Compatible with. Mountfield mowers.
Review

The lightweight 48V battery from Mountfield is made using Lithium-ion and hence delivers long running time and quality performance. Its power will never fade up during the mowing session so that you can work without any irritation.

Even after 1000 charge cycles, this cell delivers over 85 per cent of its charge capacity. The battery has a slide-in mechanism to fit inside the mowers, and due to a low weight, you can easily displace it.

Expensive but efficient, this battery is a small fraction of money you will invest in powering an equivalent petrol mower. Moreover, it's a 4Ah battery, so its lifetime will be twice as of 2Ah batteries.

Thus, the cell will recover the upfront cost within some time. No charger is included with this product, so it can only regain the juice inside a mower.

We recommend you to purchase another spare battery so that you don't have to face any downtime. Using a couple of cells, you will be able to work continuously with an unlimited runtime.
---
Final verdict

The lawnmower batteries that we discussed today are compatible with a wide range of lawnmowers and other gardening equipment. Lithium-ion is an efficient and powerful technology for mowers and other power tools, and most of the high-end batteries are built upon it. However, some machines will only work on lead-acid batteries. It's the reason we have included cells from the categories. Now, it's upon you to choose the best lawnmower battery depending upon your existing machine and its battery type.